Top 10 SaaS Customer Onboarding Software Solutions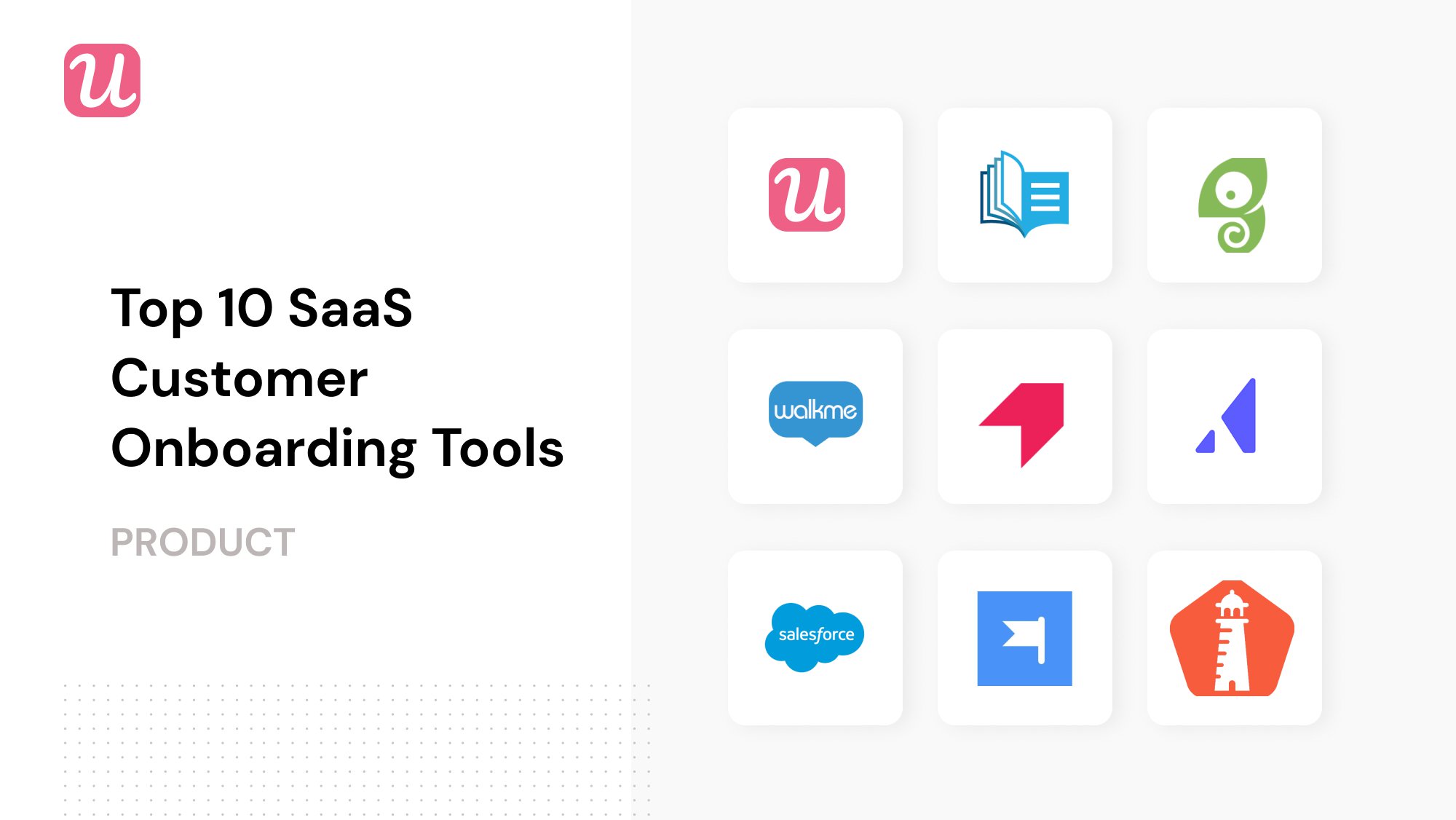 A product without onboarding is a lot like attending a dinner party where you don't know anyone and haven't been welcomed in.
It's a little awkward and a lot more effort to have a good time.
A majority of consumers experience that same lack of introduction during SaaS onboarding.
That's why KBCM reports that nearly 20% of SaaS companies have an average contract length of less than one year.
Fortunately, there is quite a selection of customer onboarding tools and platforms available on the market to simplify the implementation of onboarding processes for your SaaS product.
TL;DR
Customer onboarding is really a synonym for customer education. It's arguably most important in the early stages of using a product, but it also continues further into the user journey as well.
Without thoughtful onboarding, most customers will get frustrated and churn.
Good onboarding software contains interactive walkthroughs, modals, tooltips, segmentation options, analytics, automation, in-app surveys, and help centers.
The best customer onboarding software on the market is Userpilot (yes, we're a little biased, but if you book a demo with us, you'll see why).
What is customer onboarding?
Customer onboarding is the initial presentation of your product after your new user converts. It can include anything from onboarding emails to interactive walkthroughs.
The point is to teach new customers how to use your product with the most efficiency and get the best long-term results.
Customer onboarding doesn't just stop once a user subscribes; there are varying degrees to how you can engage with your customers, as this graphic shows:
What is SaaS customer onboarding software?
SaaS customer onboarding software is a tool that helps products provide an engaging experience throughout the customer journey and is adaptable to customer behavior.
The goal should be to continue driving as much value as possible to the customer through personalized experiences relevant to their use case and in-app actions.
Some customer onboarding software requires no code and can be integrated into your product using walkthroughs or tooltips. Other software requires direct integrations and developer participation to create more complex product experiences.
Most will include some form of product analytics.
Why is customer onboarding important?
If the person you are trying to attract has no connection with your brand, most will leave at the next best option.
Around 75% of new users stop using SaaS products within the first week, while more than half of all trial users tend to use the product only once and never come back.
Integrating customer onboarding solutions allows companies to build a better customer experience for their products and improve user retention, ultimately leading to higher revenue.
What to look for in customer onboarding software
Here are some of the key product features to look for in an onboarding software solution.
Interactive Walkthroughs
Interactive walkthroughs guide new customers through the particular parts of a product that are relevant to a customer's specific use case.
Walkthrough elements might include checklists, tutorials, or tooltips.
The purpose of a walkthrough is to get the customer to activate.
Modals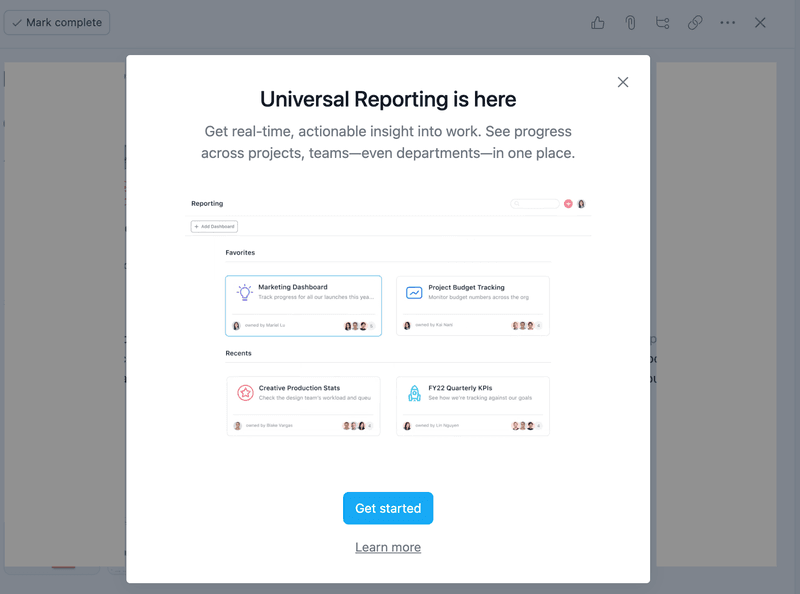 Welcome screens and product announcements are the most common examples of modals. Some software will allow you to create a simple hello and introduction for all your users.
Other customer onboarding software enables you to create customizable welcome screens that ask the user about the job they are trying to get done.
You can also use modals for product announcements, updates, and bug fixes that create rapport with your customers. They should know that you are constantly building a better product for them.
Tooltips
These features are more than in-app messages. They help the customer understand how to use your features and can be set to appear based on behavior or use case.
You don't want to overload the user with a hundred tooltips that aren't relevant and force them to rage-click through. They should be subtle and appear as a helping hand any time there is any confusion or questions.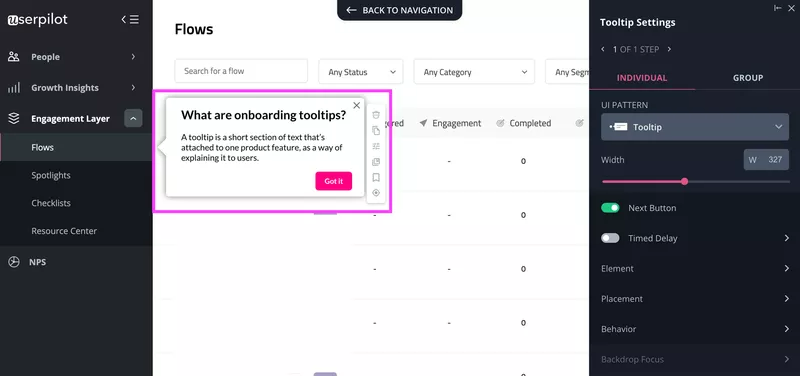 Segmentation
Segmentation support is another important feature, as it allows you to divide customers into several groups to communicate with them one-on-one.
Some simpler tools will allow you to segment based on login frequency or by country.
More advanced segmentation lets you split up your customers based on their core feature use, the actions they have completed, or even if they went through your primary onboarding experience.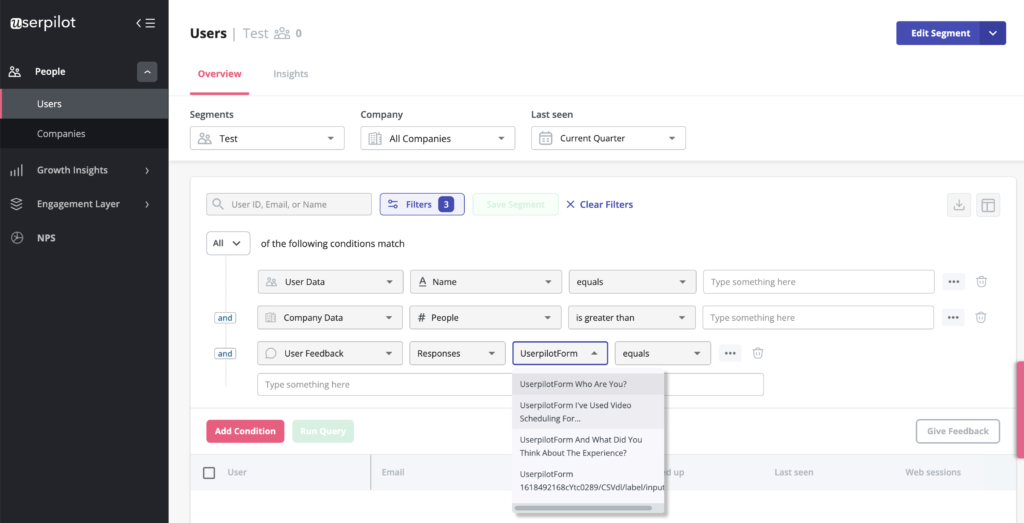 Analytics
This feature tracks the behavior of your users. Through the data you receive, you will know how helpful your onboarding content truly is.
Occasionally, customer onboarding software doesn't bother with analytics and lets SaaS companies rely on more powerful products like Fullstory or Mixpanel for user behavior insights.
However, others will have their own analytics built to measure feature use and DAU/MAU ratios.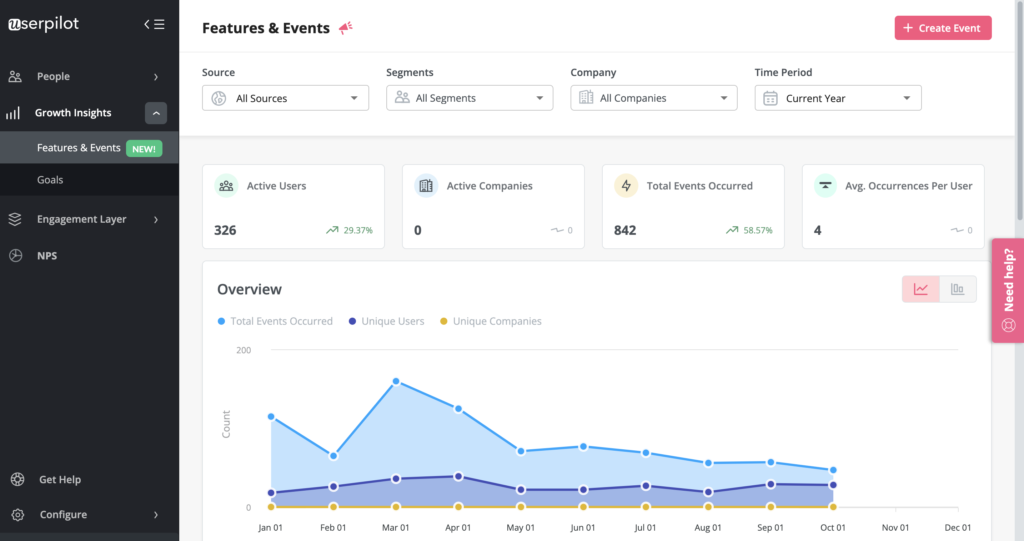 Automation
The automation feature makes it possible to automate repetitive tasks and create shortcuts to simplify some processes.
Instead of creating product experiences manually for every type of customer segment you have, you can set specific rules that apply broadly across your product.
Anytime a customer visits a specific page, exhibits a certain behavior, or logins after a long time, they will automatically receive an email or see some type of experience.
In-app surveys and help centers
These types of features are reserved for customer onboarding tools specifically geared for customer retention.
You always want to keep a finger on the health of your customers and in-app surveys that collect NPS scores or give users the option to voice their opinion. They also help give qualitative insights that normal analytics won't uncover.
Some customer onboarding software will let you build your own help center as a one-stop shop for any questions or frustrations. This decreases the strain on your customer success teams.
Top 10 SaaS customer onboarding software solutions
Now let's dive into our list of the top 10 SaaS customer onboarding software for 2023.
1. Userpilot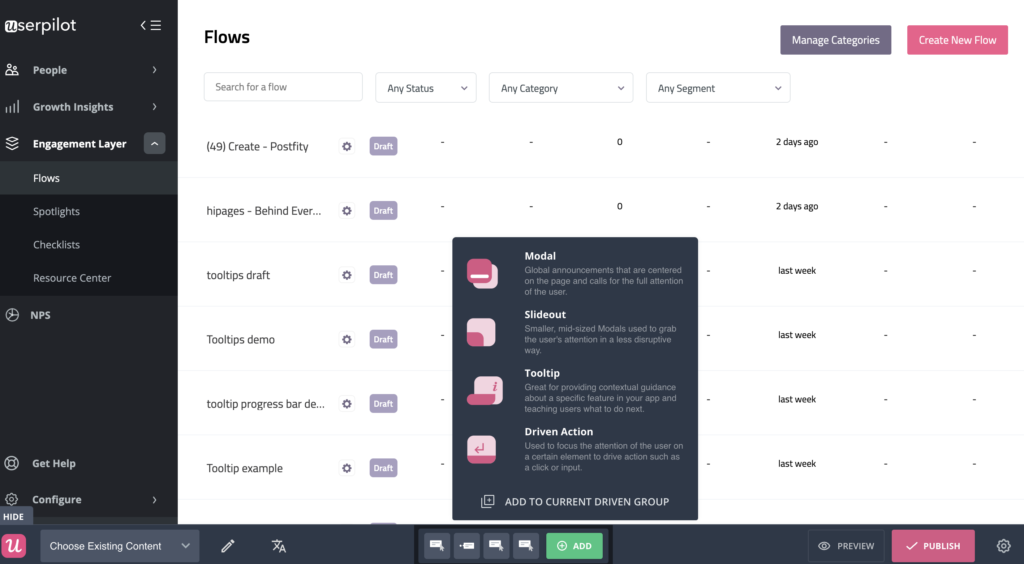 Userpilot is a product adoption platform covering every aspect of onboarding, including email, help docs, and in-app guidance.
Userpilot allows users to reduce activation time for new signups and quickly introduce the product's key features to them. No coding is required to get set up and it only requires a quick Javascript integration with your product.
This is a great solution for mid-market companies looking to create flywheels inside their product and accelerate their conversion and retention rates.
Key Features
Audio-visual walkthroughs
User segmentation
Behavior-responsive messaging
Data Analytics
Advanced onboarding experience tracking
Support of onboarding checklists and maps creation
Pros & Cons
Now it's time to talk about Userpilot's pros and cons.
Pros:
Intuitive and easy-to-use interface;
Provides decent onboarding planning tools (maps and checklists);
Easy to start using and integrate. Userpilot is one of the easiest onboarding platforms to start using on the list;
Excellent and caring customer support;
Reasonable subscription prices.
Cons:
UI is not always intuitive. Requires some learning and training;
Still working through a couple of bugs and glitches.
Pricing
Userpilot offers two subscription plans to choose from Growth (starts from $249/mo) and Enterprise (starts from $749/mo). There is also the option to have a month-long free trial with personalized onboarding from Customer Success.
2. Inline Manual
Inline Manual's digital adoption platform allows users to create interactive walkthroughs, tooltips, announcements, surveys, support articles, in-app user tips, promotions, and other onboarding content elements with their Chrome add-on.
This option is more reserved for simple products looking for a quick customer onboarding tool. It doesn't require heavy developer investment to get set up.
Codeless experience, high customizability, and easy integration with the most popular third-party analytics platforms are some of Inline Manual's distinctive features.
Key Features
Walkthroughs and targeted messaging
Contextual guidance
Behavioral analytics
Announcements, tooltips, hotspots, and in-app help
User communication management
Customer segmentation
Churn management
User targeting and contextual guidance
Multi-language support
Pros & Cons
Now it's time to talk about its pros and cons.
Pros:
A rich selection of features;
Simple to use and user-friendly interface;
Flexible pricing options (subscription price depends on the number of monthly active users);
Fast and helpful support.
Cons:
Automation features are not very useful;
The Editor module consumes a lot of device memory;
No pricing options for an unlimited number of users;
Some parts of the web interface could be more intuitive.
Pricing
Inline Manual offers two subscription plans: Standard Pro and Enterprise. The price for Standard Pro starts from $158 per month for up to 250 active monthly users and can go up to $662/mo if the number of active monthly users of your SaaS product is over 35,000.
3. WalkMe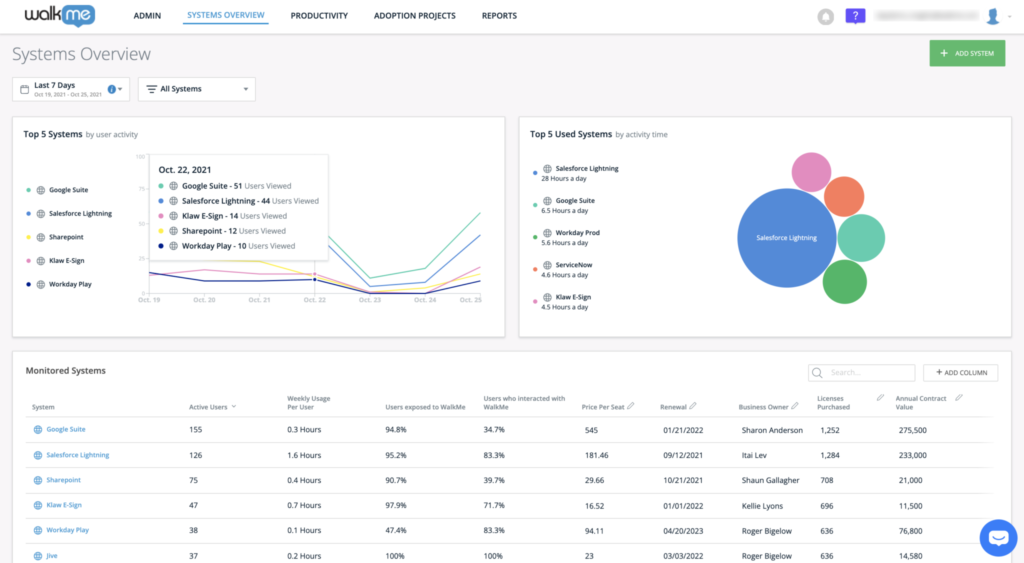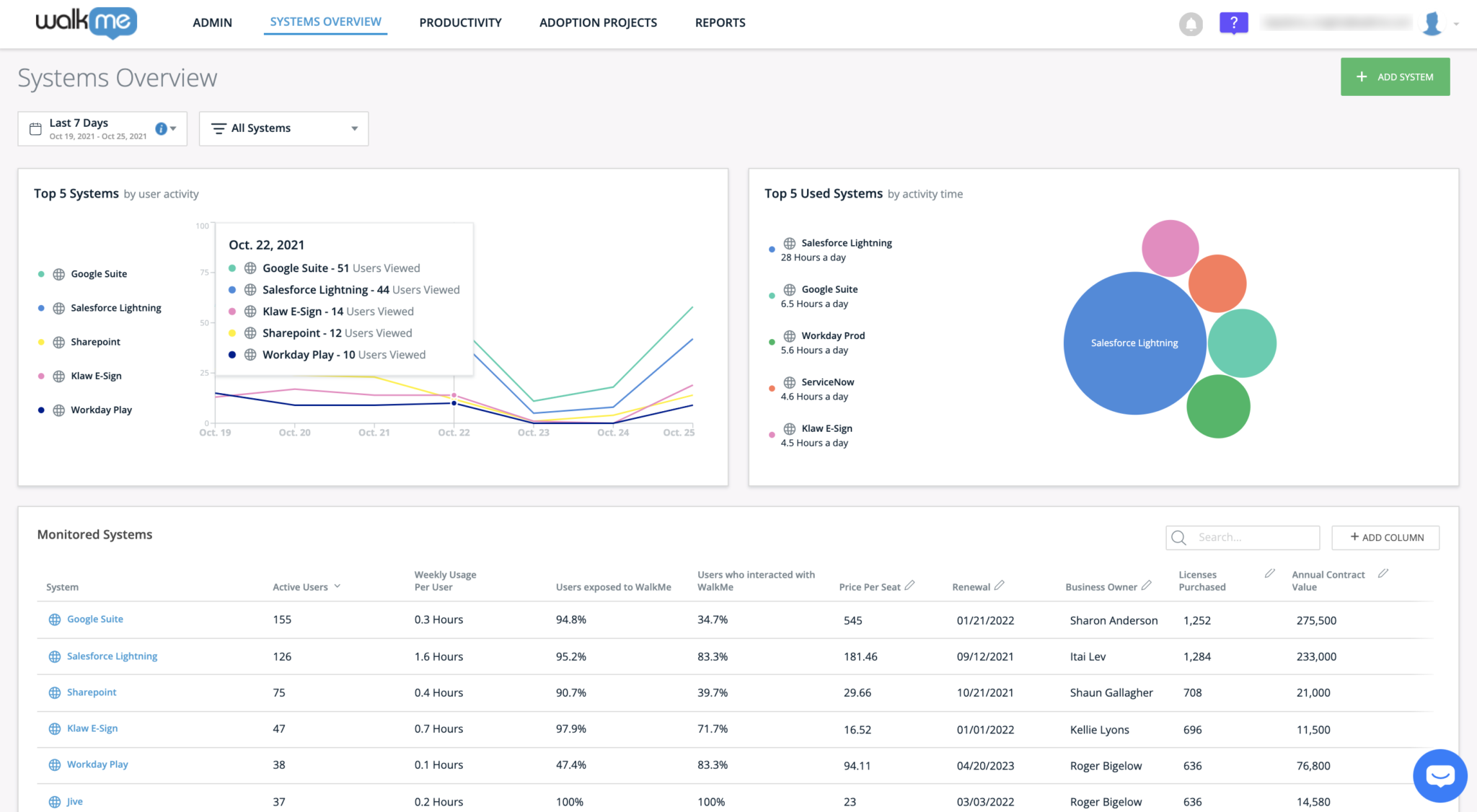 WalkMe is a digital adoption platform that allows you to add interactive on-screen tutorials, guide users through applications, and integrate analytics, automation solutions, and chatbots into your onboarding processes.
It is a fairly complex product and is more geared toward enterprises looking for a complete onboarding package. It has been on the market for some time and has become one of the more well-established customer onboarding options.
Key Features
Walkthroughs
In-app guidance
Analytics
Automation
Knowledge base support
User activity monitoring
Segmentation
Pros & Cons
Now it's time to talk about Walkme's pros and cons.
Pros:
Numerous onboarding features are available;
Easy to integrate all types of content, including videos and knowledge-base articles;
Allows you to create advanced and comprehensive user tutorials;
The platform is flexible and adaptable to various kinds of non-standard solutions;
Quick and responsive customer support.
Cons:
Requires some technical skills to use and integrate into the product;
WalkMe's own customer onboarding is not the best (learning how to use the tool will take time);
Some modules are not very user-friendly;
High subscription prices.
Pricing
WalkMe offers two subscription plans: a Custom Plan and Basic Plan. You need to contact the company to get a quote, and the pricing calculations are not transparent. According to multiple user reviews, pricing packages for WalkMe range from $9000 to over $50,000 per year. For more alternatives similar to WalkMe, see our post here.
4. Pendo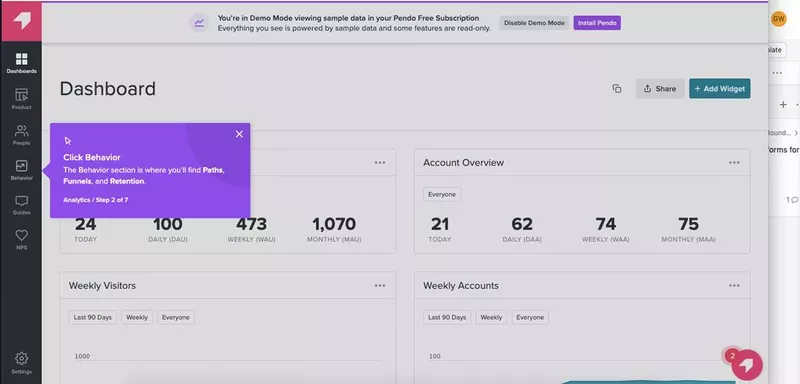 Pendo is a product adoption platform that provides a set of solutions for improved onboarding and feature adoption. It includes user tracking, performance management, and analytics.
They are another heavyweight in the customer onboarding software space and work well for both enterprise and mid-market products.
Key Features
Walkthroughs and targeted messaging
Contextual guidance
Behavioral analytics
Conversion tracking
User communication management
Customer segmentation
Churn management
Pros & Cons
Now it's time to talk about Pendo's pros and cons.
Pros:
A user-friendly platform that is easy to use and integrate;
Great customer support;
Powerful analysis features;
A large number of customization options and widgets;
Good interconnection of onboarding content, analytics, and user-tracking modules
Cons:
Some modules and features may work with occasional errors;
User tracking features are not as functional (compared to other modules);
Reasonably steep learning curve.
Pricing
Pendo offers four different subscription plans: Free, Team, Pro, and Enterprise. The free plan is applicable for up to 1,000 monthly active users. For other subscription plans, Pendo offers custom pricing.
5. Apty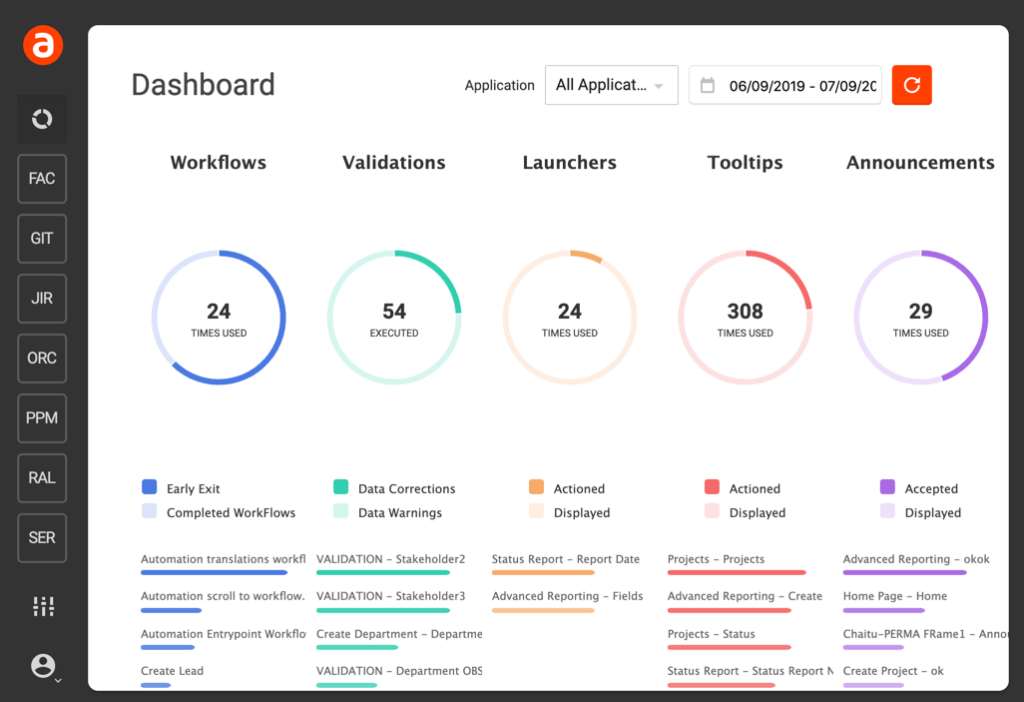 Apty is a digital adoption all-in-one platform for enterprise clients. It helps them make user onboarding easier and more engaging, boost activation rates, reduce user training and support costs, and convert more free trials to paid users.
They are an up-and-comer to this product space and prefer to tailor their product to each of their customer's use cases. It requires more developer investment to get set up.
Key Features
Behavior-responsive messaging
User segmentation
Data analysis
Survey implementation
Adaptive learning
Contextual guidance
Communication management
Gamification
Pros & Cons
Now it's time to talk about Apty's pros and cons.
Pros:
Well-done in-app guidance;
Aptly's analytics tool is one of the most advanced on the market;
User behavior AI analysis can be truly effective (identifies where users get stuck and send them tips);
Easily scalable;
Impeccable support;
Relatively easy to use and implement.
Cons:
Could have more customization options for such a massive enterprise tool;
The web interface could be more intuitive and better designed;
Difficult to edit workflows;
The deployment and implementation can take some time.
Pricing
Apty offers two kinds of subscription plans: Free Evaluation and Custom Plan.
The free plan is available to use for up to 45 days. The price of the Custom plan is not transparent and depends on the client's requirements.
6. Appcues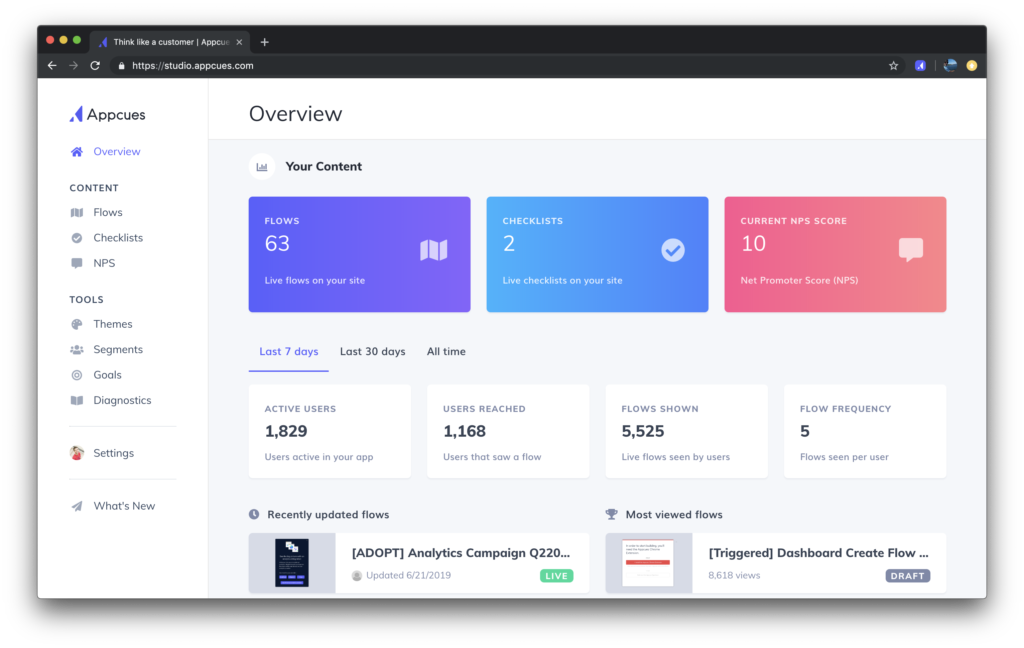 Appcues is an in-app user engagement platform with a codeless user experience. Appcues supports the creation of targeted models, guided tours, and other types of user experience without having to burden engineering with the implementation.
Appcues is another product that has been around for a couple of years. It experienced a lot of growth initially but still has to catch up on some features like the in-app surveys offered in more complete products.
Key Features
User segmentation
Behavior-responsive messaging
Audio-visual walkthroughs
Data analysis
Survey implementation
Multi-language support
Pros & Cons
Now it's time to talk about Appcues pros and cons.
Pros:
Simple integration with third-party analytics;
Easy to start using thanks to simple and intuitive design;
Many third-party services integration options;
Cons:
Segmentation settings can be confusing;
Some features are relatively difficult to use;
No options to turn off the onboarding process for the end user;
Bugs and glitches in the product;
Some features are still in development.
Pricing
Appcues offers three subscription plans to choose from: Essentials (starts from $249/mo), Growth (starts from $879/mo), and Enterprise (custom price).
7. Chameleon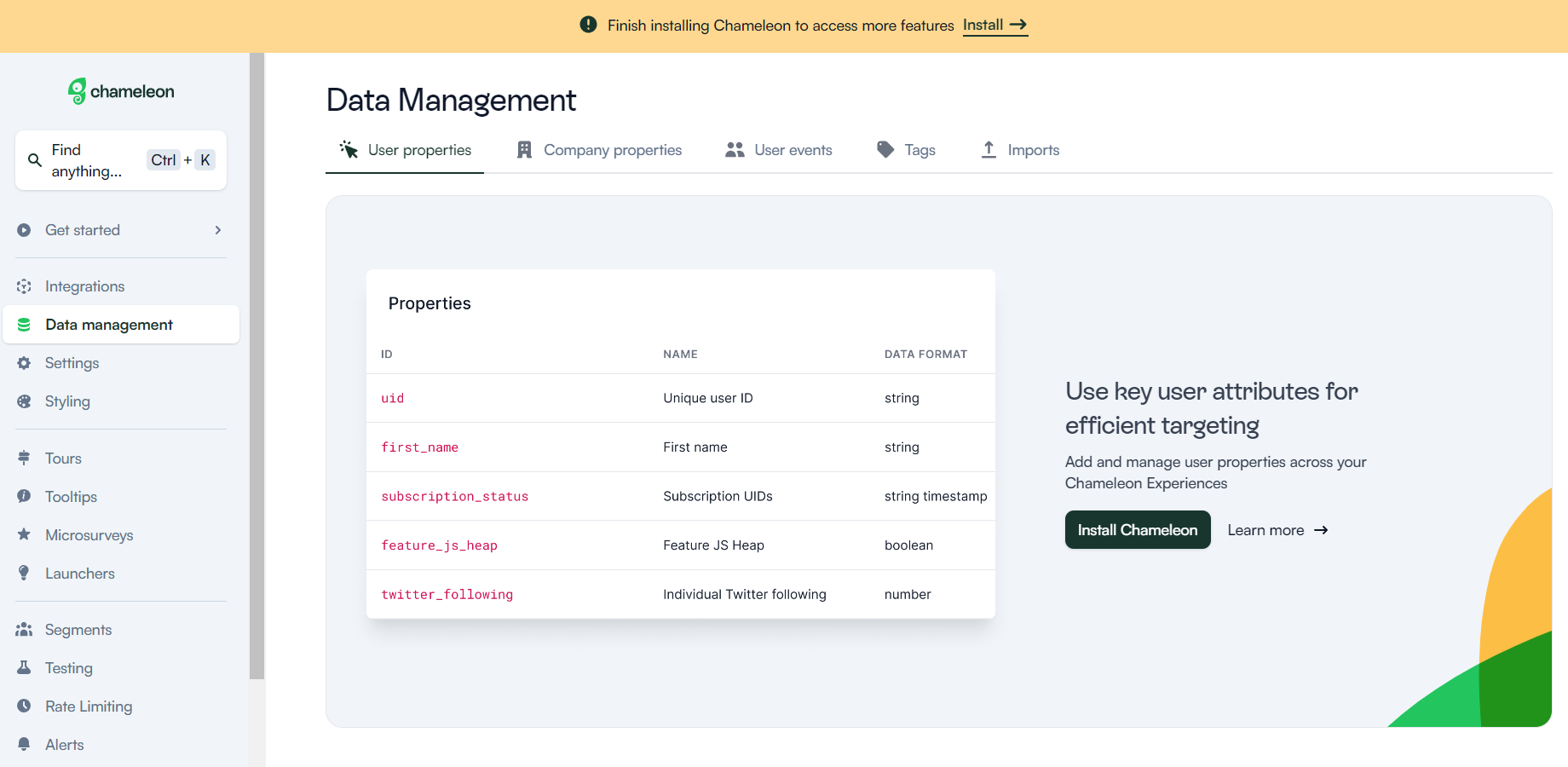 Chameleon is an all-in-one platform for in-product engagement management, including user onboarding, feature discovery, support, and feedback.
They are a relatively simple product more focused on the small business and mid-market space. Very easy to set up and use but still working out the kinks and increasing the number of features available.
Key Features
User segmentation
Behavior-responsive messaging
In-app training
User targeting and contextual guidance
Multi-language support
Launcher widgets
Micro surveys and other feedback options
Pros & Cons
Now it's time to talk about Chameleon's pros and cons.
Pros:
Reasonable prices;
Advanced user tracking capabilities;
A rich selection of customization options;
Easy to set up;
Helpful support.
Cons:
The editor interface tends to be glitchy and freezes a lot;
No integration support for many popular third-party tools;
Some modules, such as mapping, are difficult to use and require improvements;
Poor choice of pre-made onboarding templates.
Pricing
Chameleon offers two different subscription plans: Startup (starts from $279/mo, the price depends on the number of monthly users) and Growth (from $6k/mo).
8. Helphero
HelpHero is a customer onboarding tool that specializes in no-code product tours.
Like the other solutions on this list, it includes audience tracking, measurement, and personalization capabilities.
This is a relatively new product but has made many gains in the small business market for its ease of use.
Key Features
Visual tour editor
Onboarding checklists
Built-in analytics
Performance optimization
Advanced personalization and targeting
Pros & Cons
Now it's time to talk about Helphero's pros and cons.
Pros:
Well-designed and simple walkthrough creation experience;
Reasonable pricing;
One of the most accessible tools on the list for beginners;
Easily customizable;
Powerful measurement and optimization features.
Cons:
Not much user help information is available;
Some features have limited functionality (user behavior tracking);
Certain elements of design and interface could be better.
Pricing
HelpHero offers monthly and yearly subscriptions with the price based on the number of monthly users. It starts from $55 per month or $550 a year for up to 1,000 active users.
9. Salesforce Interaction Studio
Salesforce Interaction Studio is a real-time user personalization and interactions management solution that allows companies to track customer behavior.
It can trigger personalized messages, recommendations, and offers inside their mobile apps and other channels.
This solution is more focused on the customer journey in B2C products. It lacks most product growth features; however, if you are looking to automate many of your customer interactions, this is a great tool.
Key Features
In-depth customer analytics and insights
Advanced digital behavior monitoring
AI-driven optimization
Real-time segmentation
Contextually relevant customer messaging
Cross-channel engagement
Personalized messaging
Advanced analytics and AI predictions
Pros & Cons
Now it's time to talk about Salesforce Interaction Studio's pros and cons.
Pros:
Excellent personalization and data collection capabilities;
Powerful analytics module;
Highly functional behavior measurement feature;
AI recommendations are generally helpful and relevant;
Cons:
The user interface design is a bit outdated;
Relatively high prices (based on multiple user reviews, pricing information is not transparent);
A complex platform with quite a steep learning curve;
Some modules require coding skills to implement;
Customer support is not as helpful compared to other solutions on the list.
Pricing
Salesforce Interaction Studio's pricing is not transparent. You need to contact the sales team for a custom quote.
10. UserGuiding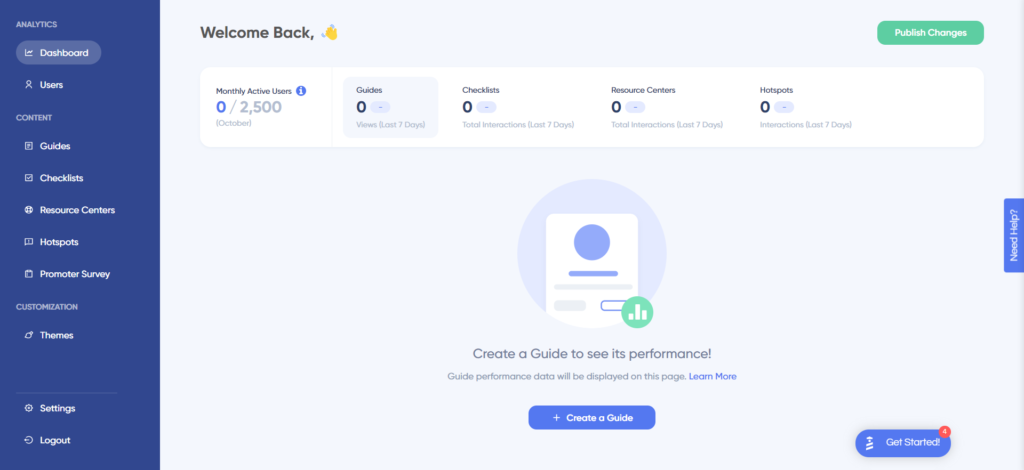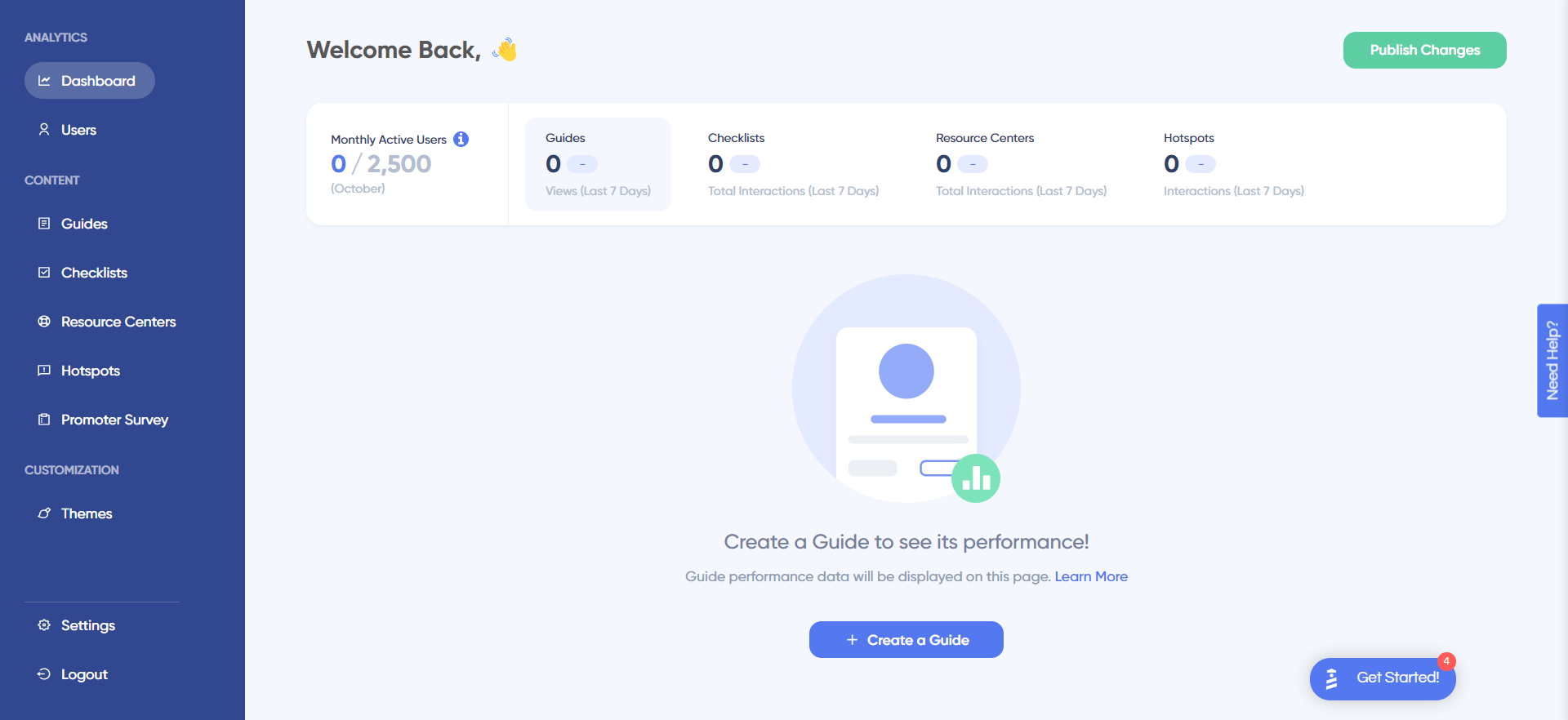 UserGuiding is a no-code product adoption platform with a selection of tools for interactive product guide creation, performance tracking, analytics, and user feedback integration.
It has risen through the ranks as a mid-market solution but is still limited in the analytics category.
Key Features
User onboarding guides and interactive manuals creation
Segmentation
Real-time analytics
NPS surveys
Data analysis
Onboarding checklists
Goal tracking
Hotspots support
Pros & Cons
Now it's time to talk about Userguiding's pros and cons.
Pros:
A wide selection of pre-made templates is available;
Fast and very helpful support;
Simple setup and implementation;
Good selection of onboarding planning tools, such as checklists;
Very reasonable pricing.
Cons:
Not so much learning content available;
Not enough customization options;
A limited selection of user communication tools;
Occasional bugs and errors;
The analytics module is a bit too basic.
Pricing
UserGuiding offers three subscription plans to choose from Basic ($166/mo with up to 2,500 active monthly users), Professional ($333/mo and 5,000 active users limit), and Corporate (custom pricing).
Choosing The Right Customer Onboarding Software For You
As you can see, there is a wide selection of powerful customer onboarding platforms available for businesses of any size, from small startups to large enterprises.
All the solutions on this list provide reasonably powerful sets of tools for onboarding process creation with minimal or no code required.
Even though all the solutions claim to be simple and user-friendly, learning to use some of them will require time and effort.
If you are interested in finding out what makes Userpilot different, don't hesitate to schedule a call with a product specialist.