8 Best SaaS Customer Onboarding Software in 2023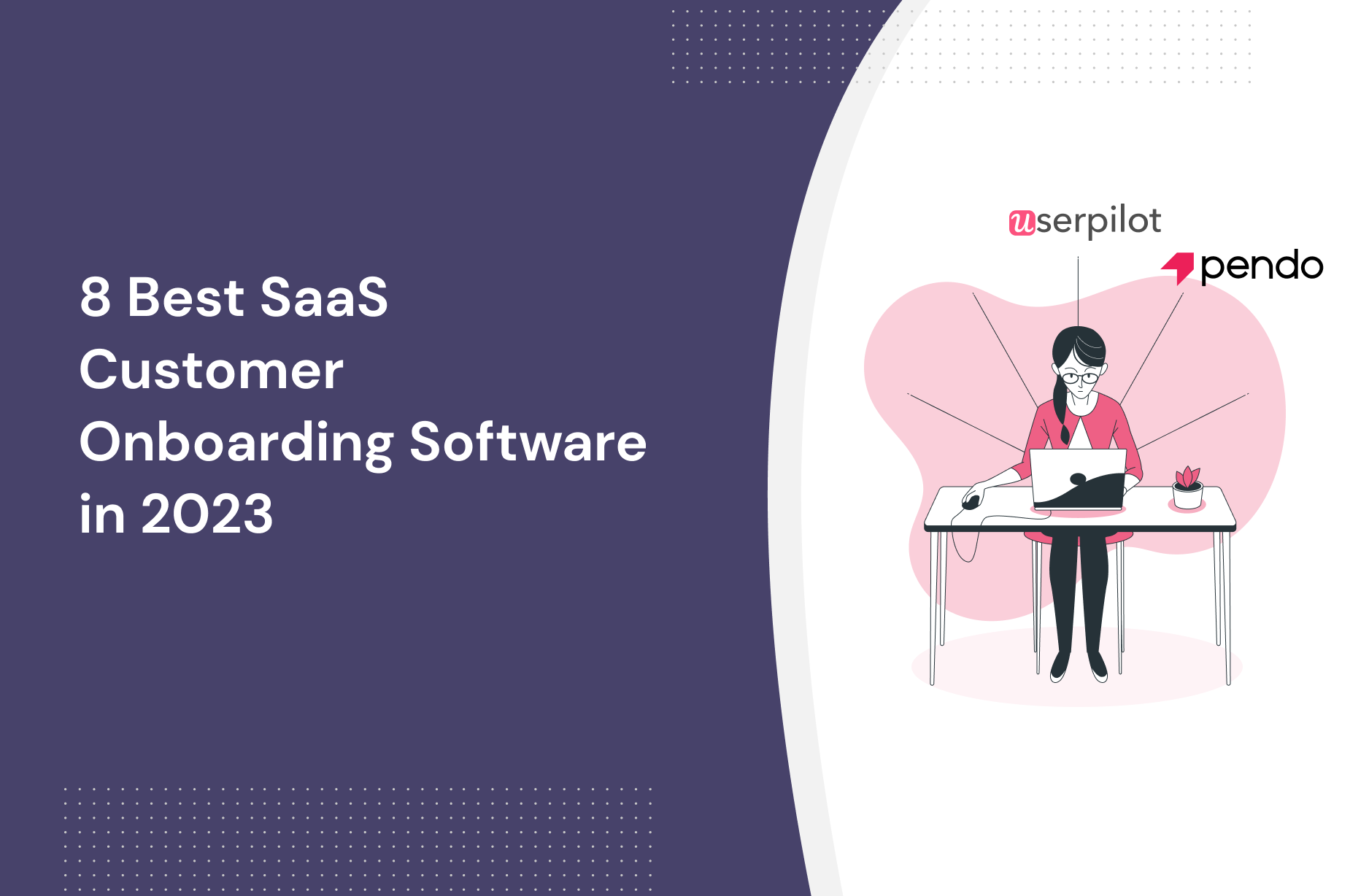 Successfully onboarding your customers is tricky, right? If your new users take too long to see value in your product, they might just drop off and start looking elsewhere.
Luckily, there are many customer onboarding tool options that will help enhance your onboarding process and drive user adoption!
We've done all the hard work for you and put together this list of the best customer onboarding software and apps in 2023.
TL;DR
What is SaaS customer onboarding software?
Let's begin by getting our definitions straight.
When we talk about customer onboarding for SaaS, we are referring to user onboarding, not employee onboarding or client onboarding software (onboarding clients for project-based work). So if you're looking for ways to train your new hires this article won't help.
By "onboarding," we mean the process of teaching your customers how to get value from your product.
Here are some concrete examples of what this type of customer education could look like:
Contrary to popular understanding, onboarding is not just limited to the initial interactions new users have when they sign up for your product for the first time, as this chart indicates:
It's an ongoing process, one that spans the entire customer journey.
For SaaS companies that really get the value of onboarding, there's no reason not to invest in tools that teach customers how to use secondary features, as well as primary ones.
Common features to look for in customer onboarding tools
The core of any SaaS user onboarding software tool is the UI features that it allows you to build, normally without requiring code.
Examples could be complex product tours, modals, hotspots, driven actions or checklists. 
It's these features that will effectively become part of your native product UI, acting as an additional design layer that teaches customers how to get the most out of your app.
Most onboarding tools worth their salt also come with analytics tools that allow you to measure the success of your customer onboarding process.
For instance, you might want to see what percentage of new users finish your product tour, or how changing a tooltip from red to blue impacts the number of customers who find it.
So how might you expect a tool like this to move the needle for your business?
Benefits of SaaS customer onboarding platform
Disclaimer: Each customer onboarding tool is different and therefore affects SaaS businesses in different ways. What follows is a list of typical benefits that you could expect to experience.
Sounds pretty valuable, right? Now let's get into your options.
Criteria for choosing the best customer onboarding software
You don't need me to tell you to look at the price. But if you want to measure value, you should attention to the following five factors:
Can you segment your users?
Without the ability to segment your users, you'll be left providing a generic onboarding experience for all user types.
This is a sure way to alienate your customer base, as we previously argued in this article.
So the very first thing you should ensure your user onboarding process has is an automated tool to divide users into segments.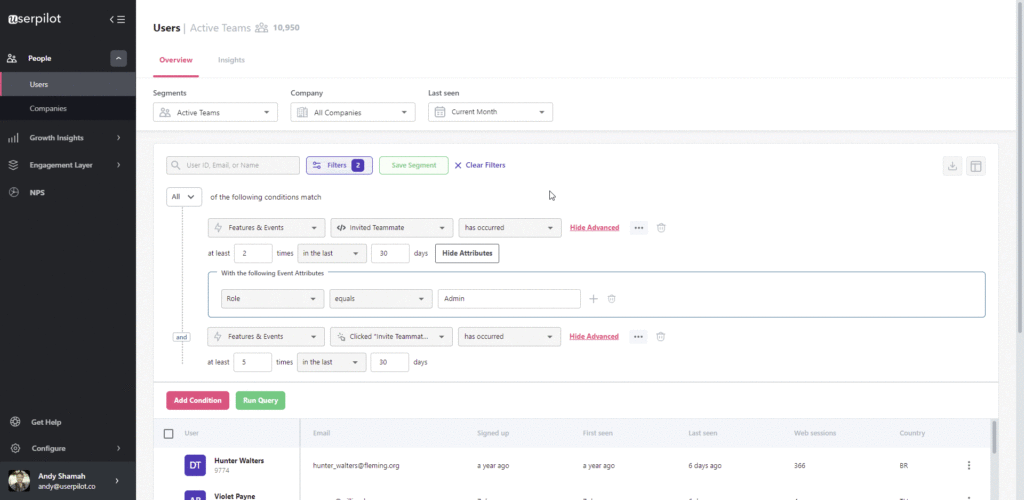 Can you analyze your users' behavior?
There's no use in building an onboarding process without being able to measure the results of your efforts.
Otherwise, how would you know that any product experiments you conduct are a success?
So your software of choice needs to have analytics capabilities.
Are your walkthroughs genuinely interactive?
There are some onboarding tools out there that will only let you build product walkthroughs out of tooltips, or who think that a linear product tour is still a good way to onboard new customers.
Instead, look for a tool that will allow you to create walkthroughs that are genuinely interactive, in the sense that they are responsive to the input of the customer.
For example, if you're a social media scheduling tool, you wouldn't want your tour to show users the option to post a Facebook message before they had first connected their Facebook account.
Can you communicate with your users in-app?
It's easy to find onboarding software that will spam your customer's inbox with email notifications and surveys, but is this really the best solution?
Rather than risk your user getting distracted by their inbox, look instead for software that will allow you to communicate with them inside your app itself.
Microsurveys are a great means of doing this. The surveys you send out can be quantitative (eg NPS) or qualitative.
Is your customer onboarding solution genuinely code-free?
Sadly, there are onboarding tools that advertise themselves as "code-free," despite being nothing of the sort.
A common problem is when onboard software lets you build simple UI elements without code, but will then require you to use advanced CSS to create anything more sophisticated.
Do your due diligence carefully in advance, and ensure your customer onboarding solutions deliver you what they promised.
Customer onboarding software for scale-stage SaaS
While early-stage companies (more about that below) simply need to help guide users through the product, scale-stage SaaS companies need a lot more.
For starters, scale-stage companies will be running far more onboarding experiments.
This means it's crucial that the customer onboarding software offers A/B testing function and other forms of experimentation. This creates an opportunity for customer success.
Obviously, you can't run experiments without detailed analytics, so it's also important that your customer onboarding software provides you with the data you need to make product decisions.
Finally, it's useful to have support for multiple product teams, as it's likely that different teams will be working on different parts of your product.
Let's look at the best customer onboarding software tool for onboarding customers and improving in-app customer experience at every stage of the customer journey.
SaaS customer onboarding software #1 – Userpilot
Userpilot is a powerful product adoption platform that enables you to quickly build personalized, flexible, contextually relevant in-app experiences targeted to different user segments – all without writing a line of code.
Userpilot was built specifically for SaaS product teams that want to improve their user onboarding experience and boost user activation.
You can build a huge variety of contextual user onboarding experiences and in-app guidance flows without needing to code.
Here's what you'll get when you start using Userpilot:
Forget about coding in-app experiences: Userpilot is a no-code solution and only requires your dev to install a line of javascript inside your app and for you to download a Chrome extension that opens up the visual builder.
Build in-app flows and guides using the largest range of UI patterns (modals, slideouts, tooltips, hotspots, banners) and in-app onboarding experiences (checklists, microsurveys, NPS surveys, in-app resource center).
Take advantage of Userpilot's AI onboarding writing assistant to enhance microcopy or write it from scratch and increase customer retention.
Get access to a built-in NPS tool for collecting and analyzing user sentiment so you can improve your onboarding process based on real data.
Build CSAT, CES and other micro-surveys from scratch or using an extensive templates library. Plus analyze customer feedback results directly in Userpilot.
Create and track combinations of in-app events like clicks, hovers, and form fills, and then analyze all these interactions under your own custom events, which can be built without code or API calls.
Use advanced built-in product analytics and in-app flows analytics to identify where users need help and create granular user segments to trigger in-app experiences contextually (segment based on user identification data, in-app engagement, custom events, clicks, hovers, form fills, user feedback responses, NPS scores and more).
Enhance the onboarding experience with in-app help by launching a Resource Center directly inside your app. Add in-app guides, and video tutorials, and give users access to search the knowledge base or reach out to support. Self-service has never been easier.
Take advantage of Userpilot's two-way integration with Hubspot and one-way integration with analytics tools like Segment, Amplitude, Mixpanel etc.
The best user onboarding is contextual and it happens right where the users need it, inside your app. There isn't a better user onboarding tool out there that offers more value for the money than Userpilot.
Schedule a demo with our team and get ready to build the best onboarding experiences your users have seen.
Userpilot pricing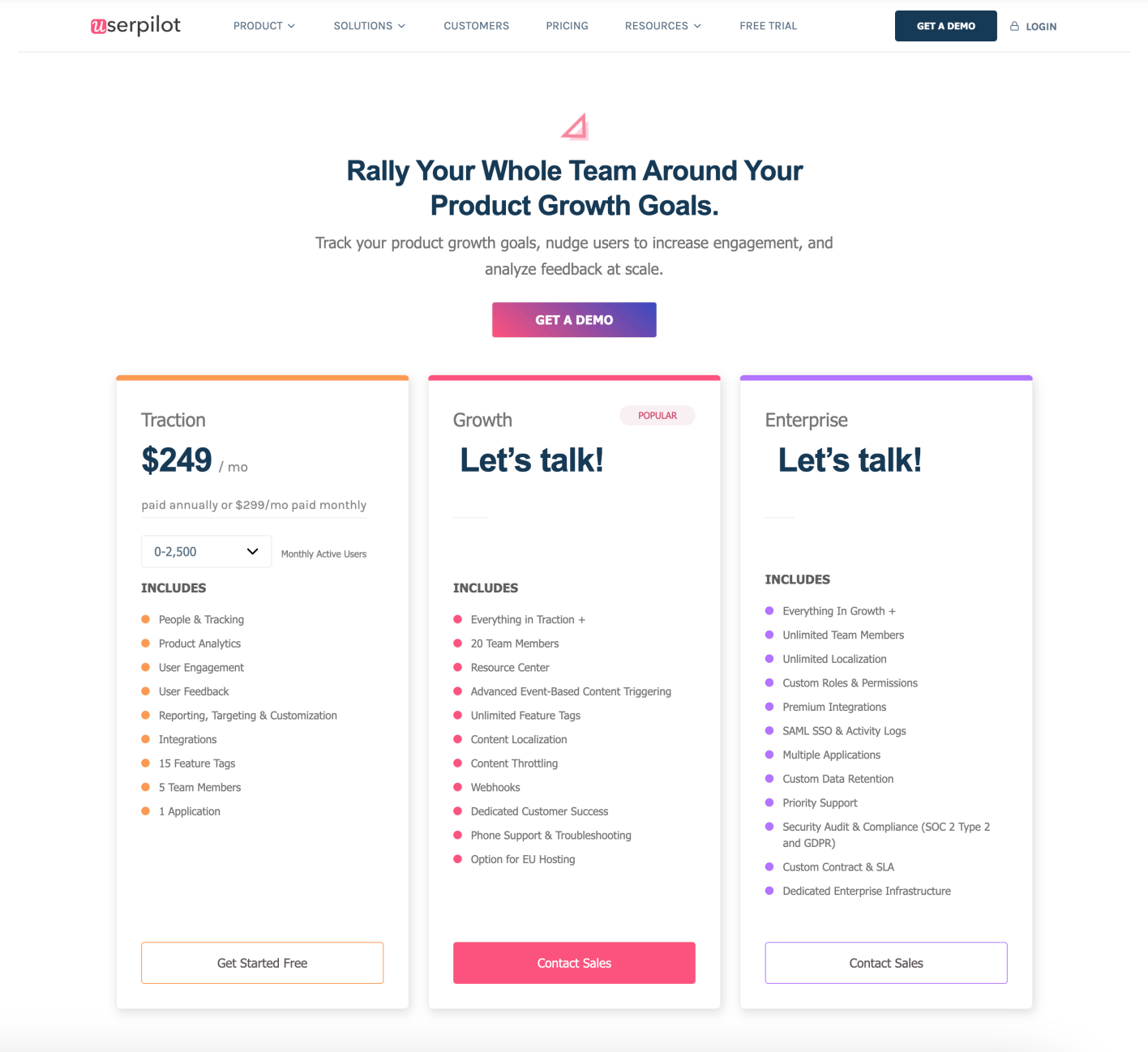 Userpilot offers great value for money compared to other similar tools on the market. Even its entry-level plan (Traction) provides all the necessary features without any usage limit.
The price-to-feature ratio is the best for Userpilot. Other cheaper tools in the market would definitely not fulfill your needs, and others like Pendo would be out of budget. Userpilot sits in that sweet spot. – Saurav S.
Userpilot pricing starts at $249/mo for 2500 MAU on the Starter plan and offers everything you need to get started with your customer onboarding process.
For scaling and enterprise needs, Userpilot has custom plans specifically designed. Get a Demo and see which plan is best for you.
SaaS customer onboarding software #2 – Pendo
Pendo is a comprehensive digital adoption platform with impressive analytics, in-app feedback, and product adoption features.
It caters primarily to enterprise users and probably has the most advanced analytics of all tools we're covering in this article. But it all comes at a price.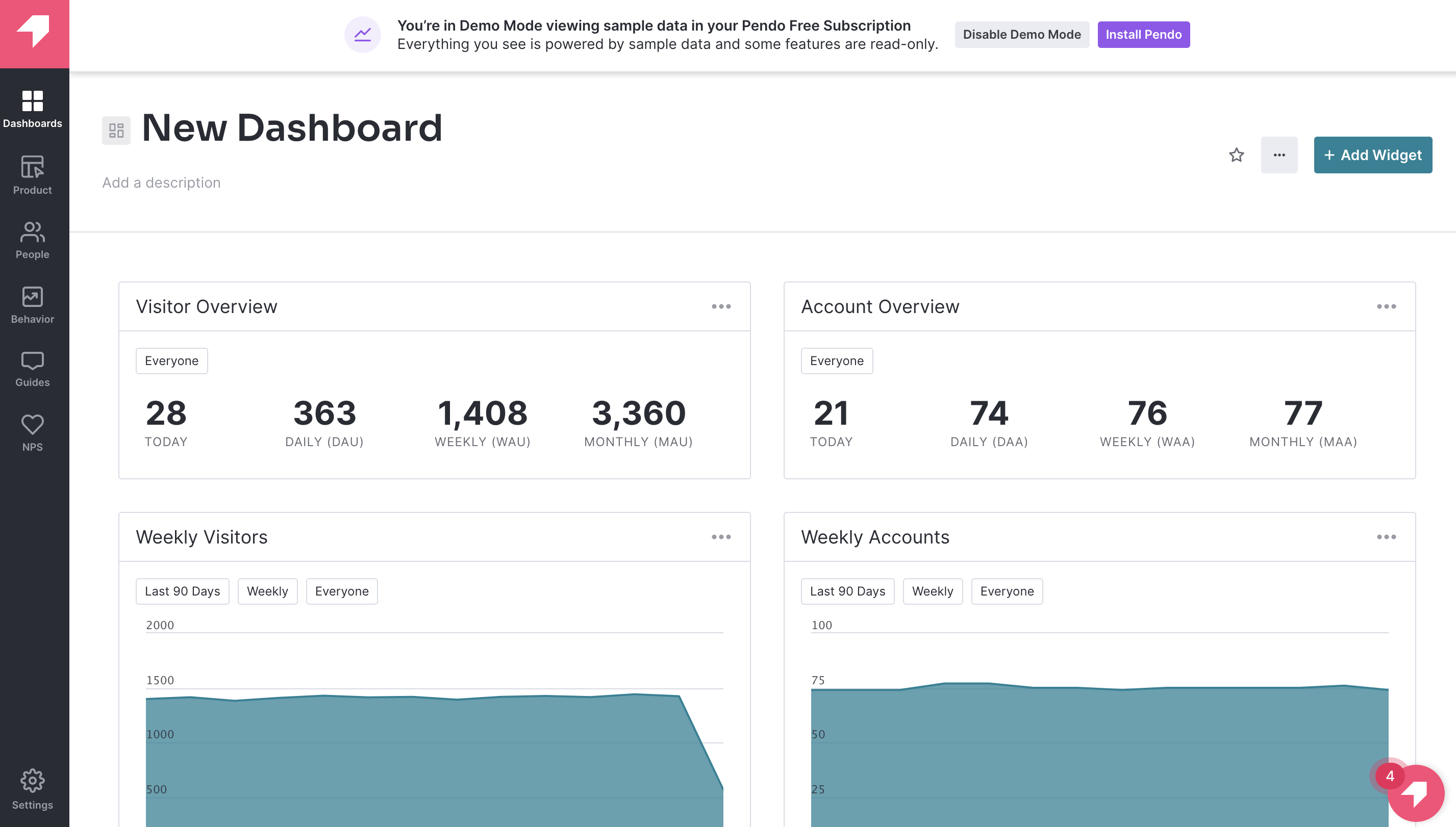 When it comes to user onboarding, Pendo offers guides for building in-app guidance that improves user onboarding across web and mobile apps. But how much do they cost, and are there better alternatives on the market?
Here's what to expect from Pendo guides:
You can build guides using templates and a WYSIWYG (what-you-see-is-what-you-get) visual design studio editor for creating new designs from scratch.
You can use Pendo's free version to create user onboarding guides, but you'll only get access to limited features and basic analytics.
Types of guides you can create using Pendo include Lightbox, Banner, Tooltips, Polls, and Walkthroughs. The drawback with them is that they are quite basic and don't allow much customization without coding. Even Pendo's own onboarding guide is a series of purple tooltips.
You can also build checklists with Pendo but not as standalone UI elements as users can only access them from the resource center (if they know they exit). This makes it hard and not intuitive for users to access guidance and overall defeats the purpose of using checklists.
Pendo product guidance for mobile works across Android and iOS mobile apps, so if you're looking to support your mobile customers through their onboarding, Pendo might be for you (be aware that Pendo for mobile guides is not included on the free plan).
Surprisingly for a product engagement tool that claims to be "all in one," you can't act directly on the user analytics from Pendo in Pendo.
That's because Pendo doesn't allow you to target users segmented by in-app events with the in-app guides you've built with it.
Here's a short list of Pendo's cons:
It doesn't allow you to trigger experiences based on in-app events either. This is probably because of tech debt – but makes Pendo's analytics pretty much NOT actionable.
Pendo offers limited onboarding elements, which means you can't always create the best experience for your users. If you want checklists these can only be accessed from the Resource Center which defeats the purpose of having them in the first place.
If you're looking for a tool that shows you user analytics in real-time and allows you to trigger in-app experiences based on in-app events and user behavior in real-time – Userpilot offers these features (and at a lower price tag too).
Pendo pricing
Pendo's pricing is only available to you if you ask for a quote. The company doesn't list pricing on its site for the higher tiers. However, some reviews say they have prices starting at $20,000-$25,000 per year for a single product, and around $50,000 per year for the mid-tier package.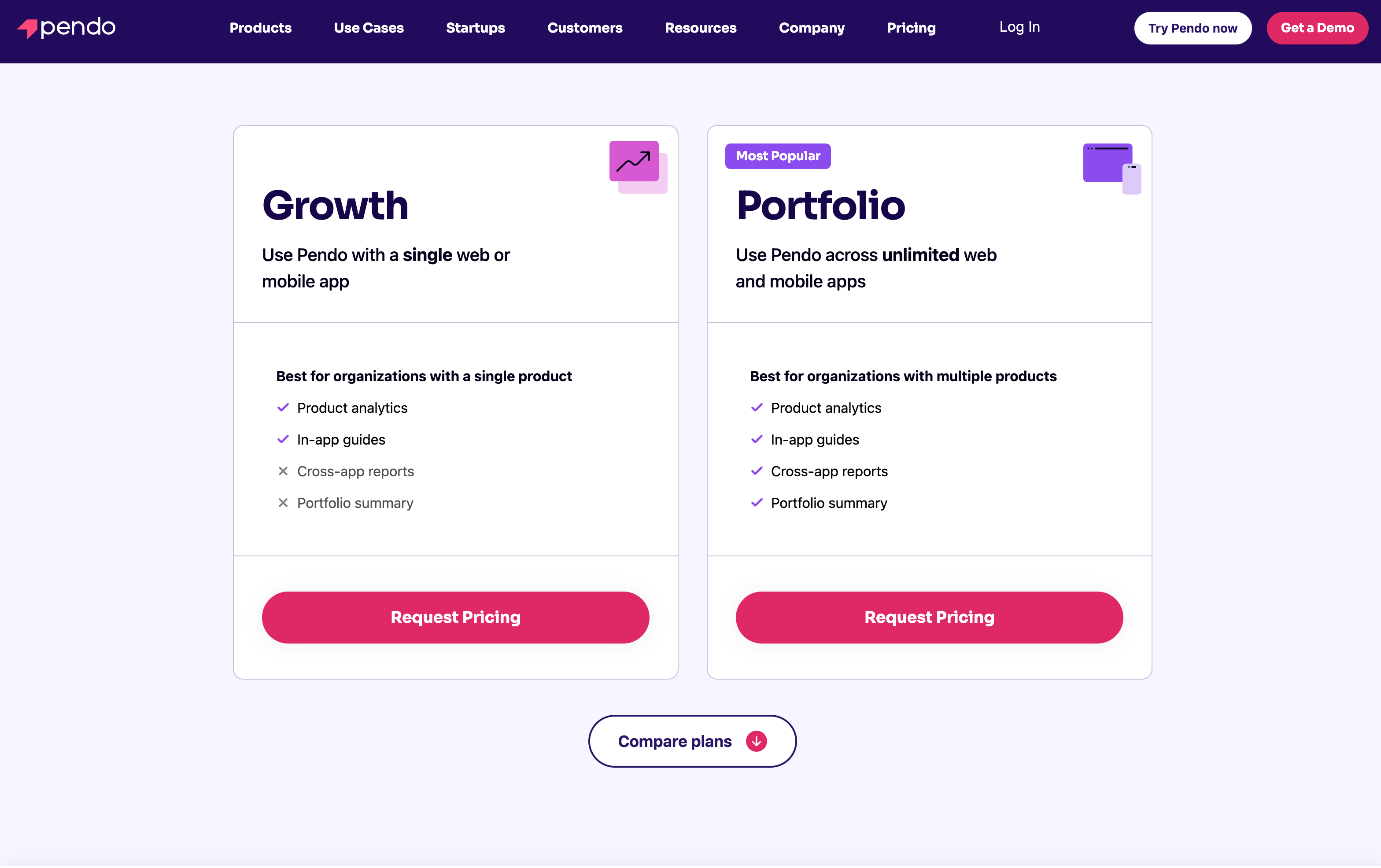 The tricky part when it comes to Pendo's pricing is that you get to pay separately for different modules:
Pendo Free: Up to 500 MAUs, single-app, and basic functionality and analytics.
Pendo Starter – $7,000/year: 2,000 MAU limit, multi-app, and access to premium features like NPS but it doesn't include advanced analytics or integrations.
Pendo Growth: Custom MAU, single-app, NPS and PES, resource center, and access to support compared to lower plans.
Pendo Portfolio: Custom MAU, multi-app, cross-journey reports, experimentation, and 1 free integration included.
Pendo Feedback: Collecting feature requests is a separate module with custom pricing.
Pendo Adopt: Employee onboarding is a separate module with custom pricing.
Pendo Integrations: Synchronizing Pendo with your integrations is a separate module with custom pricing.
SaaS customer onboarding software #3 – Appcues
Appcues used to provide onboarding templates, which made it easy to use the tool. However, it provided a predefined way of thinking about onboarding all while having a higher price tag than other onboarding software.
As of the time of writing (2023), Appcues has removed its onboarding templates – without really replacing them with another solution.
Appcues allows you to design flows that make onboarding processes a breeze. These flows are what you use to create product tours and other in-app communication with users.
Here's what you'll get when you start using Appcues:
Access to an easy-to-use UI that anyone on the team can handle for building in-app flows without coding.
Building a product tour in Appcues is relatively easy. You just need to open their Chrome extension on top of your application and start building your in-app experiences with a WYSIWYG editor. You simply select a UI pattern and customize it 'live', or point to the elements you want to e.g. append your tooltips to.
Previously it was even easier – you chose one of its templates, they would basically create the product tour for you, and you just needed to customize each step. This limited the options for customizing but it was useful for beginners. We don't know if Appcues plans to bring their templates back.
You can also create checklists with Appcues (NOT available on the Essentials plan) and prompt users to take action. These are ok but have limited functionality (can't trigger JS functions, or add gamification elements) compared to alternatives, such as Userpilot.
Track UI engagement with Events Explorer which allows you to tag elements without coding.
Build custom user segments (up to 5 on the Essentials plan) based on user properties, flows, interactions, or events you set up in the events explorer.
Appcues pricing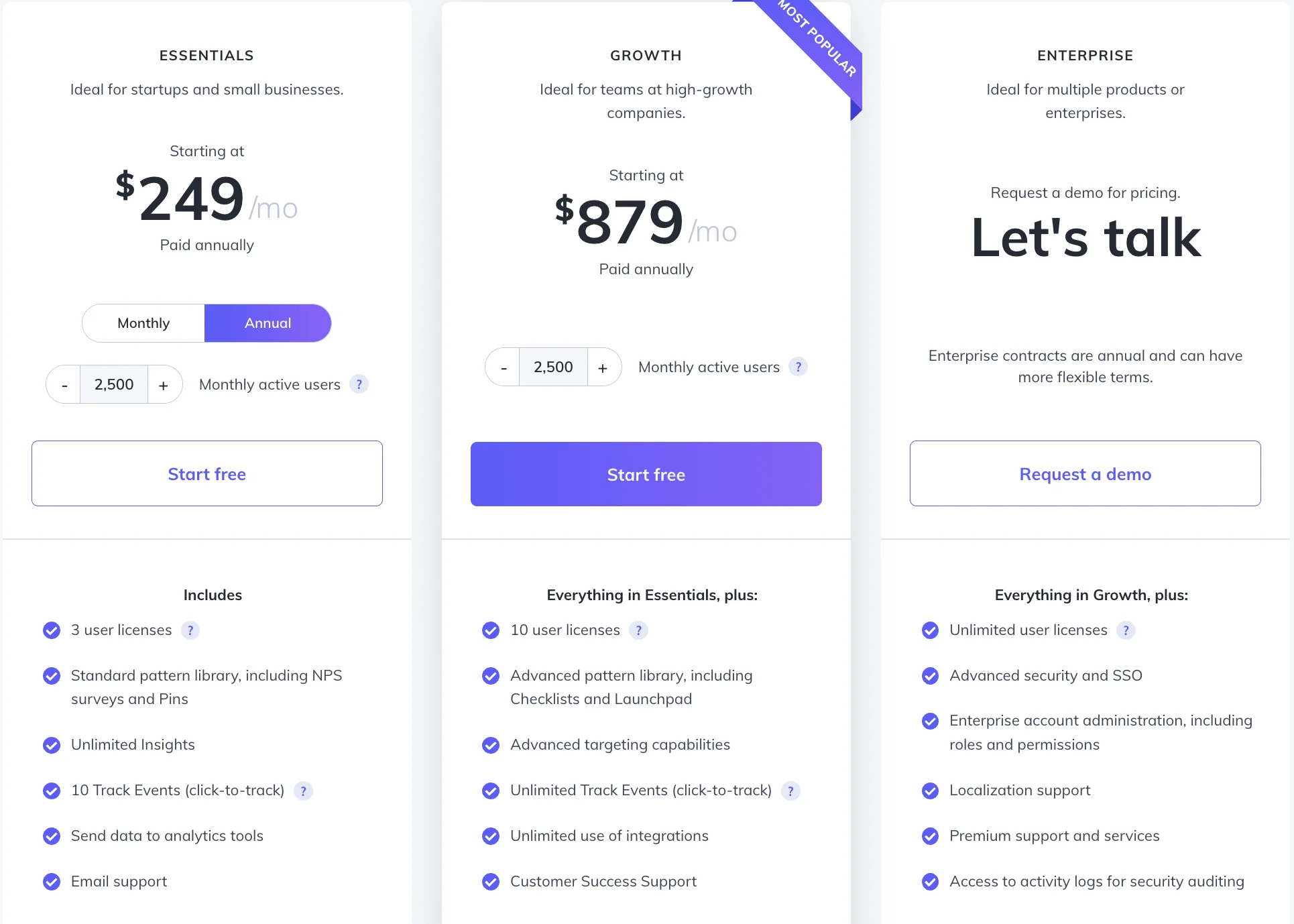 Appcues pricing.
All things considered, Appcues does not offer the best value for money compared to some Appcues alternatives – at $249 per month. If your product has 2,500 active users, the costs for different plans are:
Essentials: $249/month (Up to 3 user licenses, no checklists, no launchpad and very limited analytics and tracking)
Growth: $879/month (Up to 10 user licenses)
Enterprise: Custom (Unlimited user licenses)
SaaS customer onboarding software #4 – Rocketlane
Rocketlane is a customer onboarding software purpose-built for high-touch customer onboarding.
Think of it as project management, communication, and collaboration tools bundled to streamline customer onboarding and software implementation projects.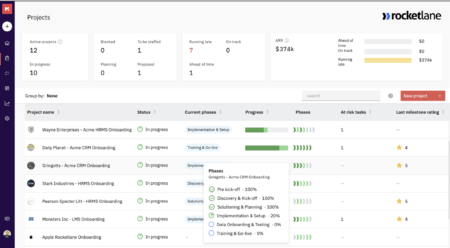 Rocketlane has a sleek dashboard that provides visibility and insights into projects across the organization.
It offers templates that you can use to codify your best practices and create projects in just a few clicks.
Also, it has built-in time tracking capabilities that let your team log hours and provide visibility into their workload.
Rocketlane provides a customer portal that you can customize to reflect your brand. The portal facilitates the right level of sharing with the customer across tasks, documents, and communication.
Also with a one-of-its-kind unified workspace, you can collaborate live with customers on documents and project items. You can also mark work as private or shared to define what's visible to whom.
Rocketlane pricing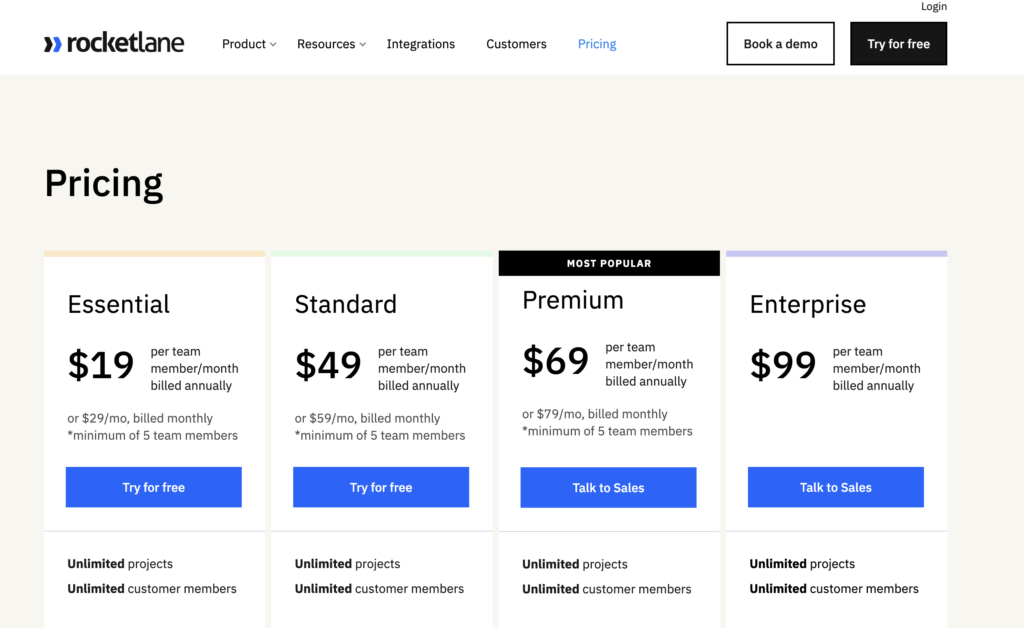 Rocketlane works best for SaaS companies serving midmarket and enterprise, IT services, system integrators, and marketing agencies. It starts at $19 per user per month and comes with a free 21-day trial. Accelerating time-to-value, bringing consistency to your methodology, and delivering a 5-star customer onboarding experience can't get easier.
Customer onboarding software for early-stage SaaS
Startups have a lot to consider when thinking about customer onboarding software.
You need a good mixture of proactive and reactive onboarding (this will become clearer as we go on). You also need to consider different media if you want to drive customer success: email, help docs, and in-app messages for customer retention and user adoption across the entire customer journey.
The point is: onboarding tools are very sticky.
Once you have built an elaborate onboarding process with several emails, experiences and tooltips, it's virtually impossible to move it to another tool without all that blood, sweat and tears of building it from scratch.
Hence – make sure you give it good thought so you don't waste time and resources on tools that don't help you achieve the user adoption growth you're chasing.
SaaS customer onboarding software #5 – HelpHero
HelpHero focuses on making it as easy as possible to add product tours to your SaaS product. It offers a visual tour editor, enabling you to see how your product tour will look as you edit it.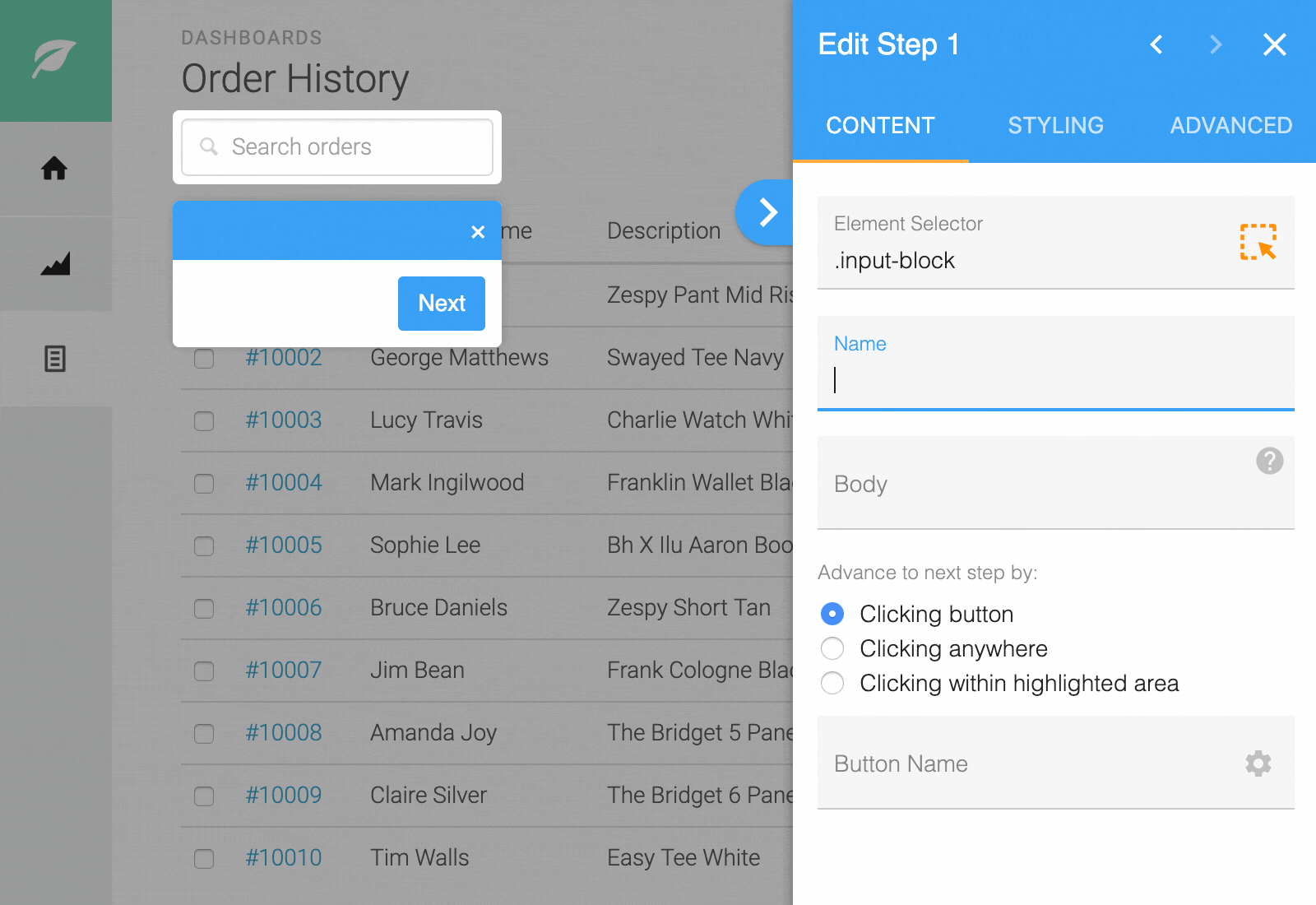 No code is required to build the tours, meaning you don't have to use up valuable dev time.
You can customize the look of your tour so that it fits with your product's UI and branding.
Add checklists to your product, enabling users to see their progress and adding an element of gamification.
Segment and add triggers so that only certain groups of users are shown a specific product tour. This helps you implement contextual onboarding – where users are shown the right message at the right time – to your product.
Helphero pricing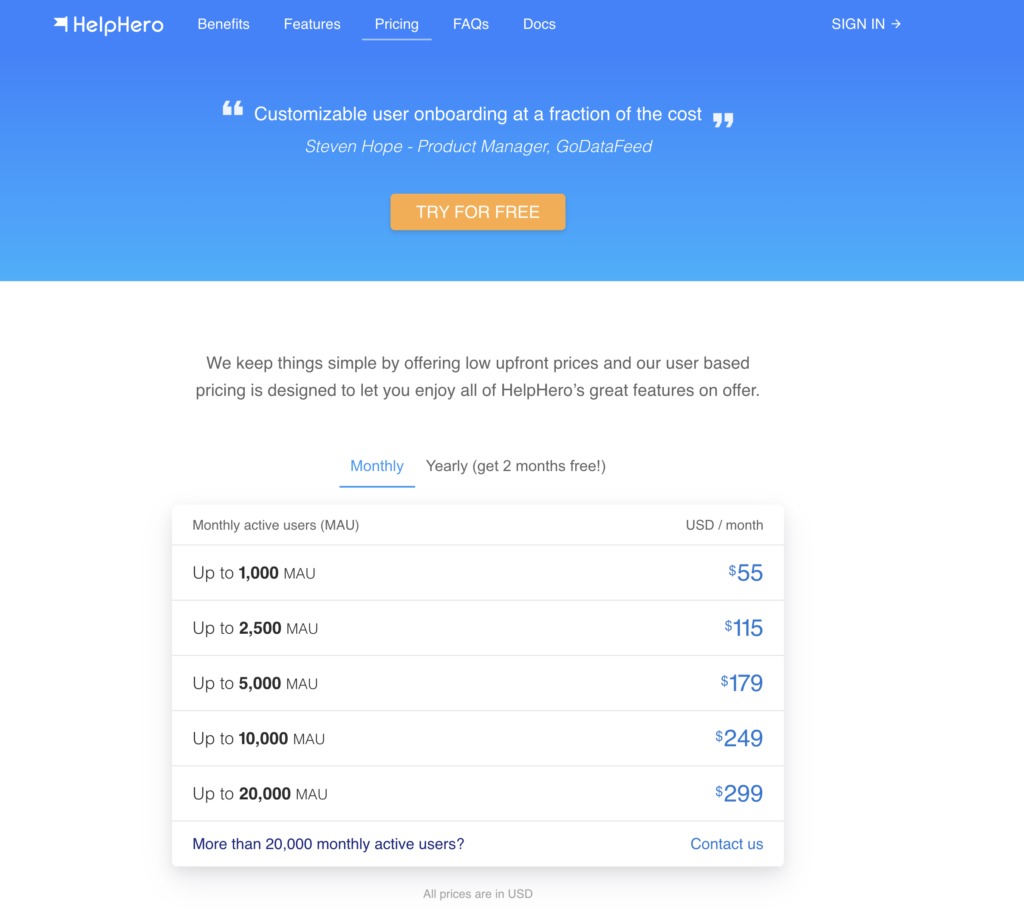 HelpHero starts at $55 per month, which provides you with all the features for up to 1000 monthly active users. This seems a fair price for the functionality you get.
SaaS Customer Onboarding Software #6 – Userlist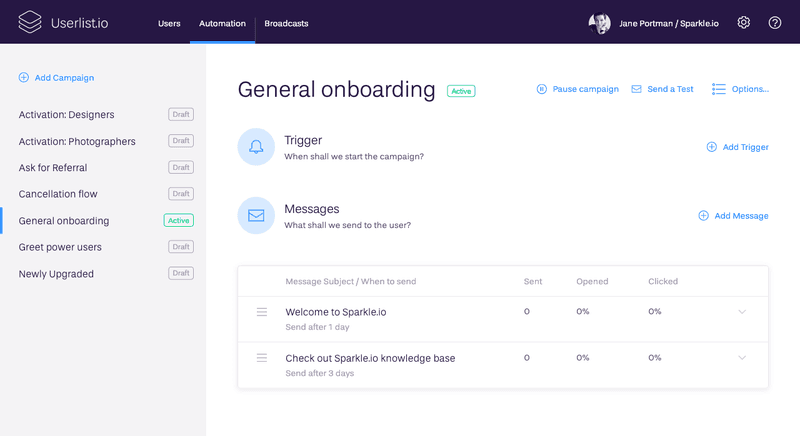 The first email user onboarding software we'll discuss here is Userlist.
Userlist is designed to make it as easy as possible to send automated onboarding flows via email or in-app. For the purpose of this article, we'll talk about Userlist's email functionality.
You're able to set up advanced triggers based on a user's in-app behavior. You might, for example, want an onboarding process to trigger when a user first reaches a specific page of your product.
Userlist features a clean, simple UI that makes creating your emails incredibly easy and optimizes the onboarding experience.
It also offers segmentation, so you can send different onboarding flows to specific groups of new customers. This is a great way of tailoring your onboarding experience to different use cases or customers at different stages of the user onboarding journey in order to achieve customer success.
Userlist pricing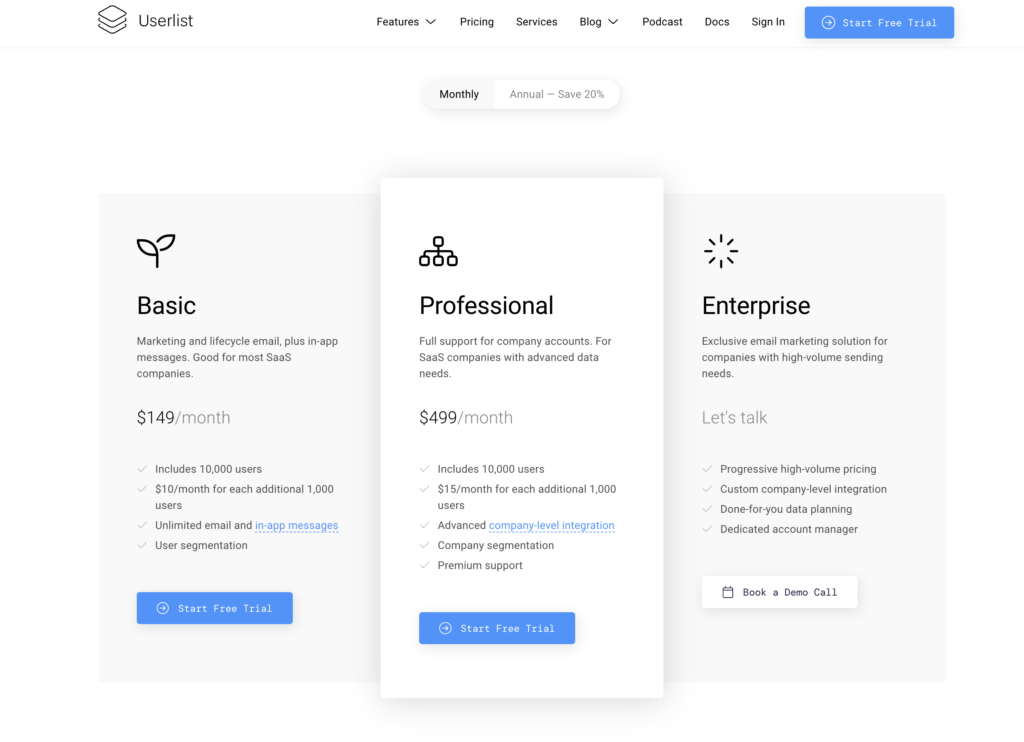 As far as pricing is concerned, Userlist offers a great Basic plan for when you're in the early stages of development. It costs just $149 a month for unlimited messages and up to 10000 users.
The price does jump up quite a bit as you upgrade, but overall the pricing is fair for the functionality you get. Overall, Userlist is a better customer onboarding tool if you want to put your email onboarding on autopilot.
SaaS Customer Onboarding Software #5 – Encharge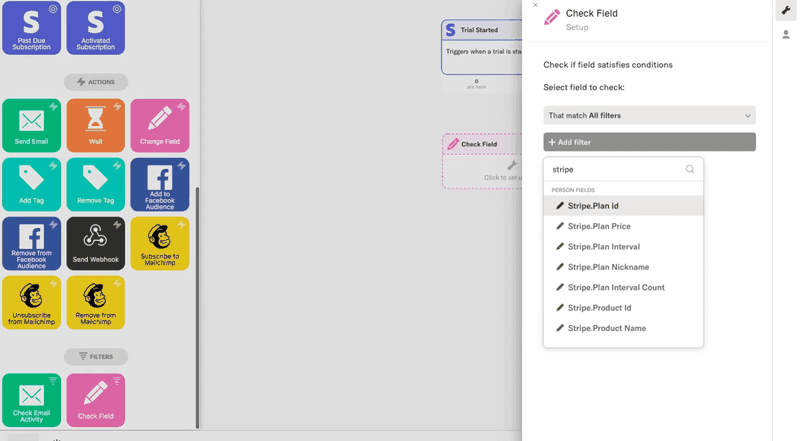 Encharge boasts a drag-and-drop interface that makes it easy to start building your email workflows. If you don't have the time to build them, you can choose from loads of tried-and-tested templates taken from the likes of Dropbox and Airtable.
You also have access to advanced user segmentation, so that campaigns are only sent to the most relevant new users.
Encharge connects to all your favorite tools, including Segment, Intercom, and Hubspot.
Encharge pricing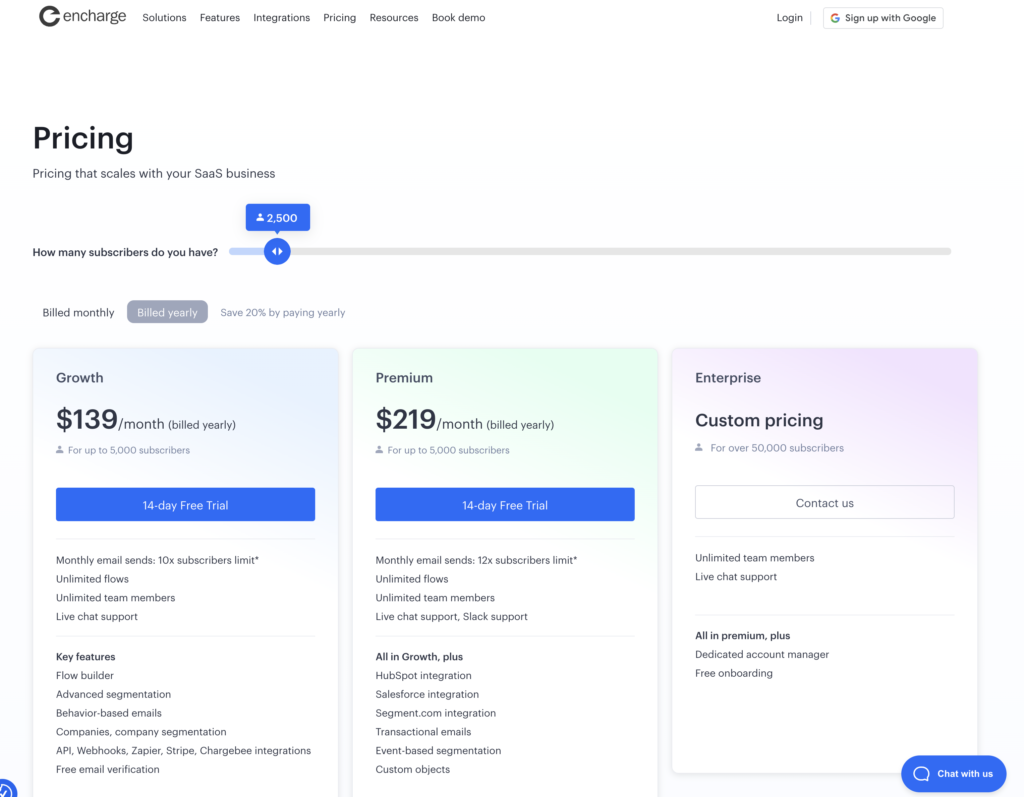 As for pricing, Encharge starts at $49 per month. This gives you up to 2000 subscribers. I think that's a fair price if you're going to use the marketing features that Encharge provides. If you're simply looking for something to aid your email onboarding process, then I'd lead more toward Userlist.
SaaS Customer Onboarding Software #6 – Help Scout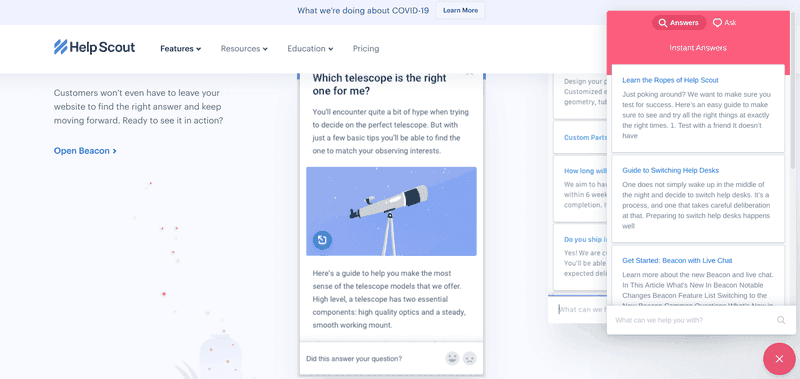 Help Scout offers a lot of great functionality when it comes to creating and maintaining your help docs. With a simple article editor, it's easy to add new help docs to your collection.
Help Scout also helps you link relevant articles together and organize them into logical categories. If you prefer, you can even embed your help doc articles somewhere else, such as a page on your site or even within your product itself.
This means you can make your help docs even more accessible.
They also offer a help center widget called Beacon which enables you to provide relevant articles to your users as they engage with your product.
Helpscout pricing
Help Scout starts at $20 per user per month (when billed annually), which is roughly in line with other help doc tools.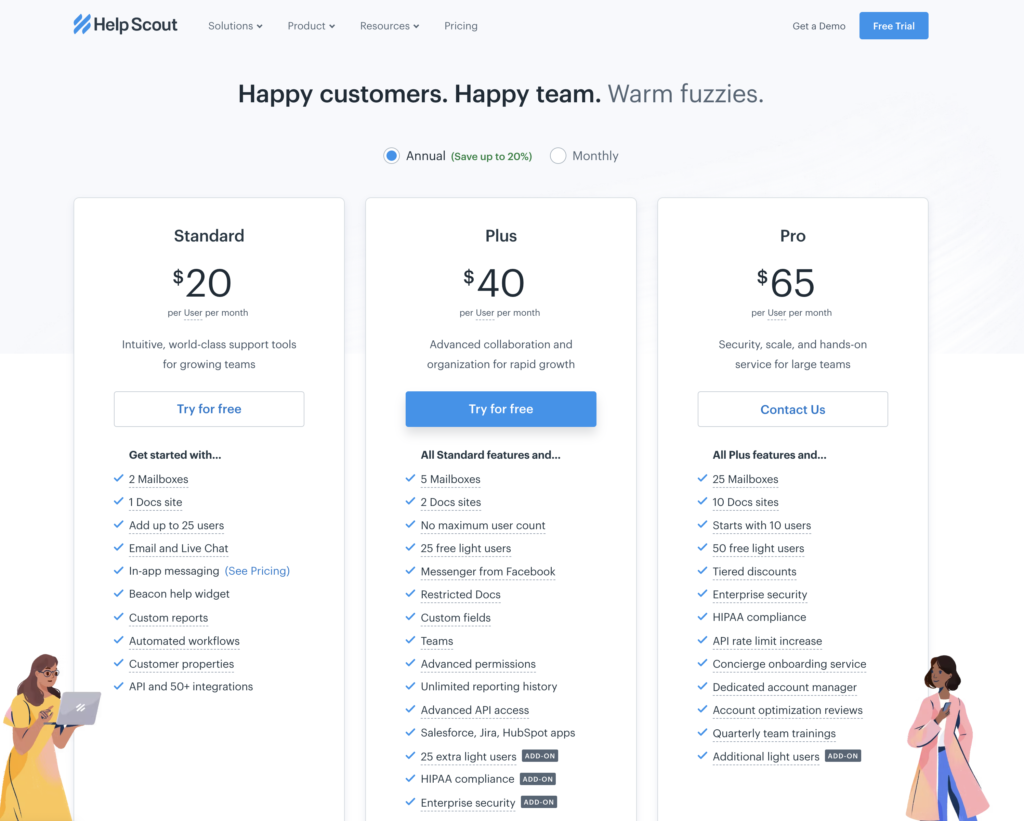 SaaS Customer Onboarding Software #7 – Document360
Next on our list of customer onboarding software is Document360. If you're simply looking for a tool to help you create help docs, then this is a great choice. It might not have all the other functionality that the likes of Help Scout have but what it offers is a simple way of creating and managing your help docs.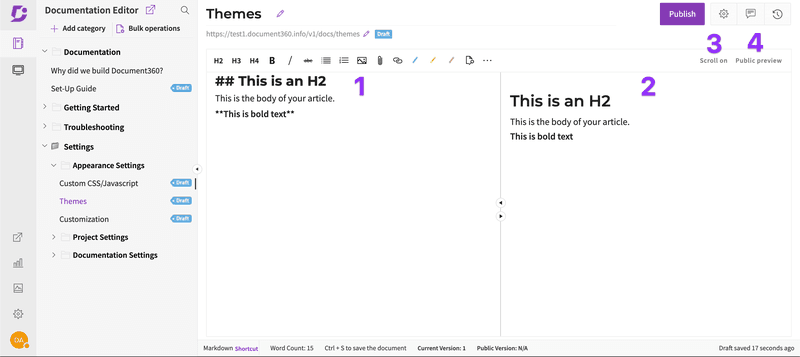 There's a simple editor that puts the focus on writing.
You can then organize articles into different categories and sections. Also important is the ability to customize the branding to match your own style and create consistency.
Another interesting, potentially useful feature is the ability to create private help docs that are password protected. This is a good way of creating internal documents for your employees.
Document360 pricing
Document360 starts at $199 per project per month (billed annually- there's a 45% OFF sale on this that end on June 2023). This is a little on the expensive side considering the functionality is a little more limited than other customer onboarding software. Having said that, if you want the simple approach to help docs, then this could work for you.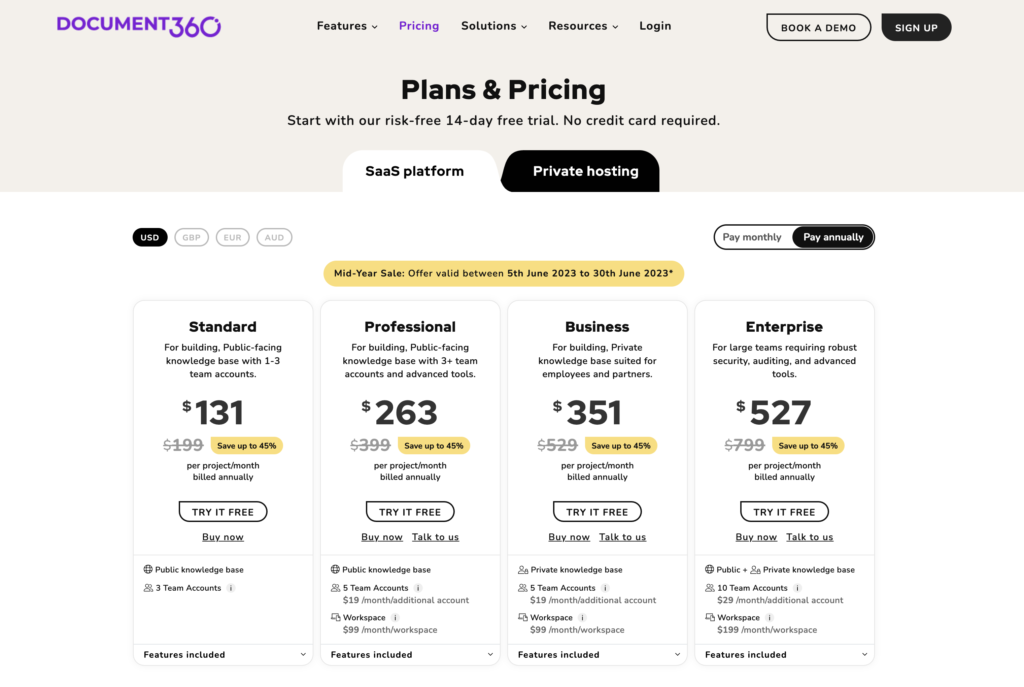 Customer Onboarding Software #8 – Helpjuice
Helpjuice is the last help docs tool on our list. Like the others, it offers a comprehensive way of creating and maintaining your help doc articles.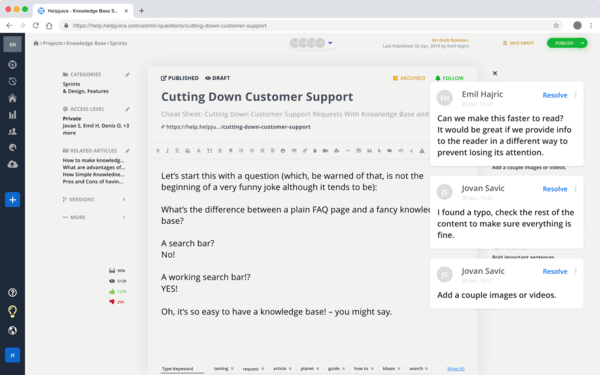 There's a built-in editor so you can create your help docs and then organize them into a structure that makes sense for your new customers.
More interestingly, Helpjuice enables your team to collaborate on help docs, much like you can with Google Docs. This could be useful when you first start building out your help docs. Another feature that Helpjuice offers is detailed analytics.
This lets you see what users search for, as well as the impact that your help docs are having.
Helpjuice pricing
Helpjuice will cost you $120 per month for the starter plan, which gives you access to all the features for up to 4 users. That's fairly expensive, especially for early-stage SaaS companies, so perhaps this is one to consider for the future.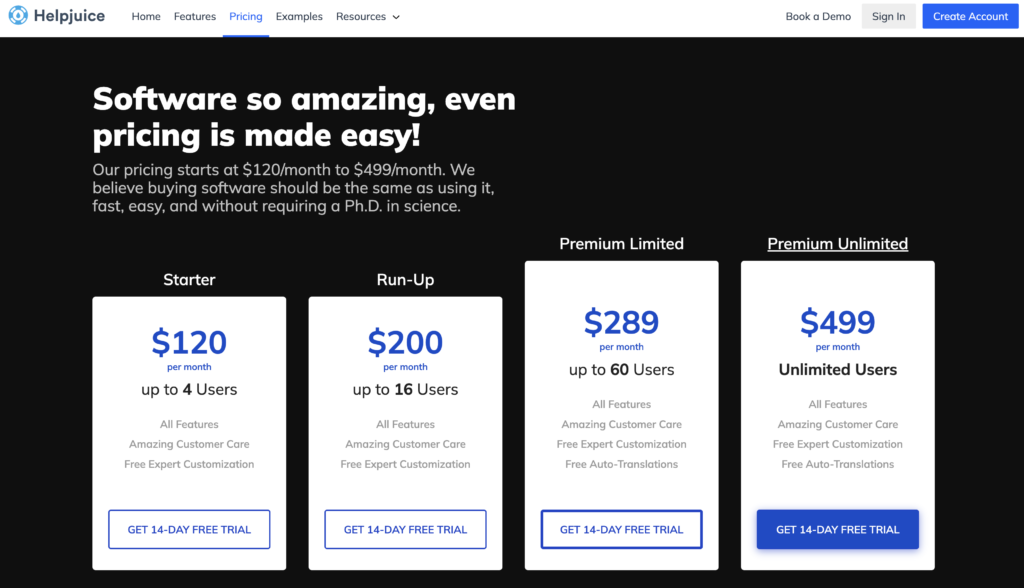 Conclusion
You should now have a better understanding of what onboarding software is and why it's valuable. We've also given you a framework for deciding which onboarding software is the best choice for your business.
We hope that you'll choose Userpilot! It offers a broad range of features at a competitive price.
The trial is also free, so you've got nothing to lose by signing up for a demo today.