User Behavior Tracking: How to Collect and Analyze User Behavior Data [+Tools]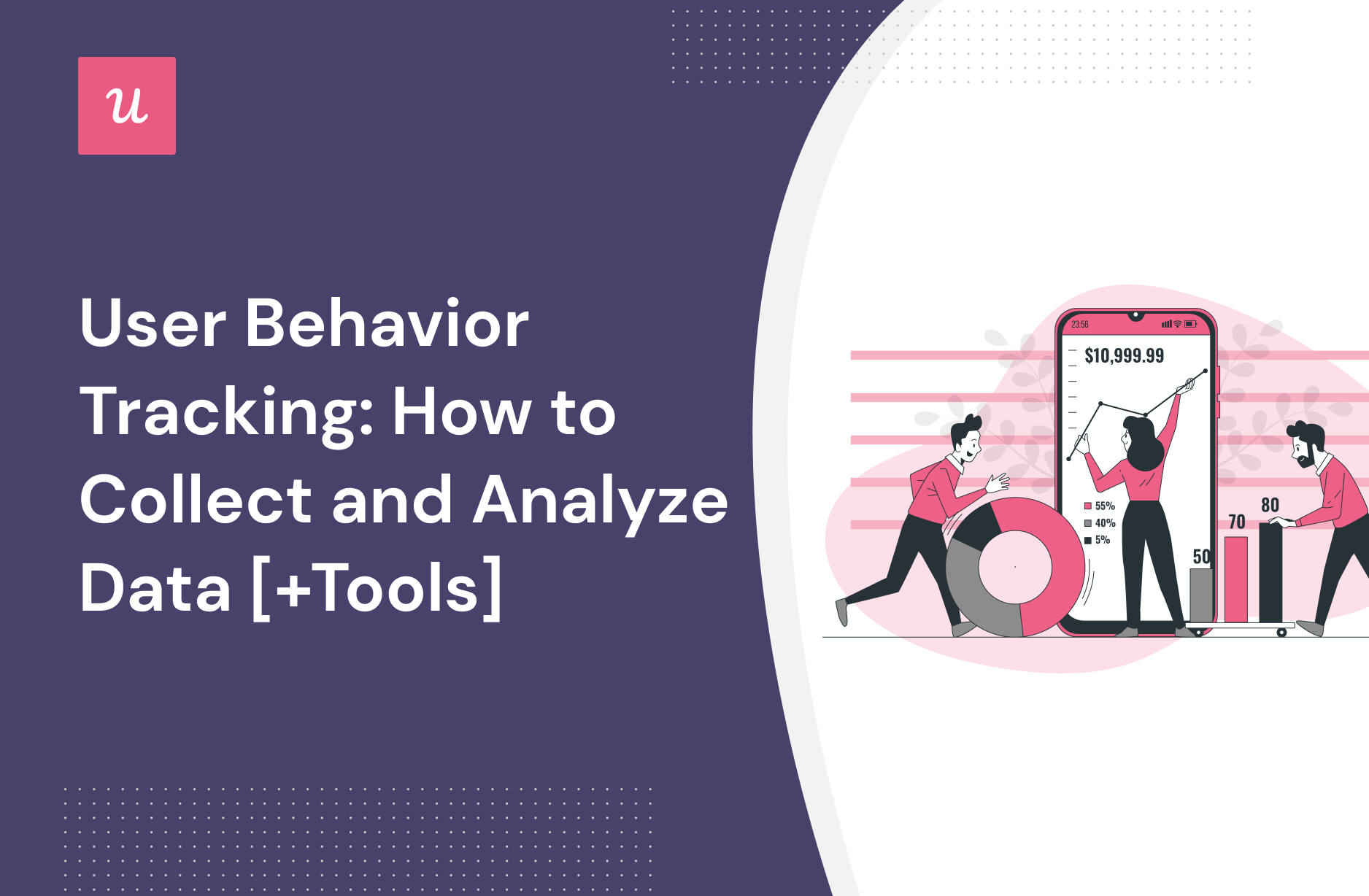 What is user behavior tracking? And where do you start?
Search no further. In this article, we cover what user analytics means, the right metrics to track, and the best tools in the market right now.
After reading this, you will be equipped to track user behavior on your website and app. More importantly, you'll know what to do with the data you get.
TL;DR
User behavior is an umbrella term for all the activities a user performs on your app or website.
User behavior analytics (UBA) involves collecting, grouping, and analyzing users' behavior data to make decisions that enhance your overall UX.
Important user behavior events to track include trial signups and conversions, activation, and complete adoption.
You can understand user behavior by measuring the following: product and feature engagement analytics, session recordings and scroll maps, and product, and user experience analytics.
Tracking user behavior in SaaS helps you understand what brings value to users, identify friction points in the user journey, remove blockers, and shorten the time to value for your tool.
The best tools for tracking user behavior are Userpilot for tracking in-app behavior and how users progress through the journey, Amplitude for a wide range of analytics data, and Hotjar for heatmaps and session recording.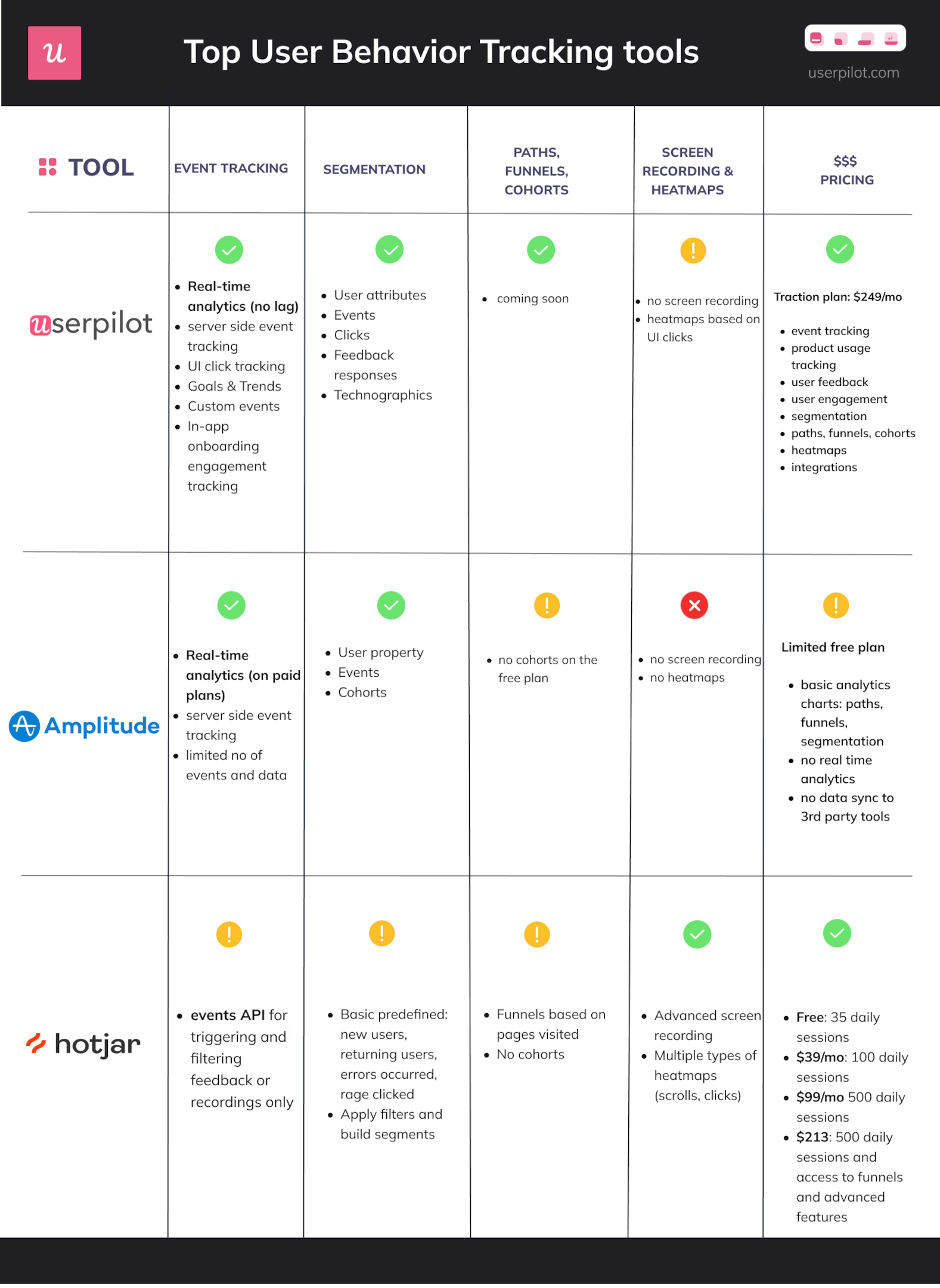 What is user behavior?
User behavior describes all the actions a user performs on a website or mobile app. It includes factors like time on page, the number of pages visited, how people interact with different features, and also friction they encountered while using the product, etc.
What is user behavior analytics?
User behavior analytics (UBA) is a technique for recording user activity and then combining and analyzing that data to understand how and why users interact with a product or website.
In essence, analyzing user behavior helps you understand users the same way you would in an offline setting. For instance, if you run a brick-and-mortar store, you can set up cameras to record how customers enter the mall and interact with your products.
Your on-site staffers will also notice some of these customer behaviors by just observing.
The information collected over time will allow you to decide on improvements you must make to better customer experience and increase sales. This is something user analytics helps you to replicate for your SaaS product and website visitors.
A traditional tracking tool like Google Analytics helps you know what's going on with your website's visitors, but it isn't built to explain why site visitors behave the way they do.
User behavior analytics is different because it provides both quantitative and qualitative data—the what and the why—to facilitate better decision-making.
As we proceed in this article, you will see the different kinds of user behavior tracking, and tools to enable you to execute a proper user behavior analysis. But before we move on, it's worth noting that there's a difference between behavior analytics and behavioral analytics.
Both terms sound similar, but they are not.
Behavioral analytics is more concerned with predicting user behavior, while behavior analytics focuses more on optimizing the user experience.
What are user behavior metrics?
User behavior metrics are analytics data that tell you how visitors engage with your website or app.
Key metrics to look out for as you track user behavior include:
Tracking each of these metrics tells you what points are flexible in the customer journey, places where users encounter friction, and what creates value for customers.
Types of user behavior analytics data you can track
There are different types of user analytics. We will go over three vital ones in this section and why we believe every product marketer should be tracking them.
Product and feature engagement user behavior analytics tracking
These are event-based analytics that track user interactions. They tell you which user did what and the milestones each user has reached in their journey.
These analytics also allow you to see which features users engage with the most.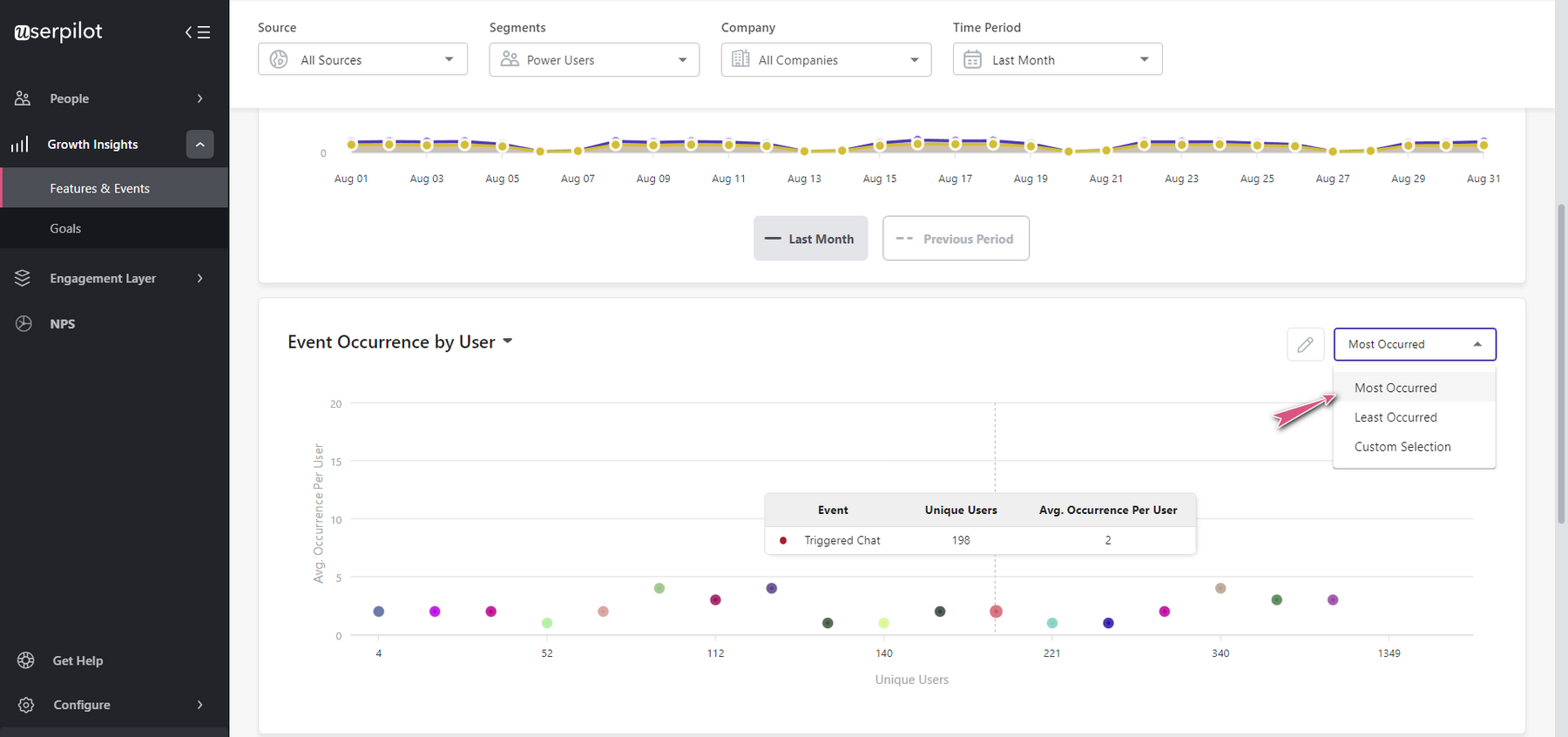 Go a step further and group multiple events in custom events to track a specific journey or under a goal to track different milestones reached.
Userpilot is an excellent tool for tracking this user data. The platform can show you which users have performed specific pre-defined actions—based on pre-defined segments, goals, and custom events.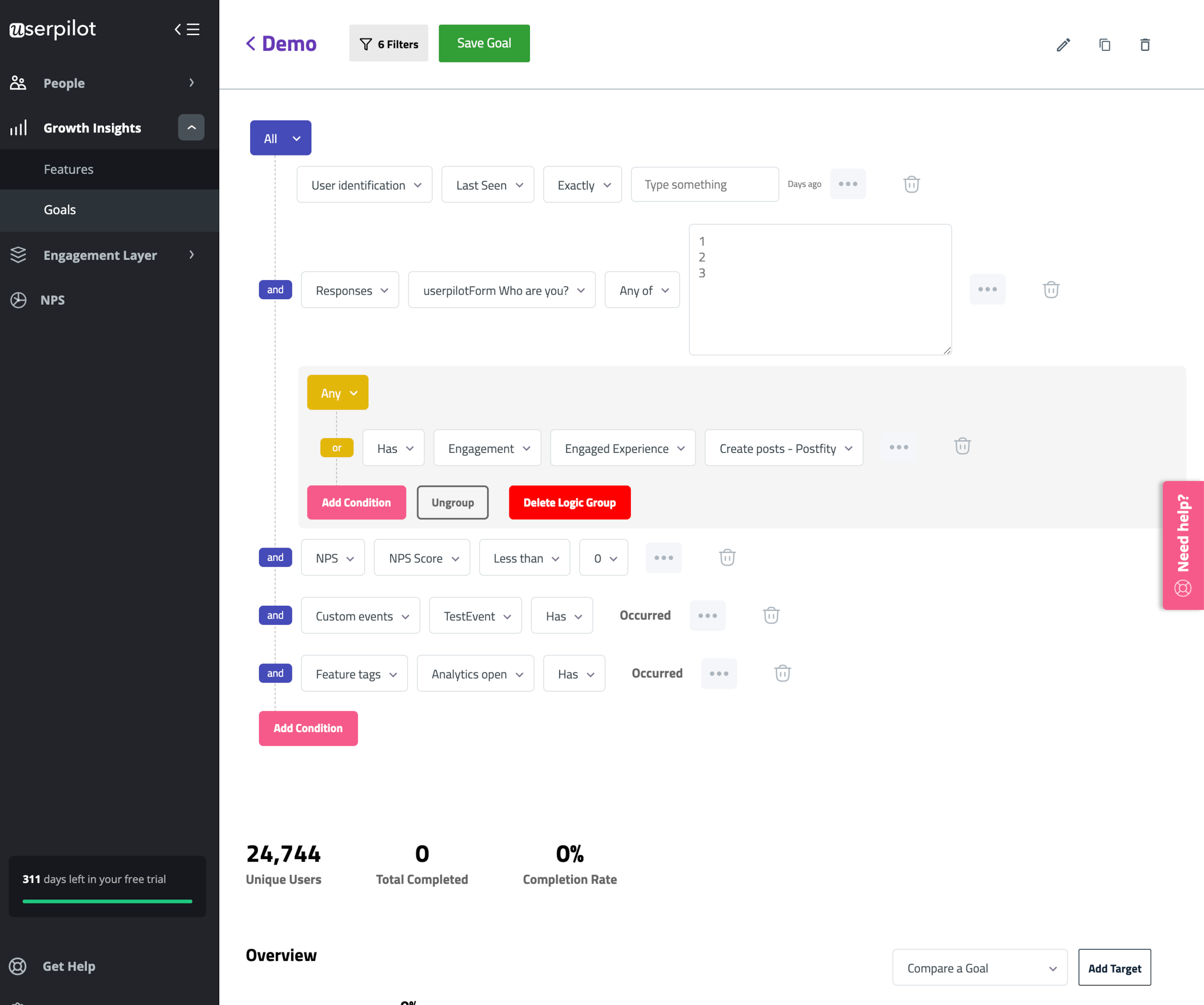 Track product usage and see when users reach certain milestones in their journey. Get a Userpilot demo and see how.
Session recordings and heatmaps
These are those recordings of user behaviors that you can watch and see what the users did in a specific session.
Session recordings can work well with product engagement analytics to provide more detailed information.
For instance, engagement analytics can tell how many product clicks happened per time, but session recordings make you see the reason for the clicks.
By watching those recordings and behavior flow reports, you can quickly identify rage clicks vs. normal clicks.
The data will enable you to quickly know when there's a bug or point of friction that needs urgent attention.
Heatmaps can track user behavior across a specific page, website or product, and show you data about clicks and scrolls.
User and product experience analytics
This tracks customer experience on both your website and app with the end goal of enhancing usability.
There are two main types of user behavior insights to watch here:
Qualitative attitudinal metrics: This uses factors like loyalty, usability, and satisfaction to measure how customers feel about your product. Customer feedback is an essential tool for measuring qualitative data.
Quantitative behavioral metrics: This goes beyond user experience to measure how users interact with your product. Key product experience indicators here are retention rates, abandonment rates, churn rates, and task success.
So many factors make up the entire product experience that it can be hard to determine which to track.
Below are 7 of the most important user experience metrics to fix your gaze on:
Customer satisfaction score
Time per task
User error rate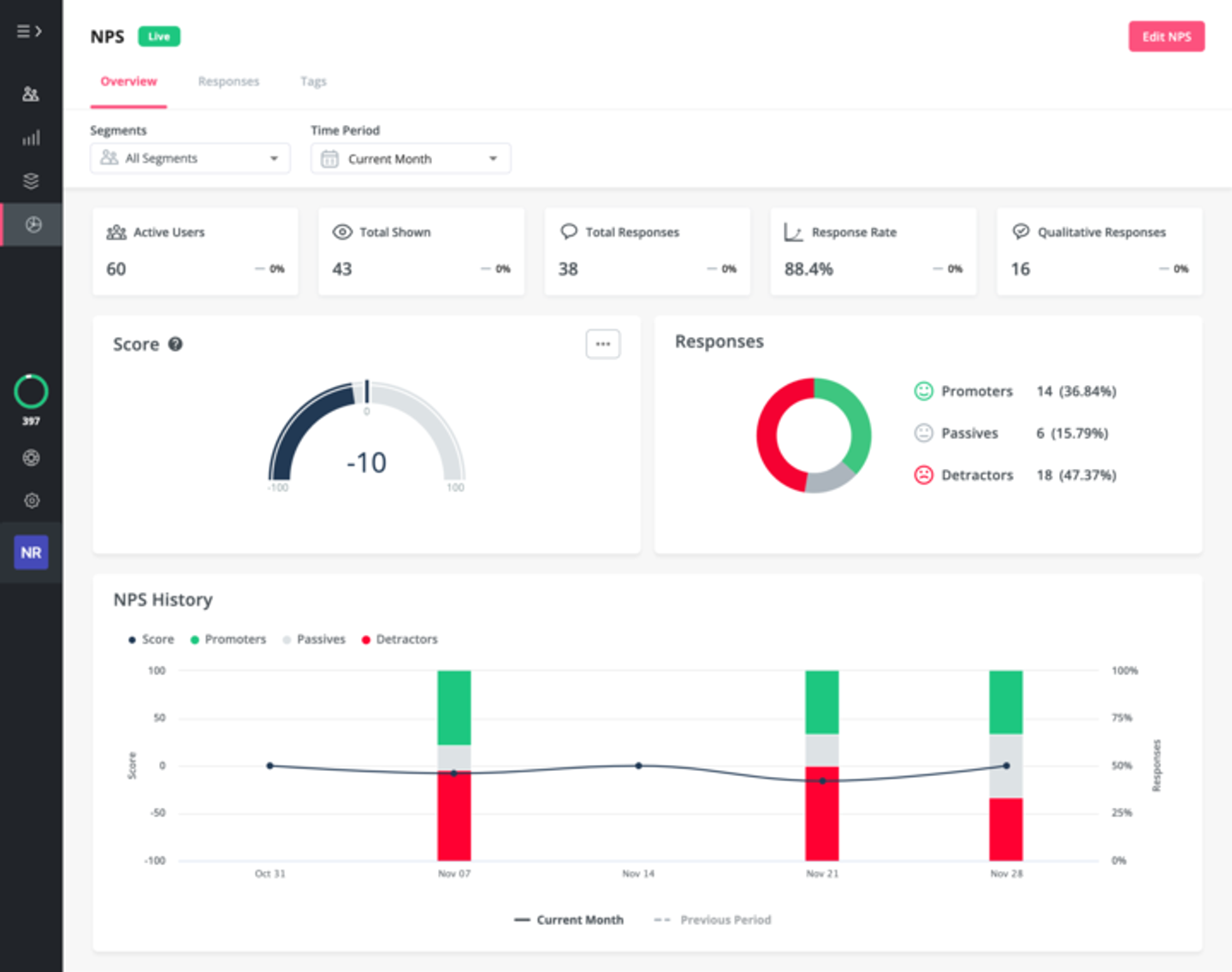 Track NPS score with Userpilot. Get a demo and see how!
How to analyze user behavior in SaaS
So far, we've discussed what user behavior tracking is and the different types and metrics to look out for.
We've also hinted at a few benefits of tracking user behavior. Below are more detailed benefits of taking intentional steps to analyze user behavior.
Understand what brings value to users with segmentation
All things equal, users will stick to a product if it solves their problem.
Tracking the features that customers spend the most time on will tell you what's most valuable to them. And you can use this information to enhance long-term product engagement.
For instance, segmenting users based on engagement makes it easier to track product usage and understand what brings value to each user type.
Identify friction points in the user journey with funnels and paths
Not every customer will let you know when they encounter a bug. Some will just lapse or, worse, switch to other products. But the good news is you can get proactive about this—thanks to user analytics!
Bugs and perceived complexity are the two main frictions for a SaaS. Let's talk about overcoming them.
As hinted earlier, session recording and heat maps can easily help identify bugs. Send this information to your dev team the moment it's identified.
The second reason for friction is product complexity or steep learning curves.
Simplicity and ease of use are vital in building SaaS products, but it's sometimes hard to adhere to this if your tool solves complex problems.
Use page analytics to understand how specific pages inside your product are being engaged with.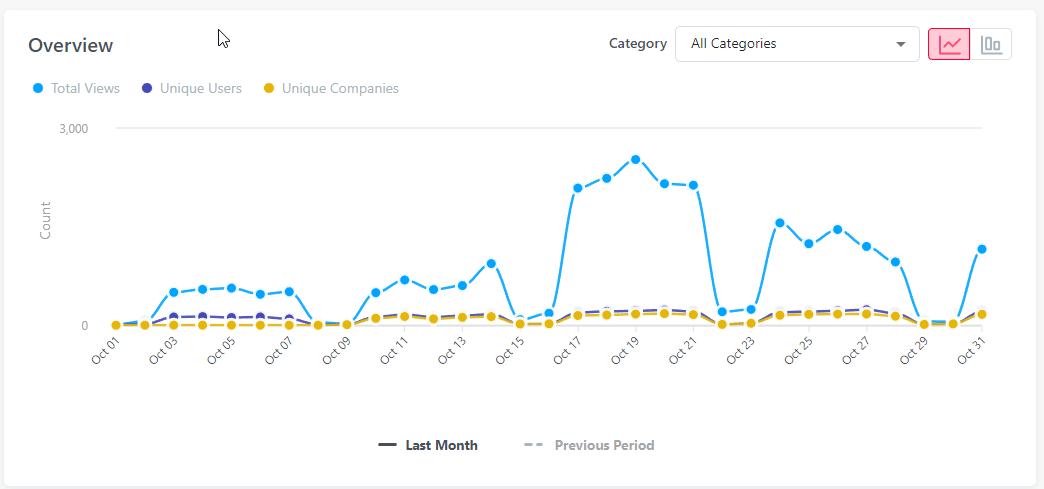 Use funnel and path analysis to understand friction
You want people to immediately see the value of your product from the very moment they start using it.
User analytics can help you do just that—by allowing you to identify and remove blockers.
Imagine someone signed up for a free trial and got lost while using the product. Or maybe they don't even know where to start in the first place.
Help users reach activation faster or different milestones by looking at drop-off points in the funnel.
Build specific funnels using events and start tracking user behavior flows.
Dive deeper into data by tracking and analyzing user behavior flow using paths, or in other words, which actions a user takes in order to achieve something.
Analyze user experience with user feedback surveys
You can analyze data quantitatively and try to guess the whys behind user actions. But that's nothing compared to hearing directly from the horse's mouth.
Use micro surveys to collect user feedback at various points in the user journey:
1. Onboarding surveys will help you collect data on what users are trying to achieve.
This data will enable you to segment users properly, so you'll better help them achieve their overall business objectives.
Here's an example from Backlinkmanager. They used Userpilot to create a short survey for new users and added it to their welcome screen.
2. Understand user sentiment and loyalty with NPS surveys.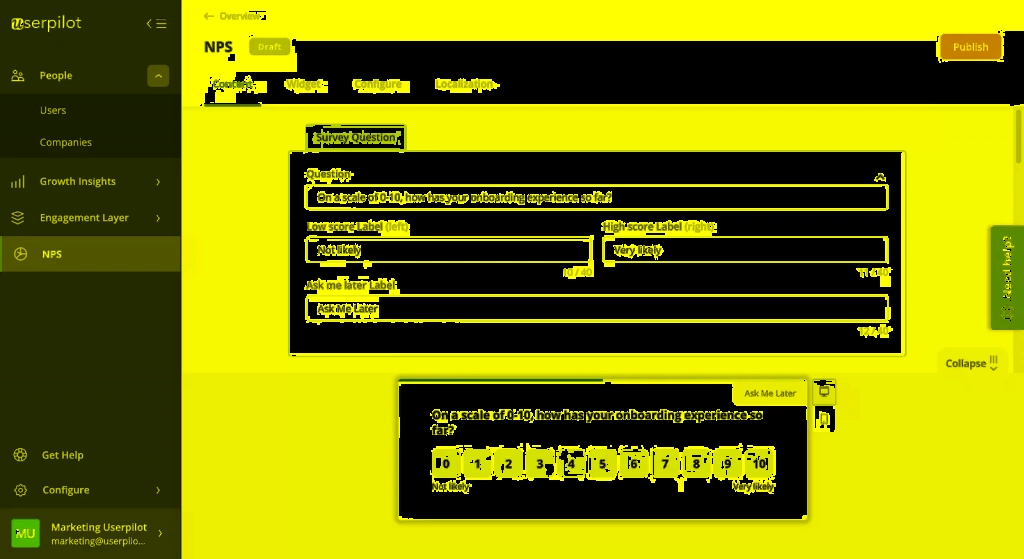 4. Get valuable feedback after launching new features.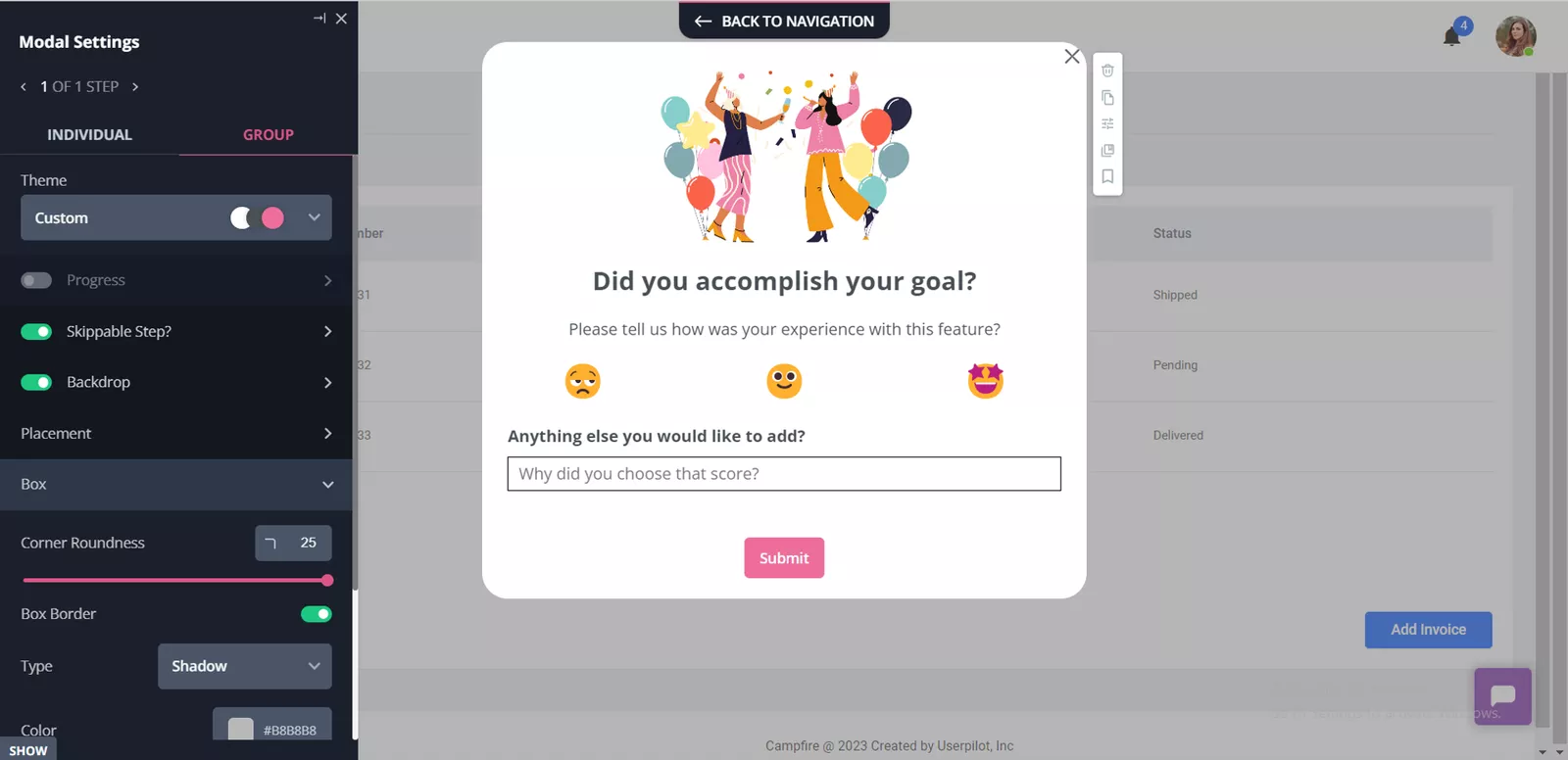 5. Regularly check in with users to understand if they are struggling with your product or not.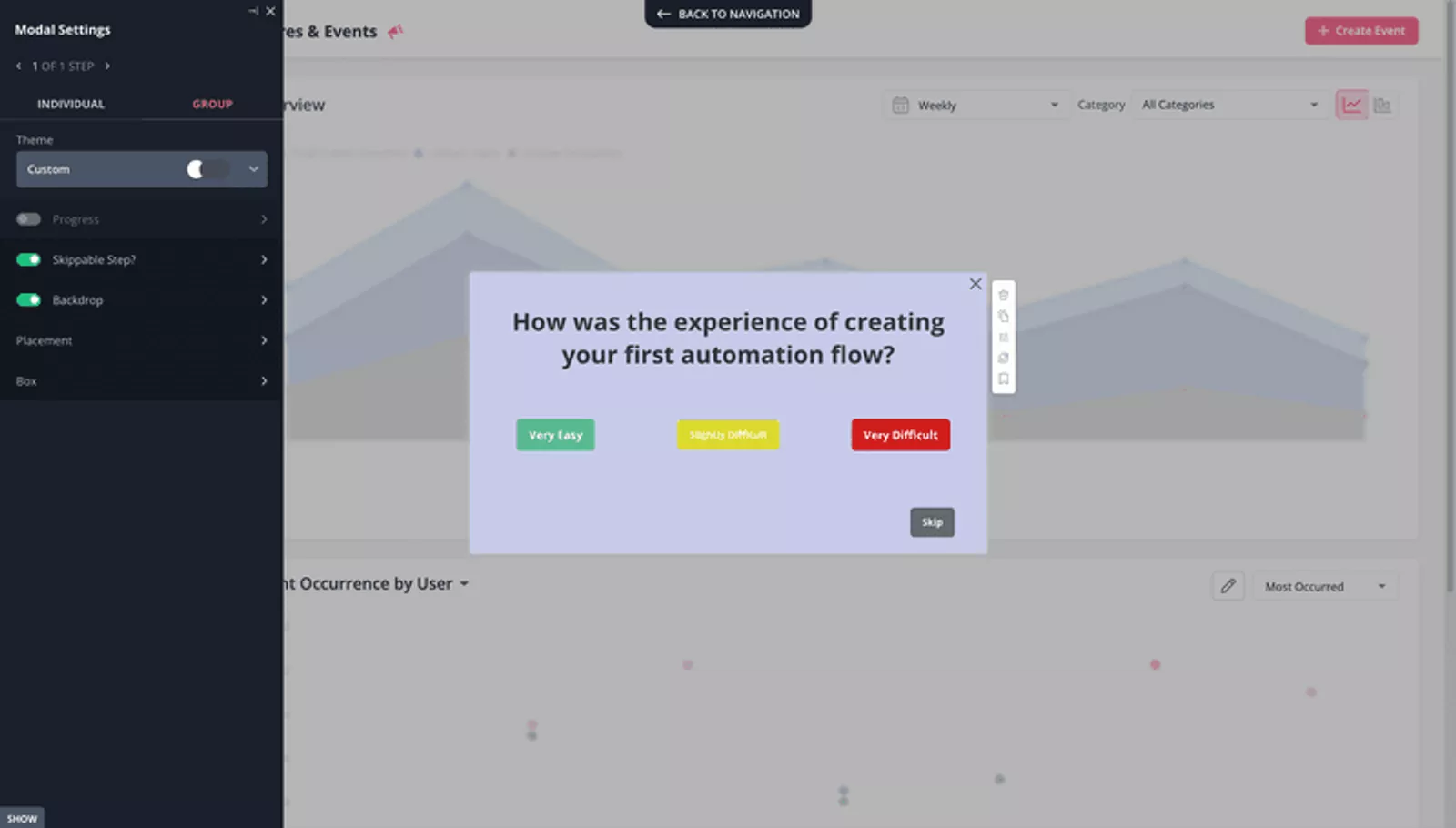 Best tools for user behavior tracking
This section will cover three of the best tools to monitor and analyze user behavior.
We'll go over features, who the product is ideal for, how much they cost, and their rating on Capterra and G2.
Userpilot – user behavior analysis, feedback analysis, and in-app user engagement tool
Userpilot is a no-code platform that helps you create personalized in-app experiences for user onboarding, product adoption, retention, and everything in between.
And it excels in user behavior tracking and analytics.
With Userpilot analytics features you can set your own goals, which makes tracking a lot easier. All you have to do is check who is doing what based on your previously defined key performance indicators.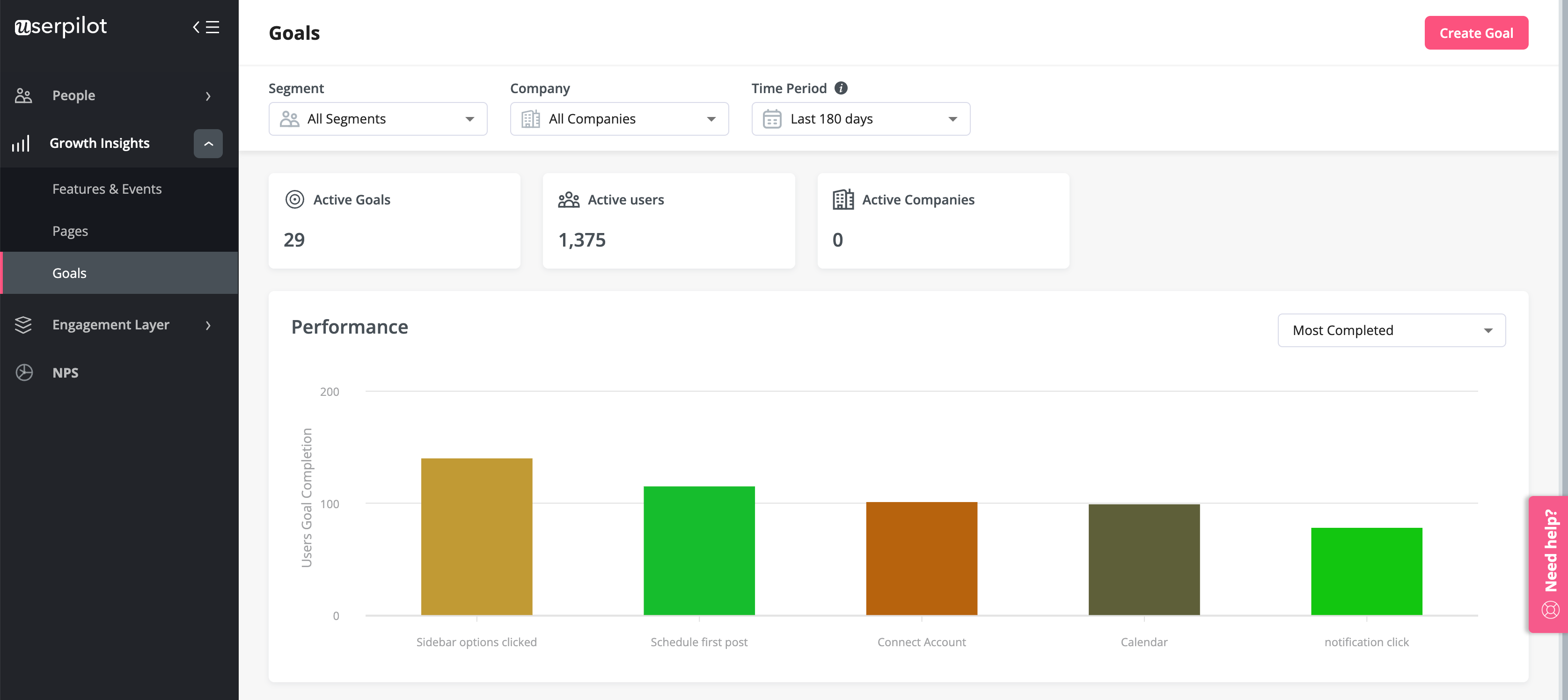 You can also generate analytics based on what features users engage with inside the product—all without writing a line of code.
Just tag any UI element and track interactions with it using feature tagging.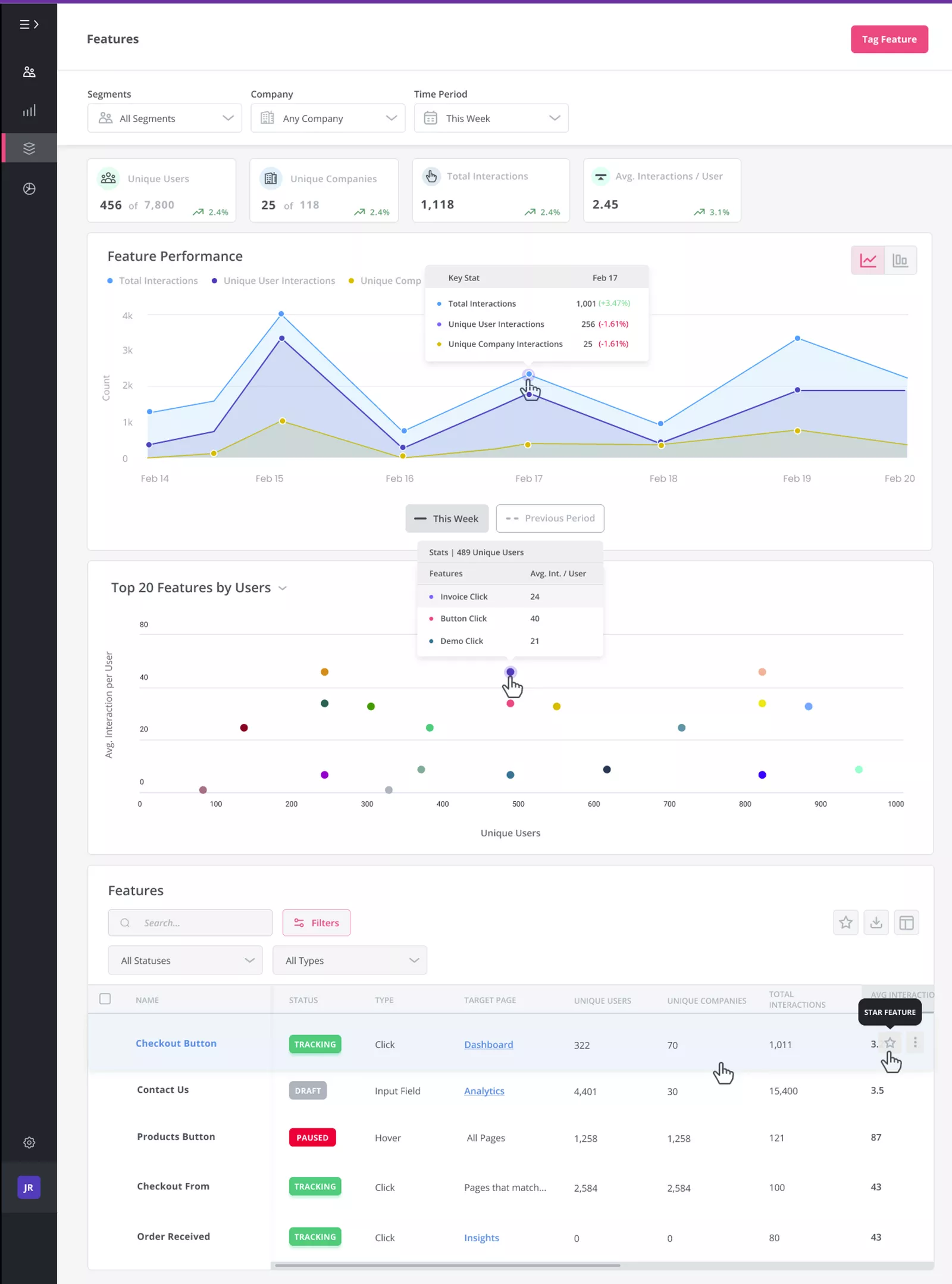 With Userpilot, you don't have to measure behavior analytics and jump to other tools to find solutions; that's because the platform equally lets you create specialized in-app flows and offer guidance where it's needed.
You also have access to speedy support when you need it.
Who is it for
Userpilot is best for product managers, marketers, and growth managers who don't code.
The only time you'll need your devs is for a few lines of JavaScript when installing Userpilot on your app. The other time coding may be necessary is when passing custom events, but this is optional because you can tag frontend events with the UI selector.
Userpilot pricing
Userpilot has three pricing tiers: Traction, Growth, and Enterprise.
Traction goes for $249/mo and lets you track up to 2,500 monthly active users (MAU). With this plan, you get access to all product analytics features with usage limits ( 15 feature tags, 15 goals, unlimited tracked events, and custom events)
Growth & Enterprise plans come with custom pricing and unlimited usage for analytics features plus more
Userpilot ratings
Capterra: 4.7/5
G2: 4.7/5
Amplitude – user behavior analytics tool
Amplitude is a product and website analytics tool that's great for customer journey mapping.
Its combination of brilliant analytics features like user interaction and time-on-site tracking makes it a good choice for identifying users in real time.
Amplitude's secure data governance makes sure user data is safe by using randomly generated IDs to represent real users.
Who is it for
Amplitude isn't best for beginners. In-depth technical knowledge is required to make the most of its features, so experienced product teams will appreciate it more.
Amplitude pricing
Amplitude has a starter-free plan that includes core analytics and unlimited events tracked for up to 100K Monthly Tracked Users. To get access to more in-depth analytics like cohorts, journeys and retention prediction you'll need a Growth or Enterprise plan.
Growth and Enterprise plans come with custom pricing and give you access to advanced features and real-time monitoring for analyzing user behavior.
Amplitude ratings
Capterra: 4.5/5
G2: 4.5/5
Hotjar – for analyzing user experience on your website with screen recordings
What makes Hotjar stand out is its focus on visual data. The tool uses heat maps and session recordings to show you real-time users' behavior flow on your mobile app or web page.
Who is it for
Both beginners and experienced teams will find Hotjar useful for analyzing websites and product usage.
The analytics tool has a wide range of applications aside from its ability to directly monitor user behavior, so designers, marketers, and customer experience teams will find use cases for it.
Hotjar pricing
Hotjar's basic plan is free forever. The paid plan starts from $31/mo, with the highest tier going for $311/mo
Hotjar ratings
Capterra: 4.7/5
G2: 4.3/5
Conclusion
User behavior tracking is an excellent method for boosting product experience and increasing your retention rates, among other numerous benefits.
As we've discussed earlier, incorporating both quantitative and qualitative analytics will give you better results than choosing just one approach. And there are many tools in the market to help you with this.
Want to get started with user behavior tracking? Get a Userpilot Demo and start seeing how users are interacting with your tool.