Amplitude Pricing: Is It Worth the Price? (+Better Alternatives)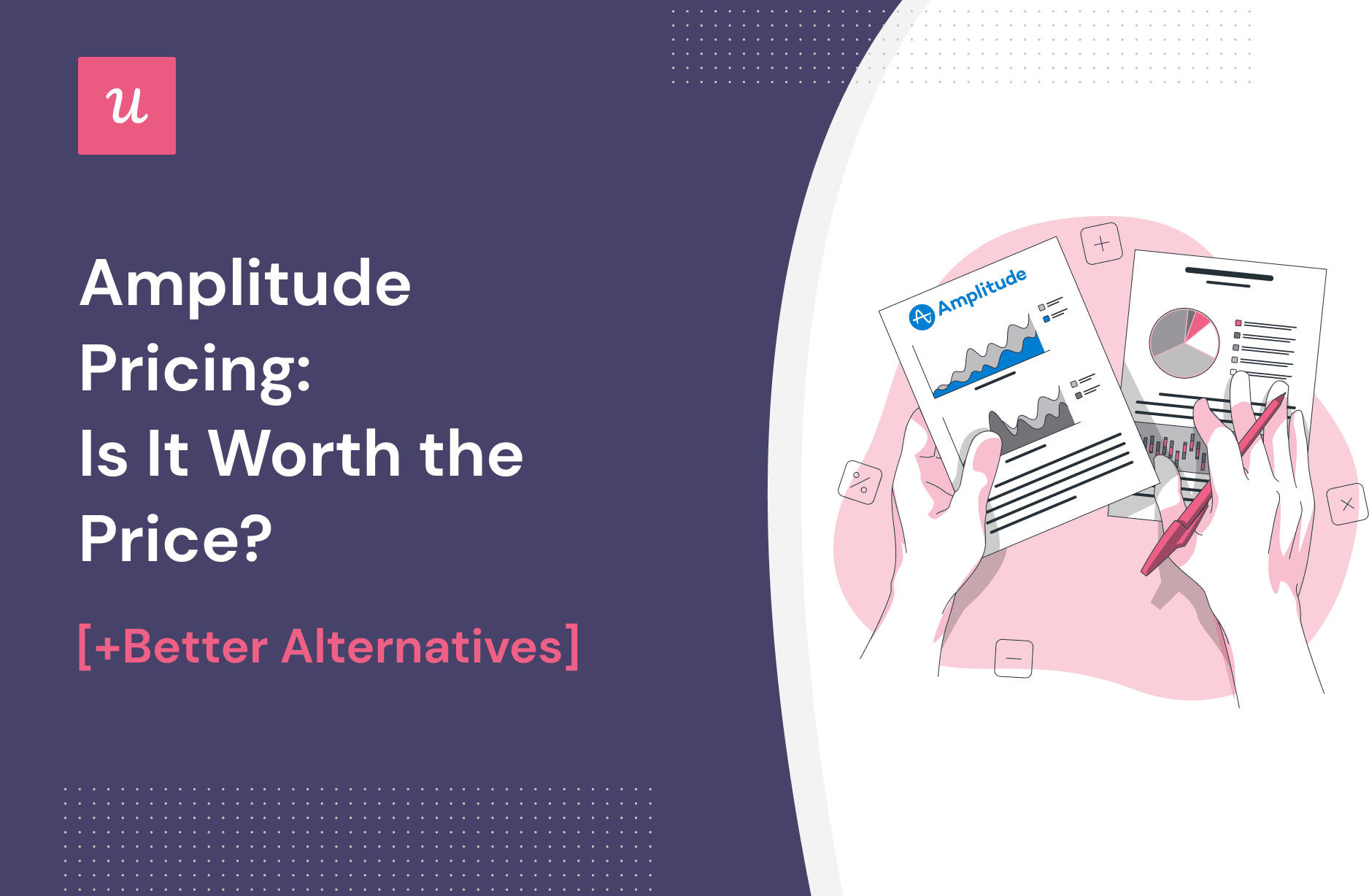 Is the cost of Amplitude pricing worth the investment for you? Or are there better alternatives out there?
Choosing the right tools for your business and assessing if it delivers value for your money is essential for optimizing product growth. In this article, we'll dive into Amplitude's pricing structure, plans, pros, and cons. We'll also explore alternative product analytics tools that may comply with your needs better.
Let's start!
TL;DR
Amplitude is a product analytics tool that helps businesses understand user behavior and optimize user experiences.
It offers customer journey visualization, retention analysis, dynamic audience segmentation, etc.
Amplitude has a freemium pricing model with one free and two premium plans: Growth and Enterprise.
Amplitude's free Starter plan offers unlimited events with 100,000 MTUs.
The Growth plan includes advanced behavioral analytics, actionable analytics, etc., and starts at $995/month.
You will get data governance at scale, root cause analysis, and dedicated customer support with the Enterprise plan, which starts at $2,000/month.
Amplitude has excellent user reviews, but its pricing is among the most significant user concerns.
Userpilot is the best alternative, with more product adoption features and analytics functionality. Its Growth and Enterprise plans bring better value for money.
Mixpanel is a great alternative with similar feature sets and a freemium pricing structure.
What is Amplitude?
Amplitude is a product analytics tool that helps you turn raw data from user behavior into critical insights about your users and product.
It offers excellent features like customer journey visualization, retention analysis, dynamic audience segmentation, cohort analysis, etc. You can then conveniently analyze the data from its highly customizable dashboard. It also works fine on both mobile and web app versions.
However, Amplitude is an analytics-only tool without any in-built user engagement feature. That said, you might want to consider a couple of Amplitude alternatives if you're looking for more advanced features within a single tool.
How much is Amplitude?
Amplitude has a freemium pricing model with a free plan and 2 premium plans. Although it doesn't publicly disclose the price of the premium plans, we'll help you get an idea about the price range.
The Amplitude pricing structure is as follows:
Starter – Free Plan.
Growth – This paid plan can cost you $995+/monthly, depending on your demands. You can request a demo to get the exact amount and see how it works.
Enterprise – It starts at $2000+ per month, and you can contact sales to decide on the scale and price.
What can you do with Amplitude?
Amplitude offers businesses a suite of features to understand user behavior, measure product usage, and optimize user experiences. Its main features include:
Customer journey visualization: Helps you gain insight into user journeys, analyze customer experiences across multiple touchpoints, and track event sequences.
Dynamic audience segmentation: Lets you segment customers into groups based on shared characteristics by using user behaviors, profiles, and product data.
Event segmentation: Enables chart creation and user behavior analysis through specific events and properties with tracking and visualization.
Retention analysis: Helps you perform retention analysis by comparing starting and return events and user actions.
User cohorts: Offers valuable insights, saves them for further analysis, and lets you segment by customer attributes.
What does Amplitude offer in its free plans?
Let's go through Amplitude's free plans.
Amplitude starter plan
The Starter Plan allows users to collect and analyze up to 100,000 monthly tracked users (MTUs) with unlimited events. It includes core analytics features such as user behavior tracking, cohort analysis, and retention analysis. You also get access to advanced behavioral analysis, collaboration, and storytelling features.
However, the Starter Plan has some limitations compared to Amplitude's paid plans, such as limited data retention, access to integrations, and support options.
Amplitude for startups
The Scholarship plan specifically aims to help early-stage startups collect and analyze more than enough data to drive growth. This unique pricing plan gives you free access to Amplitude's Growth plan's behavioral cohorts, pathfinder, advanced collaboration features, etc., for one year.
You'll be eligible for it if you've:
Received less than $5 million in funding
Fewer than 20 employees
It's also available to US-based startups with a black co-founder, under $30 million in funding, and fewer than 150 employees.
Compared to alternatives like Pendo, Amplitude offers a compelling value proposition for early-stage startups because it is an event-based plan.
What are the paid plans that Amplitude offers?
So what do you get in Amplitude's paid plans? Let's see.
Amplitude growth plan
The Growth plan has a custom pricing option with up to 100K MTUs/month and unlimited events. It offers the following features in addition to the Starter features:
Advanced behavioral analytics
Behavioral cohorts
Single sign-on (SSO)
Advanced Collaboration (Notebooks, Team Spaces)
Integration with Slack, Miro
Onboarding Support
Customer Success
Amplitude enterprise plan
The enterprise plan has custom usage limits and custom pricing. It is the best for large businesses with around a million active users. Besides the Growth plan's offered features, it provides you with the following:
Data governance at scale (Derived Properties, Taxonomy API, Transformations)
Root cause analysis
Real-time monitoring
Dedicated customer support manager
Causal insights & monitoring
Advanced permissions and password-protected links
What are the pros and cons of using Amplitude?
Here are the major strengths and drawbacks of Amplitude to help you make an informed decision.
Pros:
Offers a comprehensive analysis of user behavior through its features.
Provides real-time data to make data-driven decisions quickly and efficiently.
Can handle and analyze vast volumes of data from a large user base.
Cons:
Can be expensive for small and medium businesses as well as large businesses with huge tracked events and user bases.
The wealth of features and customization options can be overwhelming to those who don't have prior experience with data analytics.
Its learning curve is also quite steep.
Not enough support for analyzing quantitative & qualitative data, like user feedback or customer sentiment.
What do users say about Amplitude's pricing?
Users seem to have a generally positive experience with Amplitude, with a rating of 4.5 on G2. The reviewers appreciate the tool's robust analytics capabilities and customization and how it helps them make data-driven decisions.
However, Amplitude's cost is one of the major concerns of the reviewers. It has made it difficult for users with smaller budgets to get started with the platform. According to a senior product manager –
Amplitude had a slightly higher barrier to entry when it comes to implementation and pricing….
Another drawback regarding Amplitude's pricing is it isn't transparent about the event budget. It can catch a company off-guard and result in unexpected expenses.
Are there better product analytics tools than Amplitude analytics?
While Amplitude is a popular product analytics tool, you should look for an alternative if you want to:
Get better value for money by using a more affordable solution.
Perform product adoption, like user onboarding, interactive product tour, etc., with the same tool that performs product analytics for you.
Here are two Amplitude alternatives you might want to check out.
Userpilot – Amplitude alternative
You will get more than product analytics with Userpilot since it is a product adoption tool, too. Userpilot is a no-code all-in-one solution that can help you improve your user experience, increase your activation rate, and retain more customers.
With its extensive array of features, Userpilot lets you:
Build onboarding experiences through checklists and interactive walkthroughs or product tours.
Monitor product usage data in real-time and trigger engagement contextually.
Create in-app guidance using various UI elements, including modals, tooltips, etc.
Gather customer feedback through various microsurveys, like NPS, CSAT, and CES surveys.
Derive valuable insights with NPS response tagging.
Segment customers and deliver personalized and contextual user experiences to them.
Create custom in-app events, use feature tagging, and analyze heatmaps to track user engagement.
Integrate with other analytics tools, like Mixpanel, Amplitude, etc.
Create an in-app resource hub with tools like live chat, video tutorials, knowledge hub, and documentation.
Use Net Promoter Score (NPS) surveys with follow-up questions and analyze the responses.
Although it's unavailable for mobile apps, we recommend Userpilot for web applications.
Userpilot pricing vs Amplitude pricing
There are three paid plans available with a 14-day free trial. Although you won't get a free plan, you can still book a demo to see how Userpilot can help you.
The 3 Userpilot plans are:
Traction
The Traction plans comes at $249/month with up to 2,500 Monthly Active Users.
It includes:
People and Tracking
Engagement Layer (In-app guides and onboarding experiences)
User sentiment (NPS, CSAT, etc. surveys)
Integrations
Localization of up to 5 Languages
25 Feature Tags
10 Team Members
Growth
It is the most popular plan, starting at $499/month with 2,500-10,000 Monthly Active Users. You will get everything in Traction and:
Localization of up to 20 Languages
Unlimited Feature Tags
Content Throttling
Custom Domain Hosting
Dedicated Customer Success
Custom Contract
Phone Support and Troubleshooting
Enterprise
It best fits large businesses and starts at $1,000/month. It has up to 10,000 Monthly Active Users, and the price scales up with more MAUs. You'll get the following besides everything In Growth:
Unlimited Localization
Custom Roles & Permissions
SAML SSO and Activity Logs
Priority Support
Security Audit and Compliance (SOC 2 Type II and GDPR)
Custom Contract and SLA
Dedicated Enterprise Infrastructure
Userpilot has an entry-level plan for $249. Its Growth plan costs half or less of what Amplitude's Growth plan costs.
When you move up to more advanced plans, Userpilot's Enterprise plan offers better feature sets with better value for money than Amlitude's Enterprise plan. And Userpilot's highest-level plan starts at $1,000/month, which is way less than competitors' highest-end plans.
Userpilot reviews
After going through reviews, we can objectively say Userpilot is an excellent product adoption tool with a high rating of 4.6. Its active users have appreciated its user-friendly interface, effective no-coding solution, NPS features, and top-notch customer support.
Mark O., a satisfied customer, has written –
It is a really great platform and I highly recommend it to anyone running a SaaS platform or other similar website.
Another customer said –
Mixpanel – Amplitude alternative
The next alternative, Mixpanel, is a powerful data warehouse specializing in product analytics. It helps you track user behavior and provides insights into engagement, retention, and conversion rates.
Mixpanel's feature sets include:
User segmentation
Group analytics
User cohorts
Drop-off analysis
Interactive reports
Mixpanel pricing vs Amplitude pricing
Although Mixpanel and Amplitude have the same number of plans with the same names, the plans differ in pricing and offered features. Mixpanel's paid plans start from a more affordable pricing range than Amplitude with similar or better feature sets.
Here's what Mixpanel offers:
Starter
Free
Up to 20M events/month
Unlimited data history
All core reports (Cohorts, Funnels, Retention) for user journey analysis
Metrics in minutes with templates
Unlimited collaborators and integrations
US or EU data residency
Mixpanel Community support
Growth
Custom pricing from $20/month
Up to 300M events/month
Everything in the Starter plan
Unlimited saved reports to monitor, update & iterate on KPIs
Unlimited saved cohorts for behavioral analysis
Mixpanel Modeling Layer
Email support
Group analytics and data pipelines add-ons
Enterprise
Custom pricing, starting from $1,667/month
A capacity of 5M to 1B+ events/month
Granular access with privacy controls
Data views for team-based collaboration
Onboard users with automated provisioning & SSO
Personalized customer success to improve data fluency
Live chat and faster response SLAs
Early access to beta features
Mixpanel reviews
Mixpanel's users have rated it with an average of solid 4.5. They pointed out its intuitiveness, flexibility, advanced custom reports, and integrations as some fan-favorite strengths.
But many customers have also pointed out that the upgrade from the Mixpanel Free Plan doesn't pay off. One reviewer had to say:
… the jump to paid can be steep. For my smaller projects, I'd love an entry-level pricing tier.
Another reviewer also had complaints about the value for money for large apps.
Conclusion
Amplitude is one of the best choices for product analytics tools with its features and capabilities. But the Amplitude pricing structure is a significant drawback, making it less competitive than alternatives, like Userpilot or Mixpanel.
Want to see how Userpilot can bring value for your money? Book a demo call with our team and get started!