Pendo vs Amplitude: Which is the Better Product Analytics Tool?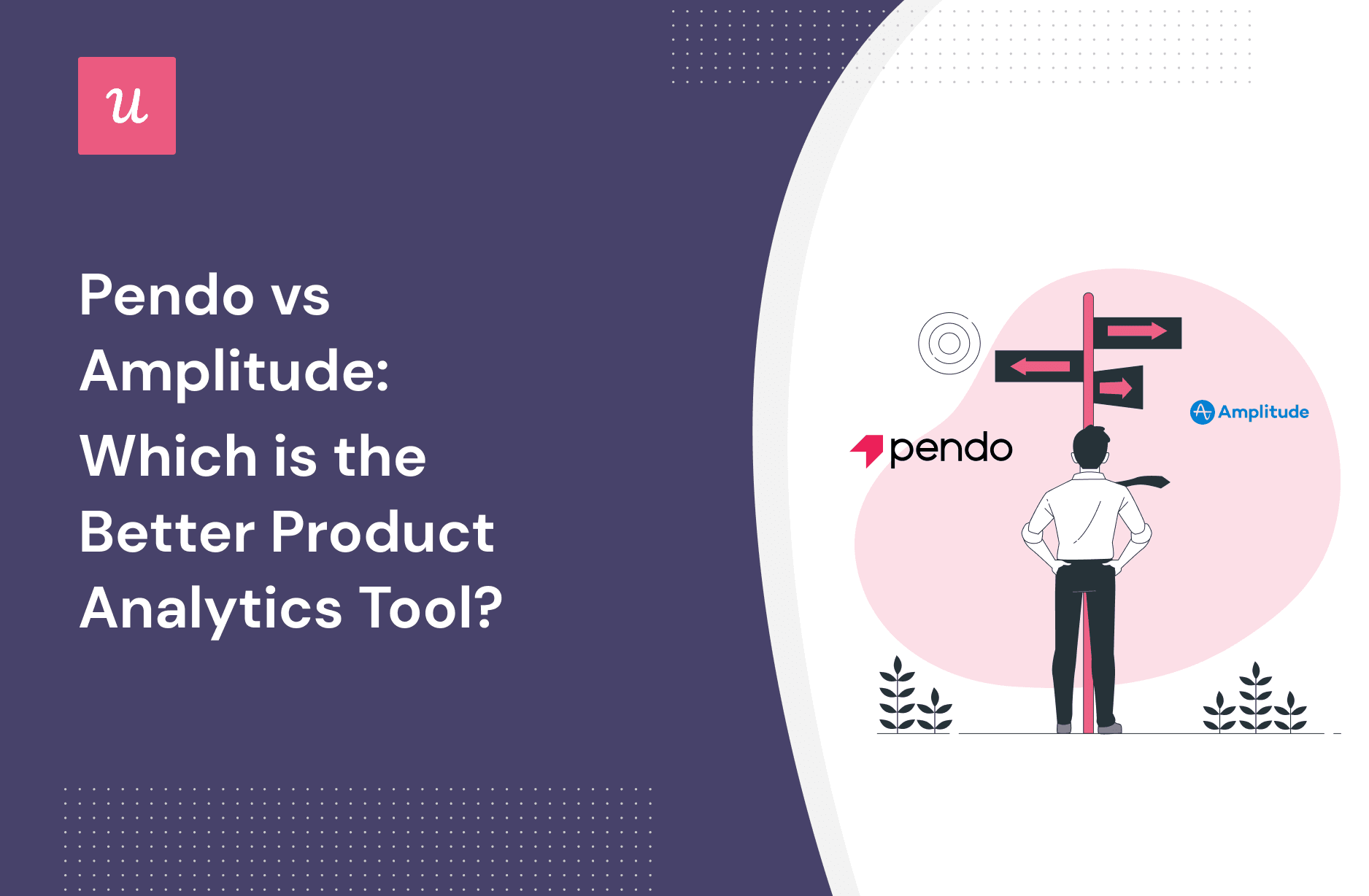 Pendo vs Amplitude? Which of them should you choose to generate growth insights for your product? This is a serious dilemma.
In our article, we aim to help you make the decision. We also have a quick look at Userpilot as an alternative for each of the tools.
How does this sound? Ready to dive in?
TL;DR
Product analytics is the process of collecting and analyzing data about product usage and user behavior.
Product analytics tools empower teams to make informed decisions on how to add more value and offer a better user experience.
Pendo is a product adoption platform famous for high-quality analytics solutions.
Amplitude is a dedicated analytics tool with very complex functionality that can be customized for various use cases.
Userpilot is a digital adoption platform with advanced analytics tools, which is a good alternative to Pendo and Amplitude at a fraction of their price.
Both Pendo and Amplitude offer advanced segmentation features that allow you to group users. You can analyze the behavior of each of them and in Pendo you can target them with in-app guidance.
Most of Userpilot's functionality depends on its robust segmentation too.
The funnels feature is available in both of the tools and enables you to see how your users progress across different stages of the user journey.
Funnels are not available in Userpilot yet, but Goal tracking serves the same purpose.
To create funnels, Amplitude recommends using its Pathfinder function which analyzes sequences of events leading up to conversions. Paths are also available in Pendo, while Userpilot is planning to launch the feature soon.
Retention analysis is offered by both Pendo and Amplitude. It allows product managers to see how many users return to the product over a period of time.
To collect qualitative user feedback and requests, you need a separate Pendo Feedback module. Amplitude doesn't support this functionality at all. Userpilot, on the other hand, offers it in all its plans.
Want to see how Userpilot analytics can help you drive your product growth? Book the demo!
What is product analytics?
Product analytics is the process of collecting, organizing, and analyzing data about users' engagement with a product.
Its key objective is to develop a deeper understanding of who your users are, and how they interact with the product. It helps product managers find where customer value comes from and where they encounter friction that stops them from achieving their goals.
How can a product analytics tool help you drive product growth?
If used well, product analytics tools help you obtain actionable insights that you can use to add value to your product and can create delightful user experiences.
Without them, product teams would have to rely on anecdotal data, hunches, and guesses, which isn't exactly the most reliable way to make product decisions.
Modern analytics tools allow teams to:
track product engagement
build and track custom events
set and track goals
map out user journey in flow diagrams and track user progress
segment users based on their behavior, survey results, and demographic data
visualize data through custom dashboards and funnels for ease of analysis
Pendo for product analytics
Pendo is an established product adoption platform for enterprise clients.
It's best known for its in-depth analytics features, but it also allows you to collect user feedback and offers a range of in-app onboarding features, which you can use for both web and mobile products.
Pendo analytics features
The tool supports a whole host of analytics features:
Paths – for mapping out every possible sequence of events leading up to or following a user action
Reports – including page views, feature clicks, track events, guide views
NPS tracking and analytics (not available in the free plan)
Product Engagement Score (PES) tracking and analysis
Let's have a more detailed look at these four:
User segmentation
User retention analysis
Funnels
User feedback module
Pendo segmentation
Pendo segmentation functionality allows you to group your users by all imaginable criteria:
product usage and user behavior data, like tagged feature clicks, tagged page views, guide views, poll responses, and resource center views
visitor and account data, including demographic and systems data
mobile-specific data, like app or OS version
You can use it to target specific segments with Pendo Guides (in-app messages).
For example, you could trigger them for users who have completed a certain event without using a specific feature that's relevant to their use case.
Pendo retention analysis
Retention analysis allows teams to find out if users stay with the product and keep using it repeatedly over time. This is an indication of how valuable they find the product.
Pendo allows you to collect retention data and present it in a very accessible way. You can filter the data by activity type, apps, cohort type and size, segment, and date range.
The chart is interactive and when you click on each of the squares, you get detailed data about visitors, both retained and dropped.
This means you can:
Pendo funnels
A user funnel is a sequence of actions completed by a user in-app leading up to a specific objective.
For example, this could be 1) logging in 2) inviting a teammate, and 3) sending them a message.
Using a user funnel in your SaaS helps you identify friction points and make data-driven decisions to boost conversions.
In Pendo, you can customize funnels by:
funnel steps
date range
segments
time out period
Once you complete this, you can retrieve the funnel from the reports. It looks like this.
Each column stands for one step in the funnel. The darker bars mean users have advanced to the next step, while the paler ones are those that have dropped.
Just like the retention chart, the funnel is interactive.
Pendo feedback module
Pendo offers two ways of collecting user feedback: Pendo Polls and Pendo Feedback.
The latter is a standalone feature that requires a separate subscription. It is used primarily for collecting and analyzing customer requests and qualitative feedback in-app at scale.
However, you cannot use it to run NPS or CSAT surveys, for which Pendo has a separate module. Alternatively, you can collect user sentiment data via the Polls.
Pendo Feedback's key features include:
active and passive feedback and customer request collection
responses tagging
customer engagement analysis
planned and released feature tracking
Pros and cons of Pendo
What are Pendo's greatest strengths and weaknesses when it comes to product analytics?
Pros of Pendo
Works on mobile apps as well as web apps
In-depth analytics that is easy to set up and use
Proprietary Product Engagement Score (PES)
Cons of Pendo
1-hour delay in user behavior data recording, meaning you can't trigger in-app guides in response to specific events
The high price tag for access to more advanced plans and the need for a separate subscription for Pendo Feedback
What do users say about Pendo?
The 4.4 rating on G2 indicates that users are pleased with the functionality and user experience that Pendo offers.
Users rate Pendo highly for its ease of set-up which doesn't require any coding.
The best feature about Pendo has been the constant collection of User clicks without the need to set up trackers via code. This enables us to tag the usage directly from the tool and start monitoring historic data without having to involve development teams.
One of Pendo's highly valued features is the ability to analyze historical feature performance. However, data visualization features seem to be lacking:
What do you like best about Pendo? The ability to view insights retroactively on newly tagged features and pages is an excellent resource for historical data comparison and a real game-changer compared to other platforms.
What do you dislike about Pendo? The data visualization and analysis options in Data Explorer, Dashboards and Reports can feel limited and a bit "canned." In contrast to other visualization platforms, it feels like the options to view and manipulate the data you gather are slightly less than ideal.
Pendo pricing
Pendo offers a free plan but its usefulness is very limited. To access the more advanced analytics features, like NPS and PES, you need the higher plans and for Pendo Feedback a separate subscription.
Free
Starter: $7000/year
Growth: price available only on request
Portfolio: price available only on request
Pendo Feedback: separate module with custom pricing
Pendo also offers a free 14-day trial as well as a demo.
Amplitude for product analytics
Amplitude is one of the most sophisticated analytics around at the moment.
As a dedicated analytics tool, it offers a wide range of features that SaaS product teams can deploy to identify areas to add value to their digital products and make data-driven decisions. Amplitude Analytics can be used on both mobile and web apps.
Amplitude analytics features
Amplitude analytics functionality includes:
Milestone analysis
Custom dashboards
Predictions
Pathfinder
Funnel analysis
We'll be focusing on the main features in detail below.
Amplitude event segmentation
Just like Pendo, Amplitude allows you to group your users into segments using a whole host of criteria.
Event segmentation is one of the key Amplitude charts because that is where you can see what your users are doing inside the product. The segmentation chart allows you to:
identify and evaluate the key events performed by a user segment over a specific period of time
determine the total number of (unique) users completing events inside the product
determine the frequency of event occurrence
identify users who fire specific events on a regular basis
Amplitude pathfinder
Pathfinder enables visualization and analysis of all the actions that users complete while interacting with the product.
Most importantly, pathfinder helps you identify the sequences of events, called paths, that users fire over a specified period of time. This includes outgoing and incoming paths up to 50 steps deep.
What's the use of Pathfinder? It allows you to:
uncover the most common event paths leading up to conversion/activation
determine the happy path to conversion/activation
build funnel charts
Amplitude funnel analysis
Once you've identified the happy path to conversion or activation with Pathfinder, you can now use funnel analysis to analyze and assess how users navigate it.
Thanks to conversion drivers, Amplitude provides insights into user behavior leading up to conversion or drop-off. This allows you to identify obstacles and friction points. As a result, you can:
Pros and cons of Amplitude Analytics
What are the biggest advantages and limitations of Amplitude analytics?
Pros of Amplitude Analytics
Real-time analytics
Cross-platform analytics that allows you to track as your users move between your native apps, mobile apps, and webpages
Wide range of reports and analyses
Ability to integrate data from various sources, for example, marketing automation systems or CRM systems
Cons of Amplitude Analytics
No user engagement features
It's an analytics-only tool, so you need additional software to act on the insights to drive growth
High level of customization which makes set-up difficult
What do users say about Amplitude?
With an average rating of 4.5 on G2, Amplitude is another highly-rated tool.
Customers value Amplitude mostly for its wide range of advanced analytics tools and high levels of automation.
For example, Stefan R., a data scientist, writes
Amplitude Data Analytics is a powerful and comprehensive analytics platform that provides businesses with valuable insights about user behavior. It offers powerful features such as segmentation, funnel analysis, cohort analysis, and user journeys to help businesses better understand their users and optimize their product and growth strategies.
Tanya A., a Director of Product, praises Amplitude for its funnel analysis functionality. She also likes how easy it's to create dashboards and data visualizations and share them with team members.
– Easy to setup funnels, conversion charts, find the conversion drivers and so on
– Can add all my team members, build your own list of dashboards and charts, has SSO for access, the UX is great
– Great search, user lookup, event stream for users
– Easy to create custom events with custom names
Amplitude pricing
Just like Pendo, Amplitude offers a free trial. However, this one is way more generous than Pendo's. How much do the other plans cost? Unfortunately, this is available only on request.
Starter: free
Growth: price available only on request
Enterprise: price available only on request
Userpilot for product analytics: a better alternative to Pendo and Amplitude analytics
Userpilot is a powerful product adoption platform. It enables product managers, product marketers, and customer success teams to track product usage and user in-app behavior.
On top of that, they can collect feedback and trigger personalized onboarding experiences to enhance user experience and drive product adoption.
Why should you consider Userpilot as an alternative to Pendo or Amplitude analytics?
Even though Userpilot has no free plan, it offers better value for money compared to Pendo
It enables you to collect data and act on it in real time, e.g. by triggering in-app experiences contextually in response to specific events. In contrast, Pendo has a 1-hour delay, whereas Amplitude doesn't have the engagement layer to design such experiences
Userpilot product analytics features
For a user onboarding tool, Userpilot offers incredible analytics functionality, including:
Userpilot feature tagging
Userpilor allows you to tag features and analyze user engagement.
The process of tagging is very simple, you can do it directly from the Chrome extension. Apart from clicks, the functionality allows you to track text inputs and hovers for a more complete picture of user interactions with your product UI.
Thanks to the functionality, you can:
identify underutilized features
determine which features you should prioritize for further development
identify which features may need to be sunset
Userpilot custom event analysis
Apart from tracking individual micro conversions, Userpilot allows you to bundle up several of them into custom events and track them as if they were one event.
Creating custom events doesn't require any coding if you don't need custom events triggered by API. Once you set them up, you can analyze them in the Features & Events dashboard.
Userpilot goal tracking
Currently, Userpilot doesn't offer funnel analysis. This feature as well as Paths are in the pipeline and will be launching soon.
In the meantime, goal tracking does a very similar job.
What are goals?
Goals are also known as conversion and they are the points on the user journey where they experience value. You can tag these easily in the Chrome extension and track them to see how users progress toward activation.
Pros and cons of Userpilot
Here's what makes Userpilot stand out from Pendo and Amplitude and what still needs fine-tuning to deliver an even more outstanding user experience.
Pros of Userpilot
An easy-to-use Chrome extension
Heatmaps for user engagement tracking
Integrations with other product analytics platforms (Amplitude, Heap, Mixpanel, Segment, Google Analytics)
Built-in A/B testing for in-app experiences you build
Security (SOC 2 Type II Certification)
Cons of Userpilot
Supports only web apps, not mobile apps
Not affordable for really small startups
Funnels and Paths are not available yet
What do users say about Userpilot?
At 4.7, Userpilot's rating on G2 beats those of Pendo or Amplitude. Reviewers praise Userpilot for its functionality, intuitive and easy-to-use interface, excellent personalized customer support, and of course, its analytics.
For example, Nevzat, a Product Marketing Manager, writes:
I like "Features & Events" to track user actions for insights.
I also like that it offers:
– Numerous options to implement onboarding experiences to engage new users.
– Great insights in terms of growth and user sentiment.
Another complimentary review reads:
The product is incredibly versatile. It includes all of the features I was looking for to improve my user onboarding experience (e.g., a resource center, checklists, flows, NPS, high level analytics/insights). It was very easy to set up, and the support team is phenomenal.
Userpilot pricing
Unlike the other products, Userpilot doesn't offer any free plans. There's a 14-day free trial, after which you can choose from 3 main pricing plans:
Traction – from $249/month
Growth – $499/month
Enterprise – $1000/month
Conclusion
Who wins the Pendo vs. Amplitude contest? Both of them are robust analytics tools. While Amplitude has more advanced and highly customizable features, Pendo allows you to trigger in-app experiences to drive engagement.
Despite free plans, both products work out to be quite expensive if you want to use the more advanced features, so it might be a good idea to consider alternatives like Userpilot.
If you want to see how Userpilot can help you make data-driven decisions to improve your product, book the demo!