9 User Onboarding Tips by Experts in 2023 [Expert Advice]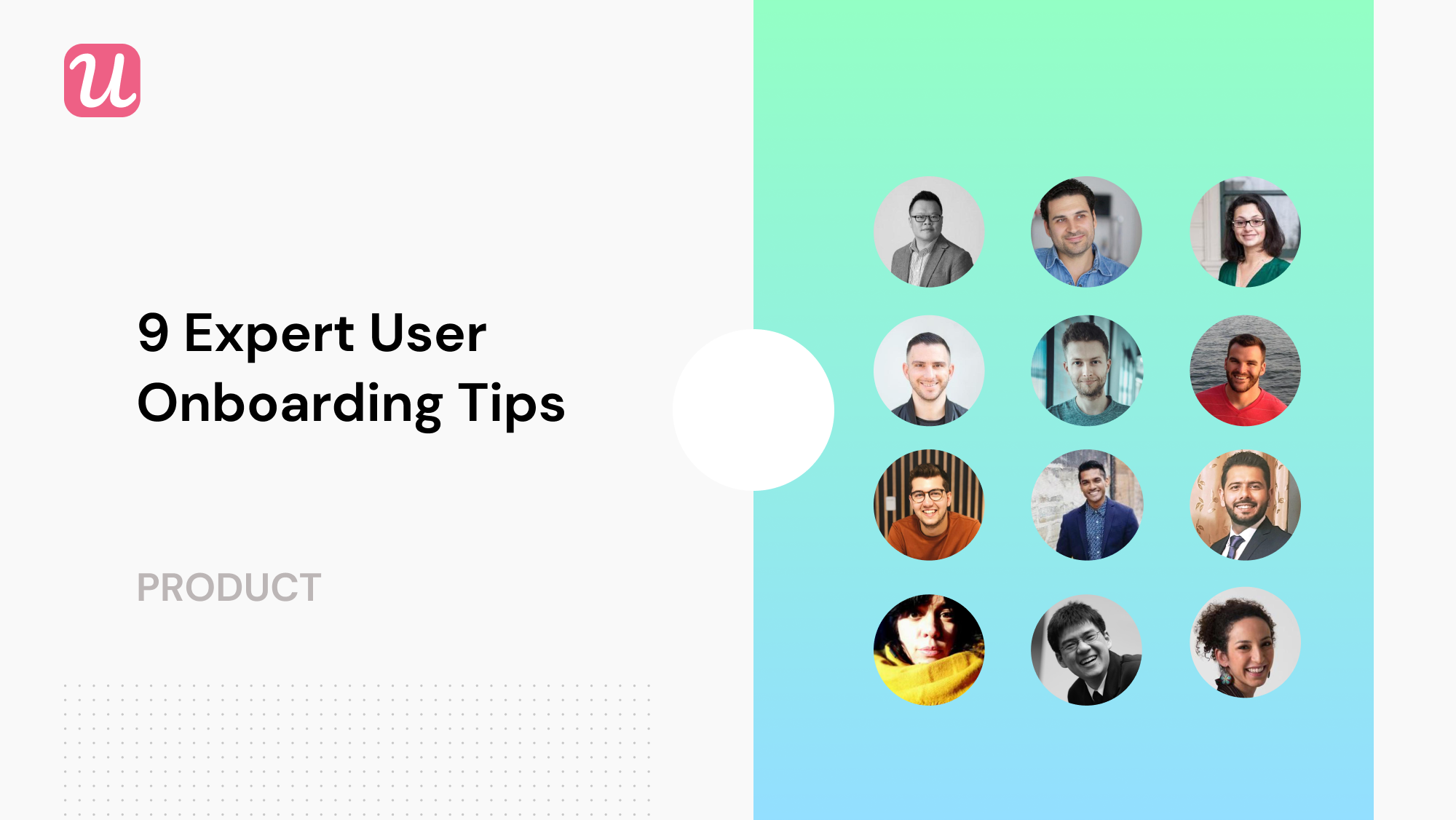 To start fresh in 2023 and focus on activation and adoption. After providing 5 Steps to Successful User Onboarding, we went ahead and asked the experts to provide their user onboarding tips to work on this year. It's extremely important to know what the industry experts are talking about in 2022.
Userpilot focuses on User Onboarding and Product Adoption, hence we thought about adding the user onboarding experts who are consulting around these topics. These experts have several years of experience in the SaaS industry and are consulting many other companies regularly to improve their user experience and customer delight.
User Onboarding Tip #1 – Focus on Product Analytics
Despina has interviewed more than 40 companies on User Onboarding and presented the results at SaaStock. She's also writing a book about this topic. The quote below is a short summary of her upcoming book. 
"For the many, user experience starts within the product. For those who get to dig a bit deeper, it starts on the solution's website where a prospect is able to learn more about a product offering. Both approaches though, are wrong. User experience starts the very first moment someone comes across your brand- not even your product! Whether that someone sees an ad, reads a blog post or hears about your offering via word of mouth. Instantly an impression is made. Of course, that varies depending on the source of the information, but all in all, this is when someone, even subconsciously, forms an opinion about your product. This is where your user onboarding journey begins!
According to Wikipedia, User onboarding is the process of improving a person's success with a product or service. This term is often used in reference to software products, and it can be done in a manual or automated way. It is the process through which new software is designed such that new users are provided and acquire the necessary knowledge, skills, and behaviors in order to become "up and running" and effective users of a website, app, or software service.
That term may be somewhat correct but is not complete. As the SaaS industry evolves user onboarding goes far beyond than just learning a product's capabilities or that first value derived in the activation stage. Onboarding, if optimized, is the only mean which will enable your users to become better in the jobs they have hired your product to do, yet more educated in levels that go beyond your product's capabilities.
Unlike the marketing or sales lead qualification practices, onboarding may apply to multiple users but its success may be subject to the unique experience a sole user is going to have. Of course, this differs per product but in high-level onboarding should be behavioral and personalized, per persona, the user's advancement level and focus on the JTBD this user has. To achieve that SaaS customer-facing teams should abandon vanity metrics, create a unified agenda and take advantage of the product's analytics. At the end of the day, the truth is hidden in the product. Always!"
More about Despina: Highly experienced SaaS consultant with a focus on user experience & user onboarding practices. Despina has 5 years experience in the SaaS industry and while she is originally coming from inbound, she realized early on that her calling was related to funnel optimization (from activation to referral) and user experience. She recently launched her remote agency and since then she has embarked on a mission to map and reshape the user experience practices delivered by SaaS vendors. You can find her on LinkedIn and Website. She's also writing a book on The User Onboarding Funnel….in the product-led era.
User Onboarding Tip #2 – Enable Users
Wes is a subject matter expert and authority on Product-Led Growth and he is going to run a Product-Led Summit at the end of January 2019. He consistently helps businesses drive millions in Annual Recurring Revenue (ARR) through applying his methodology which you can learn more about in his book on Product-Led Growth.
"Although counterintuitive to what many people think, the goal of user onboarding is NOT to help someone become better at using your product. The goal of user onboarding is to help someone become better at what your product enables them to do. For Slack, this is communicating internally. For Canva, this is creating beautiful graphics seamlessly. For CrazyEgg, this is understanding how people use your website. Great user onboarding is a means to an end. The only thing user onboarding should be focused on is helping new users experience what your product can enable them to do."
Wesley Bush is the founder and president of Traffic Is Currency which specializes in helping subscription businesses launch and optimize free trial and freemium models that convert.
You can find on him LinkedIn or his website.
User Onboarding Tip # 3 – Build Relationships
Val is known for her email onboarding teardowns and consulting. She's been helping SaaS companies for several years. She's the industry thought leader to make your email onboarding lovable. I wanted to get her insights on this topic specially because she's just so good at it.
"Want to know if you're doing onboarding correctly? You're headed the right direction if you're thinking about value-focused emails in your onboarding. But how can you build those campaigns? A few questions to ask yourself:
 -Do you have customer interviews you can pull from to know what your customers value in those early days
– How do your customers define success?
– What motivates them?
The other thing to think about with email is that, while you can always have a CTA in mind, the goal of an email isn't necessarily to get them to click through and use the app or take that specific action right away.
Onboarding is an awareness campaign. It's retraining their brain to think about your app in relation to the problem they're facing. Since most people are reading email on our phones (read: while watching Netflix, out grabbing coffee, in the bathroom, etc.) they're nowhere near a computer ready to take action installing JS or interfacing with your app. So that changes the goal of the emails, right?
Your goal is to build a relationship. To let them know you're there for them, that you understand their challenges, and that you want to help them succeed. When you do that, you're doing onboarding right."
Val Geisler is an Email Onboarding Specialist. You can find her on Twitter.
User Onboarding Tip #4 – Focus on UX Research
When it comes to UX writing, Yuval's is the first person who comes on top my mind. He also runs a Facebook group on UX writing and he talks about the future of UX writing in this article.
"UX research is the bread and butter of any product team. That's the data we rely on when we create digital experiences. Even if you design a product based on your gut feeling, you use some kind of data which is based on your past experiences as a human being. Create conversational on-boarding based on real data. Be like a guide and not like the notorious generalist "Office's clip".Research and then write for your users like you were having a conversation with them.That's the key!"
Yuval is also an amazing UX writer and he runs a blog UX Writing Hub.
You can find on him LinkedIn or UX Writing Hub.
User Onboarding Tip #5 – Conversational Communication
Jason has been helping many software companies with UX designing. He runs a UX Design Facebook group as well. He's sharing industry knowledge and best practices there.
"One thing I have found to work well is to collect user data in a style of one item at a time. What this means is that any form we create for onboarding is split down into singular units of interaction. Name is one unit. Surname is another unit. Email address is another unit. Mobile number is another unit. And so on. This process means that the user is only completing one item at a time. It makes things work very nicely in a conversational form or in a chatbot. Before user even knows, they have fully onboarded themselves onto the service without it feeling overwhelming."
Jason runs a UX Designers community at integral.me
You can find him on Twitter, LinkedIn and Facebook.
User Onboarding Tip #6 – Personalization
Tony is a customer activation and onboarding specialist over the last 13 years working with startups and enterprises he has learned and developed techniques that help him create effective user onboarding and product adoption funnels. I follow his blog religiously on user onboarding topics.
"Showing the right message to the right customers at the right time via the right channel is the next level of personalization and I believe that in 2019 we will see a massive increase in the personalization of user onboarding and product adoption funnels. Connecting analytics data to communication channels and in-app widgets will allow us to help users and guide them through based on their past experience with the product and their progress."
Tony is a user onboarding & activation specialist and he is consulting many SaaS companies on this topic.
You can find him on Website and LinkedIn.
User Onboarding Tip #7 – Contextual Onboarding
Naser has more than 5 years of SaaS experience in SaaS. He's a growth hacker but he has helped his Venngage creating a perfect user onboarding. Venngage's onboarding needs a blog itself 🙂 
"In 2019, we'll see the value of personalized user onboarding skyrocket. Users today already expect and demand personalization and brands are quickly adapting. We are seeing customized landing pages, ultra-personalized product offerings and unique user onboarding paths (that depend primarily on the user's data) take over the SaaS world. In my opinion, personalized & contextual onboarding, whether it's the product features you recommend users or the emails you send them is the ultimate growth hack for small businesses today. Using it effectively would boost your acquisition, activation, upgrade and retention rates!!"
Naser is an experienced SaaS Marketer. He's currently growing Venngage.com
You can find him on Linkedin.

User Onboarding Tip # 8 – Bot-based Onboarding
Pascal has more than 8 years of experience in SaaS and User Onboarding with Userlike. Userlike enables on-site communication between website visitors and the service team. His efforts on helping user communication and onboarding with his customers make it relevant for us to know his opinion.
"One onboarding trend I think we'll see more and more of in 2019 is that of chatbots. Chatbots have been tremendously overhyped, but this is one area in which they can definitely provide value. The prime example of this is Slack with Slackbot.
Instead of a boring wizard, Slackbot guides you through the workings of the product in an interactive way. What's more, it has an anthropomorphizing effect. It's an actual character with a personality that is guiding you, and it can stay with you throughout your entire customer experience. When it comes to emotional bonding, that is much more powerful than a neutral wizard or video. When there is a new feature out, for example, the chatbot can tell you about it instead of a traditional update post.
I haven't seen many other companies follow Slack's lead here, but I expect this to change in 2019 – especially because with chat tools like Userlike you can now easily connect your chatbot and build a chatbot onboarding experience throughout your website."
Pascal is a marketing director at Userlike. As a live chat specialist, he is obsessed about customer experience and engagement. You can find him on LinkedIn.
User Onboarding Tip # 9 – Help your customer succeed
Wojtek has UX writing and content designing courses for software entrepreneurs. At GetResponse, together with his team, he is re-imagining product-to-people communication, onboarding, and education all the time. He's been an instructor, and author on UX writing as well.
"The success of an onboarding process depends on how well you fit your customer thought process (mental model). This means that what you say and when is the most crucial thing in the process. At the time people start using your app they need to find out how the system works. They have tons of questions. Is it complex? Is it similar to what they already know? So…
First, make sure you align the process to user goals. Forget about your goals for a moment. This process becomes easier when you concentrate on customer journey and when you forget about product features. Second, respect their time. Optimize the process so that each step gives people a sense of accomplishment. Don't be afraid to provide guidance in separate contexts. Information bound to context reduces cognitive load and is more effective. Third, remember the most beautiful design won't replace good communication. At the design stage, remember that different patterns work best on mobile devices and other on the desktop. Onboarding is the closure of the conversion process. When you give your customers the confidence that they're in the right place and can succeed – you will succeed as well."
Wojtek Aleksander is UX Writing Trainer and currently works at GetResponse.com
You can find him on Twitter and LinkedIn.
What's my takeaway?
Get your user onboarding personalized.

Help new users experience what your product can enable them to do.

Conversational onboarding will be the new trend.

Build relationships with user onboarding than get few clicks.

Focus on user goals, respect users time and make your users succeed with your product.

User data analytics to personalize the onboarding and the funnel.

Create a unified agenda and take advantage of the product's analytics.
Which one of these tips you will implement in 2019?