Best Tools For Product Tour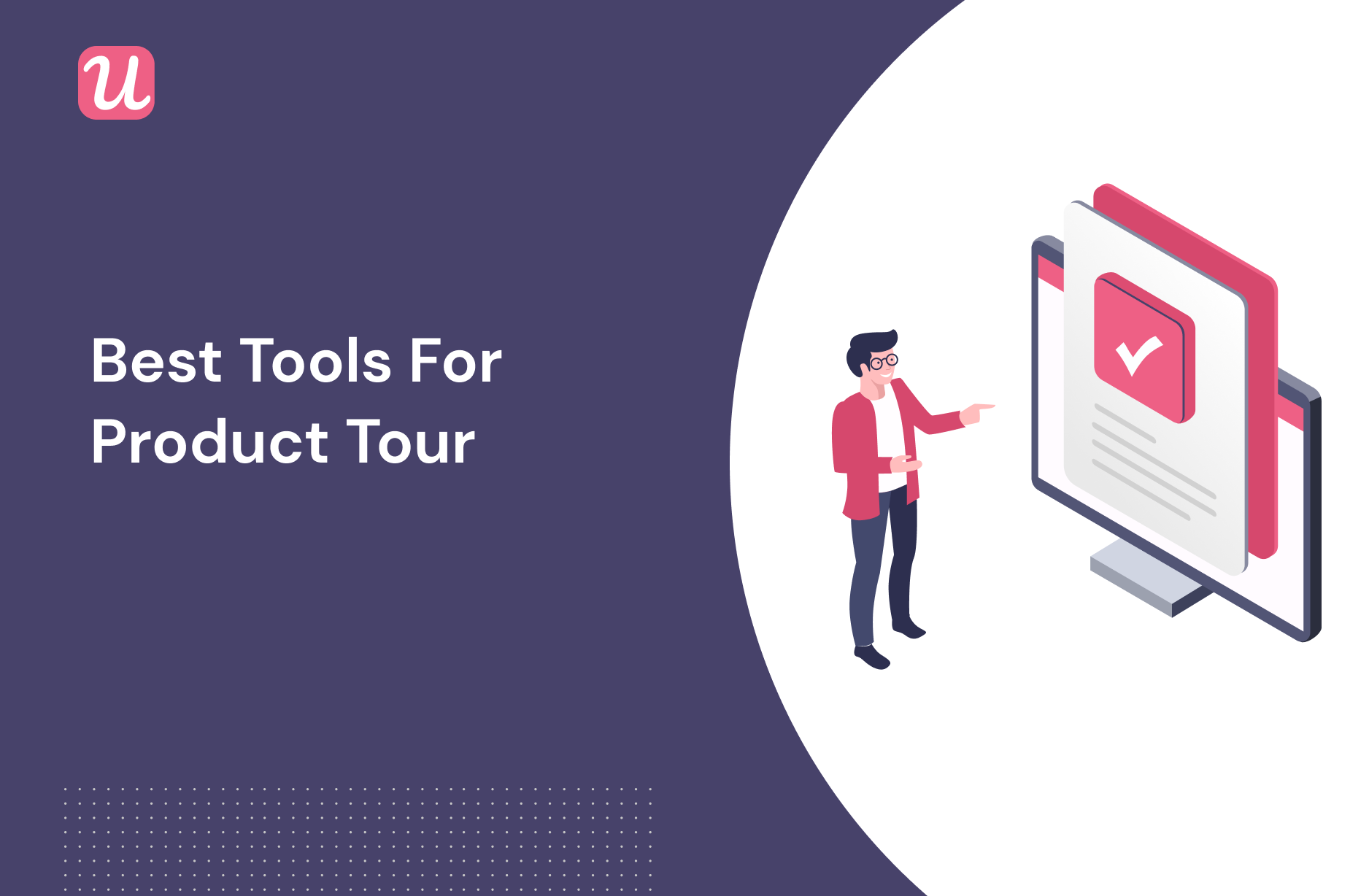 Looking for the best product tour tool for your SaaS company?
There are plenty of solutions for product tours on review sites, but they don't make the choice any easier. The crux of the issue is – to make the right choice, you need to account for your priorities: your different jobs to be done, your budget, and the size of the company.
But don't worry – we're coming to help! In this post, we'll discuss exactly that – which product tour tool is best depending on the different criteria that companies are looking for product tour software typically have. Let's dive in!
TL;DR
Product tours are in-app tutorials that guide new users through an app and its functionality and help customers understand how to use the key features.
Product tours drastically increase customer engagement, boost time to value, as well as reduce customer support costs.
Building in-app guidance from scratch and in a manual way is too time-consuming and not effective. Instead, you can invest in a product tour tool to automate the process.
With so many choices, out there, here are the 5 best product tour tools:

Try the best product tour tool for your SaaS now!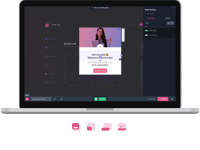 What is a product tour?
Product tours are an essential way of showing users the features they need to engage with in order to activate and get value from your product. They're vital tools for SaaS businesses because of how much their usage correlates with financially important metrics like activation, retention, and feature usage.
You should avoid building linear, top-down product tours. Instead, use contextual and interactive product tours. These don't force the user to sit through a series of screens explaining all your product features in one go.
Why is a product tour important?
Nobody really questions the need for product tours, do they?
This is real Product Management 101 stuff: when new users sign up for your app, your product tour will help them reach activation before they lose interest.
Most users – engaging with your product for the first time – are not going to be able to immediately know how they can do that. So, you need to show them!
So product tours are aimed at:
Increasing user engagement so that users get to adopt new features faster.
Decreasing friction and shortening the learning curve to enhance the user experience.
Demonstrating your product value through contextual in-app onboarding.
Reducing customer support costs, through interactive in-app guides that educate and support users.
Given that so many SaaS teams think that product tours are necessarily linear information dumps, the term "product tour" has become somewhat tainted. To avoid confusion, we therefore often refer to effective product tours as interactive walkthroughs.
Why do you need product tour tools?
Wondering why you even need a product tour tool? There are several reasons why you may need one:
You could build all the necessary features and tours in-house from scratch, but who has the time or spare tech resources for that? This is an arduous process that will just drain time and energy from your development team.
By contrast, using product tour software tools would allow you to build product tours for your SaaS company code-free! And it comes with a few benefits:
It's a much more agile approach because you don't need to bug your devs every time you want to make a change to your experience onboarding flows.
It frees up time to run product experiments and conduct A/B tests, which is what really drives the quality of your product tour.
Using product tour software is just a more scalable approach than doing everything yourself.
It's easy to build new tours or customize and iterate on the old ones without needing developers.
The million-dollar question is: with so many tools on the market, which product tour software should you choose, and why?
Must have features of good product tour tools
So when we talk about the best software for building better product tours, we're going to be quite specific about what makes a product tour worthwhile and what features a tool needs to achieve those things.
Here's what to look for before picking a product tour tool:
Access to different onboarding UI elements to build your product tours the way you want.
You should be able to trigger these contextually to specific user segments. So, segmentation and triggering options are important.
Since no product tour is perfect the first time you build it, being able to A/B test results on the basis of performance data is really helpful.
Product tours analytics are important too as you need to be able to track their performance against your onboarding and activation goals.
If the tools lack proper analytics, they should at least offer integrations with other analytics tools so you can leverage relevant data in one platform.
There's more functionality you could be looking at, of course. For example, localization, but we've listed the most important function a product tour software should offer. Now, let's check some tools.
Best product tour tools
There are many good choices out there, so we narrowed it down for you. Here are the top 5 tools you should choose from, depending on your budget and priorities.
Let's dive deeper into how each stacks up for different company sizes, budgets, and jobs to be done!

Try Userpilot – the best product tour solution for SaaS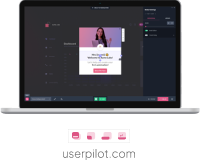 Userpilot- Best product tour platform for user onboarding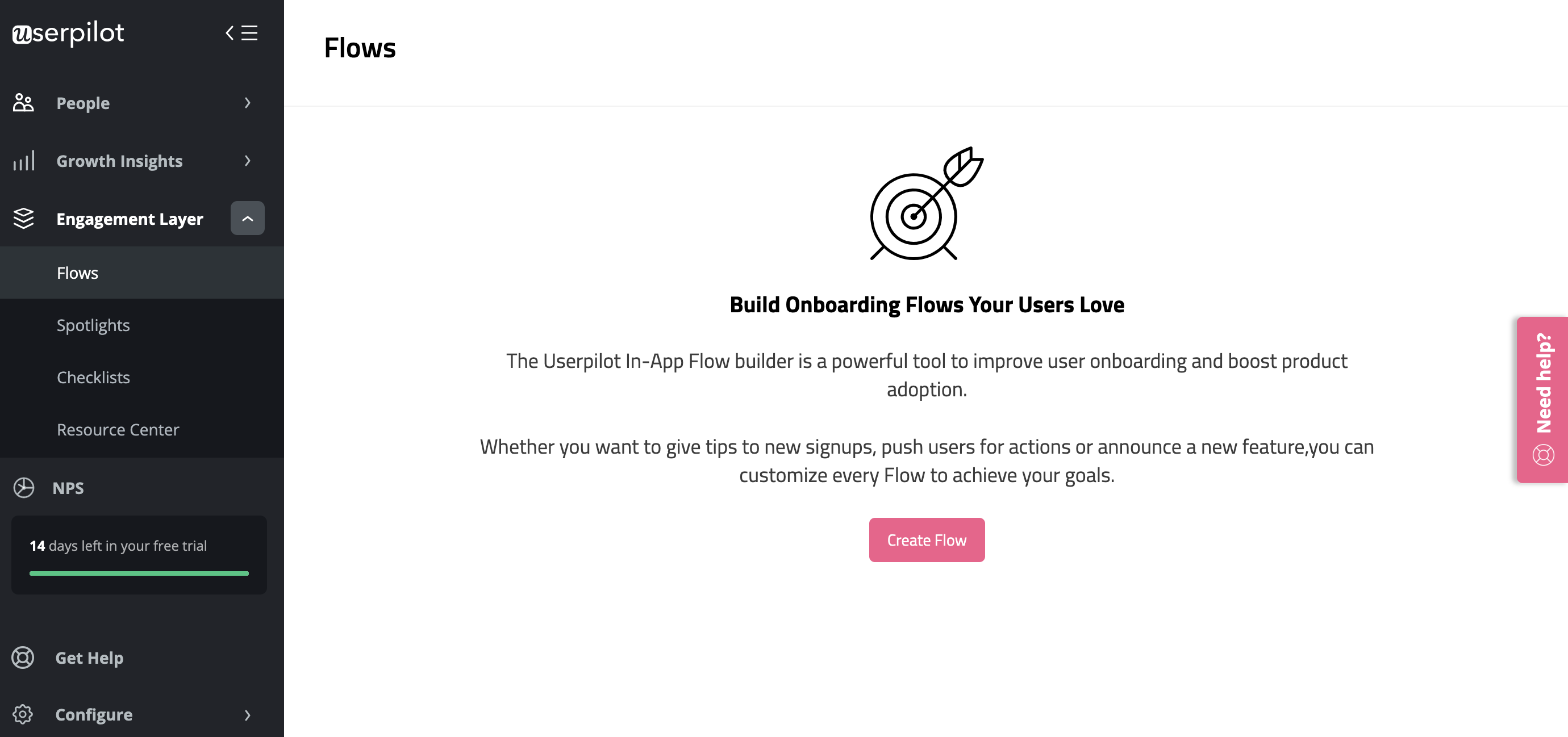 Userpilot is a powerful product adoption platform that enables you to quickly build personalized, flexible, contextually relevant in-app experiences targeted to different user segments – all without writing a line of code.
Userpilot was built specifically for SaaS product teams that want to improve their user onboarding experience and boost user activation.
You can build a huge variety of user onboarding experiences and in-app guidance flows without needing to code.
Here's what you'll get when you start using Userpilot:
Forget about coding in-app experiences: Userpilot is a no-code solution and only requires your dev to install a line of javascript inside your app and for you to download a chrome extension that opens up the visual builder.
Build in-app flows using the largest range of UI patterns (modals, slideouts, tooltips, hotspots, banners) and in-app onboarding experiences (checklists, microsurveys, NPS surveys, in-app resource center)
Get access to a built-in NPS tool for collecting and analyzing user sentiment so you can improve your onboarding process based on real data.
Create and track combinations of in-app events like clicks, hovers and form fills, and then analyze all these interactions under your own custom events, which can be built without code or API calls.
Use advanced product analytics and in-app flows analytics to identify where users need help and create granular user segments to trigger in-app experiences contextually (segment based on user identification data, in-app engagement, custom events, clicks, hovers, form fills, user feedback responses, NPS scores and more)
Enhance the onboarding experience with in-app help by launching a Resource Center directly inside your app. Add in-app guides, and video tutorials, and give users access to search the knowledge base or reach out to support. Self-service has never been easier.
The best user onboarding is contextual and it happens right where the users need it, inside your app. There isn't a better user onboarding tool out there that offers more value for the money than Userpilot.
Schedule a demo with our team and get ready to build the best onboarding experiences your users have seen.
PROs of Userpilot
Userpilot has a number of advantages, especially for mid-market SaaS companies looking for a robust but at the same time very easy-to-use, a no-code tool for user onboarding, product adoption, and simplified product analytics. Let's have a look at the pros of using Userpilot:
No-code builder – Userpilot comes with an easy-to-use Chrome Extension builder.
Multiple UI patterns – choose from a range of options to build customized flows: modals,
slideouts, banners, tooltips, hotspots, and checklists are all at your disposal.
UI patterns are not limited by plan – you get access to all of them on every single plan, meaning you get value even with the Traction plan (this is the entry-level one).
Engaging walkthroughs and onboarding flows- build interactive walkthroughs targeted to distinct user segments.
In-app help – build a resource center offering self-service support to your users, customize it with your branding, and select from a range of help options to boost user satisfaction (i.e. videos, in-app flows, chat, and more).
Experimentation – built-in A/B testing for flows lets you explore and quickly iterate based on direct user behavior.
Powerful feedback options- integrated NPS surveys with analytics and response tagging unlock insight into how your users feel.
Advanced analytics and segmentation- analyze product usage and in-app flow engagement and build user segments using the data.
Event tracking and feature tags- tag UI engagement (clicks, form fills, hovers) and group them into one custom event to track what really matters.
More value with integrations- unlock value faster with built-in integrations with popular tools like Segment, Amplitude, Mixpanel, Kissmetrics, Intercom, Heap, and more.
Cons of Userpilot
There are, however, some downsides to Userpilot as well:
Browser/web app only – Userpilot won't run on mobile devices/applications.
Doesn't support employee onboarding- The tool is better suited for customer onboarding than for employee onboarding as you can't build in-app guides on third-party tools.
Missing integrations – doesn't have built-in integrations with some tools, but it has webhooks, and Hubspot and Zapier are coming soon.
Not appropriate for small startups on a shoestring budget (<$100)- Userpilot is a powerful, mid-market to the enterprise-level tool. So $249 a month might be too expensive for really small startups.
What users say about Userpilot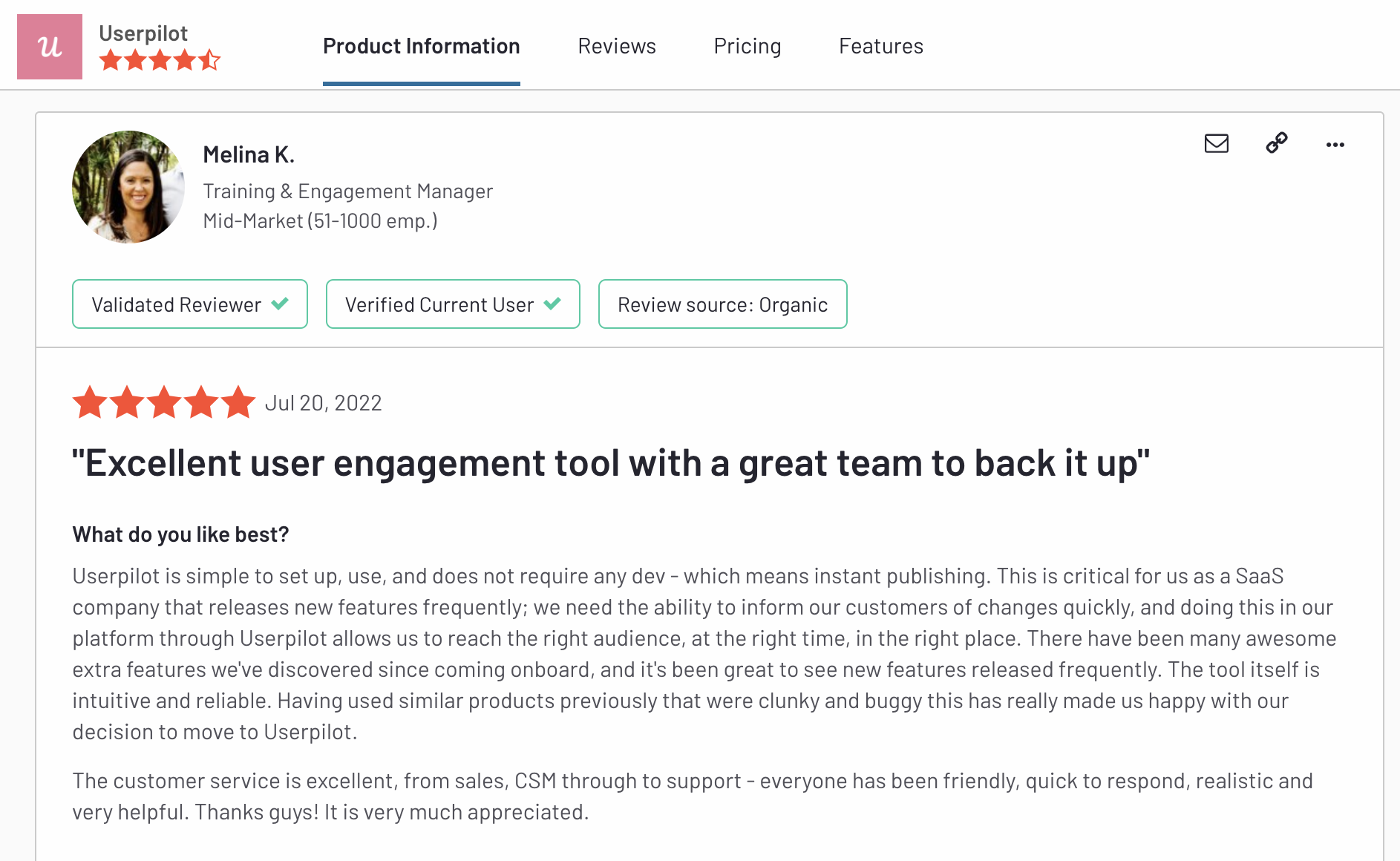 Userpilot is clearly not for everyone, but let's check what users like about the tool:
Userpilot is an incredible, user-friendly software that allows us to create unforgettable experiences for our clients! From basic to complex experiences, we have been able to do them all with ease! I would highly recommend this software to anyone who wants to provide their clients or users with the best product tour experience. The possibilities of what you can create are endless! – Tayla G.
Userpilot is simple to set up, use, and does not require any dev – which means instant publishing. This is critical for us as a SaaS company that releases new features frequently; we need the ability to inform our customers of changes quickly, and doing this in our platform through Userpilot allows us to reach the right audience, at the right time, in the right place. There have been many awesome extra features we've discovered since coming on board, and it's been great to see new features released frequently. The tool itself is intuitive and reliable. Having used similar products previously that were clunky and buggy this has really made us happy with our decision to move to Userpilot. – Melina K.
The price-to-feature ratio is the best for Userpilot. Other cheaper tools in the market would definitely not fulfill your needs, and others like Pendo would be out of budget. Userpilot sits in that sweet spot. – Saurav S.
Obviously, no tool can make everyone 100% happy all of the time – but if you check most reviews on G2 or Capterra, Userpilot users don't seem to complain about it a lot.
Here are some of Userpilot's negative reviews in their own words.
A few features are missing, but there are workarounds for most of the problems that might occur. They have great customer service that will assist you if there is anything you cannot figure out. The app can be quite technical at times and there are bugs now and then, but that is often sorted really quickly. Carl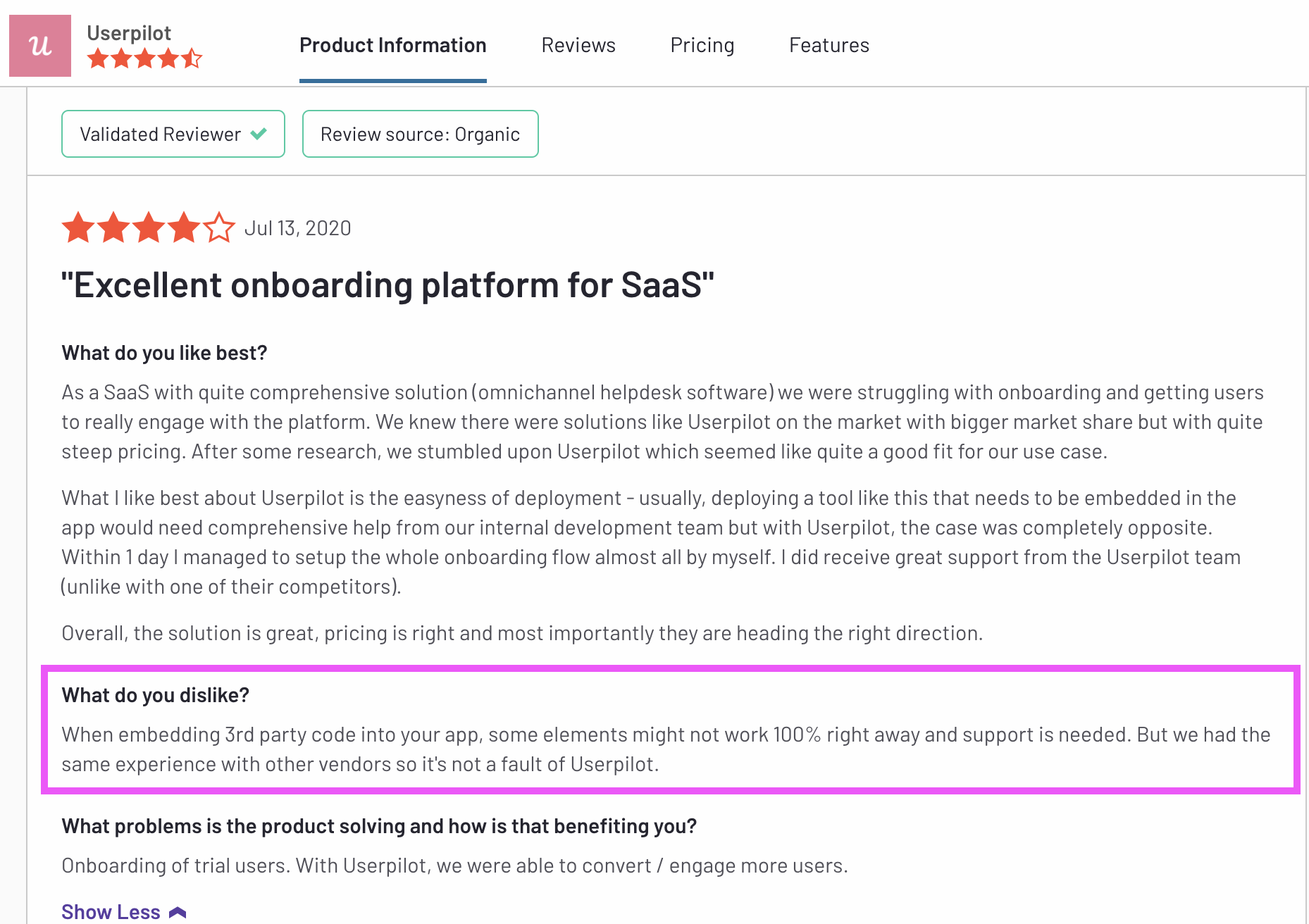 Userpilot pricing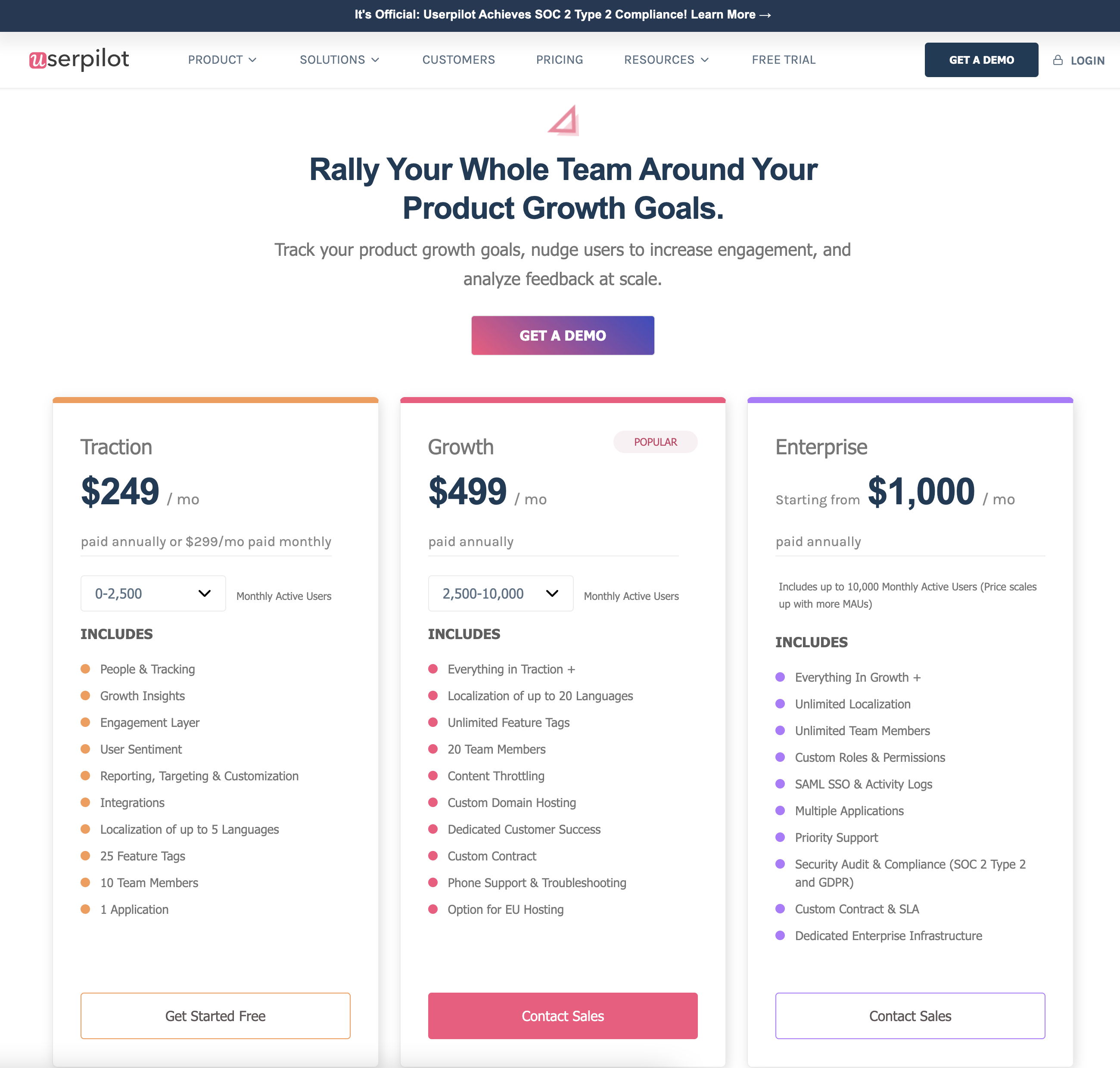 Userpilot offers great value for money compared to other similar tools on the market. Even its entry-level plan (Traction) provides all the necessary features without any usage limit.
The price-to-feature ratio is the best for Userpilot. Other cheaper tools in the market would definitely not fulfill your needs, and others like Pendo would be out of budget. Userpilot sits in that sweet spot. – Saurav S.
The pricing differentiation happens mostly on the service level (e.g. custom domain hosting, dedicated Customer Success Manager, SLA) and is based on the number of Monthly Active Users (MAUs) your company has.
Here's the detailed Userpilot pricing:
Traction: For up to 2500 users, this plan is $249/ mo.
Growth: For up to 10,000 users, this plan is $499/ mo.
Enterprise: These plans begin with $1000/ mo for large-scale businesses.

Try the best product tour tool for your SaaS now!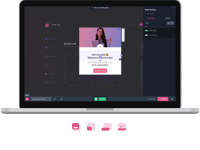 Appcues- Best product tour platform for user onboarding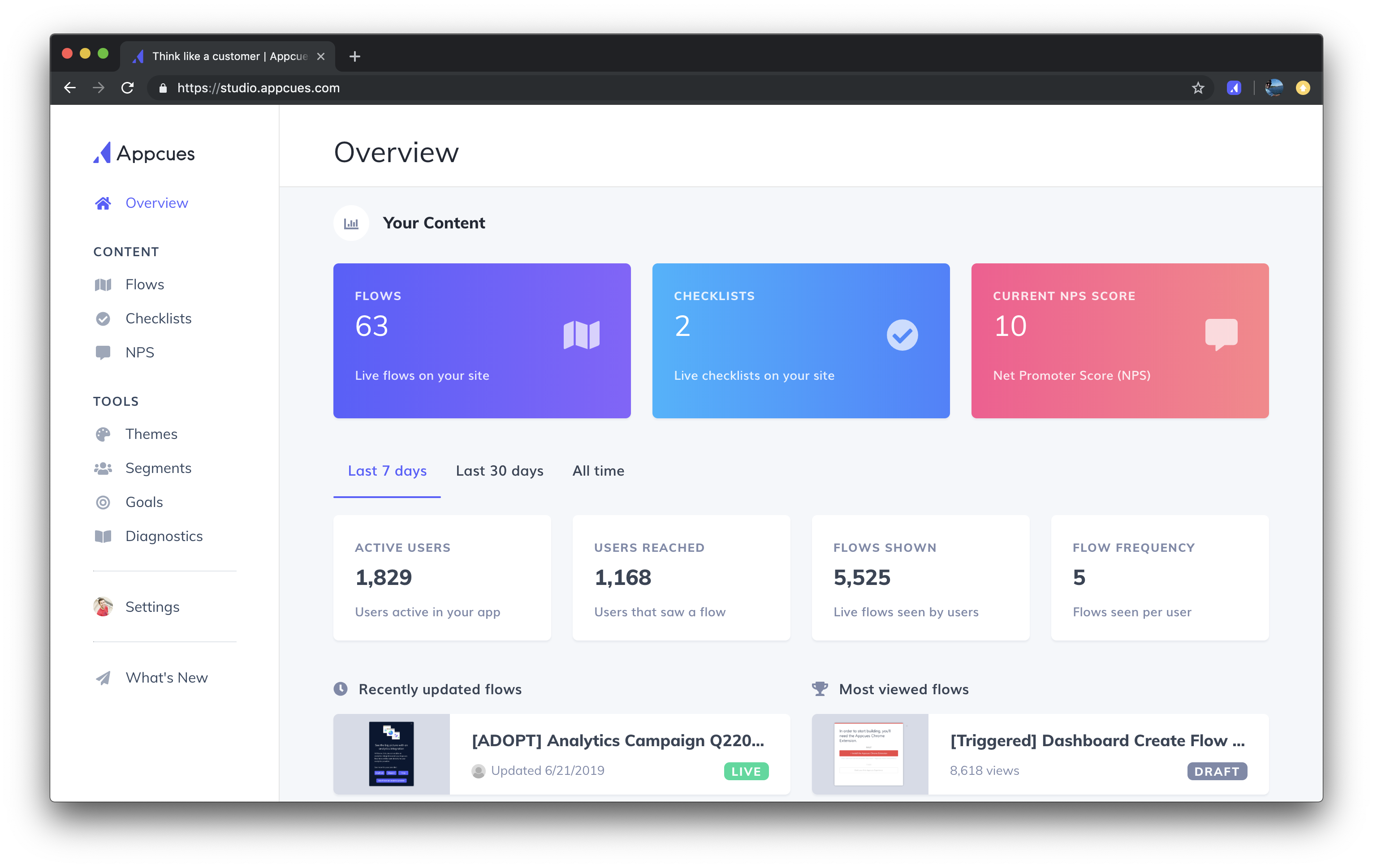 Appcues is another no-code user onboarding platform that helps non-technical teams track and analyze product usage.You can publish in-app onboarding tours, announcements, and launch surveys.
Unlike Userpilot, the functionality is limited if you are using the basic plans.
Appcues used to provide onboarding templates, which made it easy to use the tool. However, it provided a predefined way of thinking about onboarding all while having a higher price tag than other onboarding software. As of the time of writing (end of 2022), Appcues has removed its onboarding templates – without really replacing them with another solution.
Appcues allows you to design flows that make onboarding processes a breeze. These flows are what you use to create product tours and other in-app communication with users.
Here's what you'll get when you start using Appcues:
Access to an easy-to-use UI that anyone on the team can handle for building in-app flows without coding.
Building a product tour in Appcues is relatively easy. You just need to open their chrome extension on top of your application and start building your in-app experiences with a WYSIWYG editor. You simply select a UI pattern and customize it 'live', or point to the elements you want to e.g. append your tooltips to.
Previously it was even easier – you chose one of its templates, they would basically create the product tour for you, and you just needed to customize each step. This limited the options for customizing but it was useful for beginners. We don't know if Appcues plans to bring their templates back.
You can also create checklists with Appcues (NOT available on the Essentials plan) and prompt users to take action. These are ok but have limited functionality (can't trigger JS functions, or add gamification elements) compared to alternatives, such as Userpilot.
Track UI engagement with Events explorer which allows you to tag elements without coding.
Build custom user segments (up to 5 on the Essentials plan) based on user properties, flows, interactions, or events you set up in the events explorer.
PROs of Appcues
Let's look at some key advantages of Appcues:
It makes it easy to build product tours with a user-friendly UI and predefined templates that can save you time.
Can be used on web apps and mobile apps too.
It integrates with most user analytics tools: Heap, Segment, Amplitude, and Mixpanel. This compensates a bit for the lack of in-depth analytics but means you need multiple subscriptions.
You can use predefined flows or build your own using a good range of UI patterns.
Allows basic segmentation and event-based flow triggering.
It's easy to build in-app surveys using modals or the integrated NPS tool.
Cons of Appcues
But as any tool, Appcues is not without its flows – and at this price point, we think you may really want to consider some options that offer the same or more advanced functionality, but at a lower price tag:
Appcues lacks certain transition actions like driven actions, scroll position, or page change, which would make product tours more interactive.
It heavily limits the functionality available in the lowest (Essentials) plan. If you need checklists, more than 10 events, or more than 5 user segments, you'll need to upgrade to the Growth plan (starting at $879/mo payable annually, which means you need to fork out more than $10,500 to start using Appcues for more use cases.
Appcues doesn't have a resource center feature, meaning you can't use it to offer self-service support to your users.
What users say about Appcues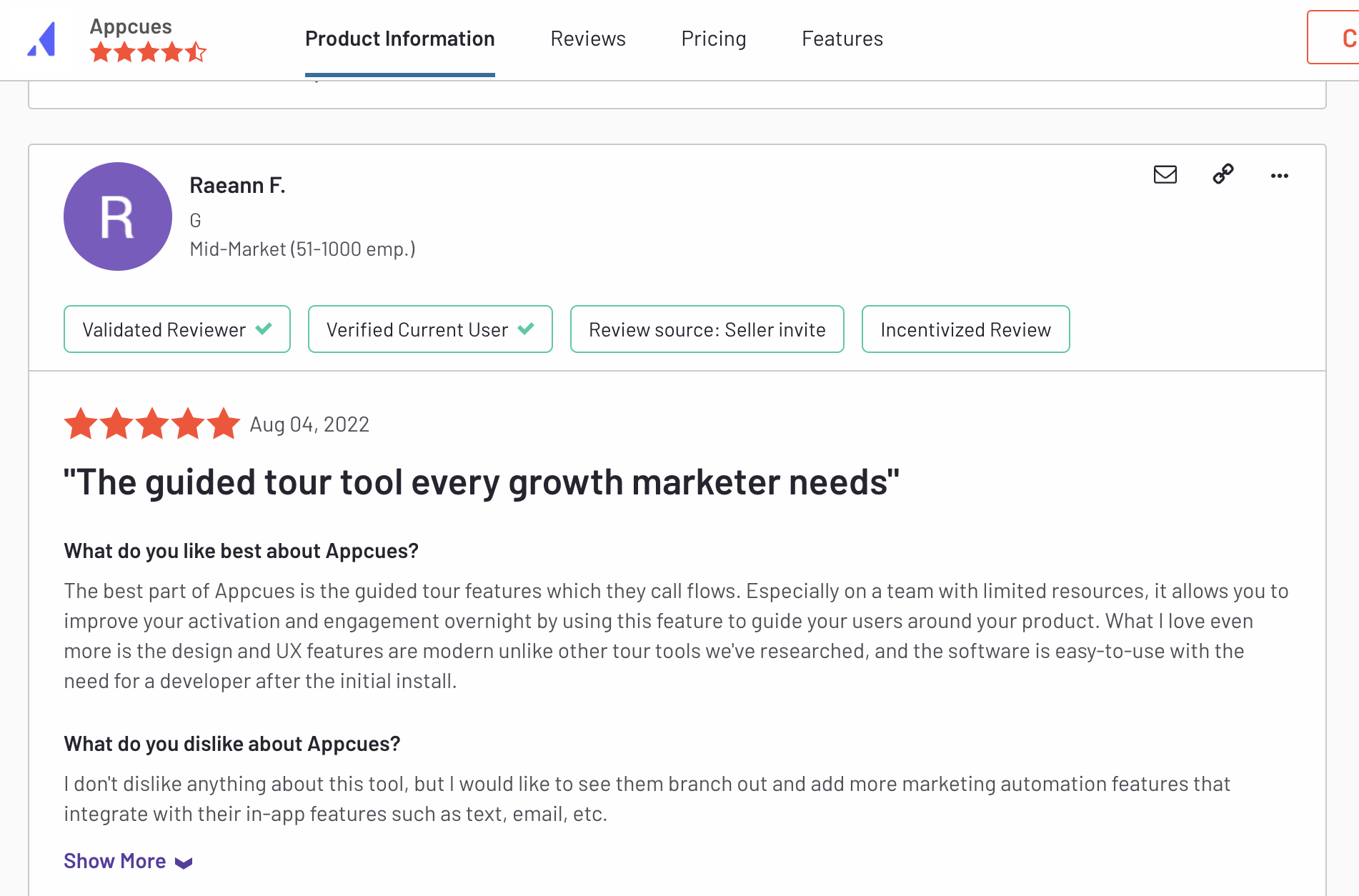 What do Appcues users share about their experience? Overall users feel positive about Appcues.
Here's an example summarizing some key points about its features and the value it offers. You can find more reviews on G2 or Capterra.
The best part of Appcues is the guided tour features which they call flaws. Especially on a team with limited resources, it allows you to improve your activation and engagement overnight by using this feature to guide your users around your product. What I love even more is the design and UX features are modern unlike other tour tools we've researched, and the software is easy-to-use with the need for a developer after the initial installation. – Raeann F.
However, there are some points that could be improved:
As with all software, you will run into irritating limitations. Appcues does collect a lot of data that could automatically be turned into user attributes (like the first log-in or visits per month) but they don't do that. Jumping between the build mode and the studio can also become very confusing at times. – Ville T.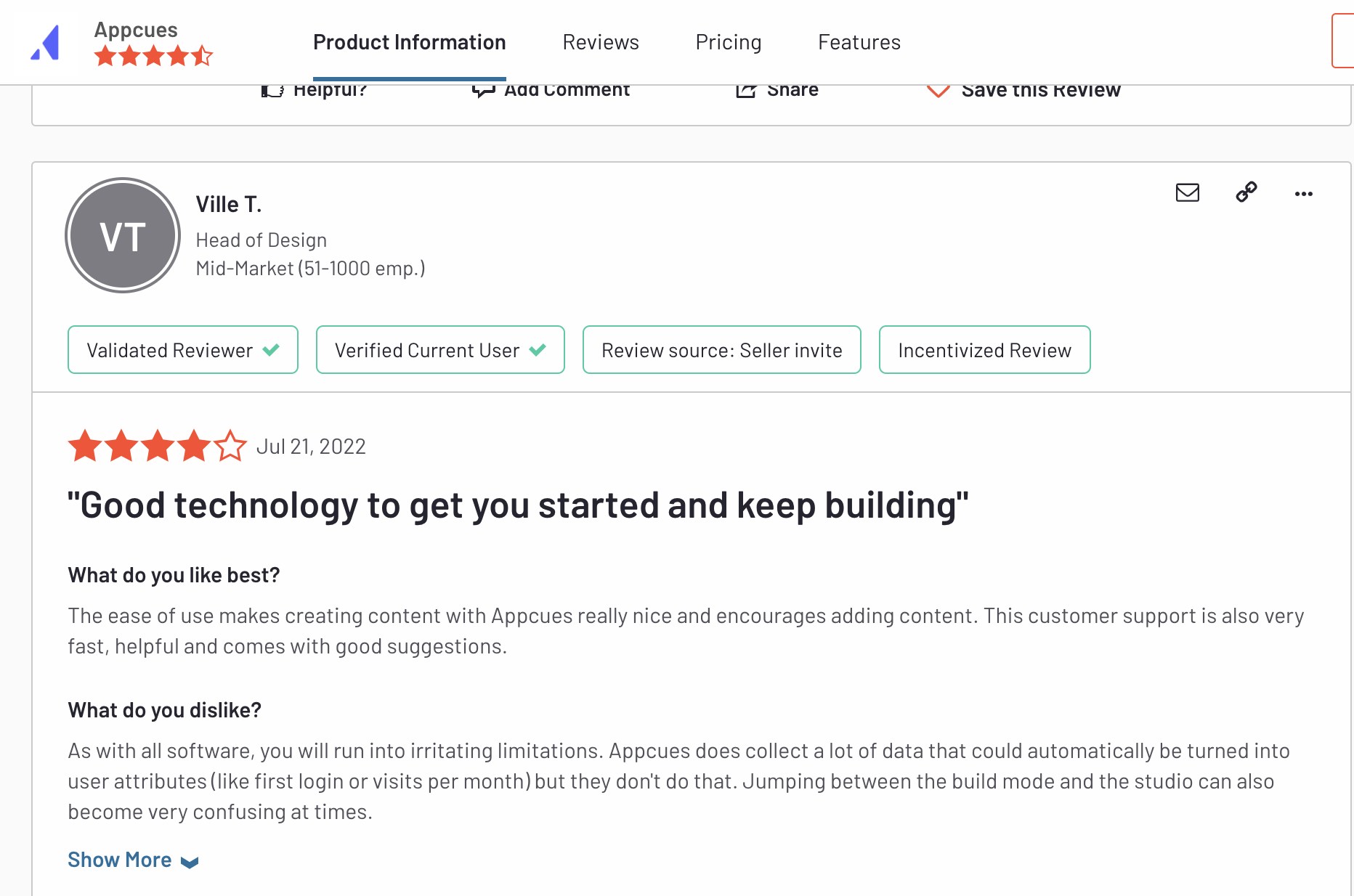 Appcues pricing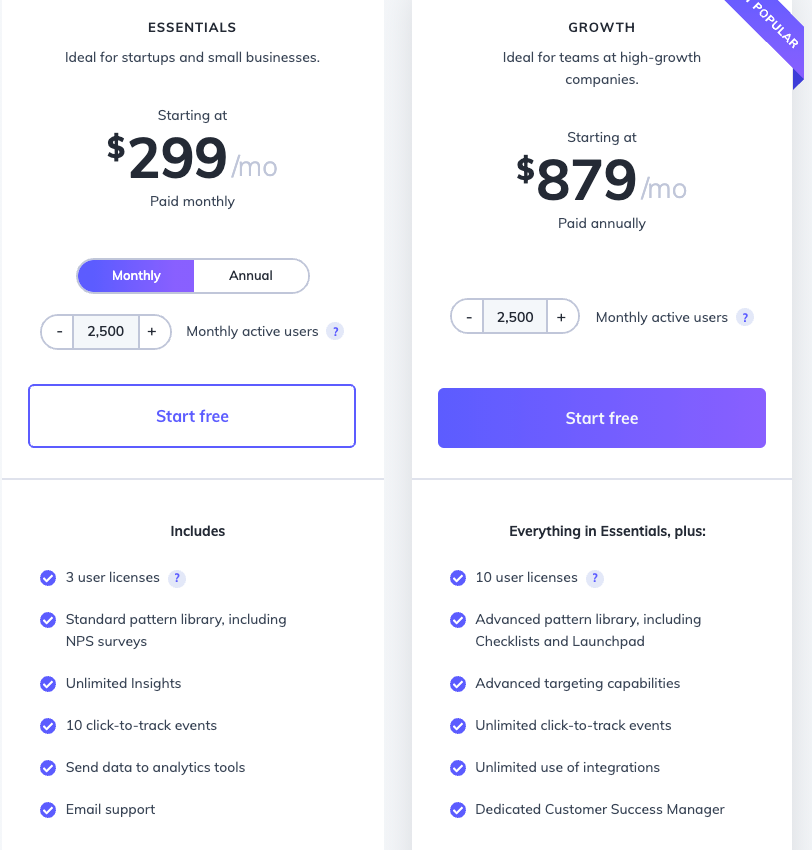 All things considered, Appcues does not offer the best value for money compared to some Appcues alternatives – at $249 per month. If your product has 2,500 active users, the costs for different plans are:
Essentials: $249/month (Up to 3 user licenses)
Growth: $879/month (Up to 10 user licenses)
Enterprise: Custom (Unlimited user licenses)
Pendo- Best product tour platform for employee onboarding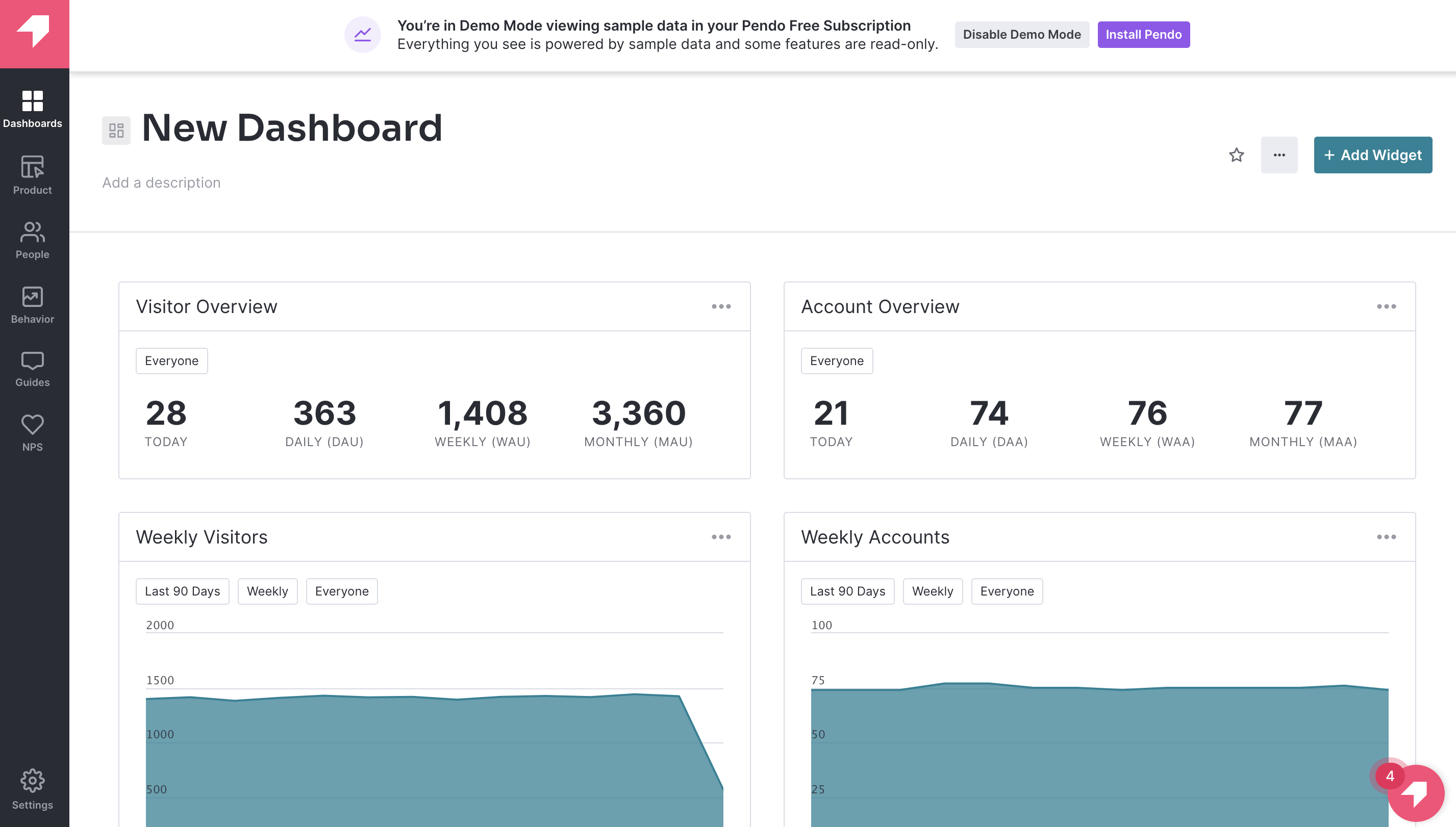 Pendo is a comprehensive digital adoption platform with impressive analytics, in-app feedback, and product adoption features
It caters primarily to enterprise users and probably has the most advanced analytics of all tools we're covering in this article. But it all comes at a price.
Pendo positions itself as a product experience solution or a digital adoption one. This can be a bit confusing as you'd think digital adoption is about getting users to adopt your product with a highly personalized in-app messaging approach. Right?
Not in Pendo's case.
Pendo's digital adoption module is all about driving adoption across your portfolio of employee-facing software. Here's what you can do with Pendo if you need an employee onboarding solution:
Build in-app guides on internally developed and 3rd party software (web only, mobile is not supported).
Analytics that help you track employee engagement with the guides and also product usage, including cross-app paths and workflows.
Portfolio of tools management view so you can track how employees are engaging with your tools in one place.
Pendo's resource center for building onboarding checklists and guide lists for users to access on demand.
Pendo's employee onboarding hasn't been on the market for long. If you're looking for a veteran here, you should try Walkme.
PROs of Pendo
Despite the price and its steep learning curve, Pendo does have a few pros compared to its competitors.
Pendo is known for its good and easy-to-use analytics tools like Paths, Retention, and Funnels. (As of Q1 2023, Userpilot will have the same analytics features, with more robust functionality).
Pendo has a shareable product-planning tool to organize customer feedback and prioritize high-value features. It helps keep teams aligned with the shared feature-planning guide.
It works on web apps and mobile apps so if you need both, this might be a good choice for you.
Cons of Pendo
Surprisingly for a product engagement tool that claims to be "all in one" you can't act directly on the user analytics from Pendo in Pendo.
That's because Pendo doesn't allow you to target users segmented by in-app events with the in-app guides you've built with it.
Here's a short list of Pendo's cons:
It doesn't allow you to trigger experiences based on in-app events either. This is probably because of tech debt – but makes Pendo's analytics pretty much NOT actionable.
Pendo offers limited onboarding elements, which means you can't always create the best experience for your users. If you want checklists these can only be accessed from the Resource Center which defeats the purpose of having them in the first place.
Pendo's pricing is only available to you if you ask for a quote. The company doesn't list pricing on its site for the higher tiers. However, some reviews say they have prices starting at $20,000-$25,000 per year for a single product, and around $50,000 per year for the mid-tier package. This might be Pendo's biggest downside.
If you're looking for a tool that shows you user analytics in real-time and allows you to trigger in-app experiences based on in-app events and user behavior in real-time – Userpilot offers these features (and at a lower price tag too).
What users say about Pendo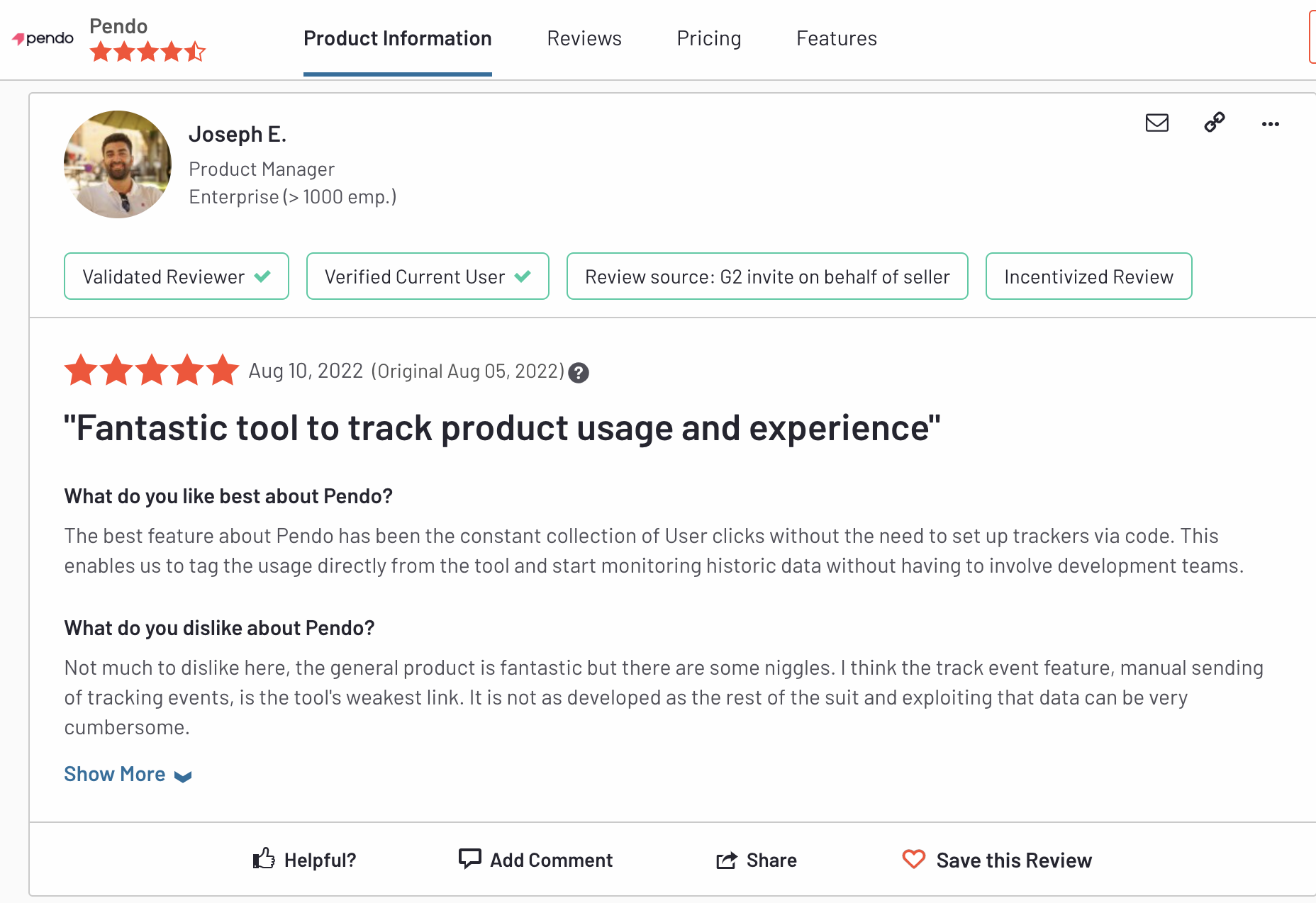 Users appreciate Pendo's analytics but find it complex for building in-app guidance using the guides feature.
As soon as it has been integrated, Pendo is easy to use and manage without the need for developers. I also like that usage is captured retrospectively and the dashboard views or ability to segment users/accounts based on different criteria is really powerful. The guides are great and multi-functional making it really simple for Product Managers to help users navigate with walkthroughs, or post announcements or poll users; they allow Product Managers to get creative with how they engage and interact with users directly in the product. – Parita P.
The best feature about Pendo has been the constant collection of User clicks without the need to set up trackers via code. This enables us to tag the usage directly from the tool and start monitoring historic data without having to involve development teams.- Joseph E.
Most users complain about the lack of granularity in analyzing data and the price.
Not much to dislike here, the general product is fantastic but there are some niggles. I think the track event feature, manual sending of tracking events, is the tool's weakest link. It is not as developed as the rest of the suit and exploiting that data can be very cumbersome.- Joseph E.
And there's more:
While reports are thorough, a little more granularity would be welcomed. I don't like that Feedback is a separate cost, as it is a very powerful tool to find out what users want to see in future releases.- Rob S.
And there's more:
Need to be able to drill more into the Dashboard widgets. For example, using the Stickiness Metrics widget of WAU vs MAU is valuable but I should be able to click into these widgets to figure out which specific Clients these are referring to by different segments. This would be helpful information to hand over to other teams like Customer Success. It would also be helpful to be able to see which Clients are not using certain features when using the Behavior section to create reports. For example, if a CSM has 30 accounts and we can see that 14 are using a specific feature, having a quick list of the 16 not using the fea -Computer Software Admin.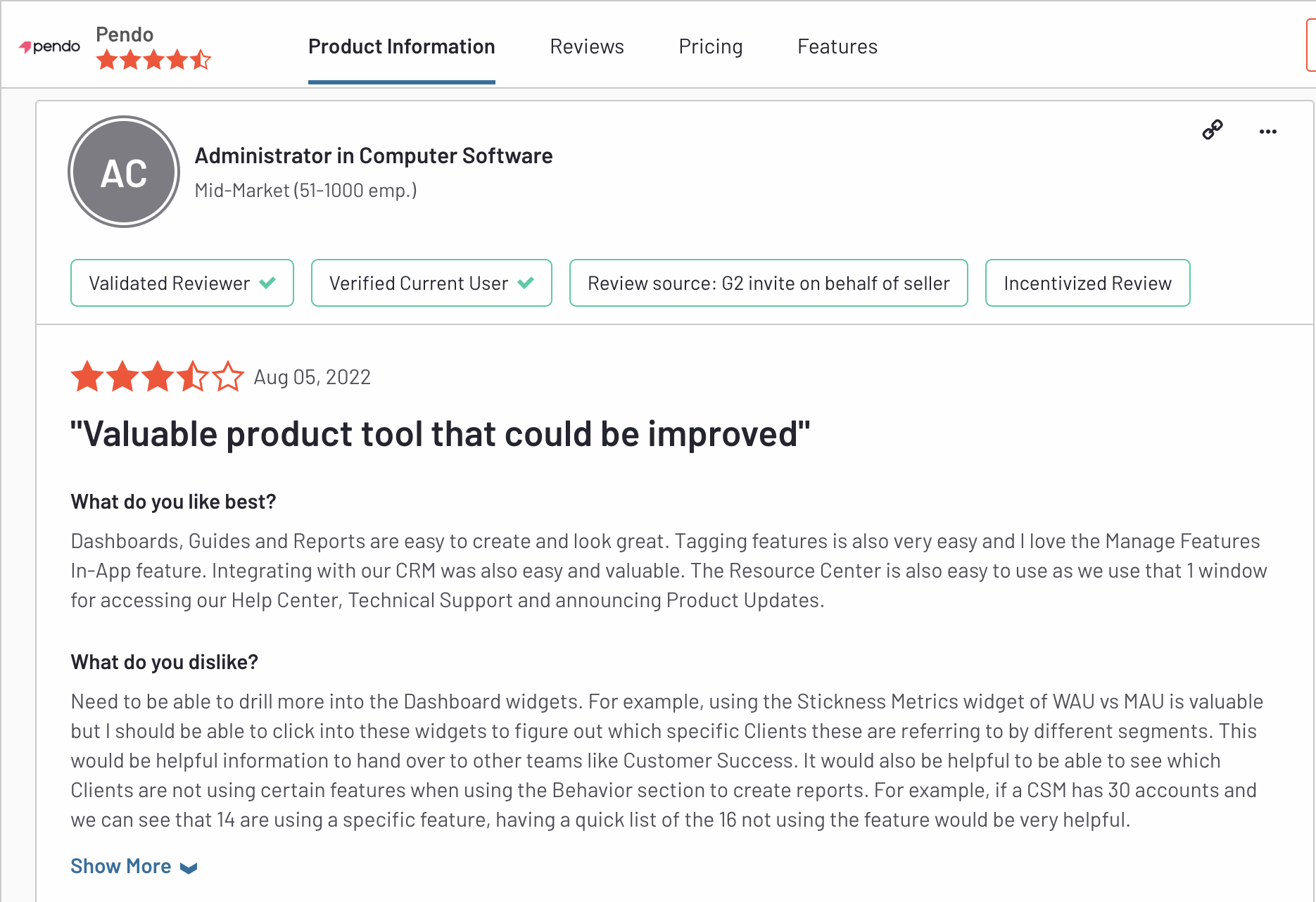 Pendo pricing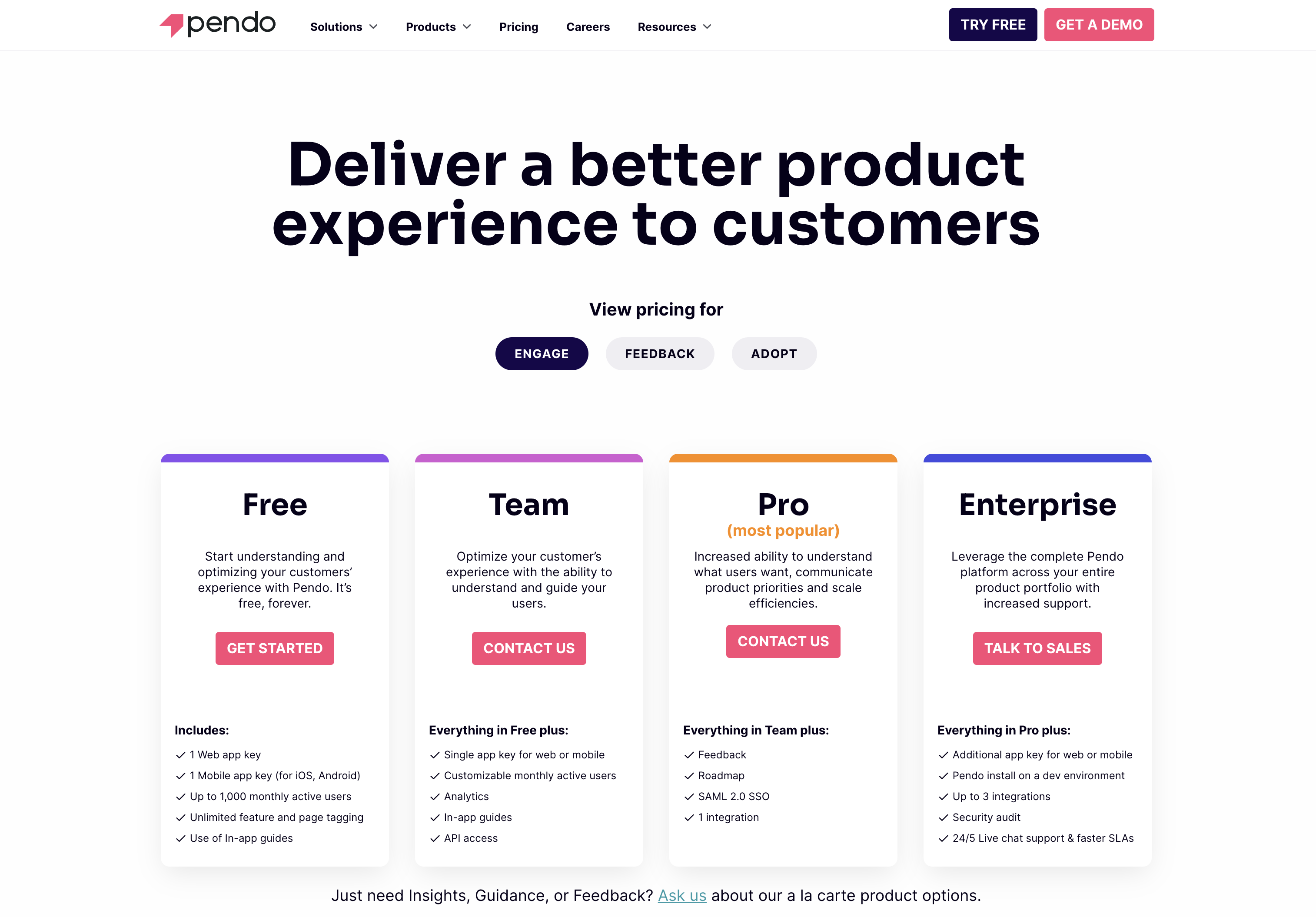 Pendo's pricing is only available to you if you ask for a quote. The company doesn't list pricing on its site for the higher tiers. However, some reviews say they have prices starting at $20,000-$25,000 per year for a single product, and around $50,000 per year for the mid-tier package.
The tricky part when it comes to Pendo's pricing is that you get to pay separately for different modules:
Pendo Free: up to 500 MAU, single-app, and basic functionality and analytics.
Pendo Starter $7000/year: 2,000 MAU limit, multi-app, and access to premium features like NPS but it doesn't include advanced analytics or integrations
Pendo Growth: Custom MAU, single-app, NPS and PES, resource center, and access to support compared to lower plans
Pendo Portfolio: Custom MAU, multi-app, cross-journey reports, experimentation, and 1 free integration included.
Pendo Premium: Custom MAU, multi-app, everything in other plans plus custom roles and permissions and advanced security
Pendo Feedback: collecting feature requests is a separate module with custom pricing.
Pendo Adopt: employee onboarding is a separate module with custom pricing
Userguiding- Best product tour platform for user onboarding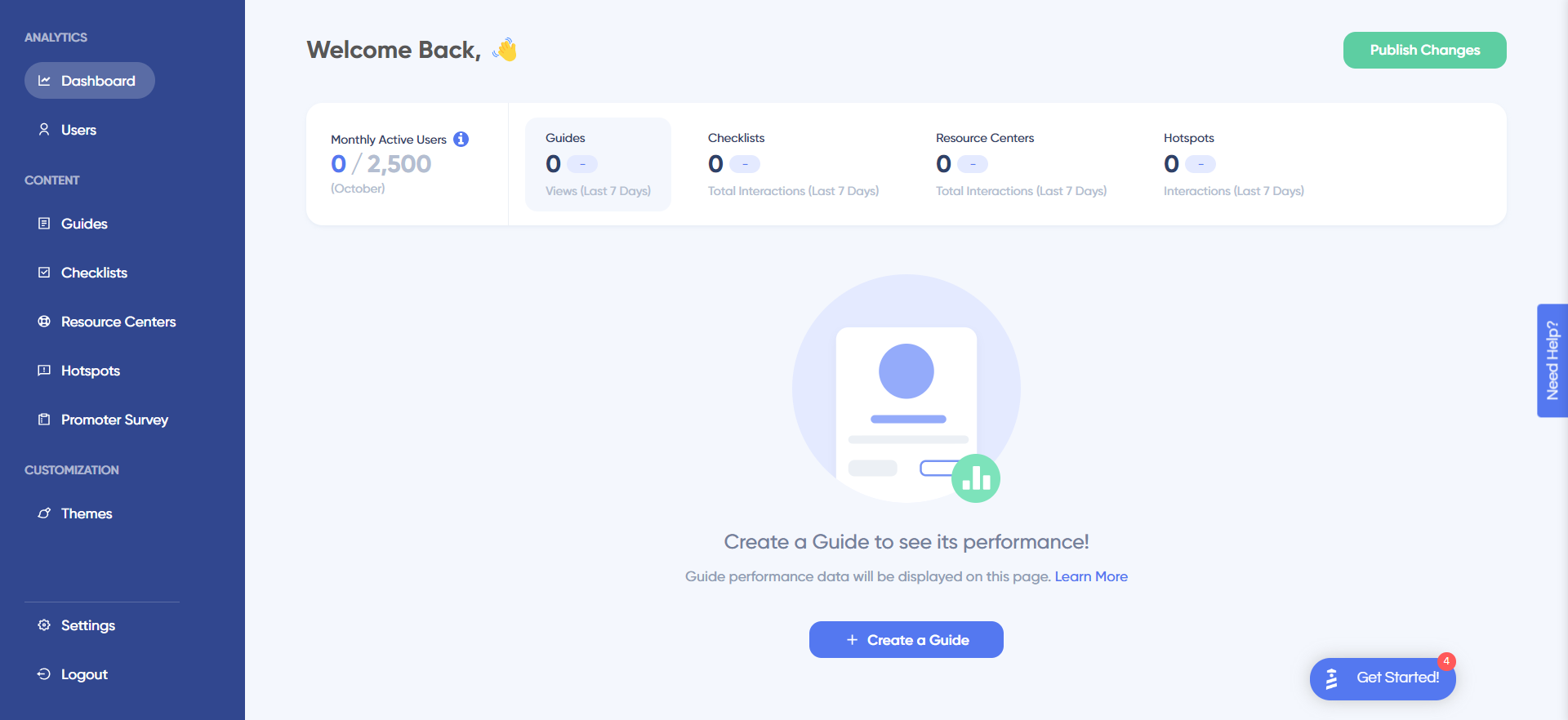 UserGuiding is a lower-cost, entry-level product adoption tool offering a range of features to help companies onboard new customers and boost product adoption.
UserGuiding excels at building simple onboarding experiences for users. It includes a no-code builder, segmentation options, and easily added UI patterns like hotspots, tooltips, and modals.
Although it also has some other goodies like a resource center and analytics, the meat of this product is its onboarding flow builder. If all you're looking for is a relatively easy way to build simple onboarding flows, this could be a great choice for you. However, people looking for more analytics, customization, or complex integrations should probably look elsewhere.
As a no-code onboarding tool, UserGuiding has numerous features that will help you create onboarding flows for your new customers and guide them throughout their journey.
Here's what you'll get when you start using UserGuiding:
Create interactive product walkthroughs without disturbing your developers as it's completely code-free.
Build onboarding checklists and drive customers to the activation point by eliminating the guesswork on what the next step should be.
Use a variety of UI patterns, like checklists tooltips, modals, and slideouts to prompt the right in-app experience, to the right persona, at the right time in their user journey.
Add emojis, gifs, images, or videos to customize your onboarding flows and have them match your brand.
Though UserGuiding is a great tool for startups that don't have much money to invest in an onboarding tool, it has very strict limitations for the Basic plan.
You can only create a maximum of 20 guides, 2 onboarding checklists, and 1 resource center. If you want to create unlimited guides with unlimited UI patterns, you should go for the Professional plan that costs $299.
PROs of Userguiding
There are some advantages when it comes to choosing UserGuiding. Here are its pros:
For small startups or independent businesses, the price is an attractive element to consider.
A good variety of UI patterns to choose from when building flows and guides
Unlike some of the more expensive options, you can choose to add a Resource Center (a bonus for self-service support).
For a budget tool, UserGuiding still offers integrations with other applications, such as Mixpanel, Hubspot, Woopra, Slack, Webhook, etc.
Cons of Userguiding
Though UserGuiding is a solid product many improvements are still needed. The cons of using UserGuiding include:
There are many bugs and performance issues when using the tool. The UI is also fairly tricky to navigate.
It has limited functionality, particularly on the basic plan. There you only have a small range of features available – all with the UserGuiding watermark/branding.
Technical knowledge is required to get the maximum out of this product.
Customization and design options for UI patterns aren't the greatest.
What users say about Userguiding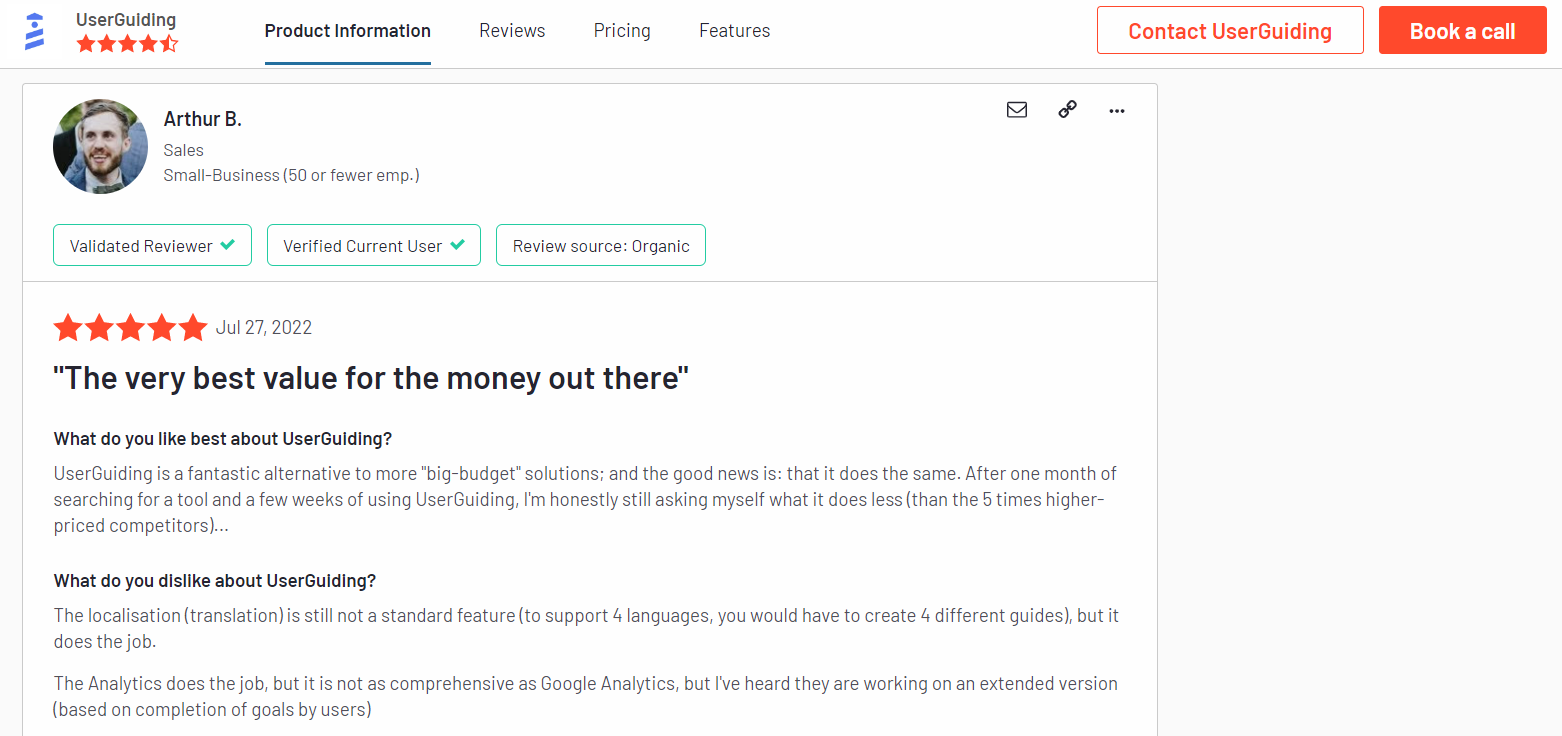 If you check the product review sites, most people like using UserGuiding.
Here are some reviews from real users:
Creating guides/checklists are easy to implement. It does not take a lot of time to make adjustments when you need to make changes.
You can go live with a simple guide or checklist within minutes. I was able to go live within a few days of getting started. – Administrator in Computer Software
However, some people think there's too much friction due to bugs. Let's have a look at some negative reviews to see why users complain about:
It is a bit buggy, sometimes it lags or freezes.
And, some people think that there is still room for improvement:
The analytics felt a little elementary. Other than the Mixpanel integration, it wasn't possible to analyze user data directly on the UserGuiding dashboard. There was an API we could use that required some set up, but this was something I expected to be baked into the product for sure.- Administrator in Computer Software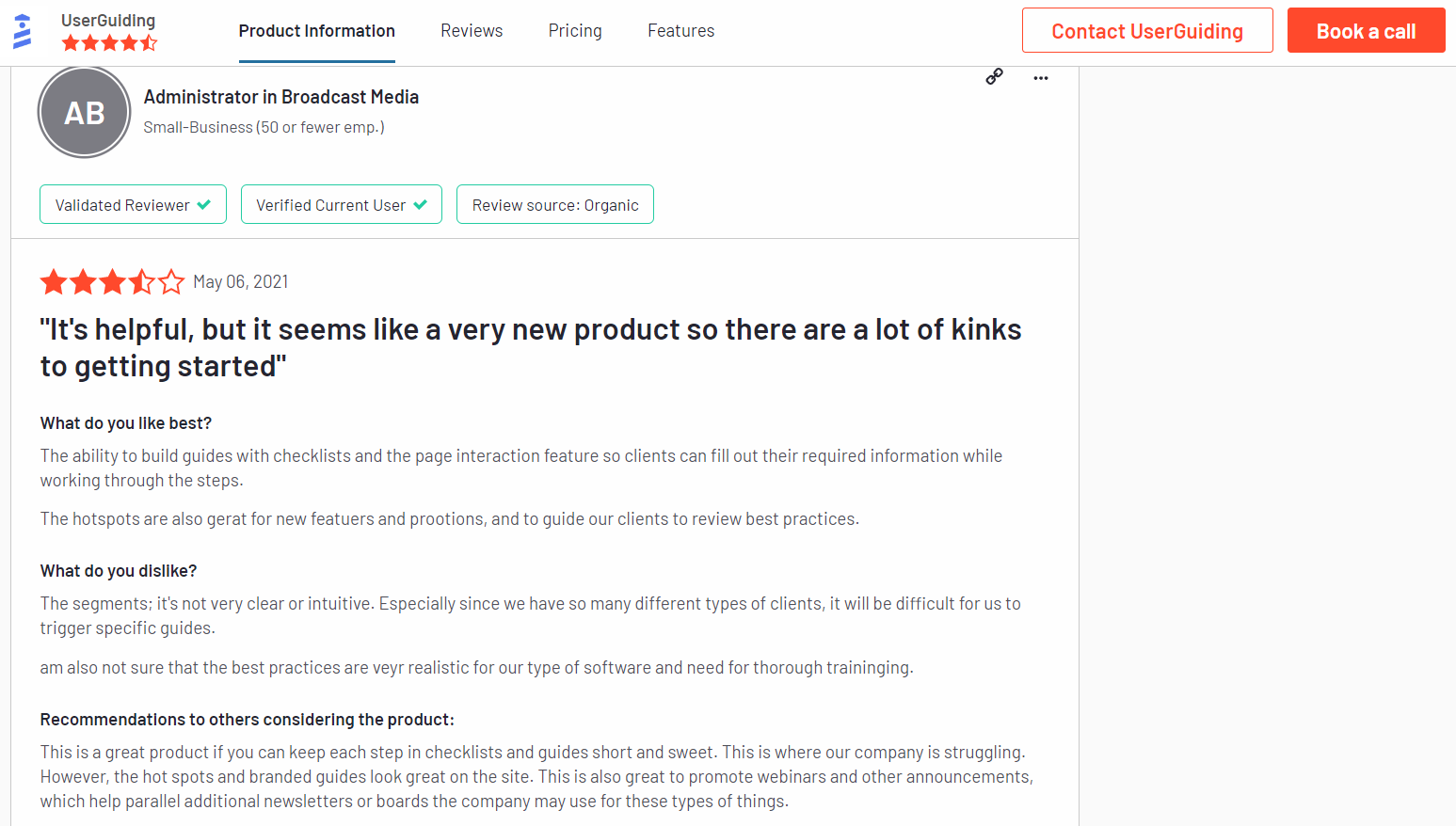 Userguiding pricing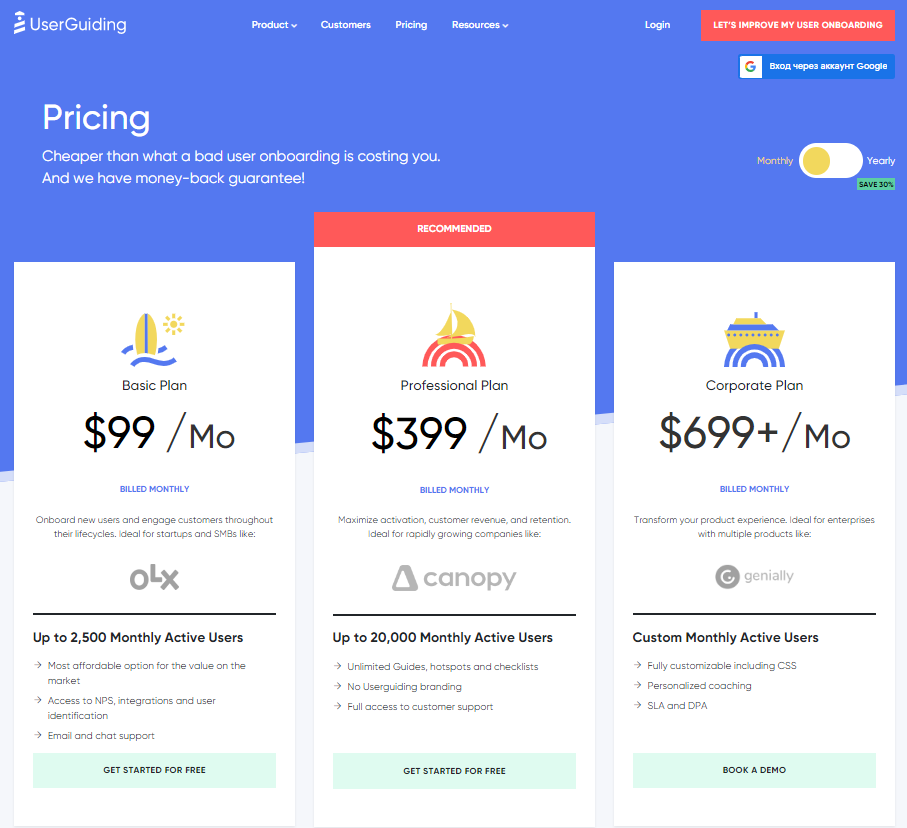 UserGuiding's pricing model is far simpler than others on our list. There are three tiers, each one charging a set amount for access to certain tools.
Here are its packages:
Basic will give you access to only the most essential onboarding tools: Starting at $99/mo or $69/mo (if you buy the yearly contract), this budget option has a few limitations to consider (i.e. just 1 Team Member, a limit of 20 guides, and 2 checklists, UserGuiding branding on all UI patterns).
Professional adds unlimited guides, hotspots, and checklists. Starting at $399/mo or $299 /mo if billed yearly.
Corporate gives you access to everything plus personalized coaching. Starting at $699/mo or $499.mo for a yearly plan.
Chameleon- Best product tour platform for user onboarding
Chameleon is a digital adoption platform with a difference: while the other tools discussed are mostly no-code, Chameleon will require some developer involvement.
Nevertheless, it's a powerful and effective tool that works in a similar way to Userpilot and offers similar features: styling, analytics, templates, goals, A/B testing, and checklists.
However, it doesn't offer a resource center, or dedicated NPS, and it's a lot worse value for money with limited features in the basic plan, which is over $150 more expensive for the same number of MAUs.
You can build widgets (launchers) and classic guides and tours with Chameleon as the main drivers of user onboarding.
Here's how Chameleon's main functionality helps with user onboarding:
Chameleon's product tours help you build flows for guidance. You can use several UI patterns for this: modals, banners, tooltips, and hotspots.
You can customize the styling (font, color, opacity, etc) of your product tours and even add in some CSS styling if you want advanced branding.
Launchers are where Chameleon is different compared to its competitors. These are in-app widgets that can open checklists, small help widgets, or notification centers. The downside is that you can't have one launcher with multiple types of content.
You can target content to different user segments based on multiple data sources including event triggering.
Ability to use micro surveys with great customization and question-and-answer types.
On Growth Plan and higher, you also get access to more functionality like A/B testing, multiple environments, localization (Enterprise plan only), and advanced integrations like Hubspot
All in all, Chameleon has good functionality for user onboarding but will be very limited on the Startup plan as you only get one Launcher and five micro surveys.
To build contextual and efficient user onboarding you will need more than that. Considering what you get for the money, Userpilot offers much better value.
PROs of Chameleon
Chameleon is a robust tool for your onboarding and adoption needs. Here are the main pros to consider if you're still deciding:
Offers a good range of in-app messaging and UI patterns. You can create custom modals, slideouts, tooltips, hotspots, launchers (checklists or resource hubs), and more.
Good segmentation options, you can either build different user segments inside the product, or you can integrate your Chameleon account with other tools and import your data.
Can be used on 3rd party tools, meaning you can use it for employee onboarding too.
Offers a good range of two-way integrations: Mixpanel, Segment, Intercom, Customer.io, Segment, Hubspot, etc.
Cons of Chameleon
While Chameleon is a great tool, the main downside is the cost and restrictions you get with it. Here are the main cons of the tool:
There are some limitations to user onboarding flows. You can't run multiple in-app experiences at the same time, as you can in Userpilot. Instead, Chameleon enables you to create user onboarding campaigns (different sequences of product tours shown over time).
It's built for single-page apps: Chameleon can't build flows that run over multiple URLs.
Doesn't offer a self-service resource center where users can access multiple guides and tutorials or contact support. It does provide launchers that are similar but more restricted. A launcher can be a checklist or a list of resources, but can't be both.
It has a steeper learning curve and it's not a completely no-code tool.
The Startup (starter) plan is quite restrictive and expensive (starts at $349/mo for 2500 MAU and includes 1 Launcher only and 5 micro surveys). You will need to go for Growth ($999/mo) if you want to drive product adoption.
What users say about Chameleon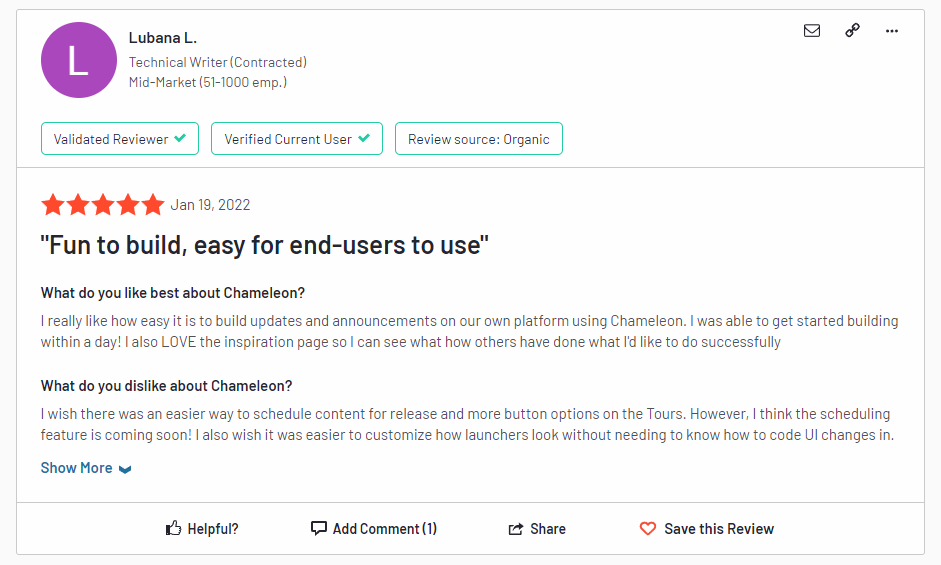 Users appreciate Chameleon's versatile functionalities. Let's see what they have to say about it.
I love the variety of formats we can build in Chameleon, from interactive tooltips to progressive tours and launchers! It's also really easy to track performance of each of these and adjust accordingly. The interface still feels quite clunky whenever I'm in build mode. For instance, I don't like that I have to use markdown and CSS when formatting text instead of having an inline styling menu to select from. Then there's also the issue of surveys or tour steps appearing where they're not supposed to, apparently mistaking an element in another page for the anchor. -Nikki D
Chameleon is a good tool overall and it's loved by its users. Most complaints are about the price and some limitations such as customization of tours and reporting and analytics.
I wish there was an easier way to schedule content for release and more button options on the Tours. However, I think the scheduling feature is coming soon! I also wish it was easier to customize how launchers look without needing to know how to code UI changes in. – Lubana L.
There is limited reporting and dashboarding functionality within Chameleon currently. – Administrator in Financial Services
I think the software is a bit on the pricey side, but since it lets us do things that we would normally need our developers to do, we are truly saving in the grand scheme of things. It means we can focus on features and bug fixes, instead of building a new communication method that would only be used internally!-Nathalie L.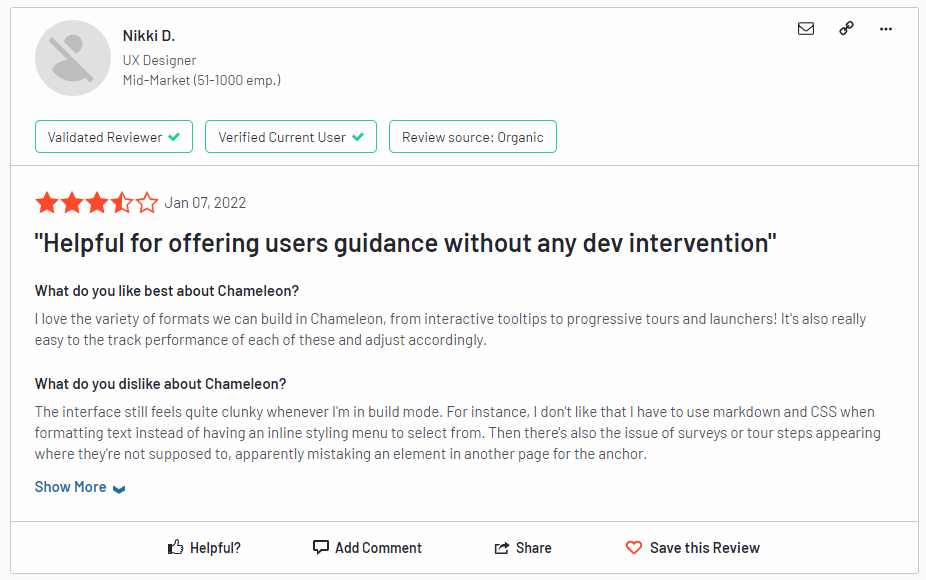 Chameleon pricing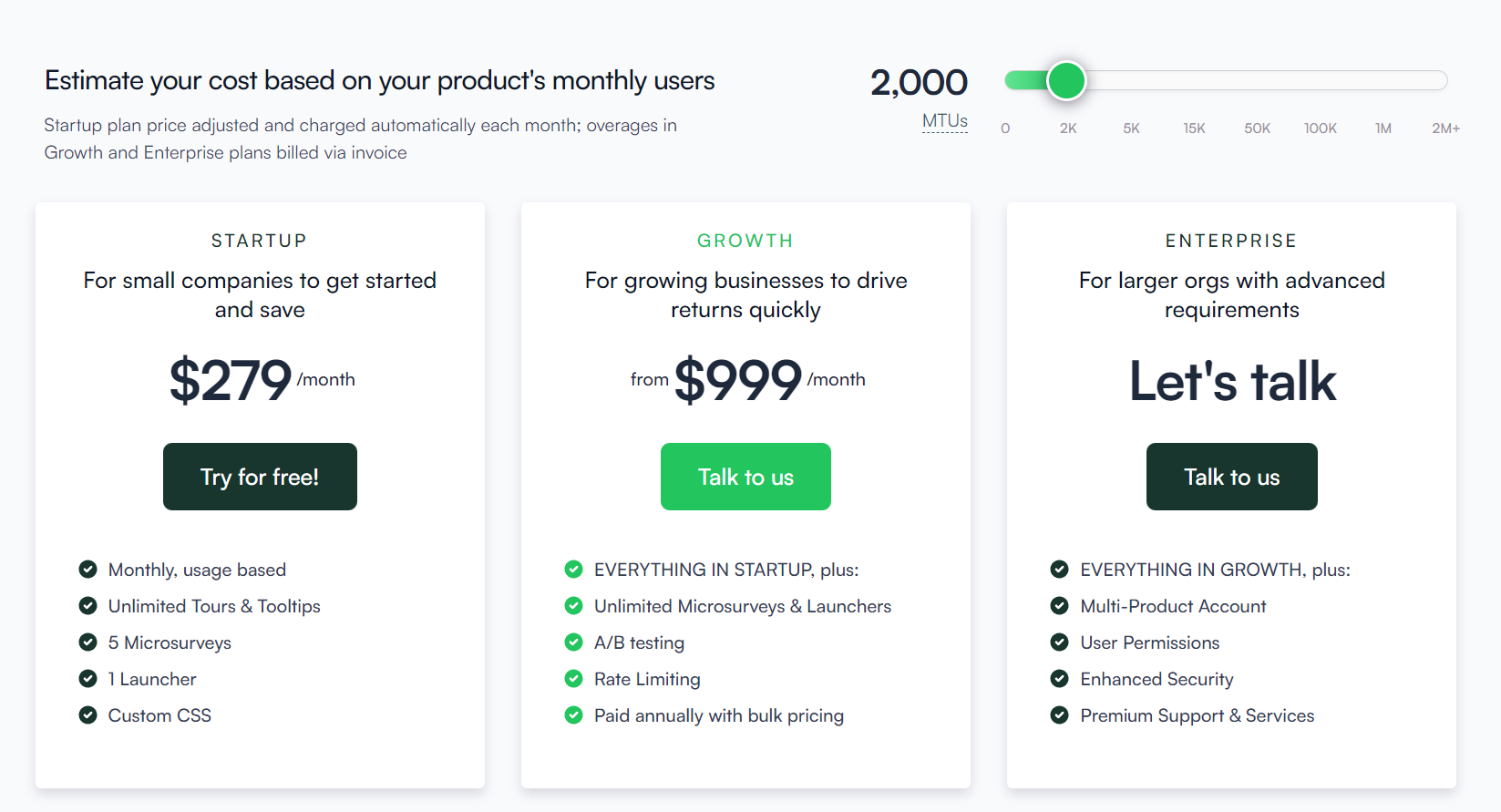 Chameleon split their pricing options primarily by the number of monthly active users, but you should keep in mind that the Startup plan also has limited features and might not be enough for interactive user onboarding and adoption for SaaS products:
0 – 2500 MAUs: Startup plan from $349/mo, Growth plan from $899/mo
2000 – 3000MAUs: Startup plan from $419/mo, Growth from $899/mo.
3000 – 5000 MAUs: Startup plan from $489/mo, Growth from $899/mo.
5000 – 10,000 MAUs: Startup plan from $517/mo, Growth from $999/mo
Disclaimer: with the Startup plan you only get 5 microsurveys and 1 launcher, no A/B testing, no Goals, and no localization.
Conclusion
As we've seen from the post above, there are several reasons why you should be using a product tour tool.
To provide a stellar product tour, you need to have the right tool in your stack.
Hopefully, you've found this post helpful in choosing the right product tour tool for your SaaS!

Still can't decide about the best product tour tool for your SaaS?