Customer Analytics Insights: Categories, Stages & How to Use Them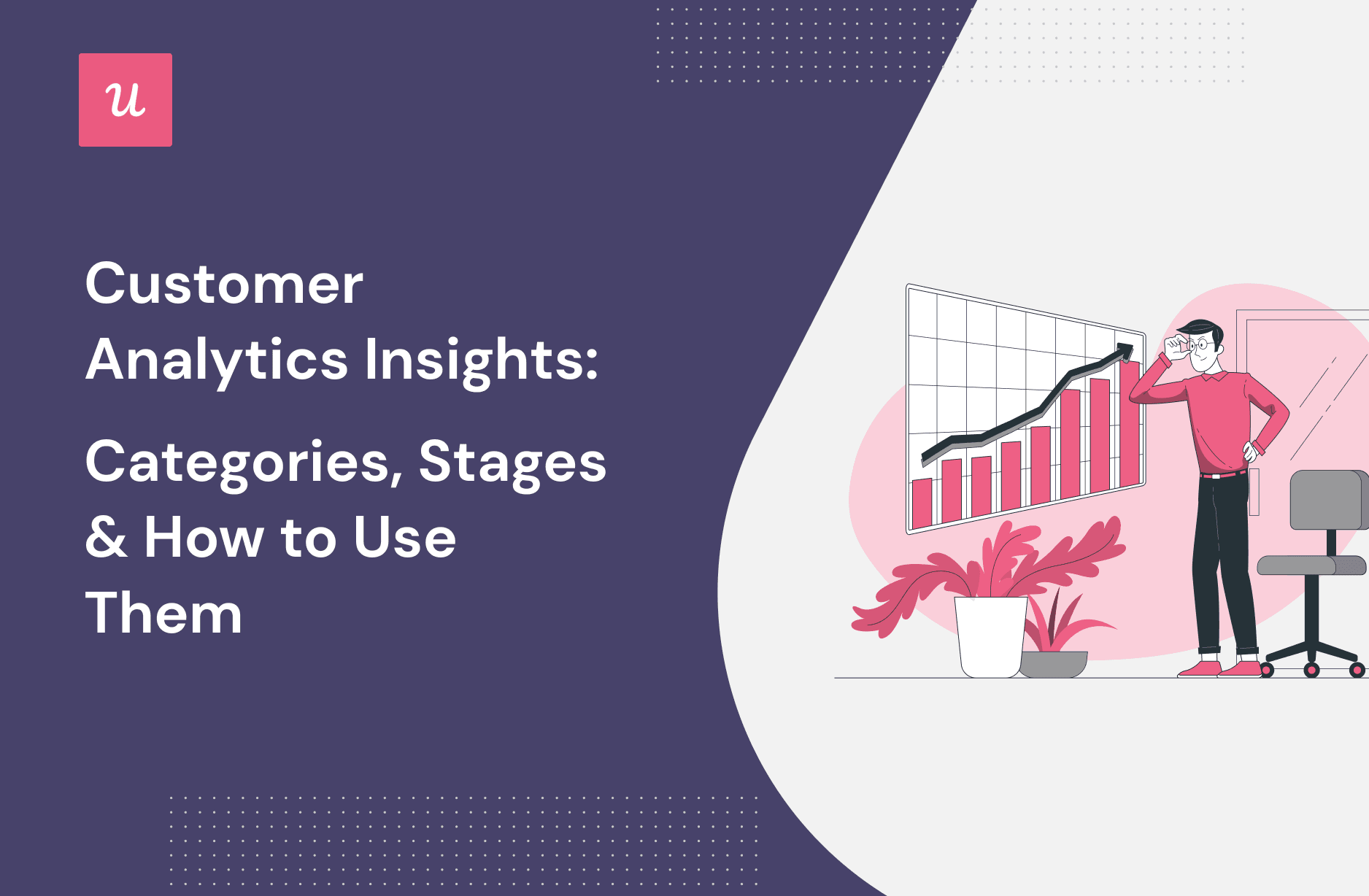 How do you lean on your customer analytics insights to spark faster product growth?
To make continuous improvements, you need to collect customer data, analyze it, and act on the customer insights you gain.
In this article, we'll cover:
The importance of customer analytics.
The different categories of customer analytics and their benefits.
The three-step process for getting customer insight.
Three strategies for using customer insight to improve satisfaction and growth.
Let's get started.
TL;DR
Customer analytics leverages data collection and customer insights analyses to make the decision-making process easier.
Customer insights help you understand customer behavior and needs, predict future behavior, and better personalize the customer experience.
There are four categories of customer data analytics: descriptive, diagnostic, predictive, and prescriptive.
Descriptive analytics helps you discover what happened in the past using historical data. It gives you insight into the causes of customer trends, as well as helps you prepare for the future.
Diagnostic customer analytics help you understand the "why" behind customer behavior by collecting user feedback and using hypothesis testing.
Predictive analytics helps you predict customers' future performance and act on it.
Prescriptive analytics unlocks recommendations on what to do to fix an issue or the path you should take to achieve a goal.
There are four types of customer analytics: customer engagement analytics, customer experience analytics, customer retention analytics, and customer loyalty analytics.
Customer engagement analytics gives you insight into how users engage with your product across the entire user journey, including areas of friction and high drop-off.
Measure how well you are meeting customer needs and expectations with customer experience insights.
Understanding your customer retention analytics helps you prevent churn and identify your high-value customers.
Customer loyalty analytics lets you identify your most loyal customers, and it helps you recognize patterns among those customers. You can then implement those patterns among your other customer segments.
Follow the three-step process to gain insights from customer analytics: collection, visualization, and analyses.
Leverage the power of customer analytics with a code-free tool like Userpilot. You can segment users, build contextual in-app experiences and provide a hyper-personalized experience with Userpilot.
What is customer analytics?
Customer analytics is data that gives you meaningful insights into customers' behavior, opinions, and feedback. In other words, customer analytics helps you understand your customers better.
What are customer analytics insights?
While customer analytics are the actual data points that you collect through behavior tracking or surveys, customer analytics insights are the takeaways you garner from analyzing the data.
Why customer analytics insights are important?
Undoubtedly, getting customer insight through analysis helps you make more informed business decisions that lead to results faster. It helps you:
What are the different categories of customer analytics?
Customer data analytics comes in a variety of categories, all with meaningful insights.
Descriptive analytics help find what happened
Descriptive analytics involves analyzing historical data to paint a clear picture of a company's journey.
The insights help find trends, as well as, identify patterns within a specific consumer segment.
With historical data, SaaS companies can understand what worked and what didn't work for their customers. That way, they can make better decisions in the future.
Diagnostic customer analytics help you understand the "why" behind customer behavior
Diagnostic analytics uses data discovery and data mining to determine the causes of customer trends. And SaaS companies can harness diagnostic customer analytics to make more informed business decisions and drive continued success.
To complete diagnostic analysis, you first collect user feedback, then use hypothesis testing to guide and focus your analysis.
Predictive customer analytics help you improve the future of your customer experience
Predictive customer analytics helps you analyze the probability of future outcomes using data, regression methods, Artificial Intelligence (AI), and Machine Learning (ML) techniques.
Moreover, it helps companies improve retention rates by proactively anticipating customer needs. You can make future product improvements based on the collected customer insight.
Predictive analytics works best when you're analyzing patterns within specific user segments. That way, you get the most accurate picture of customer needs, instead of lumping all of your customers together into a data pool.
Segmentation allows you to recommend new features, offer an upgrade, or send an email to the right users at the right time.
Prescriptive analytics unlock recommendations
Prescriptive analytics uses data analysis to unlock recommendations about what you should do in a specific situation, whether it's resolving an issue or working toward achieving a goal.
The process of collecting data includes techniques like graph analysis, recommendation engines, simulation, and more.
What are the different types of customer analytics?
There are four main types of customer analytics that give actionable insights across customer journeys:
Customer engagement analytics and insights
Want to know how your customers are currently engaging with your product?
Customer engagement analytics gives you in-depth insights into how users engage with the product across the customer journey.
To collect customer journey analytics, set up milestones in the journey, and track their completion rate. You can easily track the completion of milestones (goals) with Userpilot.
Then, act on the insights by finding areas that need improvements, so you can increase overall product adoption.
Customer experience analytics and insights
Better understand your customer's needs, viewpoints, and experiences with your products and services by tracking customer experience analytics.
The best way to collect customer experience data is by analyzing your feedback surveys that have open-ended questions.
You'll see what causes friction, so you can take action on improving those areas and the overall customer experience.
Customer retention analytics and insights
Customer churn can have a devastating effect on your business. Identify which user segments churn the most or the fastest with the help of customer retention analytics and take the necessary actions to fix it.
First, segment your users by running a microsurvey on the welcome screen during onboarding.
Then, track churn rates across your segments. It will help you point out areas where you can prevent churn. Also, it will reveal your most valuable segments based on who churns the least.
You can also segment your detractors to proactively reach them and improve their relationship with your product.
Customer loyalty analytics and insights
Turning more first-time customers into loyal customers will boost customer lifetime value, lower costs, and help bring in new customers through word-of-mouth marketing.
The first step to growing your loyal customer base is to analyze customer loyalty. This involves using customer loyalty analytics to not only pinpoint who is a loyal customer but also recognize patterns among your loyal customers. That way, you can optimize for those patterns across your entire user base.
You can gather this data from various channels, such as running NPS surveys.
When you identify loyal customers, implement a customer loyalty program and reward repeat customers to keep them satisfied.
How to collect and understand customer data across the customer journey
Now that you know the different types and categories of customer analytics, it's time to get to work to collect accurate data. Here's the three-step process:
Stage 1 – Customer data collection
Customer data collection is an ongoing process that should happen across all stages of the customer journey.
There are lots of different ways you can get customer insights, including:
For example, Miro uses a welcome screen survey to collect actionable data from its users.
Stage 2 – Customer data visualization
Data visualization is important because it makes a mountain of data easy to digest and understand. When you can visualize your data through maps, graphs, or other visuals, it makes it easy to spot patterns, make connections or build a story.
To organize raw data into a visual format, use analytics tools.
For example, you can visualize the data collected from NPS responses in Userpilot with a color-coded tagging system that helps you identify promoters or detractors easily.
Stage 3 – Data analysis to uncover customer insights
Data analysis delivers deep customer insights that will help you optimize your customer relationships and exceed your retention goals.
Once you've transformed your data into a readable format, it's time to choose the technique you're going to analyze your data.
For example, you could choose to do a cohort analysis to find patterns in user segments and exceed your retention goals.
How to act on customer analytics insights you collect
Now that you've collected and analyzed your data, it's time to act on those insights to increase sales, improve retention and earn more revenue. Let's learn how to effectively act on the collected insights.
Engage with the customer at the right moment of their customer journey
Identify each stage of the user journey to deliver the appropriate content at the right moment and optimize the user experience.
Use Userpilot's feature tagging to track all the different interactions a user can have with your interface.
This way you can identify which features are not being used, and use a tooltip to guide users into getting more value.
Another example of engaging with customers at the right time can be identifying good moments for upselling and then triggering an in-app message encouraging your users to upgrade.
Predict churn and extend customer lifetime value by improving retention
Customer analytics insights help you predict churn before a user decides to cancel.
To track churn risk, use NPS surveys to find out who your detractors are.
Then, create user segments based on NPS responses, so you can trigger personalized messages that only go out to those who scored low on the NPS.
Proactively engage with those detractors to turn their experience around from negative to positive. If you can offer 1-on-1 help that gets them back on track, you'll extend their customer lifetime value by avoiding churn.
Use data collected in the surveys to personalize in-app messaging
Personalization has become the driving success factor of SaaS companies. Consumers now expect a hyper-personalized experience that's built to help them achieve their specific goals.
Survey responses help you create personalized user flows and in-app messaging.
Personalized messages ensure you're talking to the right user with a message that's relevant to them and their stage in the journey.
Here's how Trello uses a secondary onboarding checklist to drive users to discover more value after upgrading to a Premium account.
Leverage the power of customer analytics with Userpilot
Userpilot is a product growth platform that helps you deliver in-app experiences, code-free.
It's focused on using the power of user segmentation, personalization, and effective onboarding to improve product adoption and boost retention.
Userpilot leverages your customer analytics insights, such as product usage or in-app behavior, so you can create better relationships with customers.
You can build micro user segments with Userpilot, then build automated flows that deliver personalized in-app experiences.
And last but not least – you can now use feature tags as well as conditional logic – to trigger in-app experiences!
That way, if your user performs any of the events you've passed – e.g. buys a blue T-shirt, a red T-shirt, or a green T-shirt – you can show them the same experience in real time!
Conclusion
By collecting data and analyzing it to find meaningful consumer insights, you'll be well on your way to making informed business decisions that drive growth.
Want to start collecting customer analytics? Get a Userpilot Demo and see how you can track user behavior, run surveys and create personalized product experiences.