The Complete Guide to Goal-Oriented User Onboarding for SaaS Companies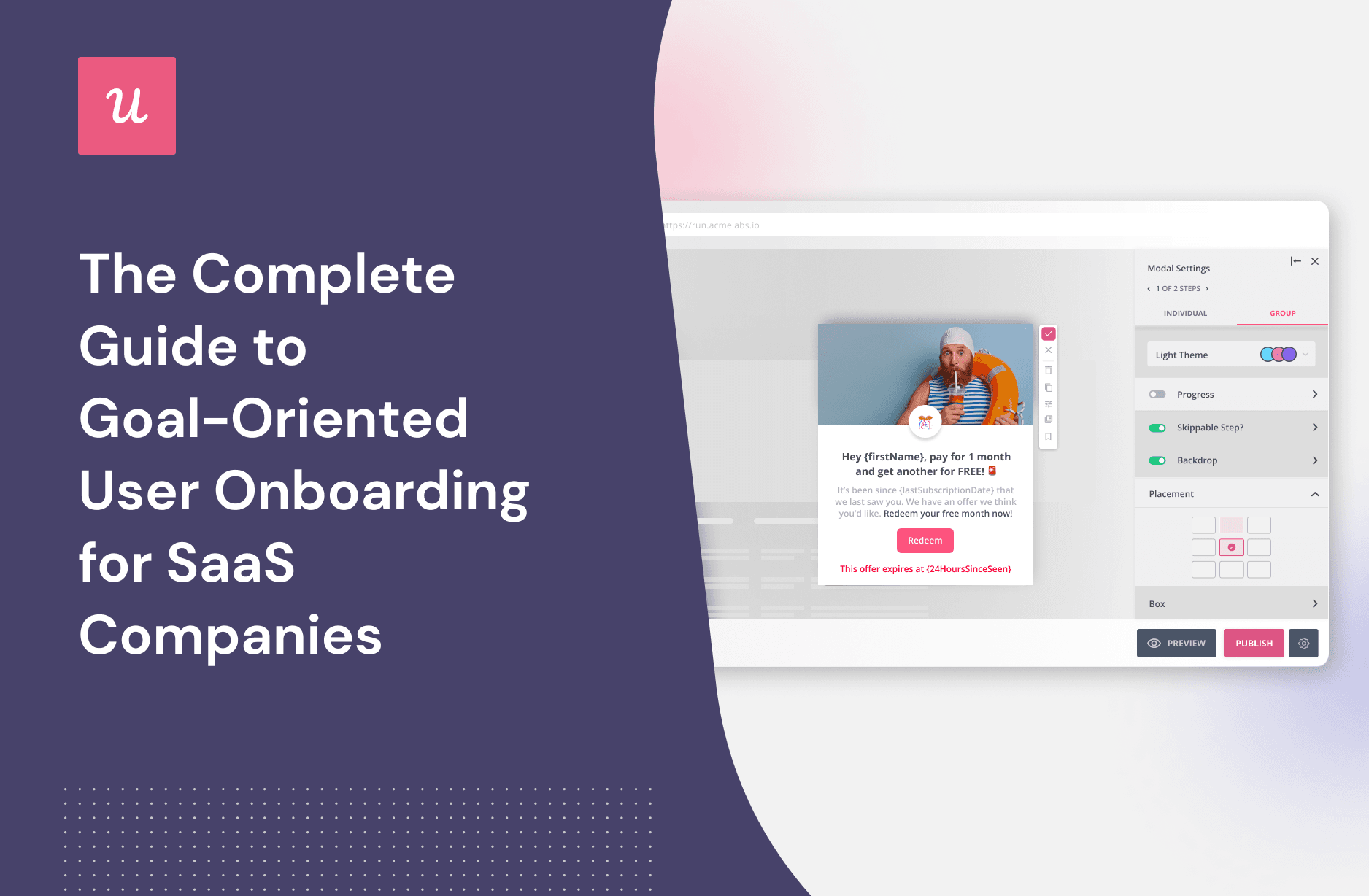 Any savvy product manager should have a rock-solid understanding of goal-oriented user onboarding.
If you want to brush up on your knowledge of the onboarding process – and how you can keep users engaged and achieving their goals throughout – you've come to the right place!
Let's get started.
TL;DR
User onboarding is the process of educating customers about how to experience value from your product as quickly as possible.
Goal-oriented onboarding follows the same principle but focuses on helping users achieve their objectives.
This sort of onboarding can help you and your team in many ways: faster time to value, an increase in feature adoption rates, and a boost in customer satisfaction (which should be one of your core success metrics).
To create this sort of onboarding flow in your product, you'll need to follow several fundamental steps.
Start with building an understanding of what your users' goals are with surveys. Next, define what the key activation points in the journey are. Then, you can start to drive users toward them with UI patterns (ensuring they are contextually relevant of course).
Continually analyze user behavior to identify (and tackle) friction points. Make sure to gather feedback as you go and use what you learn to test and improve the experience.
You'll only want to consider the right tools for the job, of course. Userpilot is a product growth platform with fantastic features to help you create great onboarding experiences. Book a demo to see it in action.
What is goal-oriented user onboarding?
Put simply, user onboarding is defined as the process of educating customers about how to derive value from your product as quickly as possible.
Goal-oriented user onboarding helps first-time users accomplish the specific product goals they've set out to achieve. If you make it simple for users to achieve their objectives, you'll create the most effective user onboarding experience possible.
Why should product teams build goal-oriented onboarding flows?
Product managers are busy people. Why should they invest their time in building a goal-oriented in-app user onboarding process, compared to, for example, minimum viable onboarding?
Goal-oriented user onboarding:
Delivers value faster. Your primary aim should be to help both existing and new users achieve value as quickly as humanly possible. The sooner users understand how they can use your product, the faster they'll achieve their goals.
Boosts feature adoption. It also focuses your users on your primary features – the ones that deliver the core value your users are expecting.
Follows a user-centric approach. Keeping your users happy is critical to long-term product success. By focusing on helping meet user goals, you'll increase satisfaction, retention, engagement, and more.
A step-by-step process for creating a successful user onboarding flow
Next up, we'll break down the specific steps you need to follow to create a smooth user onboarding flow in your own product.
#1 – Collect user goals through welcome surveys
You can't design an onboarding flow that helps users realize their goals if you don't know what they're trying to achieve in the first place.
Start by gathering the valuable data you need to personalize your onboarding flows accordingly.
You can use surveys tastefully by including them in a user onboarding flow – for example, as part of your welcome messages to get insights from your users directly.
#2 – Define user activation stages to help them achieve their goals
Activation is the point when a new user first starts to experience the value of your product. For example, for Spotify, an activation event might be the first time a user builds a playlist or discovers a new artist. Ultimately, it's what drives user success.
You should carefully map out key phases in your user flows and work out which are the most critical for your users' goals. You want to avoid too many steps to create a frictionless experience.
Don't rely on guesswork: use real data on the ideal behavior of your most engaged users (i.e., power users) to figure out the ideal journey for the rest of your customers across the entire lifecycle.
#3 – Drive users towards activation and adoption through onboarding UI patterns
Once you've worked out the points in the onboarding experience where your users are likely to realize value, you should start to proactively drive users to those steps in the journey.
You have lots of contextual UI elements to choose from. It's just a case of picking the right onboarding UI pattern for the job:
Modals. Big, bold, pop-ups designed to instantly grab attention and interrupt whatever a user is doing.
Tooltips. Providing information when an element is clicked on, tooltips don't clutter the UI or overwhelm users.
Slideouts. Subtly introduce new information through pop-ups that don't occupy the middle of the screen.
Hotspots. Flashing and engaging beacons designed to draw your user's eye to the next key action (and ensure easy cognitive processing).
Driven actions. Direct your users into interacting with an element in a certain way and taking the meaningful actions they need to progress.
Banners. Useful reminders to your users, typically pinned to the top of a page.
Progress bar. A handy way to visually represent how far in a specific process a user is – and motivate them to keep going (this is particularly helpful for new users).
Checklists. A virtual to-do list setting out all the subtasks a user needs to get done before they reach a specific goal.
#4 – Analyze the user onboarding experience to remove friction and measure user success
Product analytics can help you work out exactly the bits of your user onboarding process that create friction and frustrate your users.
Look at how easy (or difficult) it is for a user to move from one stage to the next, and target your efforts accordingly.
Keep focusing on your weak points and improving them over time, and you'll edge closer to a frictionless onboarding process.
#5 – Collect customer feedback at different stages of the onboarding journey
Building a goal-oriented onboarding process is not a 'once and done' activity.
Without analyzing customer feedback, how will you know if it's actually helping your users achieve their goals?
Use surveys to gather a broad range of qualitative and quantitative feedback. You can create a set of open- and closed-ended questions to build a solid picture of both what your users feel, and why they're feeling that way.
Remember to analyze user feedback to identify patterns in customer behavior. If you've received similar user feedback, it gives you important clues into what's working and what's not.
#6 – Test and improve your user onboarding experiences
To give you and your team the best chance of creating an effective goal-oriented onboarding experience, you must adopt a culture of experimentation within your SaaS.
That means iterative testing and learning – for example, through A/B testing. You can test:
A range of different UI patterns
When they're shown in the process
Which segments you're showing what to
Adding, tweaking, or removing steps in the journey
Goal-oriented user onboarding examples from successful SaaS companies
We've broken down how to create a goal-oriented onboarding flow in your product.
Next up, we're going to dive deep into three highly-effective examples from the SaaS world.
ClearCalcs
ClearCalcs is a tool that helps engineers with their complex designs.
You can see that they are using personalization so they can carefully design user onboarding experiences that help users achieve their goals.
It starts off with a simple survey question on the 'welcome' screen that greets all new users. By identifying a user's role, it's easier to work out which features they're likely to get value from.
Next up, it gets even more granular. They ask users specifically what they're trying to achieve. In effect, these welcome screens help users decide their own onboarding.
Understanding the scale of the organization helps add an extra level of depth to the segment analysis.
All of those insights mean that the ClearCalcs team can obtain a deep understanding of who their users are – and which of their product capabilities will help them the most.
Canva
You probably know Canva as an all-in-one graphic design tool.
They start their onboarding process by asking users what they'll use Canva for, which helps customize the experience accordingly.
Based on what a user has answered, Canva offers a few handy prompts to get them started. There's a strong call to action and engaging UI.
Once they pick a template, Canva cleverly utilizes tooltips to provide contextually relevant advice that helps them understand how to interact with the tool.
Kontentino
Kontentino is a social media management tool primarily for collaboration, content approval, and scheduling. They transformed their user onboarding with Userpilot and saw an instant 10% boost in activation!
The experience starts with a clear direction to 'customize' it. Kontenino is transparent that they'll be using this information to tailor the users' experience.
Next up, a very friendly – and personalized – welcome message!
Rather than leave it all up to their users to figure everything out, driven actions help prompt the next meaningful steps.
Little rewards along the way – classic gamification elements – help encourage and reward users as they progress.
The best user onboarding tools of 2023
You can't achieve any of this without the right tools for the job. Let's explore a couple of the best options in the market.
Userpilot – recommended for web apps
Userpilot is a powerful product growth platform built to help you transform the onboarding experience and focus on driving customer success of your web apps.
It boasts several top-tier features:
Segmentation and personalization. Target distinct groups of users based on multiple characteristics and personalize their experiences accordingly.
Flexible UI patterns. Slideouts, modals, tooltips, and more. Customize to align with your SaaS branding and craft the best possible customer onboarding.
Dive into the data. Understand patterns in user behavior with a range of in-app analytics.
Collect and analyze feedback. Create in-app surveys and analyze both qualitative and quantitative results.
Integrations. Alongside the core value, Userpilot offers as an app, you can also integrate it with a whole host of other tools, like HubSpot, Heap, and Amplitude.
As far as pricing is concerned, there are three tiers to consider.
Traction is the entry-level plan starting at $249 a month for up to 2,500 monthly active users. The other plans, Growth and Enterprise, have custom pricing and usage limits.
Appcues – recommended for mobile apps
Appcues is a tool to create onboarding experiences and drive product adoption through interactive flows on mobile devices.
Key features include:
Easy to use interface. The end-to-end UX is extremely accessible and simple to use, meaning there's not much of a learning curve.
Interactive checklists. Drive activation through checklists that are easy to create and manage.
Collect user insights. Create surveys like NPS to understand user sentiment and analyze results as well.
Analyze product data. Appcues offers user segmentation, click-to-track events, flow analysis, and more analytical features.
Just like Userpilot, Appcues offers three pricing plans:
Essentials – $249/month
Growth – $879/month
Enterprise – custom pricing
Conclusion
Hopefully, you've enjoyed this brief guide into the world of goal-oriented user onboarding and have some ideas you can use for your own app onboarding.
If you want to create effective onboarding experiences code-free with Userpilot, then book a demo call with our team and get started!