Growth Product Management 101- PM's Guide to Driving Product-Led Growth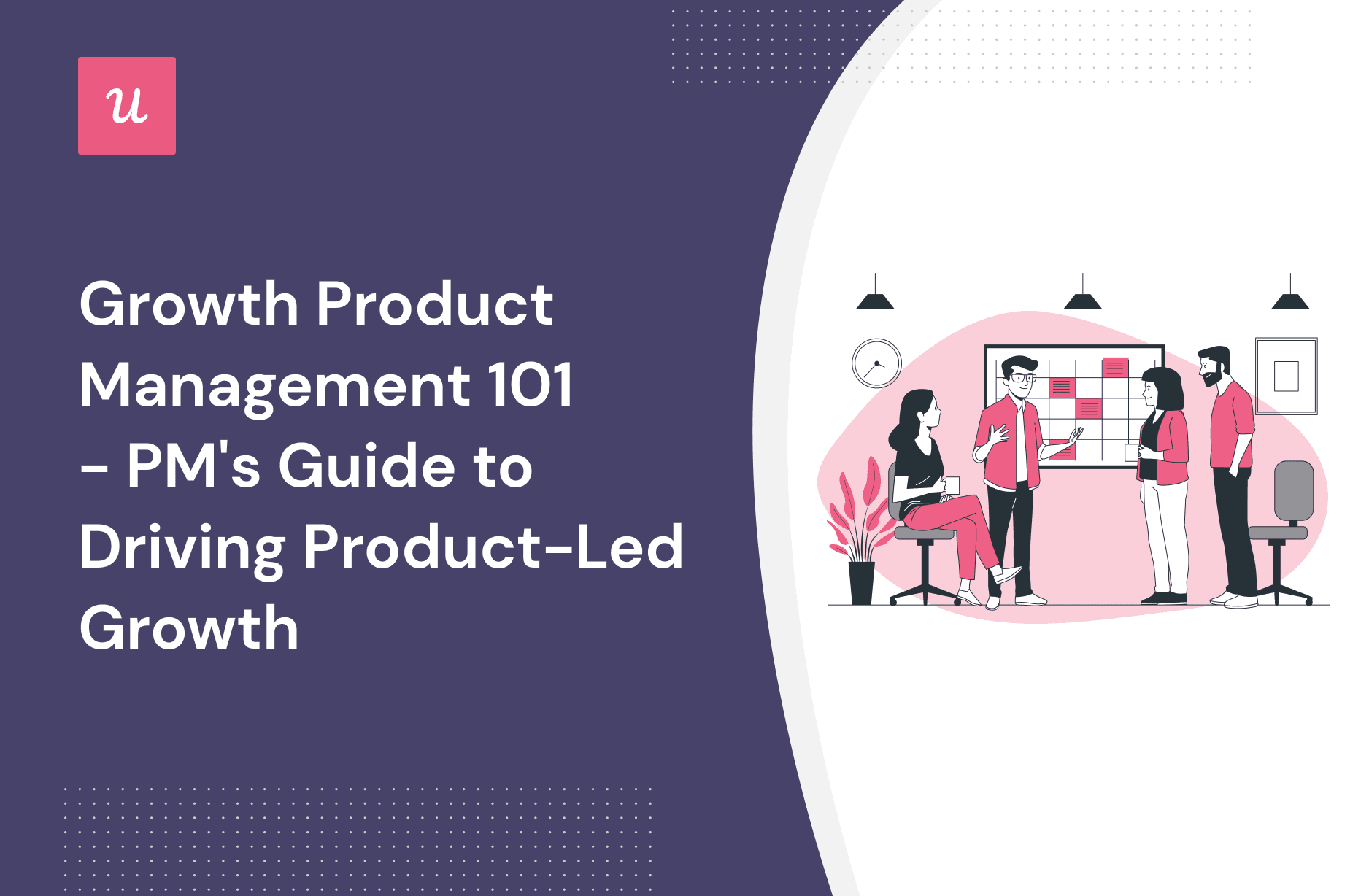 What is growth product management? How is it different from traditional product management? How can growth PMs drive product-led growth for their organizations?
If you're after answers to these questions, you're in the right place because that's exactly what we're dealing with in our 101 Guide.
Are you ready to jump? Let's get to it.
TL;DR
Product Growth Management focuses on driving growth by identifying and realizing opportunities to attract new customers and maximize the lifetime value of the existing ones.
Traditional product managers concentrate on building the product and its high-level long-term goals. Growth product managers, on the other hand, work towards more granular objectives that give quick results, like improving customer retention.
A product-led growth strategy is a go-to-market strategy. Its main focus is to attract customers and let the discover its value. Once this happens, they may subscribe to its paid or premium version.
A product growth strategy looks for opportunities not only to bring new customers but also to enhance the product to make it more valuable.
The growth product manager's role is to improve the customer experience at every stage of their journey.
To achieve that, they collect and analyze user feedback and product usage data to gain a deeper understanding of user needs. The data also gives insights into where users experience friction.
Once they have the information, they collaborate with other teams to remove the obstacles and run experiments, like A/B tests, to test them before rollout.
Examples of growth-oriented strategies:
What is growth product management?
Growth product management, unlike traditional product management, focuses primarily on existing products. It's also known as product growth management and its objective is to add value to the product and expand its customer base.
Traditional product management vs growth product management
Growth product managers work together with traditional product managers and are not meant to be their replacements.
While core product managers focus on developing a new product, bringing it to the market, and its long-term development, growth product managers concentrate on customer retention and acquisition.
Instead of focusing on high-level long-term goals, growth product managers aim to deliver quick results by targeting the metrics or business goals with the greatest impact, one at a time.
While traditional product managers have been around for a bit, the growth PM role is fairly new. The need for professionals dedicated to product growth resulted from the shift towards product-led growth strategies in the SaaS space.
What is a product growth strategy?
The goal of a product growth strategy is to uncover new ways to make the product more valuable for both existing and potential customers.
It covers such aspects as market and customer research, opportunity discovery and mapping, and validation of new features or functionality through testing and experimentation.
Product-led growth strategy vs growth product management strategy?
The scope of a growth product management strategy is wider than that of a product-led growth strategy.
The product-led growth strategy is a go-to-market strategy. Its objective is to get the users to experience the product value before they decide to purchase.
Naturally, users still need to find out about the product in the first place and that happens through word-of-mouth or referral marketing, or SEO content marketing.
The growth product strategy focuses on the entire product. So it's not only about marketing the product and acquiring new customers but also finding ways to improve the product and user retention.
Growth product manager role?
The growth product management role is complex because its responsibilities cover all aspects of the user experience. It's not only about the product and its design but also all the other touchpoints in customers' interactions with the business.
This is what Sinduja Ramanujam, the Senior Product Manager at Microsoft, thinks about the role:
"The role of a Growth PM is very unique because you're thinking about multiple things at the same time. You're thinking about your users, about your back end, about your front end, and you want to grow your business."
Overall, growth product managers are responsible for designing a product growth model and overseeing its implementation. They also promote a growth culture within their organizations.
What growth product managers focus on
What do growth product managers need to shape and deliver the product growth strategy? Let's look at the key responsibilities.
Good analytics and product usage data visualization
To be able to make data-driven product improvement decisions, growth product managers need reliable user behavior data that can be easily viewed and analyzed.
With tools like Userpilot, they track user engagement with the product across the whole customer journey. This could be page views, demo requests, buttons clicked, or request tickets raised.
What are the best ways to visualize users' user behavior in the product?
Heatmaps are a good one. They allow them to see how different user segments engage with different features.
Engage customers across the user journey
By tracking user interactions through all the touchpoints across the user journey, growth product managers identify areas where users experience friction.
In collaboration with colleagues from other teams, they prioritize solving the pain points that could have the highest impact on the metrics or goals.
The sooner it can move the needle, the better.
For example, they can achieve that with in-app tips and prompts that guide users to the features that are most valuable for their use cases.
Experiment and optimize to drive customer retention
Some of the in-app guidance will be more successful with particular user segments than others. That's why product growth managers are responsible for testing their effectiveness.
A/B tests are probably the most common type of experiment.
To get the best results, it's best to test one in-app flow at a time and limit the size of the sample to contain the potential damage.
Collect feedback and act on it to solve user pain points
Collecting user feedback is a must to identify user problems or needs.
In-app surveys are easy to build and we can trigger them contextually at various touchpoints so that we can see where the friction is.
However, Robbie Allan, Group Product Manager at Meta, believes we should go one step further because our main goal is to understand why users experience the problems:
"The way to create features that will drive growth is to really understand what are the problems that are keeping customers from experiencing their value of our product, and solving those problems."
That's why we need to collect qualitative as well as quantitative feedback. Apart from surveys, we can get such insights from user interviews or focus groups.
Once we get them, we need to close the feedback loop. If we fail to act on user feedback, we'll waste a lot of effort and risk frustrating our users.
Growth-oriented strategies for growth product management
What are the tricks that growth product managers have up their sleeves?
Customer acquisition strategies
In product-led organizations, it is the product that drives acquisitions. Growth product managers need to choose the best ways to showcase the product to the users and reduce the time they need to experience value.
Add a trial or a demo to showcase product value
Trials are a classic way to let users engage with the product and discover its value.
Free trials give all users a chance to experience the product and have the potential to drive product virality.
If we want to discourage low-quality leads and take off some of the strain on customer support, we can opt for paid trials instead. However, this works only with customers who have already experienced value though.
How can we do that without a free trial?
A live product demo is a chance to showcase the product value in particular use cases. This is an effective way to acquire the more cautious categories of adopters, like the late majority or laggards.
However, this method is resource-heavy too, so we need to find ways to pre-qualify users when booking the demo.
Use single sign-on to remove signup friction
When new users decide to sign up for the product, let's try to make it as smooth as possible for them. The easier it is, the more likely they are to complete the process.
Single Sign-On (SSO) removes unnecessary friction from the process. By signing in with their social media credentials, users avoid repeating a process they've probably gone through hundreds of times.
Customer activation strategies
Now that we've managed to convince users to give our product a go, we need to lead them to activation as quickly as possible.
Personalize empty states to minimize drop-offs
Empty states are a great place to start onboarding users. Instead of greeting them with a blank page, which paradoxically could be pretty overwhelming, we can use them to show users how to start using the product.
For example, Loom populates the empty state with a series of video guides that introduce basic Loom functionality.
We can even go one step further and use what we already know about the customer, for example from their sign-up form, to customize the content of the empty state for their specific use cases.
Use a checklist to drive users to the activation stage
Humans love ticking off checklist items. The closer to the end we are, the greater our motivation to complete it. We're just wired like that.
That's why checklists are a powerful onboarding tool. By providing users with a list of actions they need to complete to reach the activation stage, we dramatically increase the odds they do it.
For example, to start using Userpilot, users need to create an account, install the JS script on their website, add the Chrome extension, and create an in-app flow.
Customer retention strategies
Even if the users reach the activation stage, it doesn't mean they will stay with you for good. There are potentially a lot of products out there, and ours may just be one of many that the user is checking out.
To drive customer retention, we need to offer our users something extra that will differentiate our product from others.
Prompt users to discover advanced features using tooltips
Tooltips are easy to design and customize if we have the right tool. And they can be very effective in attracting users' attention to more advanced features that will allow them to complete their jobs more effectively.
Just like other types of in-app guidance, tooltips work best if they are relevant. To ensure that, we need to segment our users and identify functionality that applies to their use cases.
Use contextual guides on demand
No matter how proactive our onboarding is, some friction is inevitable. That's why we need to provide users with the right support.
Individual white-glove support is difficult to scale and it often creates quite a bit of friction of its own kind. Most users don't want to spend their time dealing with customer support.
A self-service resource center removes friction – from the product and from the process of accessing help.
That's because it allows users to access help with the issues inside the app without phone calls or chats. Anytime they need.
Customer expansion strategies
Driving customer expansion is another big part of the growth product management role.
While the customers are already paying for our product, we should be looking for opportunities to maximize revenue from each customer in sustainable and fair methods.
Offer free trials to premium features
One way to do it is through free premium trials.
By giving users unlimited access to premium functionality for a limited period, we give them a chance to experience what they could be missing out on.
If the user feels like the extra features are worth the premium price tag, they will upgrade to continue benefiting from them.
If they don't, that's fair enough. Our ultimate goal is to deliver optimum user value and achieve good customer fit, and not line our pockets at all costs.
Contextually prompt upgrades
When inviting users to upgrade, why not show them how the premium functionality will add more value in their particular situation?
For that, the prompts to upgrade should be triggered contextually, just like in-app onboarding patterns.
Loom does it very well. At the very moment when users stop recording a video and realize how unflattering 'ums' and 'uhs' in the video sound, the option to get rid of them becomes available. They just need to upgrade.
Customer loyalty strategies
For a product growth manager, cultivating customer loyalty solves a lot of problems.
For starters, loyal customers keep paying their subscription fees and recommend products to their mates. And when they face challenges, they are more likely to take part in surveys, interviews, and experiments to help us resolve them.
Track user sentiment and understand what drives loyalty
Tracking user sentiment through regular NPS testing allows us to identify our most faithful users.
Once we know who our promoters are, we can look at their product usage data to find patterns in their behavior.
It's best to back this up with qualitative surveys and interviews to get a more detailed understanding of what makes them such successful and dedicated users of our product.
Next, we can use in-app onboarding flows to guide the less satisfied user groups with the same JTBDs to engage with the same features and follow the promoters' path that drives their loyalty.
Go the extra mile and delight users
While the MVP may be enough to attract innovators and early adopters, satisfying only the basic user needs with the bare minimum of functionality is usually not enough to win over the other categories of adopters.
To do that, we need to provide customer experience that exceeds their expectations, or in other words – delight them.
Customer delight can come in different forms. For example, we can achieve it by anticipating users' practical and emotional needs and satisfying them with highly usable and intuitive solutions. Or by providing some super cool branded swag.
Conclusion
Product growth managers collaborate with product managers to drive product growth by focusing on short-term goals that render immediate results.
These include identifying opportunities for account expansion, improving activation and adoption rates, reducing user churn, or driving customer loyalty.
If you want to see how you can leverage Userpilot to drive your product growth, book the demo!