Mixpanel Pricing: Is It Worth the Cost? (+ Better Alternatives)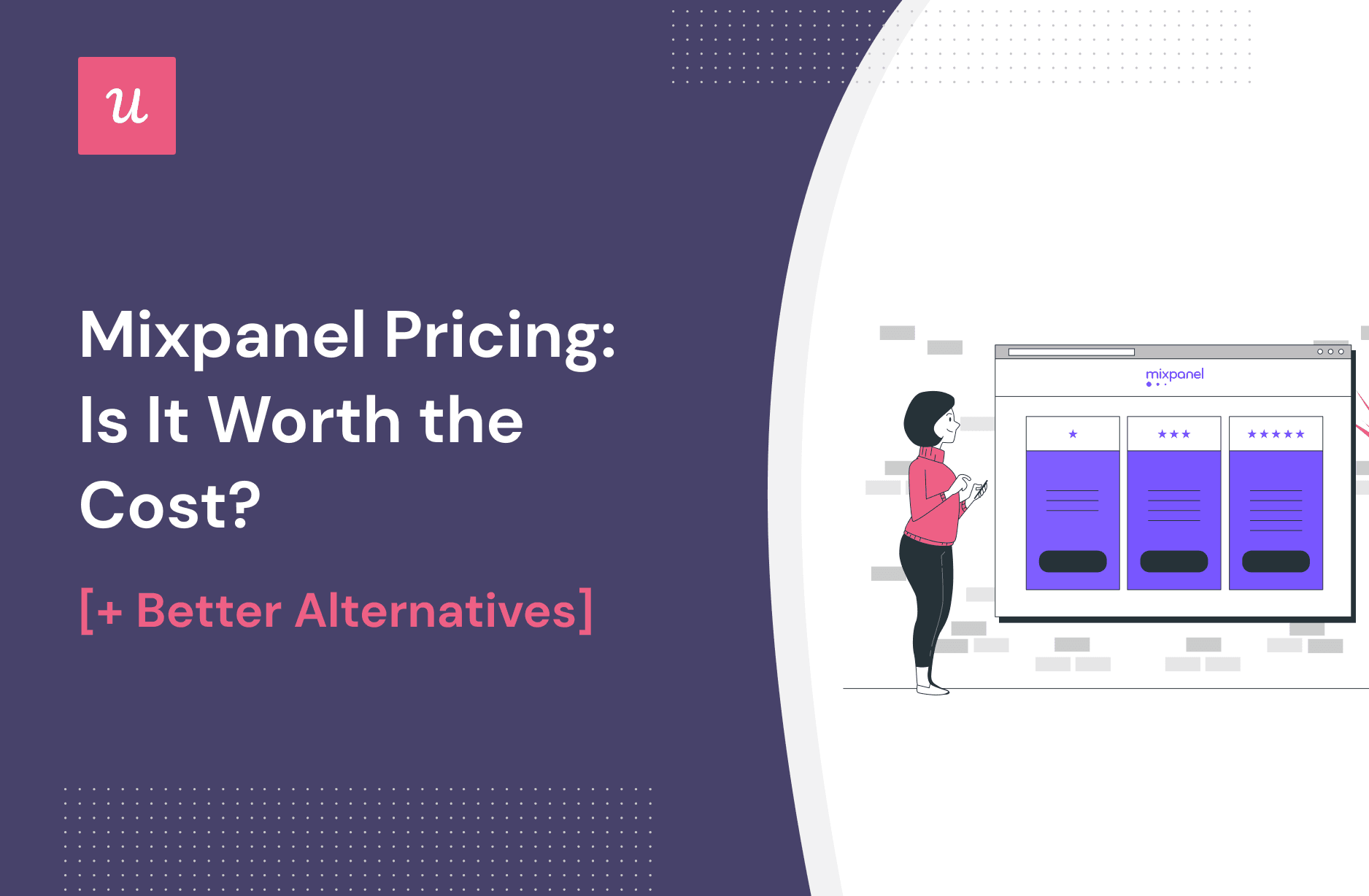 Is Mixpanel pricing competitive enough to make it a viable analytics tool for SaaS companies?
That's what we try to figure out in this article. We look at its pricing structure, what's included in each plan, and its strengths and weaknesses. We also explore some alternatives that might be of interest to you.
Let's dive in!
TL;DR
Mixpanel is a product analytics tool that allows product managers easily analyze how people engage with their digital products.
It offers a wide range of analytics features. For example, you can use it to analyze retention, build funnels, or create cohorts.
Mixpanel pricing strategy uses both free and paid plans. It also runs a Startup program that gives new companies access to its premium features for a year within a $50,000 allowance.
Mixpanel's free plan is capped at 20M/events and includes most analytics reports, like user flows, query-time data modeling, unlimited data history, and all integrations.
The Growth plan pricing starts at $20 a month and covers up to 300M events a month. It adds unlimited saved reports and saved cohorts, the modeling layer, and email support.
The Enterprise plans start at $1,667/month and can serve 1B+ events. It offers advanced security and compliance features and priority support.
Mixpanel gets stellar user reviews but the price comes up as one of its weak spots.
Amplitude is a competing analytics tool that offers similar functionality and pricing structure. Its plans offer unlimited events but have tracked user limits.
What is Mixpanel?
Mixpanel is a powerful product analytics tool that allows product teams to track and analyze in-app product engagement. It supports both web and mobile apps and it's used by small and large organizations in different industries.
What you can do with Mixpanel?
Mixpanel helps companies measure and improve product engagement with a range of analytics features. The key ones include:
Flows analytics for tracking user paths and drop-off points
Impact analysis for assessing the impact of new releases and updates
Query-time data modeling, including custom events or custom sessions
Custom analytics dashboards
Live events, for real-time data access
Is Mixpanel paid?
Yes and no. Mixpanel uses the freemium model, so customers can take advantage of the fairly generous free plan. Early-stage companies can also benefit from the Mixpanel for Startups program.
However, these come with caps and are available for limited periods. If you need to track more than 20M events a month or need some of the more advanced features, you will need to upgrade to the Growth plan, which starts at $20/month, or the Enterprise plan, which is available from $1,167 a month.
What does Mixpanel offer in its free plans?
Let's start our overview of Mixpanel's pricing strategy with the free plans.
Mixpanel Free
The free plan offers access to essential features:
Up to 20M events/month
Query-time data modeling (statistical operators, behavioral frequency analysis, custom session, custom events, limited custom properties, limited lookup tables)
Live events
Custom dashboards
Metrics in minutes with templates
Unlimited collaborators
Unlimited data history
US or EU data residency
Unlimited integrations, including data warehouse integrations
Advanced security: GDPR, CCPA, and SOC2 type II compliance
Mixpanel community and email support
Mixpanel for Startups
Mixpanel Startup Program is designed to give early-stage companies access to premium analytics features to help them find product-market fit and secure future funding.
To apply for the plan, your SaaS business can't be older than 5 years and shouldn't have raised more than $8M in funding. Companies that are already on Mixpanel paid plans are not eligible though.
What does the program offer?
If your application is successful, you get $50,000 credit to use on Mixpanel Growth and Enterprise plans, as well as Group Analytics and Data Pipelines.
This applies to plans up to 150M events/month, and the only things that are not included are the dedicated CSM and priority SLA in the Enterprise plan.
The program lasts 12 months after which the company can choose one of the standard plans that suits best their needs and usage.
What are the paid plans that Mixpanel offers?
So what exactly is included in the paid plans that Mixpanel offers?
Growth plan
The Growth plan includes all the features included in the Free plan plus a bit more:
Custom pricing, starting at $20/month
Up to 300M events/month
Unlimited saved reports to monitor, update and iterate on KPIs
Unlimited saved cohorts for deeper behavioral analysis
Mixpanel Modeling Layer
Email support
Group Analytics and Data Pipelines add-ons
Enterprise plan
The Enterprise plan comes with all the bells and whistles that you can imagine, and probably more:
Custom pricing, starting at $1,667/month
5M-1B+ events/month
Everything in Growth
Granular access and privacy controls
Data views for team-based collaboration
Onboard users with automated provisioning and SSO
Personalized customer success to improve data fluency across all teams*
Priority support SLAs*
* Not available for the Startup program participants
What are the pros and cons of using Mixpanel?
Mixpanel is a versatile analytics platform with lots of strengths:
✅ Sophisticated features enabling teams to easily analyze data in detail.
✅ Real-time data display.
✅ Powerful interactive and easily accessible data visualization.
✅ High levels of customization.
✅ A generous free plan that is sufficient for small SaaS companies.
✅ A Startup program promoting early-stage companies.
It comes with a few downsides though:
❌ Steep learning curve.
❌ Costly Enterprise plan.
❌ Complex setup, requiring engineering team support.
❌ No user feedback or engagement functionality, so you need 3rd party tools.
What do users say about Mixpanel's pricing?
Mixpanel is highly rated by G2 users. It's currently enjoying an average rating of 4.5.
Users praise it for its advanced reporting features and usability. However, when it comes to Mixpanel cost, reviewers do have some reservations:
You get a ton of value on the free tier but the jump to paid can be steep. For my smaller projects, I'd love an entry-level pricing tier.
The price seems to be a particular issue for companies with lots of users or requiring custom features:
The only thing I'm currently not well satisfied with is Group Analytics Feature. They charge you more for this feature… and I don't see any special report that will pay off this expense.

…I would not recommend Mixpanel to apps with millions of users per month because of the price.
Are there better product analytics tools than Mixpanel?
Even though Mixpanel is a brilliant analytics tool, you may want to consider some alternatives. This could be because you want a more affordable solution or one that enables you to also act on the insights.
Here are two alternatives that are worth looking at: Userpilot and Amplitude.
Userpilot – Mixpanel alternative
Userpilot is not just an analytics tool but a product adoption platform. This means it enables you to gather user feedback and design onboarding experiences to drive product adoption.
Userpilot analytics features are pretty robust:
Userpilot doesn't support mobile apps, but we can easily recommend it for web applications.
Userpilot pricing vs Mixpanel pricing
Userpilot doesn't come with a free plan. However, there's a 14-day free trial and you can book a demo to see how your SaaS product can best benefit from its functionality.
The three price plans are:
Traction
From $249/month
Up to 2,500 Monthly Active Users
People and Tracking
Engagement Layer (In-app guides and onboarding experiences)
User Sentiment (NPS surveys)
Reporting, Targeting, and Customization
Localization of up to 5 Languages
20 Feature Tags
1 Application
Growth
$499/month
2,500-10,000 Monthly Active Users
Everything in Traction
Localization of up to 20 Languages
Unlimited Feature Tags
Content Throttling
Custom Domain Hosting
Dedicated Customer Success
Custom Contract
Phone Support and Troubleshooting
Enterprise
$1,000/month
Up to 10,000 Monthly Active Users
Everything In Growth
Unlimited Localization
Custom Roles & Permissions
SAML SSO and Activity Logs
Priority Support
Security Audit and Compliance (SOC 2 Type II and GDPR)
Custom Contract and SLA
Dedicated Enterprise Infrastructure
When you're after an analytics tool only, then of course the Traction plan is no match for Mixpanel's free plan, especially as it doesn't offer the same features.
However, when you consider the cost of purchasing an adoption tool on top of that, then Userpilot pricing gets more attractive.
The same happens when you move up the plans. The Enterprise plan is cheaper than Mixpanel's highest plan.
Userpilot reviews
Userpilot is another product with great user reviews. Its current G2 rating is 4.6 and is attributed to its ease of use, customization and personalization options, and high-quality customer support. G2 reviewers also mention its affordability:
I've been using Userpilot for about 2 months now and the experience has been amazing. From the ease of implementation to the intuitive UI to the friendly, responsive support by the lovely Elise! I've looked at other adoption software and I'm glad we went with Userpilot. It has just the right amount of features for our B2G software to help our users and it's really easy to use. And the best part, it's affordable.
Another user witnessed a positive experience using Userpilot:
The pricing is very advantageous for the huge feature set they offer. Support via their chat is fast and cares a lot, even for non-enterprise-customers.
Amplitude – Mixpanel alternative
Amplitude is another powerful analytics solution and one of Mixpanel's greatest competitors at the moment. Its customers include companies like Atlassian and Canva.
As a specialist analytics tool, it supports a plethora of analytics features that product managers can use to make data-driven decisions to improve the user experience at all touchpoints on the customer journey.
Amplitude Analytics features include:
Milestone analysis
Custom dashboards
Predictions
Pathfinder (Flows equivalent)
Funnel analysis
It works on both web and mobile applications and it's the latter that we highly recommend it for.
Amplitude pricing vs Mixpanel pricing
The overall Amplitude pricing structure resembles that of Mixpanel. Even the names are the same. There are three plans, including a free one. Apart from the Starter plan, there are Growth and Enterprise plans. Here's what they offer:
Starter
Free
Up to 100K MTUs/month and unlimited events (as opposed to 20M events in Mixpanel)
Core analytics (Funnels, Retention, Segmentation, User Sessions, User Timelines, Stickiness, Pathfinder, and Pathfinder Users)
Custom dashboards
Advanced collaboration (Team Spaces, Notebooks, and collaboration integrations, like Slack or Miro)
Data planning tools
Unlimited data sources and destinations
Role permissions
EU data residency
Security: GDPR, CCPA/CPRA, SOC2 Type II compliance
Self-service and community support
Growth
Custom pricing
up to 1M MTUs/month and unlimited events (as opposed to 300M events in Mixpanel)
All Starter features
Advanced behavioral analytics (Impact Analysis, Lifecycle, Revenue LTV, Journeys, A/B Test Analysis, Conversion Drivers, Retention Predictions/Compass, Acquisition Channels, Personas, and Forecasting)
Behavioral cohorts
Dashboard templates
Single Sign-On (SSO) (need Mixpanel enterprise for that)
Email support and customer success
Enterprise
Custom pricing and usage limits
Data governance at scale (Transformations, Derived Properties, Taxonomy API)
Root cause analysis
Real-time monitoring (available for free in Mixpanel)
Dedicated Customer Support Manager
Causal insights & monitoring
Advanced permissions and password-protected links
Amplitude reviews
Amplitude has currently an average G2 rating of 4.5, which is exactly the same, as Mixpanel.
Reviewers rate Amplitude mostly for its vast array of advanced analytics tools and automation. They mention the price as one of its downsides though:
…one major downside to Amplitude Data Analytics is that it can be quite expensive, especially for small businesses.
The price of their growth plan is expensive. Unfortunately, as a startup, we couldn't afford it and we missed the user cohort reports.
Conclusion
Mixpanel is the real deal when it comes to product analytics. The Mixpanel pricing strategy allows small companies to benefit from its key features for free, and new startups have access to the Startup Program which gives them access to the higher plans for free.
Whether Amplitude is a better product or not may depend on your use case. Its pricing strategy caps monthly tracked users rather than events, so this may be a factor to consider.
Userpilot's analytics features are good enough to satisfy the needs of most small and medium-sized companies. Even its Enterprise plan may work out to be less expensive than the Growth plans of the other two tools.
If you want to see how Userpilot analytics work first-hand, book the demo!