B2B Marketing Automation: 12 Effective Ways to Grow Your Business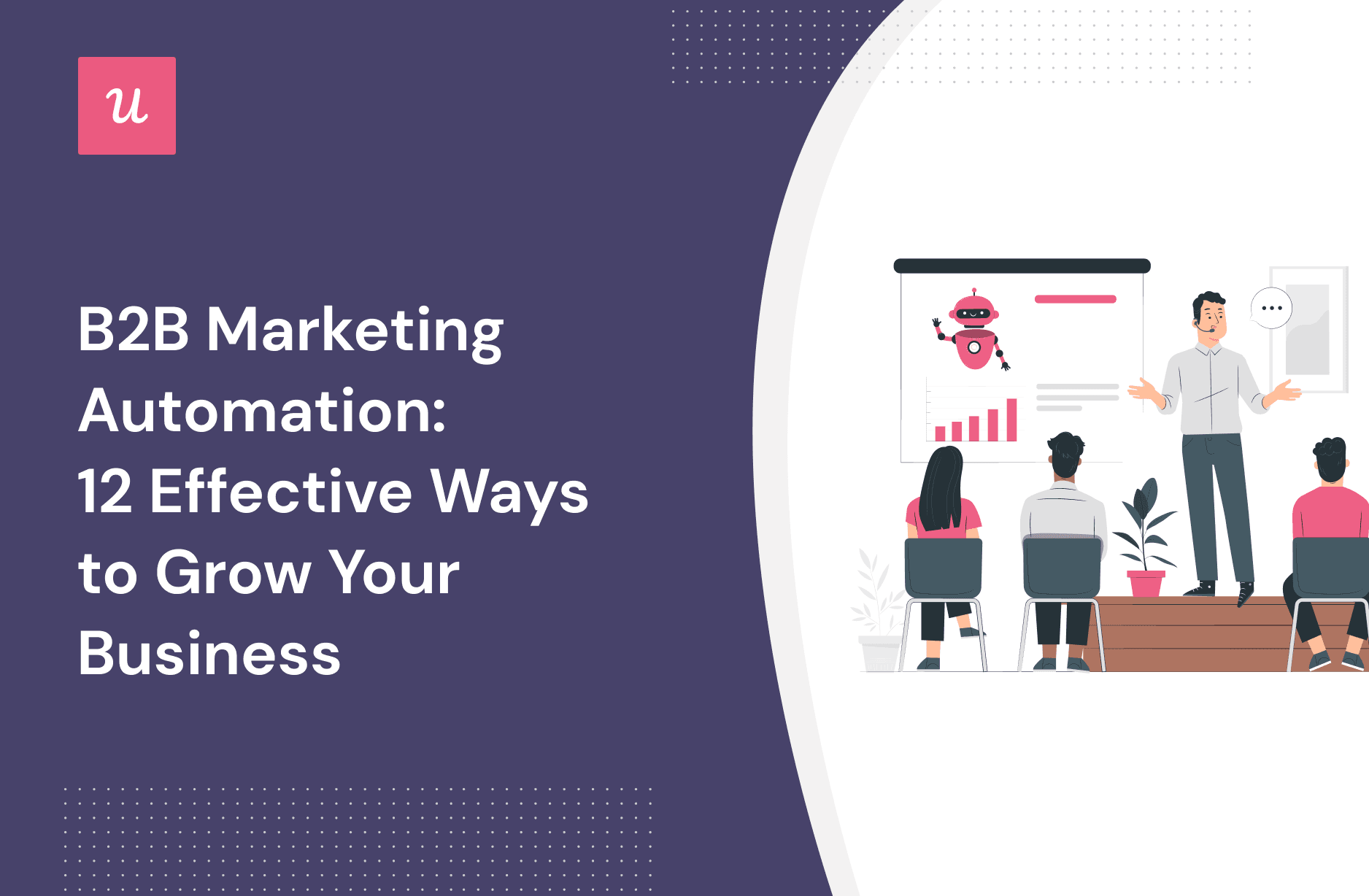 B2B marketing automation helps businesses grow faster, while not breaking the bank. How do you effectively implement B2B marketing automation into your existing product marketing activities? What are the best practices for success?
In this article, we'll cover:
What B2B marketing automation is and how it benefits marketing and sales teams.
12 effective ways to grow your business using marketing automation strategies.
How to pick the right B2B marketing automation tech stack for your team.
Let's get started.
TLDR;
B2B marketing automation involves designing automated workflows that will trigger at the right time to replace manual marketing tasks and retain customers.
B2B marketing automation is more complex than B2C since the B2B sales cycle is longer and often involves more than one persona.
There are four main benefits to B2B marketing automation: reduced customer churn, increased customer lifetime value, better data collection, and reduced marketing costs.
One great example of B2B marketing automation is growth loops – a self-sustaining approach where users fuel future growth with their outputs.
Use an automated survey in your welcome screen to collect data about users' jobs to be done. Afterward, personalize their onboarding experience relevantly.
To automate product adoption, use onboarding checklists that show users essential onboarding steps to complete.
Automatically create onboarding videos with AI video production tools, like Synthesia. It integrates with Userpilot, so you can embed the AI videos directly into your UI elements.
Free up your support team and save costs by automating customer support. To do this, create a self-service knowledge base full of educational content, like help articles, videos, and case studies.
Convert more trial leads into paying customers with automated in-app messages that trigger after certain milestones are achieved.
Prevent churn and boost retention by pushing out automated churn microsurveys. Use their feedback to make product improvements that prevent future churn.
Use automated email marketing to win back inactive users, nurture leads, and upsell to power users.
To choose the right B2B marketing automation software for you, consider these four factors: features, flexibility, customer support quality, and analytics capabilities.
What is B2B marketing automation?
B2B marketing automation is the process of creating workflows that run automatically to streamline recurring marketing tasks.
What is the difference between B2B and B2C marketing automation?
They both focus on automating recurring tasks, but the approach is different.
In B2B, you have multiple personas to interact with on different channels (the buyer and the user – they may be different people from case to case). Because of this, marketing strategies differ.
Also, the sales cycle is longer in B2B, whereas it's almost instant or only a few days long for B2C (think eCommerce stores that have an automated chatbot on their website, show a few retargeting ads to viewers, then nurture first-time buyers into becoming repeat customers).
But for B2B, the sales cycle can last from a few months to 1-2 years (especially for enterprise software) because what you need to automate is much more complex.
Benefits of B2B digital marketing automation
There are four main benefits to B2B marketing automation. Let's explore them in more detail:
Reduced customer churn
B2B marketing automation results in reduced customer churn. Here's how:
In order to automate processes, you need to segment your customers. You can design a workflow for each segment and easily deliver it with a marketing automation system.
When you segment your database, you can deliver personalized and beneficial experiences and flows that will add value to customer relationships.
You don't need a support team or success team to constantly help users and reduce friction. By automating repetitive tasks that help users get value, you improve retention and prevent churn.
Increased customer lifetime value
Digital marketing automation also contributes to a higher customer lifetime value. Automation allows you to easily follow up on your customers after meaningful interactions.
Follow-ups lead to a better customer experience, which means that customers stay with the brand longer and spend more on upsells – two factors that increase customer lifetime value.
Data collection automation
With automation, you can easily collect customer data that will give you valuable insights on how to improve your product.
To start, launch automated surveys that are automatically sent to users when they perform a specific action.
You can send welcome surveys, CSAT, NPS surveys, and others like those to collect actionable data.
Then, segment your customers according to that data and personalize the user experience based on what's most relevant to them. Without marketing automation tools, it would be difficult and time-consuming to do this manually.
Reduce your costs while scaling your marketing efforts for faster growth
B2B marketing automation is good for your wallet. When you scale up your marketing automation solutions, you also cut back on manual labor costs (and time).
For example, an onboarding tool helps replace manual work your devs would need to perform for onboarding new users. Instead, you can create different UI elements from ready-to-use templates in Userpilot.
Examples of B2B marketing automation
Here are 12 examples of B2B marketing automation that will inspire your marketing team:
Convert more leads with growth loops
Growth loops are a marketing strategy that reinvests user outputs into new inputs that attract leads.
A great example of a growth loop is a referral program where current customers refer new leads to the business. Other examples include user-generated content, social shares, and "built with" badges on landing pages.
You can automate your growth by using sustainable, compounding growth loops.
For example, HelloSign has built growth loops right into its product strategy. When an existing HelloSign customer sends a contract to someone to sign, they're also promoting HelloSign at the same time. The receiver of the contract experiences HelloSign themselves when they sign the contract.
They also get invited to sign up for a HelloSign account themselves.
If they had a positive experience using the product, they're more likely to sign up.
Use welcome screens to greet new users and collect customer data
Welcome screens are a great opportunity to get to know your customers.
You can launch automated surveys to collect valuable data about your customers and their jobs to be done. Then, you can use this information to personalize your product experience and deliver relevant content.
It's easy to create and automate welcome surveys with Userpilot, code-free.
Automate users' path to activation with segmentation and customer profiling
Use the data collected in the welcome survey to guide users to the necessary features they need to use to get the value they're looking for.
Keep the experience concise and value-driven – use minimum viable onboarding to guide your users to the point of activation.
Here's a good example of low-touch onboarding that can be automated:
Implement lead scoring to identify your power users
You can use marketing automation software to automatically score leads, so you know which ones are your power users and worth nurturing.
For instance, you can assign points to features and calculate overall lead scores based on feature usage.
You can also use Userpilot's feature tagging to tag UI elements and see how customers interact with those elements.
Use checklists to automate product adoption
Build an onboarding checklist that will automatically guide users on how to complete essential actions. That way, they onboard faster and experience value faster.
Onboarding checklists are also motivating. When users see that tasks are still unfinished, they feel the need to complete them. It's a good way to make sure users don't skip out on important steps that will support their goals.
Use AI and automatically create onboarding videos to guide users
You can automate video production by simply putting text into an AI video creation tool.
Synthesia can generate video tutorials with AI to improve your onboarding. It can also quickly repurpose product guides into videos.
Plus, Synthesia integrates with Userpilot, allowing you to embed automated video tutorials inside your UI patterns.
Provide educational content to offer self-service support on-demand
One area that benefits tremendously from marketing automation is product guidance. You should create self-service support options with guides and resources that help users get their jobs done.
Having an in-app help center enhances customer satisfaction since customers don't have to rush to contact customer support. It's a win-win for your company and your customers since you save time and resources with less 1-on-1 support.
You can create a resource center with Userpilot that supports different content formats.
Launch automated surveys to improve customer experience
Automated surveys are feedback forms triggered for the right user at the right time through predefined workflows.
They can be used after a specific interaction or an update, to collect NPS or general feedback.
You can trigger in-app surveys contextually with user segmentation.
Convert more trial leads into paying customers
It's all about timing when it comes to getting trial leads to convert into paying customers. You need to reach customers at the right time after they've experienced value from your product for the first time.
You can send in-app upgrade messages after they hit that milestone to boost your chances of conversion.
With Userpilot, you can automate this process and trigger tooltips and modals at the right stage in the customer journey.
Track in-app user behavior to trigger automated flows
Track in-app behavior and product usage to trigger contextual in-app flows to specific user segments.
This keeps customers engaged and moving along the buyer's journey – from newbie to advocate.
Create bespoke flows with Userpilot and trigger them at the right time for the most user-friendly experience.
For instance, you can trigger a promo code for your active users once they hit a milestone.
Reduce your SaaS churn with automated churn surveys
Implementing churn surveys in your SaaS is one of the most important and effective ways to improve customer retention and satisfaction.
Use automated churn surveys to gather customer feedback to improve the product and reduce churn.
Not only can you gain valuable insights, but you can also offer alternatives to keep customers around. For example, if they're leaving because of budget issues, you can offer a discounted rate for a few months.
Use email marketing automation to reactivate disengaged users
Automated emails help you:
Deliver product guidance during onboarding
Nurture leads pre-purchase
Keep in mind that acquiring new customers is more expensive than retaining existing ones.
Therefore, retention and customer engagement should be top priorities. Email campaigns and drip campaigns help you build relationships with existing customers so you can continually deliver value.
How do you choose B2B marketing automation software?
As you can see after reading this article, choosing the right marketing automation platforms is essential to help your marketing team and sales team succeed.
Here are four factors to look out for when considering a new marketing automation tool:
Features and functionalities
Will it work with the marketing channels that you want to automate? For example, does it do social media automation? Does it work with ad campaigns? Can it automate lead generation for a sales team?
You likely run multi-channel campaigns, so you should use marketing automation tools that work with your existing workflow.
Flexibility and the ability to personalize user experiences
Is the automation platform flexible to your needs? Can it provide personalized user experiences – a must-have in the SaaS industry?
Level of customer account support you need
If you ever run into any issues or roadblocks, is the customer support team available 24/7 and helpful? Do they have a library of self-support resources to help with less complex issues?
Can you collect data and track how things are going?
With those questions in mind, you'll be well on your way to choosing marketing automation software that supports your goals.
Conclusion
The B2B marketing automation industry is quickly growing, with more and more options popping up every day. But, you have to make sure your marketing solutions are working for you, not against you.
Some automation tools are complicated, leading you to waste precious hours tweaking something that's meant to save you time.
That being said, now you know what to look for to find the right marketing automation platform that saves you time, and money and contributes to revenue growth.
Want to get started with B2B marketing automation? Get a Userpilot Demo and see how you can build automated in-app experiences, code-free.