The Best Online Engagement Software for SaaS in 2023
Let's face it: engagement may be a key requirement for product growth, but your customers…don't want to be engaged. In this article, we've compiled all the best tools you need to boost customer engagement and categorized them according to the user behavior metrics outlined in the AARRR framework.
"Your customers aren't in it to be engaged. They're looking to be entertained." – This rolled off the tongue of Mathew Sweezey, the Director of Market Strategy at Salesforce.
And he ain't wrong. While our user come to our tools to get a job done, you need to try a bit harder to grab their attention…
This is where online engagement tools come into play.
To harness the incredible value of product-led growth, you need to have the right engagement tools. However, with the overwhelming number of online engagement tools available at every step of the customer journey, choosing the right tool can be tricky.
Ready to dive in?
TL;DR
Online Engagement Software helps you generate customer engagement online by improving two-way interactions with your customers
Brands that successfully engage with their customers have a 63% lower customer attrition rate
AARRR is an acronym for a set of five user-behavior metrics: acquisition or awareness, activation, retention, referral, and revenue
Create engaging pop-ups with Wisepops and Poptin
Build Embedded forms with Pabbly Form Builder, Paperform, and Jotform
Automate emails with Hubspot, OutreachBin, and Mailchimp
Create smooth onboarding with Userpilot, HelpHero, and Userlist
Monitor analytics, communicate with your customers, and gather feedback using Mixpanel, Amplitude, Heap, Mailchimp, Optimizely, Customer.io, and Userpilot
Push upsells through personalized and relevant in-app experiences using Userpilot
What is Online Engagement Software?
Online engagement software refers to tools that help you generate customer engagement online. These customer engagement tools help you make and improve two-way interactions with your customers.
Instead of making it look like generic automated communication, these tools allow you to have a personalized interaction with your customers. These interactions are tailored to be relevant to the context in which they are carried out.
Why Is Online Engagement Software Important For SaaS?
You might still be wondering what value these online engagement tools add to your product. The benefits of using online engagement software revolve around positive user experience and better customer relationships.
Customer engagement software that helps you interact with users based on their activity significantly accelerates the sales cycle. They can help you reach users who are most likely to convert, thus making the jump from awareness to purchase pretty quickly. This involves putting the right information at the right place and at the right time so that users can find their desired product or service easily.
Higher customer engagement is also likely to lead to higher purchases since customers will likely better understand the value they can get from your product or service. In fact, fully engaged customers represent a 23% higher share in revenue, profitability, and relationship growth, compared to the average customer.
Apart from the quantitative impact of increased customer engagement, it creates significant value in terms of customer relationships. These relationships go beyond conversion rates and help customers build trust with your brand. Brands that successfully engage with their customers have a 63% lower customer attrition rate, proving that engagement creates loyalty.
Moreover, the only thing better than active customers is loyal customers. These are the people who will be advocates for your brand and help you bring more customers organically. Using online engagement software effectively will help you craft customer experiences worth promoting and referring to others.
Types Of Online Engagement Software
More than a decade ago, when Apple trademarked their slogan "there's an app for that," little did we know that the popular catchphrase will define an entire industry. When it comes to tools used in the SaaS industry, you can find one for any goal you want to accomplish, big or small.
If you are looking for online engagement software, you might naturally be overwhelmed by the sheer number of options you have to complete tasks such as generating analytics, gathering feedback, showing popups, automating emails, and more.
To make it easier for you, we are dividing the best online engagement software out there according to the five user behavior metrics laid out in the AARRR, also known as the Pirate Metrics framework.
AARRR is an acronym for a set of five user-behavior metrics: acquisition or awareness, activation, retention, referral, and revenue.
Acquisition or awareness consists of the metrics that help you understand how people are coming across your product or service. Next, activation gauges your customer's experience with your product.
Retention measures why your users are continuing to engage with your product. The next step, referral, takes a look at whether your customers are recommending your product to others. Finally, revenue considers whether your users are willing to become paid customers.
Categorizing the online engagement software based on the AARRR framework helps you understand which engagement tool to use with which metric.
Online Engagement Software For Acquisition
If you have a limited window of time to make a user interested in your product or service, customer acquisition can be a tricky phase. You can use acquisition tools such as pop-ups, embedded forms, and email automation to get new users to sign up.
Among a large number of tools available to you to create popups that'll get your customers engaged, WisePops and Poptin stand out.
Wisepops
Wisepops specializes in creating contextual pop-ups and doesn't become tiresome for users.
Why choose Wisepops?
Wisepops is quite easy to use with a built-in drag and drop pop-up builder. This tool offers segmentation features that allow you to target the most relevant audience.
Add their claim of an average conversion rate of 5%, and you get a great option to create engaging pop-ups.
Wisepops Pricing
Wisepops offers a 14-day free trial, with no credit cards required. Its pricing plans start at $29/month.
Poptin
Poptin is an all-around popup builder that offers a great range of integrations with third-party tools.
Why choose Poptin?
Like Wisepops, Poptin also has a drag-and-drop popup builder. It offers powerful segmentation and targeting features, A/B testing, and performance analytics. It has a collection of high-quality templates to choose from that you can customize according to your needs. You can easily integrate Poptin with your email marketing or CRM platform.
Pricing
The free version is limited to 1 domain and 1000 monthly visitors. The paid plans start from $19/month with a 20% discount on annual plans.
Let's move on to forms. Creating embedded forms allows your customers to respond to forms without leaving your website. There are tools like Pabbly Form Builder, Paperform, and Jotform which help you create embedded forms smoothly.
Pabbly Form Builder
The Form Builder offered by Pabbly markets itself as the "only form builder in the world that does not restrict you on features", which is not an understatement.
Why choose Pabbly Form Builder?
Pabbly offers unlimited submissions, uploads, users, storage, and several other features. Its customization features help you personalize each form you build to keep it consistent with your brand elements. You can choose from multiple types of forms to place on your website. Pabbly also offers integration with Paypal and Stripe.
Pabbly Pricing
Each form will cost you 15$/month. But you can save 4 months' worth of costs by opting for its annual plan, which offers 10$/month for each form.
Paperform
Paperform is another powerful form builder that features a smooth user experience.
Why choose Paperform?
Paperform offers great customization features to create smart forms using conditional logic and calculation fields. You have the option to insert pictures, videos, and styled text anywhere on the form page.
If you want to share the form separately, you can get a unique URL to do so. Paperform allows you to take payments with Stripe, PayPal Business, Braintree, and Square.
Paperform Pricing
The monthly pricing plans of Paperform start from $15, with a discounted starting price of $12.5/month for its annual plans.
JotForm
Another great tool is JotForm, which offers a quick and easy way of making forms with its visual editor.
Why choose Jotform?
Jotform provides integration to a large number of marketing platforms. It hosts a great collection of templates and themes and lets you take payments through PayPal and Square. You can also add collaborators to edit the form, allowing your team to work together seamlessly.
Jotform Pricing
Jotform gives you the option to test its features before you go for a paid plan. You can create 5 forms for free, with up to 100 entries per month. The paid versions start with its Bronze plan at $29/month, which gets discounted to $24/month for annual subscriptions.
Moving forward on our list of tools, email automation can help you send time or action-triggered emails and is a popular strategy among marketers to generate customer engagement.
Hubspot
The email marketing tools offered by Hubspot allow you to design professional email campaigns without the need of a designer.
Why choose Hubspot?
With Hubspot, you can quickly find the templates that suit your needs with its goal-based email templates.
Hubspot also offers A/B testing features to optimize your automated emails. You will also have access to analytics to measure user engagement. Hubspot's marketing automation tools let you use your lead's behavior to send tailored emails.
Hubspot Pricing
Although email marketing tools come with its free plan, you'll need to upgrade to its Professional edition, starting at $800/month, to access marketing automation and other premium tools.
Mailchimp
Mailchimp offers marketing automation features that let you create a single or a series of emails sent automatically based on predetermined triggers.
Why choose Mailchimp?
You can use the pre‑designed templates offered by Mailchimp and its drag‑and‑drop designer to create professional-looking emails.
You also get access to real-time analytics that help you understand how your automated email campaigns are performing. You can set up single-step automation or even build scalable customer journeys to ensure that your interaction with your customers is as relevant as possible.
Pricing
The free version of Mailchimp covers up to 2000 contacts and 1 audience. The paid plans start at $9.99/month. Mailchimp has a price calculator feature to help you find the plan that best suits your needs.
OutreachBin
OutreachBin specializes in warming up your emails to ensure increased deliverability.
Why choose OutreachBin?
OutreachBin offers features like reply tracking, integrations with CRMs, prospect profiles, and more.
It helps you increase your sender reputation by replying to emails and ensuring the delivery to the inbox rather than the spam box of customers. OutreachBin allows you to personalize your email body using a set of custom variables. You can send automated emails that reflect human actions and thus maximize your deliverability.
OutreachBin Pricing
OutreachBin comes with a single all-inclusive pricing plan that costs $39/month per email and $29/month per email if paid annually.
Online Engagement Software For Activation
Activation is the phase you enter after you gain new users. This is a crucial stage for you to set the tone for the next phases, including retention, referral, and revenue. To make sure that your customer onboarding process is smooth and efficient, you have tools like Userlist, HelpHero, and of course, our very own, Userpilot.
When it comes to customer onboarding, Userpilot is your complete package for SaaS product growth.
Why choose Userpilot?
With Userpilot, you can create "Experiences" for your customers, which can be comprehensive walkthroughs, as well as tooltips. You'll have easy-to-use tools to create these experiences, including checklists, slideouts, modals, and more. Experiences are easy to create and fully customizable, and require no coding knowledge.
Userpilot also makes sure your customer engages with your product with its "Driven Actions" feature.
You can also conduct A/B testing to optimize customer onboarding and access analytics to measure your performance. In short, Userpilot is hard to ignore if you are looking to create customer onboarding that guarantees engagement.
Userpilot Pricing
The pricing plan of Userpilot starts from $249 for up to 2500 MAUs. You can get a demo today and dive into the all-in-one solution to all your customer engagement issues.
Online Engagement Software For Retention
Now that you've "activated" your new users, you must maintain customer engagement to prevent churn and retain existing users. The tools you can use to generate engagement in the retention stage should provide you with great analytics, smooth communication features, and gather feedback. Mixpanel, Amplitude, Customer.io, Optimizely, and Userpilot are some of the best tools to help you accomplish these goals.
Userpilot
We may be a little biased, but Userpilot offers great features in all three aspects of customer retention strategy – it provides in-depth analytics, offers smooth communication features, and includes excellent tools to gather customer feedback.
Why choose Userpilot?
Userpilot collects customer data through event and attribute-based user analytics and in-app micro surveys, allowing users to provide feedback without having to exit the platform. You can use its analytics to monitor what's working and what's not. Userpilot also allows you to create an in-app Resource Center to help users find answers to their questions and resolve their issues quickly.
You can also create workflows that gather feedback from the user in a way that fits the context. For example, a user can be asked a question through a pop-up window that is relevant to the user's activity at that moment. This allows you to gather feedback easily and accurately.
Ready to start creating contextual experiences? Get a demo today and dive into the all-in-one solution to all your customer engagement needs.
Mixpanel
Mixpanel positioned itself as the leader in product analytics, providing in-depth and most relevant analytics.
Why choose Mixpanel?
The powerful analytics tool of Mixpanel helps you understand how each segment of your customers are engaging with your product and identify opportunities to improve on. Its data science models let you predict user activity to take proactive measures to prevent churn.
The communication features of Mixpanel include the ability to send targeted notifications, along with A/B testing capability to find the right message. But you do need to have a bit of coding knowledge to implement, which is not surprising given its in-depth features.
Mixpanel Pricing
Mixpanel has a free version with limited features, and its paid plans start at $25/month.
Amplitude
Amplitude is a great tool focusing on product analytics that offers a wide range of integrations.
Why choose Amplitude?
With Amplitude's in-depth analytics, you can track users and their journey to become high-value customers.
It is flexible across multiple devices and products and offers great collaboration features for teams of all sizes. If its high dependence on precise data raises concerns for you, Amplitude has it covered with its brilliant data governance and data security features.
Amplitude Pricing
Amplitude offers a generous free plan that allows you to track up to 10 million actions. However, its premium plans can get exclusive very quickly.
Customer.io
Customer.io is an automated communication platform, which helps you to interact with your customers using data-driven emails, push notifications, and SMS messages.
Why choose Customer.io?
Customer.io offers great real-time segmentation features that you can use to tailor your communication to an incredibly specific user group. With its visual workflow builder, you can create efficient workflows in no time. Its Transactional API is also very flexible, offering customization features that help you stay consistent with your branding efforts. Customer.io also provides A/B testing features and in-depth analytics to measure and optimize the success of your campaigns.
Customer.io Pricing
Customer.io offers a 14-day free trial, after which it charges $150/month for its basic plan.
Optimizely

Optimizely offers a product experimentation and optimization platform with an easy-to-use visual editor that requires no coding knowledge.
Why choose Optimizely?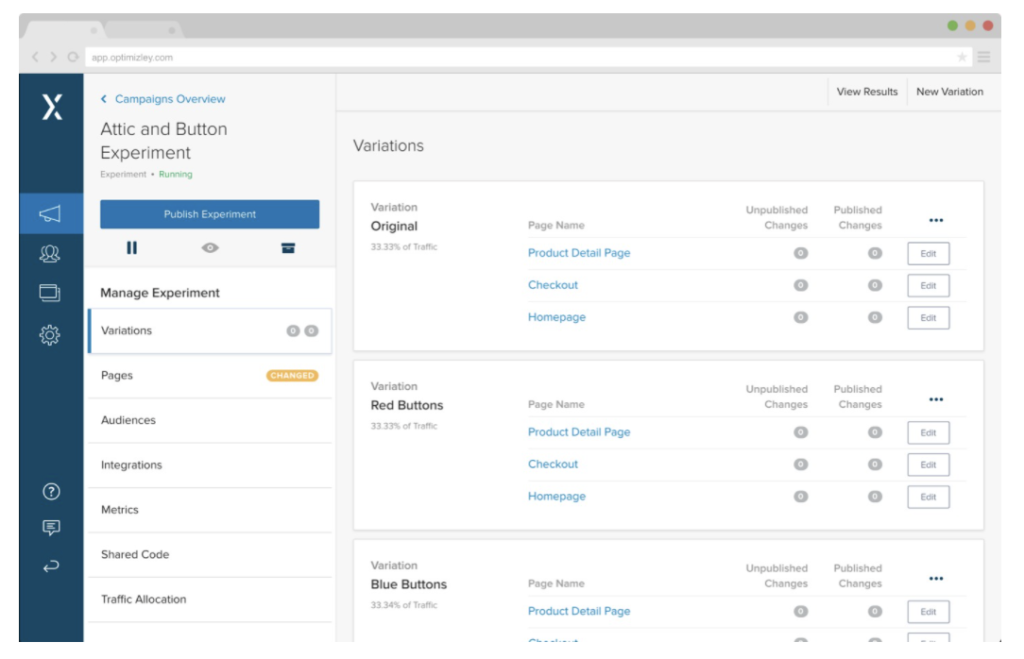 Its comprehensive testing features help you boost your conversion rates by finding the right variation that engages your customers the most. Optimizely also comes with a powerful statistics engine that allows you to measure test results accurately and test your hypotheses in real-time. It offers segmentation based on persona, industry, and other attributes that let you personalize the experience of your customers.
Optimizely Pricing
Optimizely doesn't disclose its pricing information publicly. It offers two versions – Full Stack and Web that have incremental pricing depending on the size of your business.
To get a better understanding of the user retention tools and software and help you pick the tool you need, check out our post on the best user retention tools out there to keep your customers engaged.
Online Engagement Software For Revenue
Customer engagement in the revenue stage can have a direct impact on the profitability of your product. It is particularly essential when you are targeting customers for upselling.
Userpilot
Userpilot allows you to create targeted in-app messaging that is triggered based on the context, making it easier to generate customer engagement.
Why choose Userpilot?
If you can create relevant in-app experiences to point your users to the benefits of these upgrades contextually and at the right time, pushing upsells can become a lot easier. Userpilot helps you do just that.
Its full contextual messaging feature sets it apart from other customer engagement tools.
You can set the triggers based on customer segments on specific user behavior. This helps you create the most relevant in-app messaging, which can be personalized for individual users. Users can then easily understand how the upgrades will make their experience even better.
Choosing The Right Online Engagement Software For Your SaaS
Generating better customer engagement has more upsides for your SaaS business than you can count. Using the AARRR or Pirate Metrics framework makes it more efficient and easy to implement since you'll be able to prioritize which aspects you'll need help on.
AARRR helps you to narrow your focus on the metrics that matter. With the online engagement software list we have compiled for you, you'll be able to pick the tool that you need to boost engagement and build meaningful relationships.