11 Product Experience Examples to Ensure Product and Business Success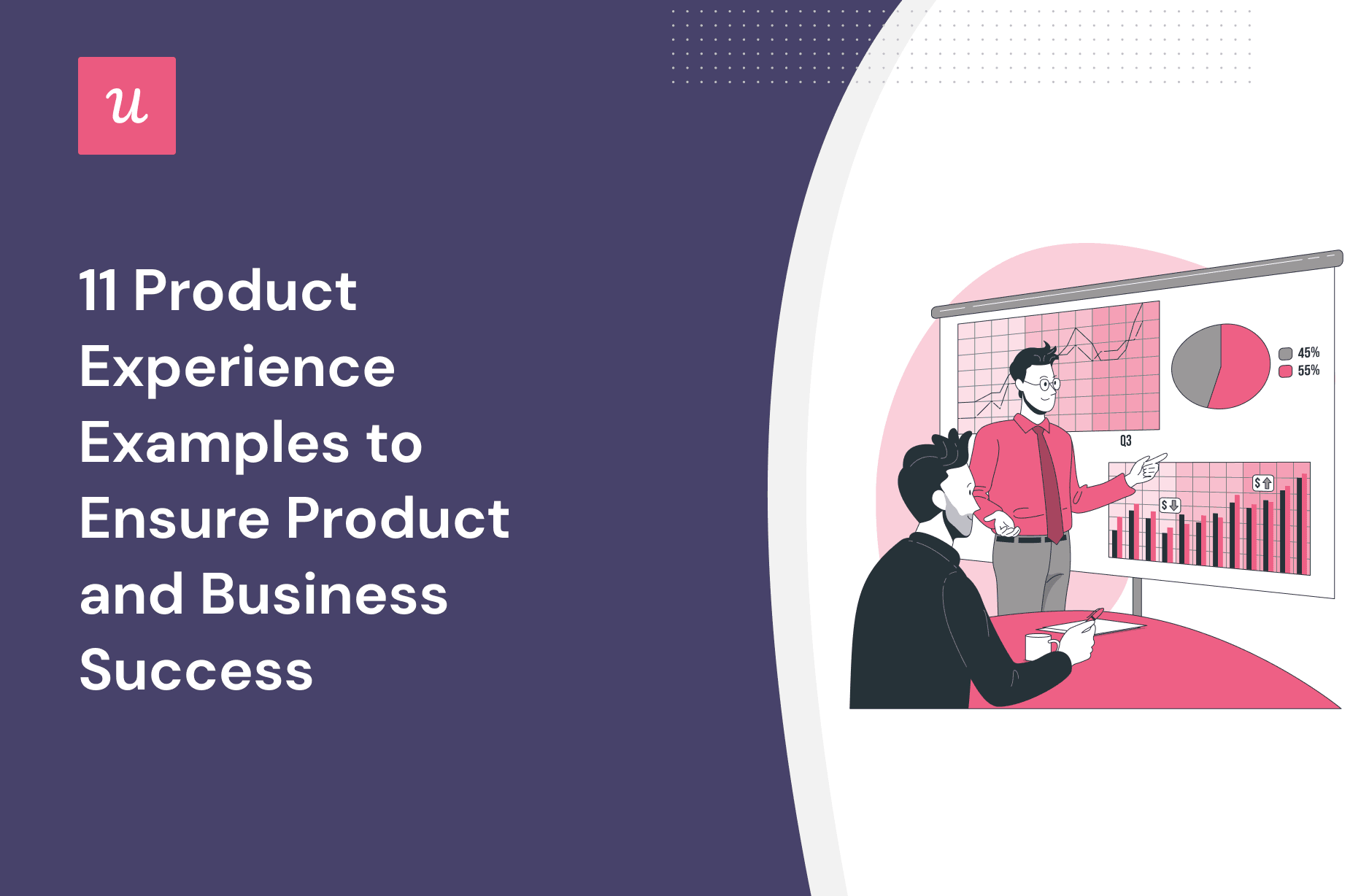 What do good product experience examples have in common? They drive up customer loyalty and retention, turning customers into avid brand ambassadors.
In the era of unprecedented customer power, good customer experience is the key to successful product growth. This article considers what product experience is. It also examines some good customer experience examples and how you can design one.
TL;DR
Some notable customer experience examples include:
What is product experience in SaaS?
Product experience (PX) refers to the entire customer journey within a product and how it shapes the customer's perception of the product. It encompasses everything that shapes the user experience before and after the purchase.
Good product experience involves everything from the product platform to its user interface, product functionality, content strategy, information architecture, and usability testing.
Why is product experience important for SaaS companies?
Imagine you just set up an account on a new product. You try to load it up, but it takes too long. And, when it eventually loads up, you can't figure out how to get around it and achieve your goals.
Poor SaaS product experience like this dissuades customers from the product, driving them to your customer support team or your competitors. Good PX does the opposite.
It engages the customer from the beginning, reducing their onboarding time by guiding them to experience product value. As a result, it strengthens the bond between the product and the customer, creating happy, loyal customers.
Because happy customers are delighted with your product, customer retention improves, and the churn rate drops. Happy customers are also pleased to help you identify and fix friction points, further strengthening the bond.
Ultimately, it drives product success by helping users (both new and existing ones) derive the utmost value from the product.
Best customer experience examples from successful companies
Multiple SaaS companies and product teams provide brilliant customer experience examples that can inspire your product experience improvement. Consider a few of them.
Userpilot: in-depth product education through Product Adoption school
Userpilot is a product growth tool that helps product teams deliver personalized in-app user experiences. The goal is to increase product adoption by driving engagement and a better understanding of user behavior.
To successfully use the product, potential customers must understand product adoption and how Userpilot helps them achieve that goal. Thanks to the Userpilot Product Adoption School, they can do just that.
The school contains valuable educational resources to serve people before they become customers. It teaches product managers how to boost adoption levels for their products and is served via mail or via a learning platform.
Click to subscribe here and begin receiving product adoption lessons directly in your inbox.
Kontentino: excellent product experience with a personalized customer journey
Kontentino is an intuitive tool for creating, organizing, and scheduling social media content across platforms. They boast two sets of customers: Brands that post their content and Agencies that post for others.
Whereas agencies may need to post on behalf of multiple websites, brands do not. Kontentino, thus, uses a welcome survey to identify brands versus agencies so they can reserve the feature for agency customers only.
For its users to be fully activated, they need to connect a social media account and make a post. Kontentino drives user activation using tooltips that make both steps clear and straightforward.
The first tooltip shows users how to connect an account…
…and the second shows them how to create a post.
Slack: in-app customer feedback collection to improve the product experience
Slack is a powerful digital workspace that enables teams and communities to communicate and collaborate more flexibly.
One of the most successful SaaS products, Slack's product team understands the importance of receiving and acting upon customer feedback. Put simply, to improve the customer experience, you must speak with the customer.
Slack uses in-app surveys to collect customer feedback. These surveys use a simple multiple-choice question to capture overall user sentiment while providing a text box for free-form submissions.
Sked Social shows new users real value with an onboarding checklist
Sked Social is an Instagram-first social media management platform that integrates nicely with other social platforms, including Twitter, Facebook, LinkedIn, etc.
Like most SaaS companies, Sked offers a temporary free trial for new users. Still, they recognize the importance of converting trial users into paying customers. That is why they use an onboarding checklist to achieve this goal.
The checklists drive users to the next tangible action on their way to activation. With each step the user completes, they're more inclined to complete the next step.
The sooner your customers begin experiencing value from the product, the more willing they're to start paying for it.
Loom uses its welcome screen to educate new users
Loom is a video messaging tool that lets you record your screen and get your message across through an instantly shareable video. Built to help create and share videos, Loom appreciates the effectiveness of video tutorials.
Videos are more engaging than text content, showing the process rather than "telling" it. Loom employs in-app video tutorials (created with Loom) on its welcome screen to demonstrate its product and drive adoption.
You can adopt a similar approach.
First, assess the most common support requests your company receives. Next, create how-to videos to walk users through the solutions. Finally, embed the videos into your knowledge base for easy user access.
FullStory uses gamification elements to simplify the signup process
FullStory provides you with product usage insights on your app to help improve your customer experience. The more customer data you collect, the better your overall product experience.
One way to collect this data is through welcome surveys. But these can become lengthy and boring very quickly. A rule of thumb is to keep surveys short and sweet to avoid customer frustration that sabotages the product experience.
Where that's not possible, however, you can adopt the FullStory onboarding approach. FullStory uses gamification elements plus a progress bar to keep its – otherwise lengthy – signup flow engaging.
The result is a signup flow that gets the user to complete it without frustration.
Rocketbots: product adoption with the help of an interactive walkthrough
Rocketbots is an AI-powered automated messaging platform that lets users manage multiple customers, conversations, and messaging platforms in one space.
To help users get started with its product, Rocketbots deployed interactive onboarding walkthroughs. Interactive walkthroughs help users learn about your product by guiding them with tooltips to take necessary actions.
Because users are active participants in the onboarding process, they learn faster and retain that knowledge better. Ultimately, this reduces the learning curve, getting users to the Aha moment faster.
Appy: product improvements with feature requests from users
There's only one group with better ideas on how you can improve your product experience than your product team: Your customers.
Customers use your product regularly and are aware of the challenges, bottlenecks, and limitations that they face regularly. To develop a great product experience, therefore, you must pay attention to your users and what they have to say.
That's what Appy did with its passive feedback channel. The channel encourages users to leave general feedback but is also a tool for collecting feature requests. The team can then improve the customer experience by adding the requested new features.
Hotjar: a short journey from signing up to seeing initial insights and value from the product
Hotjar is a tool for collecting behavioral data from your users so you can track and visualize how users engage with your website/product. It aims to help users find value in as little time as possible.
New users can get their Hotjar account up and running under 10 minutes. All you need to sign up for a free account is your name, email address, company name, and job role. No credit card is required.
Once you've signed up, the onboarding flow guides you to install Hotjar on your website. Rather than simply instruct you, Hotjar takes advantage of an empty state element to guide you to immediate action and drive the product experience.
Tolstoy provides extensive support to users with in-app video tutorials
Tolstoy helps users create interactive videos that make conversations more involving and personal. You can also create shoppable videos with embedded links for viewers to buy products directly from the video.
Unsurprisingly, Tolstoy is also heavy on video support. It uses in-app video tutorials to drive customer education. Each tutorial series contains multiple use cases and how-to videos to guide users around a feature, with users free to select their learning path.
For more efficiency, these micro-videos are embedded into its resource center, making it an available in-app resource for users facing challenges.
Asana drives feature adoption with contextual tooltips
Asana is a project management tool that enables teams to organize and seamlessly collaborate on tasks. At the forefront of its product experience is clear in-app communication.
Asana uses tooltips to drive feature discovery, and they do it contextually. This means a tooltip is only triggered when the target feature falls within the context of the user's actions.
For instance, the tooltip below pops up when a user is typing a message, nudging the user toward the video messaging feature for better communication.
Note that this is part of an elaborate progressive onboarding strategy that continues to provide users with guidance and support long after primary onboarding is over.
How to design the perfect product experience
There are three key parts of any successful product experience strategy:
Let's take a closer look at these three elements and how they improve your product experience.
Leverage product analytics to make informed product roadmap decisions
There's no one-size-fits-all approach to product experience design. Because of how subjective it is, especially within the software industry, your approach must be based on accurate insights into user interactions with your product.
Your product analytics efforts should include the following:
Map key customer touchpoints to in-app engagements
Despite your best efforts, some customers will fall off from active product use. When this happens, you should try to reach these users to re-engage and re-activate them as part of the product experience.
Take advantage of available tools to create a user journey map and link this with key customer touchpoints within your app. This will give you a clear idea of where customers abandon your product and what you can do to improve the customer experience.
Use customer feedback to optimize your product experience
In addition to user analytics, direct customer feedback is an invaluable source of customer experience information. Ask users about features they like, those they dislike, and how you can improve the experience for them.
Use in-app microsurveys to collect customer feedback at major in-app touchpoints. You can also collect passive feedback by leaving a feedback form available for users to interact with whenever they please.
Build customer-centric product experiences with Userpilot
Ready to implement your product-led growth strategy? Userpilot arms your product team with the tools needed to create an immersive customer experience.
Create in-app surveys to collect customer data
Create surveys that match your overall app theme. Choose when and where it makes sense to launch the survey; this may mean embedding the survey into the welcome screen, triggering a slideout after a user engages with a new feature, etc.
You can experiment with survey designs and even add gamification elements to make the survey more engaging.
Create personalized user onboarding flows with segmentation
Segment your customers into groups and personalize their experiences. Segmentation can be based on user data, company data, individual feature usage, engagement profiles, user feedback, or pre-existing segments.
For instance, you could segment customers based on their JTBDs and personalize their onboarding flow accordingly.
Spy on your users with user behavior analytics and product usage data
Track customer behavior and in-app page/feature interactions and gain valuable insights about existing customer problems. Remember to address these issues to improve the product experience. Moreover, keep an eye out to identify upselling opportunities and act on them.
Conclusion
Regardless of your chosen business strategy, creating the right customer experience is a necessity. This article highlights some of the best customer experience examples to help you achieve your CX and PX goals.
Ready to begin? Equip your product team with Userpilot to supercharge your product experience strategy. Book a demo to learn more.