Top Userflow Alternatives of 2023 (In-Depth Comparison)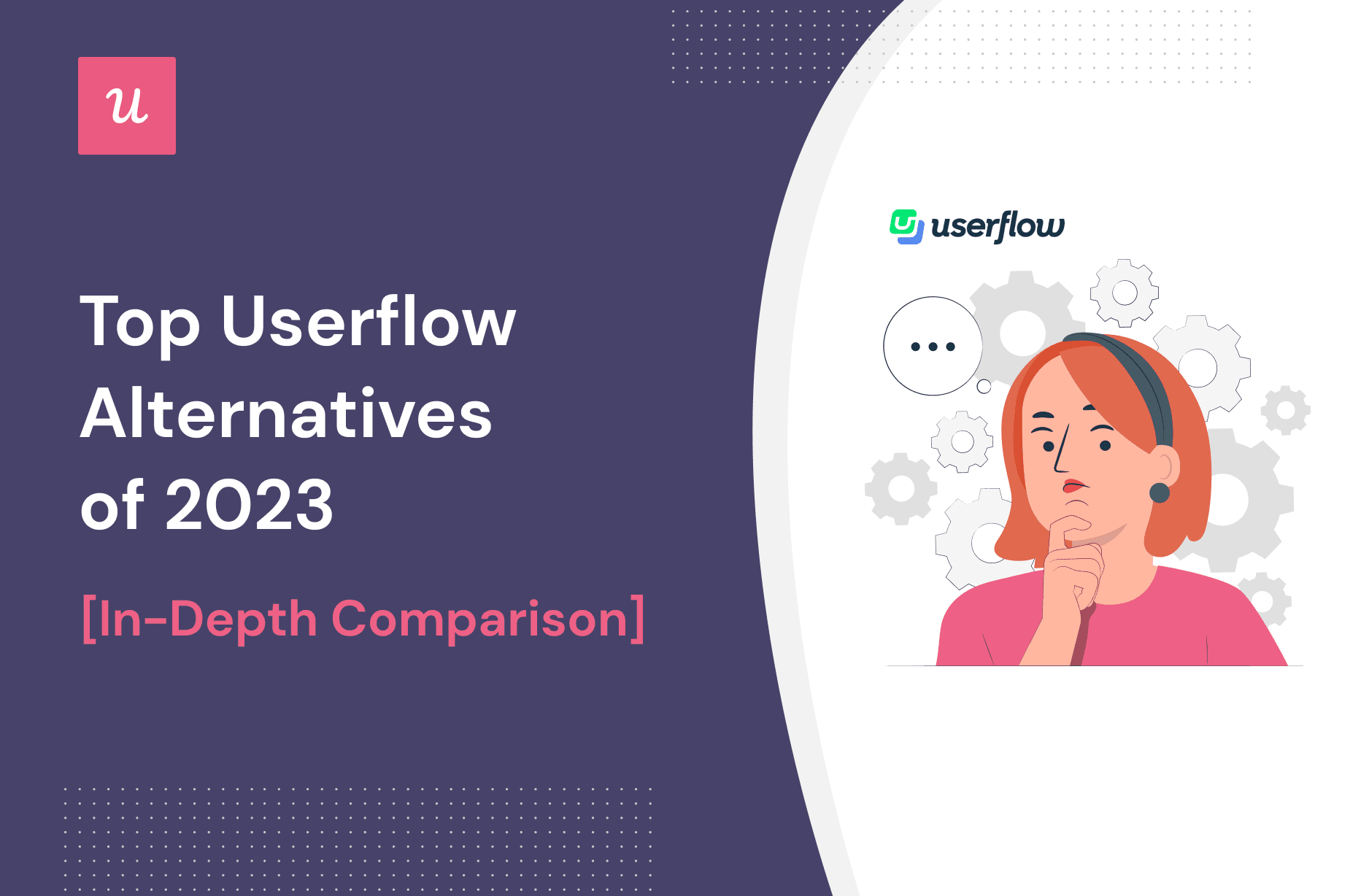 Which are the best Userflow alternatives in 2023?
If you're after the answer to this question, here's our in-depth comparison of 4 different user onboarding platforms:
Userpilot
Appcues
UserGuiding
Chameleon
Let's check out which of them offers the best features for your use case and the most competitive pricing plans!
TL;DR
Userflow: What is it and what features does it offer?
Userflow is a code-free digital adoption platform that enables product, marketing, and customer success managers to build onboarding flows and collect user feedback via in-app surveys. Its target customers are small and medium-sized SaaS companies.
What features does Userflow support? Here's a selection:
Contextually-triggered onboarding flows and UX patterns (hotspots, tooltips, modals)
In-app experience analytics
Surveys, including NPS surveys and analytics
Self-help resource center
No-code event tracking
User segmentation and environments for personalized in-app guidance deployment
Custom events and user attributes
Real-time data
Version history (saves various editions of your content)
Webhooks and integrations (Zapier, Mixpanel, Amplitude, Segment, HubSpot, and Salesforce)
Integrations are particularly relevant because Userflow lacks analytics functionality that would enable it to track and analyze user behavior.
Userflow pros and cons
This product has lots of strengths, including:
✅ High levels of customization without CSS
✅ Ease of implementation
✅ Ease of use and intuitive UI
✅ Reliable bug-free performance
✅ 'Fanatical' customer support
It's really difficult to find Userflow downsides but the key one is:
❌ Limited analytics so you need a 3rd party analytics tool for comprehensive user behavior tracking
What do users say about Userflow?
Userflow has an outstanding average rating of 4.8 according to G2 reviewers. Just like us, they struggle to pinpoint any major weaknesses of the product.
Things that they bring up include constraints of the pricing plans, including the pro plan, and limited survey customization:
What do you dislike about Userflow?– only 5 users on the pro plan- surveys could be more customizable
Userflow pricing
Userflow's pricing strategy is based on 3 plans. These are:
Startup
$200 a month (billed annually)
Up to 3,000 MAUs
Unlimited flows
Resource center
Basic integrations (no HubSpot or Salesforce)
1 checklist and 10 launchers/hotspots
3 team seats
Pro
$600 a month (billed annually)
Up to 10,000 MAUs
All Startup features
Unlimited content
Surveys/NPS
No-code event tracking
Localization
Advanced integrations
Company profiles/events
Enterprise
Custom pricing and MAU limits
Everything in the Pro plan
Custom Single Sign-On (SSO)
Custom contract
Security questionnaire
Concierge support
Before you commit to any of the plans, you can take advantage of a live demo and a 14-day free trial.
The best alternatives to Userflow
Given the positive user reviews, you may be wondering whether an alternative solution is needed at all.
The two main reasons why you may want to consider other tools are Userflow's analytics functionality (or rather lack there of) and the pricing structure with its limits.
Userflow alternative #1: Userpilot
Userpilot is a product growth platform. Its customers are mostly medium-sized companies. They use it to track product performance and user sentiment and drive adoption with onboarding experiences.
Here's a breakdown of Userpilot's functionality:
Userpilot pros and cons
Userpilot has a number of strengths:
✅ An easy-to-use Chrome Extension
✅ A range of product usage analytics features and more coming soon (funnels and paths)
✅ Built-in A/B testing for in-app experiences you build
✅ Majority of analytics and feedback features are available in the lowest Traction plan
Some of its cons include:
❌ Supports only web apps, not mobile apps
❌ Not affordable for really small startups
What do users say about Userpilot?
Userpilot has an average rating of 4.6 on G2. Reviewers praise it for its functionality, intuitive user interface, ease of implementation, and exemplary customer support.
That's what Cara, a Co-founder, and COO, has to say:
I've been using Userpilot for about 2 months now and the experience has been amazing. From the ease of implementation to the intuitive UI to the friendly, responsive support by the lovely Elise! I've looked at other adoption software and I'm glad we went with Userpilot. It has just the right amount of features for our B2G software to help our users and it's really easy to use. And the best part, it's affordable!
Userpilot pricing
Just like Userflow, Userpilot offers three different pricing plans.
Traction
$249/month if paid annually
2500 MAUs
Unlimited in-app experiences
Unlimited user surveys
NPS surveys and tools
Unlimited checklists
Resource center
A/B testing for in-app guidance
Goal tracking
API access, integrations, and webhooks
Localization of up to 5 languages
Growth
$499/month
2,500-10,000 MAUs
Everything in the Traction plan
Localization of up to 20 languages
Unlimited feature tags
Content throttling
Custom website domain hosting
Enterprise
$1000/month
Up to 10,000 MAUs
All Growth plan features
Unlimited localization
Custom roles and permissions
SAML SSO and activity logs
Priority support
Security audit and compliance (SOC 2 Type 2 and GDPR)
Overall, Userpilot is a tiny bit pricier than Userflow but it offers a whole host of analytics features that Userflow cannot match. If you want to see Userpilot in action you can start a free 14-day trial or book a demo.
Userflow alternative #2: Appcues
Appcues is another code-free user onboarding platform. It supports both web and mobile apps.
With Appcues, product and marketing teams can track product usage, launch customer satisfaction surveys, and design in-app onboarding experiences to improve customer experience.
Appcues features include:
User segmentation for personalized messaging and analytics
In-app onboarding flows based on tooltips, modals, slideouts, hotspots, and checklists
Flow analytics
Flow A/B testing
Launchpad for self-access in-app guidance
In-app surveys, including NPS tracking and analytics
Event and goal tracking
A range of integrations with analytics, CMS, and e-commerce tools
Appcues pros and cons
Appcues has a number of strengths:
✅ A wide range of customizable UX patterns for in-app messaging
✅ Integrations
✅ Ease of implementation and use
Its weaknesses include:
❌ No qualitative NPS analysis
❌ No real-time event data display (not possible to trigger flows contextually)
❌ Limited Essentials plan (10 events, 5 segments, 3 user licenses, no checklists)
What do users say about Appcues?
Appcues has an average rating of 4.7 on G2.
Users value intuitive UI which makes it easy to produce highly customized in-app onboarding experiences. They also rate highly how Appcues has been consistently improving the product and the responsiveness of the customer support team.
On the other hand, Appcues pricing is mentioned as one of its downsides.
What do you like best about Appcues?
The designer is unbelievably convenient and works smoothly (it's not that obvious for a WYSIWYG tool).
The location of widgets is always correct, while first releases have had some issues on that field.

What do you dislike about Appcues?

The price 😉 Also, the predefined widgets library could be a bit bigger.
It's an absolute minor, but Appcues could improve the visual presentation of flows conversions.
Appcues pricing
Appcues offers three different plans:
Essential
$249/month
3 user seats
10 track events (click-to-track)
Standard pattern library, including Pins
Unlimited insights
Integrations with analytics tools
Email support
Growth
$879/month
10 user seats
Unlimited track events (click-to-track)
Everything in Essentials
Advanced pattern library, including Checklists and Launchpad
Advanced targeting
Unlimited use of integrations
Access to customer success
Enterprise
Custom pricing
Unlimited user seats
Everything in Growth
Advanced security and SSO
Enterprise account administration, including roles and permissions
Localization support
Premium support and services
Access to activity logs for security auditing
Just like Userpilot, Appcues comes with a higher price tag than Userflow but outcompetes it in terms of analytics.
Userflow alternative #3: UserGuiding
UserGuiding is a code-free digital growth platform. It enables product teams to design and deliver user onboarding experiences to improve user experience, increase retention, and drive adoption.
It offers a range of features:
Customizable UX patterns (tooltips, modals, slideouts, and hotspots)
Personalized onboarding flows and interactive product tours
Onboarding checklists
Self-support resource center
User segmentation and user-specific analytics
Custom events
Integrations with popular analytics and collaboration tools
UserGuiding pros and cons
Userguiding is an appealing product for a number of reasons:
✅ Pricing that is affordable for small startups
✅ A wide range of UI patterns for in-app guidance
✅ Multiple integrations
However, its cons include:
❌ UI is not very intuitive
❌ Limited analytics
❌ Limited customization options for UI elements
❌ UserGuiding branding in the lowest plan
❌ Requires technical knowledge to fully realize its potential
What do users say about UserGuiding?
A quick look at G2 shows that UserGuiding has lots of fans. It has a rating of 4.7, which is pretty solid.
Reviewers are very satisfied with the value for money that they get. As for its downsides, they mention limited analytics and localization support.
What do you like best about UserGuiding?
UserGuiding is a fantastic alternative to more "big-budget" solutions; and the good news is: that it does the same. … I'm honestly still asking myself what it does less (than the 5 times higher-priced competitors)…

What do you dislike about UserGuiding?
The localisation (translation) is still not a standard feature … The Analytics does the job, but it is not as comprehensive as Google Analytics, but I've heard they are working on an extended version (based on completion of goals by users).
UserGuiding pricing
So what are UserGuiding plans and what's included? Here they are:
Basic Plan
$69/month billed annually
Up to 2500 MAUs
1 user license
20 active guides
20 active hotspots
2 onboarding checklists
1 active resource center
Engagement analytics for guide performance analysis
Segmentation and custom attributes
Custom events
Webhooks and integrations
Email and live chat support
Professional Plan
$299/month billed annually
Up to 20,000 MAUs
5 user licenses
Unlimited active guides
Unlimited active hotspots
Engagement analytics for guide performance analysis
Unlimited onboarding checklists
Unlimited resource center
No UserGuding branding
Localization
Material scheduling
Dedicated customer success manager
Segmentation and custom attributes
Corporate Plan
Custom pricing, starting from $499/month
Custom usage limits
Everything in the Professional Plan
Fully customizable including CSS
Personalized coaching
Userflow alternative #4: Chameleon
Chameleon is the final Userflow flow alternative. It's another product onboarding platform providing user analytics, user feedback, and in-app communication functionality.
Its functionality includes:
Personalized product tours (flows, walkthroughs, guides, and tutorials)
Advanced tooltips
Checklists
Surveys, including NPS
User segmentation and environments
Goal tracking
Experience analytics
Real-time data event triggering and scheduling of in-app guidance
Localization
Webhooks and integrations
Chameleon pros and cons
Chameleon has some serious strengths, especially when it comes to its in-app guidance and surveys:
✅ A wide range of onboarding UI patterns
✅ Highly customizable feedback functionality
✅ High customizable experiences
✅ Robust segmentation for personalizing experiences
What about the cons? These include:
❌ High-level customization requires CSS skills
❌ Only basic analytics
What do users say about Chameleon?
Chameleon has an overall rating of 4.4 on G2, so the lowest in our comparison of Userflow alternatives, but still pretty good.
It's highly rated for its intuitive UI and code-free functionality that doesn't require developer support to design onboarding experiences:
It's really easy to use. It's flexible and it helped us to test and iterate quickly on different ways to engage our users without any, or very little, development effort.
Chameleon pricing
Here's what each of the three Chameleon plans include:
Startup
$279 per month
2000 MAUs
Unlimited tours and tooltips
5 microsurveys
1 launcher (in-app self-support and onboarding)
Experience scheduling
Experience analytics
Environment display control (for targeted delivery and customization of experiences)
Dynamic personalization
Event triggering based on real-time data
Integrations and single-trigger webhooks
Help center and email support
Growth
$999/month
2000 MAUs
Unlimited microsurveys and launchers
Unlimited goals tracking
A/B testing for flows
All trigger webhooks
SAML 2.0 SSO (Google only)
Advanced Security (SOC 2 report)
Email and Zoom support (live rep)
Personalized expert sessions
Enterprise
Custom pricing and MAU limit
Everything in Growth
Unlimited environments
Unlimited frequency caps
All integrations
Localization
Team roles and permissions
One thing to bear in mind when comparing the pricing plans is the MAU limit. If you play around with the slider, you'll see that the Growth plan would cost $1749/month for 10,000 MAUs and $1999 for 15,000 MAUs. This makes it the most expensive tool in our review.
Conclusion
Userflow is a solid growth platform with well-developed in-app communication and survey features. However, it supports limited analytics functionality and that's its main drawback.
When comparing Userflow alternatives like Appcues, UserGuiding, and Chameleon, Userpilot is the best alternative. It may not be as competitively priced as UserGuiding, but its plans offer higher usage limits and better product analytics features.
If you want to see how Userpilot can boost your product growth, book the demo!