Your Customer Journey Analytics Guide To Getting Actionable Insights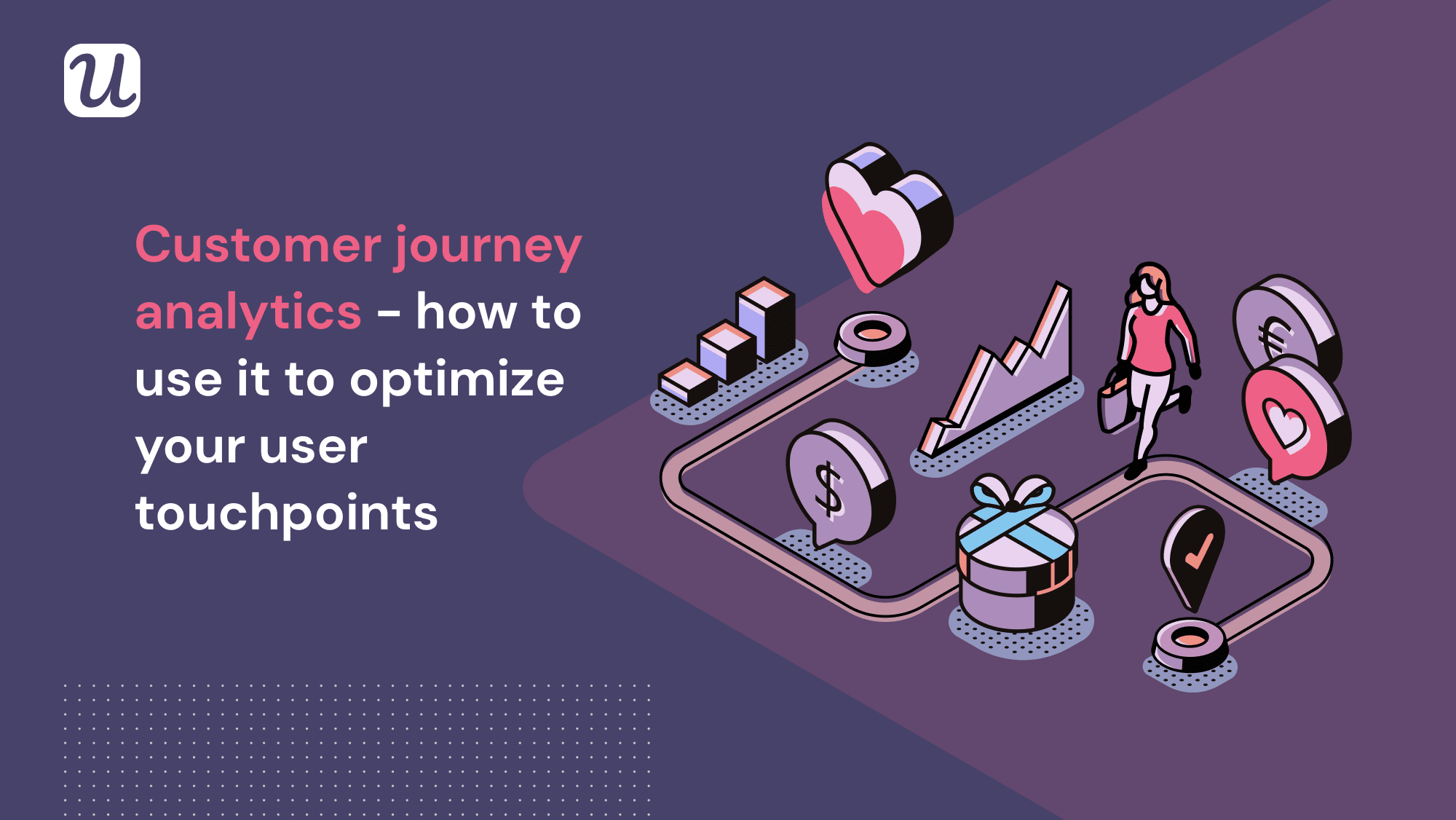 Customer journey analytics is your greatest resource in making sense of your user data. It can save you from not seeing the bigger picture or 'not seeing the forest for the trees'. But can you take action on those insights?
If all the data we collect to create better products and customer experiences were trees, each company could plant its own forest.
But the challenge isn't planting the trees. It's being able to look from above and see the customer journey that winds through them. Only then can you integrate, analyze, and sharing that data across the business. Finally, you want to be able to use those insights to optimize the touchpoints at every step of the customer's path.
One tool to achieve this is customer journey analytics software. The software delivers context and clarity to the complicated multichannel customer journey. It helps product and product marketing teams piece together and analyze the cross-channel data to improve their touchpoints.
But then what? How do you take action on those insights without taking time off your product roadmap?
In this post, we are going to show you why your SaaS needs customer journey analytics, how to do it right, what tools are available, and how to see through the trees to apply the insights from your customer journey analytics directly to your user touchpoints!
TL;DR?
Customer Journey Analytics weaves together every touchpoint that a customer interacts with, across multiple channels and over time.
The modern customer journey is a multi-channel, multi-stage event. Companies that are able to get a complete picture of their customer journeys can improve their customer experience report an increase in their revenue.
Once you map out your unique customer journey, you can decide on what stages and touchpoints you want to analyze. With your analysis, you can find out your customer engagement for a specific activation point, where they are coming from, and where they might be getting stuck.
Customer journey analytics software is a tool kit to give insights for hyper-focused, personalized and consumer-driven tactics.
Some choices for Customer Journey Analytics Software are Indicative, WebEngage, and Woopra.
Customer Journey Mapping is the precursor for Customer Journey Analytics
Kommunicate reduced churn by using customer journey analytics to identify the engagement problems with their activation points. They made a hypothesis and tested their analysis by creating onboarding experiences with Userpilot. They discovered and tracked what had the most significant effect on increasing conversion.
What Is Customer Journey Analytics? Definition of Customer Journey Analytics
Have you ever wondered how exactly your customers were interacting with your product?
Well, I am sure everyone would like to know-most have an idea-but normally, there is too much data coming from numerous sources.
This makes it hard for product managers to stitch together a clear picture of their customer journey and how their customers move across the different channels and touchpoints.
McKinsey has found that 56% of customer interactions happen during a multi-channel, multi-event journey.
38 percent of customer journeys include more than one channel interaction.
33% of companies are not able to adequately track customer journeys.
Customer Journey Analytics fixes this by weaving together every touchpoint that a customer interacts with, across multiple channels and over time.
Source: Growthhacker.com
Companies apply the analytics when they need insight into the inner workings of their customers' journeys.
The analytics help measure product strategies' effectiveness in improving touchpoints and can attribute what actually works.
Sounds simple right?
Let's take a look at the other benefits of customer journey analytics.
The Benefits of Using Customer Journey Analytics Tools
Customer experience (CX) is one of the main battlegrounds across industries where market share is lost and won.
Why?
Forbes reports 84% of companies that work to improve their customer experience report an increase in their revenue.
However, improving customer experience isn't as simple as turning a switch. It takes a comprehensive approach, from monitoring your customer journey to optimizing your touchpoints.
You might be thinking, "well what about customer feedback?"
Customer feedback, unfortunately, doesn't provide enough information to know why the majority of customers churn.
Meanwhile, Customer Journey Analytics gives you an all-encompassing view of how your customers interact with your brand from the moment they hear about you until they finally say: "take my money".
With this perspective, you are ready to take on crucial metrics that impact your annual revenue like Lifetime Value (LTV), Customer Retention, and churn.
Mckinsey also found that by implementing Customer Journey Analytics, companies reported:
Source: Mckinsey.com
So now that we have seen the various benefits of Customer Journey Analytics, we aren't out of the woods yet. You need know how to implement your analytics in a meaningful way.
How to Run a Customer Journey Analysis?
Step 1: Create Your Customer Journey Map!
Like all great things, you have to start from scratch. Before you start analyzing, you need to understand your customer journey and list all of your touchpoints for each stage.
This means rolling up your sleeves and getting out a pen and paper, and drawing your customer journey map. (Or look online if you aren't an artist).
For us at Userpilot-and for many in the SaaS industry-our the customer journey map looks something like this:
Source: Userpilot.com -See where your users might be getting stuck in your customer journey with a free product adoption consultation.
Or: Join our free email course!
It includes the same stages and touchpoints as any customer journey (with a little spice).
Acquisition (Aha! moment)-Click on advertisement campaigns, submit forms to access gated content, receive email nurturing campaigns, view demos, etc.
Activation (Activation)- Create an account, set up an account and profile, complete in-app onboarding guides, respond to an NPS survey, etc.
Adoption (Paid)-Invite teammates, use secondary features, increase in-app time, etc.
Retention (Pro)*-Referrals, leave a review on G2, etc.
Account Expansion (Advocate)*-Upgrade to higher tiers, renew the contract.
*For subscription businesses (Think Slack or Dropbox), retaining customers is just as important, if not more, as acquisition. This then leads to up-sell opportunities, referrals, and eventually account expansion.
Key considerations for customer journey mapping:
Your map will only focus on a specific persona segment that is using your product to accomplish a goal. Create a short bio focusing on what brought them initially to your company. Include their expectations.
Along with the journey, pinpoint what the persona sees, hears, and feels with each stage. Include what they may be thinking and how the experience affects their expectations.
Invite your department experts to include their insights for each stage. For example: customer testimonials from the sales and customer success teams.
Step 2- Try Different Approaches to Analyze your Map
Once you map out your unique customer journey, you can decide on what stages and touchpoints you want to analyze.
With your analysis, you can find out your customer engagement for a specific activation point, where they are coming from, where they might be getting stuck, etc.
Source: Adobe XD
A. Start by evaluating if there are any unnecessary touch-points or interactions
Take a good look at the map to see if there are any parts of their journey that are slowing the whole process down.
Eliminating any touch-point or interaction that doesn't streamline the customer experience or reduces efficiency.
Let's say you have an activation point where the user has to download your add-on for their chrome browser. If they have to go through multiple pages to download it or find it in the app store, it is adding an extra step that isn't necessary.
B. Find out your friction points and friction channels
As you look at your whole journey you will see parts of it that dip (or in our case where the conversion rates are the lowest). This where your customer experiences the most pain or friction.
Compare your lowest points among the journey and see what may be the cause of friction. Decide which deserve the greatest priority.
Ask if friction is coming from switching through different channels. Does the customer get directed to the correct page when they click on an offer advertised in the newsletter?
A common example is a sign-up flow that requires the user to fill-out 7 different fields and get an email confirmation. No one has got time for that.
C. Look at the time spent at each stage of the journey
Measure how much time the customer spends in each stage. High amounts of time in a stage means that a customer is investing a lot of effort to get through it.
The more time that a customer spends in a stage the more likely they are to churn
For example, a new customer could spend a month in the acquisition phase only using one feature. That is way too long considering if your product is complex and has multiple secondary features relevant to their use case.
D. Search for the "Aha! Moment"
There will be some moments in the journey where your customer finally "gets it."
They are so important that if a customer doesn't reach it, they won't understand the value in your product and politely go somewhere else.
A customer could have a horrible time exporting the data from their email marketing software into their CRM. This would be the low-point in their journey and most likely where they give up. However, once they realize there is a native integration to their CRM or even better, a CRM component in the marketing software, they are back on their customer journey.
E. Identify where expectations are met, exceeded and failed.
With your customer expectations already detailed, it is important to see where your journey either exceeds or falls short of their mental model.
There will always be parts of the experience that they loved or hated based on what they believe the experience should be.
Most SaaS customers expect next-level customer support any-time they run into an issue with a product. How your company responds, is either helping or hindering their journey.
Step 3 – Take action to fix what you discover from your data analysis
Source: Signal.co
The most efficient way to analyze user journey data -unless you want to spend sleepless nights staring at your journey map-is by purchasing software that automates much of the process.
Customer journey analytics software is essentially a tool kit to replace manual data analysis with more efficient and accurate quantitative methods. The software integrates with your marketing, sales, customer service, and product team's databases to add and reveal patterns in the customer data they have collected.
With these insights, the trends in customer behavior become more apparent and companies can get to work on:
Fixing a flawed customer experience-Some customer journey analytics platforms use machine learning and artificial intelligence to identify the root cause of CX issues.
Increasing operational efficiency- Make it easier for customers to switch between channels and save costs. Companies find opportunities to streamline inefficient journeys to reduce customer effort in making a purchase while decreasing their cost to serve.
Improving retention and decreasing customer churn-Uncover not only the journeys that result in the highest volume or frequency of churn but the behavioral indicators that signal churn.
Discovering new opportunities to increase revenue-Figure out when to deliver up-sell and cross-sell offers to the customers who are most likely to convert, maximizing lifetime value and revenue.
This next section will cover the features that will help you decide and compare some of the best options on the market out there.
The Best Customer Journey Analytics Tools
Before going out and breaking the bank on software with more capabilities than you need – figure out what exactly is your use case for customer journey analysis.
Here are the feature questions you need to ask when choosing the right software solution:
Are you looking for a small business, mid-market, or enterprise solution?
Is your primary goal only to track and analyze customer behavior across your various channels?
Do you want Artificial Intelligence/Machine learning capabilities?
How important is the software's ability to integrate with your current tech stack?
Do you need to visualize your past, present, or future customer journeys from your behavioral data?
Is the ability to predict or forecast customer behavior a deal-breaker?
Are you also looking to test and optimize your customer messaging and campaigns?
Once you create your product wishlist and then bring it back to reality based on your organization's size and budget, you can start checking out the options available.
Here are a few of the best customer journey analytics software products out there:
Source: G2.com
Indicative
Indicative helps you visualize your customer journey as they interact with your product.
Source: Indicative.com
They are a mid-market solution with dashboards that make it easy to track and analyze customer behavior in real-time regardless of the channel. The once criticism is that they lack machine learning capabilities and the dashboards can be a bit complex to set up.
Source: Indicative.com
Indicative redeems itself as a product that can pair automatically with your data collection platforms from Google analytics to Segment. They are also advertised as the only customer journey analytics platform that can integrate with your data warehouse.
The program can view past and present customer journeys but lacks a predictive feature. You will also have to use anther product to test customer messaging. They have a freemium version where customers receive: 3 user seats, the ability to view 50M events/month, and an import of 6 months of data history.
WebEngage
WebEngage is a customer data platform for mid-market or enterprise that comes equipped with a relatively powerful marketing automation suite. You can design and build some pretty detailed user/customer journeys and use the insights to launch timely data-backed campaigns across your multiple channels (From web, SMS, to social).
Source: WebEngage.com
The product is also useful for analyzing that customer engagement across your multiple channels with distinct dashboards and graphs for each. The product lacks a machine learning component but has personalization and segmentation features that can be drilled down to the individual customer.
WebEngage doesn't have the same integration capabilities as Indicative to your data suite, and pairs better with your marketing software.
The one drawback is the high price point and the lack of a free version.
Woopra
Woopra is a Customer Journey Analytics solution specifically catered to the small business market. They include a personalization feature with people profiles that reveal a full behavioral history for each user, from their first touch to conversion and beyond.
Source: Woopra.com
Woopra has their own patented tracking technology that uses machine learning to follow customer activity across your website, product, and mobile applications. You can visualize past, present, and future journeys. The platform offers 51+ one-click integrations which is similar to Indicative and more than WebEngage. You can also build and receive non-linear customer journeys and trends, and retention reports like in WebEngage.
Source: Woopra.com
Teams can deliver personalized experiences through page content or chat messages to take some action based on the analytics you gather. Since the product is still relatively new, there are some reports of bugs and poor loading times.
Currently, you can find a freemium version with 50 seats, up to 500,000 actions/month, and 40+ integrations.
Now that we have seen what is out there on the market, let's see how companies use this analytics software in action and how you can use that data to improve your touchpoints.
Customer Journey Analytics Software in Action
Kommunicate.io helps companies combine chatbots with human customer support to deliver perfect customer service 24/7.
Source: Kommunicate.io
Like any medium sized-company, they had spent some time in the market, picked up some customers, and had mapped out their customer journey.
Of course, they were always looking to optimize their customer experience, so they used their customer journey analytics software to see if there were any holes that were causing churn.
What they found surprised them.
Get insights into how your users are interacting with your key activation points along their customer journeys. Create experiences to help them see the value immediately in your product. Schedule a free consultation today!
60-70% of users were engaging with only 3-4 major aspects of the product. These users also didn't stick around very long in the app and never made it to the adoption phase.
When they compared that data with their paying and most active customers, they saw 5-7 features these users were using.
Through the analytics, they were able to see:
Which steps their MOST satisfied customers take within their journey
Which steps their LEAST satisfied customers take within their journey
Now that they discovered the problem, they had to figure out and test which touchpoint/activation point needed to be optimized so more users became paying customers and stopped churning.
We hope you are on the edge of your seat because this is where the story gets exciting. But first, let's see why analytics software is only the beginning to optimizing touchpoints and reducing churn.
How to Use Customer Journey Data to Optimize Your User Journey Touchpoints?
Customer journey analytics software is handy for discovering problems in your customer journey, but it doesn't give you the tools to fix the issues or test solutions.
Sure, you can launch different messaging, but you can't actually see if changes in your product experience will set things right without diverting time from your product roadmap or pestering your engineers for a new UI element. (Which we know all developers love).
You need to combine your customer journey analytics with a product adoption tool for quick optimization of your user journey touchpoints.
Source: Userpilot-get started with a free trial and discover the many ways you can optimize your customer journeys.
So, back to Kommunicate. They identified the problems in their customer journey, developed a hypothesis for why it was happening, and were ready to test how to fix it.
1) Users weren't getting enough value because many missed their initial 'aha moment' – the chatbot integration button. They would boost the chatbot integration by drawing the new user's attention to a single activation point – the integration button.
2) Users weren't converting into customers because they weren't aware of the other features. Adding tooltips and driven actions in the product could get more users to adopt certain key features that correlate with a conversion.
Testing What Works at Scale
So to test their first hypothesis, Kommunicate focused attention on the integration button through a simple notification bar with just two buttons:
Source: Kommunicate.io
Here is what their product manager had to say after they concluded their testing:
"When we first launched our onboarding experiments in Userpilot – the percentage of signup-to-chatbot-integration was lingering on 40-45%; after about 7 months, it's at 55-60% now. That can be attributed to both Userpilot and our customer support team's contribution. An increase of over 15 percentage points is very substantial for us since chatbot integration is a highly scored metric as a strong conversion cue."
Next, they tested several different product onboarding experiences to increase feature adoption and convert more activated users into paying customers.
First, they tried out a checklist that showed the missing activation points or features that the user needed to complete.
We have written a ton on the benefits of checklists and why they play into your user's psychology but to illustrate their effectiveness: the adoption rate at Kommunicate improved by 4% after introducing the checklist.
The final test they conducted was using a tooltip walkthrough for chat widget customization – one of the main features their paying customers were using.
Since the introduction of the tooltip walkthrough experience from Userpilot, 86% of people have completed the chat widget customization goal. This translated into a 3% increase in the feature's usage.
Try building your own interactive walkthrough in minutes and achieve the same results. Schedule a quick call today!
What Can We Learn From This?
Long story short, Kommunicate was able to increase feature adoption, which led to more paying customers, higher revenue, and less churn.
All because they:
Identified holes in their user journey with their customer journey analytics software.
Developed a hypothesis based on the data, took action, and tested it with their product adoption tool
Tracked the success of their efforts in both tools.
Source: Userpilot: Build product experiences like these to increase feature adoption and push more users along your customer journey. Speak to a product specialist today!
Using Customer Journey Analytics Tools To Take Real Action
Using these new found insights gives you the birds-eye view of the many different paths your customers can take before adoption, retention, and account expansion.
Product and marketing teams can use these insights to answer their complex customer engagement questions.
However, they can only think about how to optimize their touchpoints and improve customer experience.
To take real action, test hypotheses, and track success, you need a product adoption tool that can create experiences that guide customers along their journey and make each touchpoint more engaging.
Common Questions About Customer Journey Analytics
Customer Journey Analytics weaves together every touchpoint that a customer interacts with, across multiple channels and over time.
Customer Journey Analytics gives you the data to make informed decisions on improving your customer experience.
You need to first create your customer journey map and then analyze each stage and its touchpoints. You can then discover opportunities to improve your customer experience.
Customer journey analytics software is a tool kit to give insights for hyper-focused, personalized and consumer-driven tactics. Companies use it to fix flawed customer experiences, increase operational efficiency, improve retention, decrease customer churn, and discover new opportunities to increase revenues.
Some choices for Customer Journey Analytics Software are Indicative, WebEngage, and Woopra.
A customer journey map is a series of steps that the customer takes beginning with the first interaction with the brand. Customer journey analytics are the reports or dashboards created from gathering the data across your customer journey map.
Identify and define the activation event/touchpoint you want to optimize.
Analyze how it affects the data that you get from customer journey analytics.
Make a hypothesis, test the analysis by taking action, discover what has the greatest effect on increasing conversion.
Track how many people's behavior changes.