5 Customer Engagement Solutions For SaaS You Can Implement Right Away And Drive Growth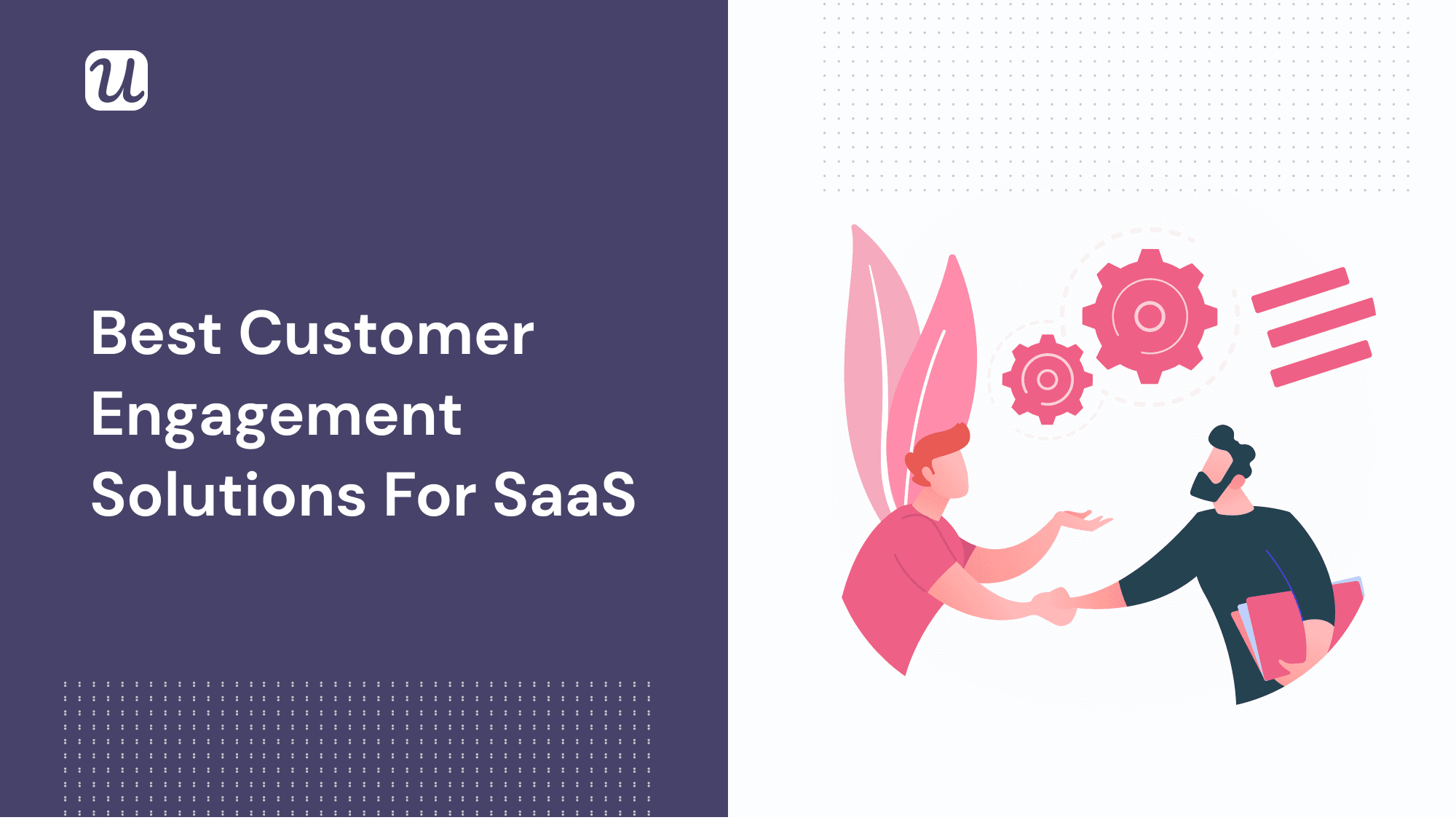 Are you looking for customer engagement solutions that can give you an upper hand in creating stronger customer relationships?
It can be quite confusing if you don't know what tactics will improve customer engagement in your product. Furthermore, you won't know the answer until you start to test and track customer behavior to see what works.
Personalized customer engagement leads to a domino effect on product metrics like:
Let's look at 5 customer engagement solutions you can set up today and drive growth right off the bat.
TL;DR
What is a customer engagement solution?
A customer engagement solution helps you to build personalized interactions across each touchpoint in the customer journey. This is based on customer data and product usage data such as in-app behavior, user needs, and job-to-be-done.
From the initial trial signup, users go through different stages in the customer lifecycle. As they progress, they interact with your product and brand across different digital channels.
By engaging with your customer across multiple communication channels (in-app experiences, live chat, self-service support, etc) your goal is to create a seamless experience that leads towards increased user satisfaction and ultimately, customer retention.
This puts the customer on a path to become a product advocate who recommends your product to others.
There are multiple channels where you need to focus on improving the customer experience but in this article, we will focus on solutions to engage customers mostly in-app using a customer engagement platform.
#1 Customer engagement solutions: build custom onboarding experiences
One of the best in-app engagement solutions for SaaS is setting up customized onboarding experiences to personalize onboarding and increase engagement.
More complex SaaS platforms usually have more than one use case.
Creating generic onboarding flows to guide all your customers is not very helpful in such instances. Therefore, it becomes important to customize onboarding experiences for different sets of users and customer journeys.
Segmentation helps you to group customers by their different use cases, persona, stages in the user journey, specific needs, and goals.
A popular strategy for segmenting new users involves carrying out a micro-survey on the welcome screen after a user signs up.
This helps you to group your customers based on who they are and what they want to achieve. Once you have this information, you can customize their onboarding to customers on relevant paths inside the product.
For instance, Postfity, a social media scheduling tool, uses welcome screens to segment its users based on their roles and what they want to do.
#2 Customer engagement solutions: use gamification and improve customer experience
Video games are engaging hence very addictive. Luckily, some of the strategies used to make video games engaging can be applied in SaaS and make the customer experience more engaging and fun for the user.
Gamification in SaaS means introducing fun elements across the customer journey touchpoints to encourage the customer to complete different tasks and experience the value your product offers.
Gamification usually includes rewards such as levels, badges, or points that incentivize the customer to engage with your product.
If you are wondering how you can adopt gamification as one of your customer engagement solutions, don't fret. Here are some gamification strategies that you can use:
Gamify your welcome screen
For example, allow users to select an avatar based on different use cases, and select a mission based on their job-to-be-done.
Gamify your onboarding checklists
For example, add progress bars that show the progress of task completion. Here's how Linkedin prompts users to complete their profiles.
Celebrate the completion of a task
Asana is the best example here.
When customers complete a task this unicorn below flies off to cheer you. It implies that you are literally doing so well that you are "flying" off. This motivates you to finish even more tasks.
Duolingo, an app that helps users learn new languages, tracks the number of new words you have learned, the time spent on the app, and the lessons completed.
The results above only motivate you to do more in the app the following week.
Use gamification to make your users smile, complete their goals faster, and increase brand loyalty and engagement as a result.
#3 Customer engagement solutions: facilitate customer self-service with in-app guides
In-app guides help your team to highlight new features, drive the desired behavior, and provide contextual support to your users. This makes in-app guidance a critical solution to drive engagement and improve customer experience.
In-app guidance can include:
Moving your knowledge base from your website into your app
Building a help center in your app for better customer support
Creative personalized interactive walkthroughs to guide users where they need help.
For example, Miro's guides create a fast engagement solution for users to find everything they need at the click of a button within the app, as shown below:
In-app resource centers – like Miro's above – should include everything that is relevant to the users. It's even better if you use segmentation to show relevant resources to users based on their use cases and stages in their journey.
Some things to add to your in-app resource center include:
Links to articles, videos, and tutorials: help users quickly find the solutions they need from blog posts, videos, and tutorials.
Enable in-app ticket opening: help users quickly find your customer support team right when they need help at whatever point in the app.
Announcement of new features: help your customers discover new features to address their changing needs or improve their product experience.
Trigger in-app experiences: add checklists and interactive walkthroughs to guide users to complete tasks while they are actually doing them.
Postfity uses its resource center as one of its customer engagement solutions to drive engagement. The best part, they have built it code-free inside Userpilot:
#4 Customer engagement solutions: use customer segmentation for contextual communication
Whatever message you send your users needs to be contextual. It needs to be sent at the right time when they need it for it to be helpful to their experience at that particular time.
When engaging with customers, it can be tempting to send all customers the same generic message. However, messages can quickly become be irrelevant and unhelpful for customers who are not experiencing whatever you are addressing.
How do you ensure that your messages are always relevant to your customers? By making sure your communication fits in the customer's context through segmentation.
The following UI elements can help you create contextual in-app messaging and detailed targeting will help you reach the right audience with the right message and drive engagement.
Let's take a look at the most common UI patterns used for in-app user engagement.
Modals
An example of a modal is a welcome screen that allows you to ask your users a few questions to understand what they need from your tool.
Checklists
A list of tasks that a user can complete in order to achieve a milestone in their journey.
Tooltips
This helps you highlight the benefits of particular features in your UI that might not be so obvious to a user who has not encountered them before.
Micro survey
This helps you collect user sentiment and other user persona relevant data and act on it to improve your product and customer experience.
Userpilot, a customer engagement software tool puts all the elements above at your fingertips without writing any code or calling on your engineering team to implement them.
The best practices below will help you further in your efforts to contextualize in-app communication.
Best practices to get contextual communication right:
Keep your messages short and to the point – when it comes to in-app customer engagement, short and clear messages work best. Don't write an essay.
Personalize your messaging – collect information about your user when they sign up, on the welcome screen, or during new user onboarding. Use this information to personalize in-app communication based on persona, use case, needs, feature usage, etc.
Use segmentation for contextual communication – only display or send messages to users who need it when they need it. Segment users based on different criteria and stages in the user journey. Communicate to them only relevant messaging that applies to them at their stage of the user journey.
Set goals for your product experiences – this ensures that every in-app messaging you do has clear goals. It also explains to users why they should do what you want them to do.
#5 Customer engagement solutions: collect customer feedback and close the loop
Customer satisfaction surveys are a great feedback collection tool for measuring customer loyalty and understanding customer expectations of your product.
You can use a customer engagement platform for feedback collection and customer interactions. In-app feedback collection works best when using user feedback surveys such as NPS, churn surveys, feature feedback surveys, etc.
Feedback is used to better understand your customers. Use those insights and improve the customer experience by closing the loop and acting on the customer data you just collected.
How? Automate workflows on various channels and start conversations with your customers, making sure they feel listened to.
Here are some examples of engaging with customers and closing the feedback loop.
Segmentation is key here as you want to make sure you send the right message to the right customers.
After receiving a very high Net Promoter Score, Profitwell uses email marketing to respond to promoters and thank them for their score. They use this opportunity to ask for more in-depth feedback, knowing these types of customers are more likely to be willing to offer it.
But email marketing is not the only way. You can use in-app messaging and achieve the same. What's great about this is that the customers will see this immediately after submitting their feedback which makes your message more contextual and relevant for the customers.
Your customer satisfaction surveys are also looking for users who are disgruntled, unhappy, and facing problems.
It's easy to collect feedback and respond to happy customers, but how can make sure you use the insights and improve the customer experience for the rest of your customers?
That's why customer engagement software exists. A tool like Userpilot, for example, will allow you to analyze qualitative feedback receive in your NPS surveys in detail and categorize relevant information on what's causing friction for your customers under different themes. This will uncover the main issues you need to address and which customers need to be engaged.
Here's what tagging NPS survey responses looks like in Userpilot.
For example, in the image above, 5 responses were from unhappy customers reporting a missing feature.
If you already have that feature in your product roadmap, let those users know. Either through in-app messages or email marketing, keeping users in the loop is easier when you can identify common issues and the customers who are experiencing them.
The reason feedback loops work great as customer engagement solutions is because it keeps you in constant communication with your customers, making it easier for you to act on feedback and improve the customer experience before users churn.
Tools to implement customer engagement solutions
To implement the above customer engagement solutions you will need to either custom code in-app experiences or use customer engagement software.
#1. Userpilot customer engagement software
I have to start with Userpilot as it's a great customer engagement software built for creating in-app engagement with no coding. You can build interactive product experiences to engage customers and drive customer loyalty up.
Userpilot plugs into your app as an extra layer on top of your UI helping you deploy experiences with ease and incredible agility.
Here are some of the in-app engagement experiences you can create for a better customer experience.
Customize onboarding experiences
Segment users and build customized onboarding flows depending on personas, stage in the user journey, goals, and use cases. This helps you to personalize customer experiences leading to increased engagement and product adoption.
Gamification
Add some fun to your app by deploying gamified checklists or modals to motivate users to finish product experiences and celebrate customer success.
In-app guidance
Build in-app guides and bring your knowledge base in-app. Add all the resources your customers need in one place and facilitate self-service.
Customize communication to fit your brand
Create and deploy modals, checklists, tooltips, and micro surveys and start communicating contextually with your customers, while making sure you stay on brand.
Feedback loops
Build contextual micro surveys to collect feedback and NPS scores so that you can act on the feedback quickly to increase engagement.
Built-in analytics
Track goal completions and feature usage and run experiments to identify the in-app customer engagement solutions that drive the best results.
#2. Pendo customer engagement software
Pendo is an enterprise-focused customer engagement tool that provides two main solutions: product experience and digital adoption.
Compared to Userpilot and other competitors, Pendo offers support for mobile experiences too. So if you looking for customer engagement software for mobile apps, Pendo is the way to go.
Here are some pros of using Pendo:
in-depth analytics so you can track customer journeys analytics through your product
ability to segment customers in a variety of ways
they cater to large SaaS businesses so you can rest assure their customer engagement software is robust
Be aware of the cons:
limited onboarding elements, which means you can't always create the best experience for your users
basic styling options
expensive for smaller businesses as they are focused on enterprise needs
#3. Appcues customer engagement software
Like Userpilot, Appcues helps you to make product adoption easier.
Appcues has one of the most popular products out there for user onboarding and product adoption. It's simple to use and pre-loads a lot of information for you. But if you want to build more sophisticated flows, Appcues missed a lot of critical features that you can find in some Appcues alternatives.
Read our in-depth and honest comparison between Userpilot vs Appcues to better understand the differences.
There are pros to using Appcues:
really good UX and UI
a robust adoption platform with multiple UI elements
great education resources are available
And the cons:
not all UI elements, like checklists, for example, are available in the lower pricing plans
you can't build in-app resource centers like with most adoption platforms
doesn't support branched user experiences
Conclusion
Customer engagement solutions should help drive engagement in your SaaS, leading to more customers achieving success and unlocking value repeatedly in your app. As a result, retention increases.
I hope the engagement solutions we have discussed with the illustrations and examples will encourage you to implement them within your SaaS.
Want to get started with customer engagement solutions? Get a Userpilot Demo and see how you can set up your first engagement experience to drive user engagement in your SaaS.