Pendo vs Mixpanel: Which Product Analytics Tool Should You Choose?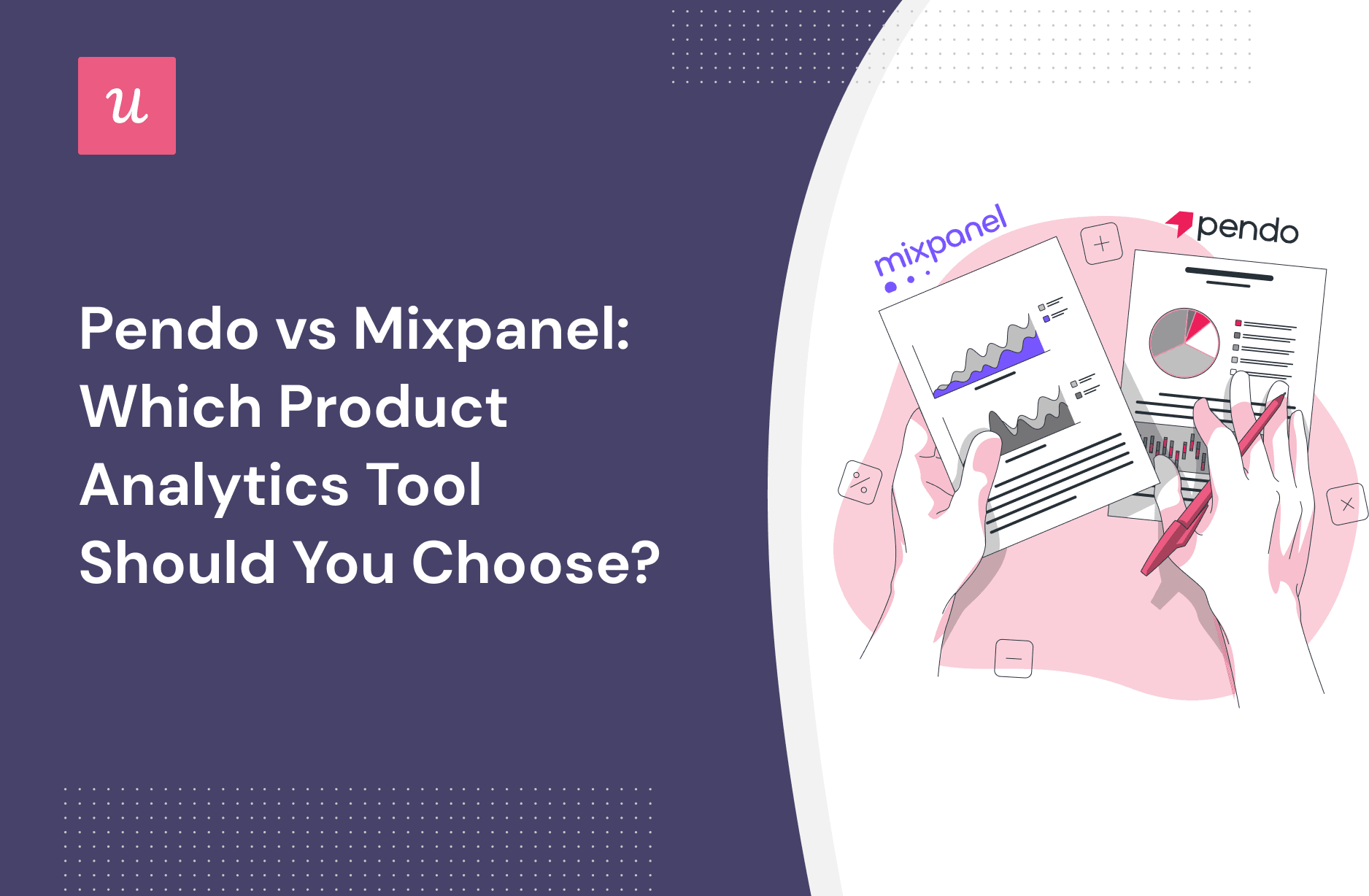 Pendo vs Mixpanel? Which of the two is better for your SaaS product team?
If you're after the answer to this question, we've got you covered!
Let's dive into our comparison of the two analytics tools, their key features, strengths and weaknesses, along with their pricing plans.
TL;DR
What is the difference between Pendo and Mixpanel?
The key difference between Pendo and Mixpanel is its purpose.
Mixpanel is a dedicated analytics tool, so that's all it does. Pendo, on the other hand, is a product adoption platform.
This means that apart from analytics, it also allows you to gather feedback and drive product engagement and adoption with in-app experiences. Mixpanel can't help you with any of that, so you need other tools in your stack.
Must-have features to look for in a product analytics solution
When looking for a product analytics tool for your SaaS, there are a few features to pay particular attention to:
Event and goal tracking.
User journey tracking.
User segmentation based on product usage and survey responses, instead of just demographics.
Data processing in real-time so that you can trigger messages in response to current events.
Integrations with other analytics and adoption tools, and webhooks.
Pendo for product analytics
Pendo is one of the key players when it comes to product adoption tools. It's renowned for its state-of-the-art analytics. It allows you to design user onboarding experiences to drive customer success in both web and mobile apps.
While it's been trying to lure early-stage companies with its lower plans, Pendo is really a tool for Enterprise clients.
The analytics features it offers include:
Event tracking
Paths
Reports
NPS tracking and analytics
Product Engagement Score (PES) analytics
The three features we will be having a closer look at are:
Pendo segmentation
With Pendo segmentation you can group your users by a number of criteria:
Product usage and user behavior data, like tagged feature clicks or guide views.
Visitor and account data, for example, systems data or demographics data.
Mobile-specific data, e.g., the OS version.
What are the benefits of detailed user segmentation?
You can use it for targeting different user cohorts with Pendo Guides.
For example, you could trigger them to drive engagement with a feature that a particular segment would find valuable considering their use case. Or to target them with a survey about their experience.
Pendo funnel analysis
A user funnel is a succession of steps that a user takes inside the product to achieve a goal.
User funnel analysis is a great feature for identifying friction points in the user journey and making the user experience more intuitive so that your users can achieve their objectives more quickly and easily.
You can customize Pendo funnels by:
Funnel steps
Data range
Segments
Time out period
A Pendo funnel looks like this:
The dark bars represent users who advanced to the next step, while the pale ones are those who dropped off. Clicking on each of them gives you a detailed breakdown of who the users are so that you can reach out to them, for example, with a survey or interview invite.
Pendo retention analysis
Retention analysis gives you insights into which customers stay with your product and use it regularly over a period of time. Based on that, you can determine how valuable your product is and forecast future growth and revenue.
Pendo presents the retention data in an interactive chart. You can filter it by:
Activity type
Apps
Segment
Date range
Just like in the funnel charts, you can click on each of the bars for more detailed insights into the retained and dropped users.
Thanks to that, you can:
Target each of them with a Pendo Guide, for example, to help them discover more advanced features.
Reach out to the dropped users with emails to try to win them back.
Launch surveys to collect feedback about customer experience.
Pros and cons of using Pendo for product analytics
Pendo has managed to nail quite a few aspects of its functionality:
✅ Works on both mobile and web apps.
✅ In-depth analytics, including retroactive data collection.
✅ Easy to set up and use.
✅ Product Engagement Score (PES).
✅ User feedback and NPS tools.
✅ Engagement layer that allows you to act on the feedback and data.
However, there are still some areas for improvement:
❌ User behavior data is displayed with a 1-hour delay, so no way to trigger contextual in-app guidance in response to real-time user actions.
❌ The pricing structure is not very transparent.
❌ Reportedly, the higher plans are not affordable for bootstrapped SaaS startups.
Pendo pricing
Pendo offers 4 pricing plans along with a 14-day free trial and demo.
Starter: $7,000/year
Growth
Portfolio
The more advanced features like NPS tools or PES are available only in the paid plans, which work out to be quite pricey compared to alternatives.
Mixpanel for product analytics
Mixpanel is a powerful self-serve product analytics platform that enables companies to track and increase user engagement. It supports both mobile and web apps and it's an analytics tool of choice for product teams across the globe, regardless of the company size.
Given that it's an analytics tool, Mixpanel offers a whole host of features:
Flows
Impact analysis
Query-time data modeling, including custom events
Custom dashboards
Life events
User segmentation
Funnel analysis
Retention analysis
For consistency, we're looking closely at segmentation, funnels, and retention analysis, just like we did with Pendo.
Mixpanel segmentation
Mixpanel Analytics offers potent user segmentation functionality.
You can create an unlimited number of segments based on user attributes, properties, or cohorts.
For a more granular view, you can break down the analysis by event or user property and add further breakdowns. This means you can easily analyze how people engage with your product in more detail. This feature isn't available in Pendo.
Mixpanel funnel reports
Mixpanel's funnel reports are very similar to Pendo's.
In the chart, each step is represented as a bar annotated with the conversion rate. Clicking on the bar gives you more details. However, in addition to the default chart, you can also visualize the funnel as:
Funnel Trend
Time to Convert
Frequency
Apart from filtering the data using a range of criteria, like the platform, Mixpanel allows you to customize your funnels with breakdowns. This means you can compare conversions across different products that share a similar funnel or of various user segments.
For example, you could compare how users from different sources progress down the funnel.
Mixpanel retention reports
The breakdown customization option is also available in the retention reports. In this way, you can compare the user engagement with different features, on different app versions, or based on whether they completed an event or not. In Pendo, this is limited to cohorts only.
At the bottom of the report, we can see a heatmap-like visualization of retention for each of the samples we've chosen in the breakdowns. This looks very similar to Pendo's retention chart.
However, Mixpanel gives us also a curve graph showing user retention over time.
Pros and cons of using Mixpanel for product analytics
Mixpanel has a number of strengths:
✅ Sophisticated features enabling granular data analysis.
✅ Real-time data display.
✅ Powerful interactive and easily accessible visuals for quicker-decision making to beat analysis paralysis.
✅ High levels of customization.
✅ A free plan that is sufficient for small SaaS companies.
What lets it down is:
❌ Expensive enterprise-grade features.
❌ Complex setup, so you'll probably need help from the engineering team.
❌ No user feedback or engagement functionality, so you need 3rd party tools.
Mixpanel pricing
As mentioned, Mixpanel offers a free plan that gives you access to most of its user journey reports and unlimited integrations. If you're after analytics only, this trumps what Pendo has to offer in its free or Starter plan.
The other two plans are:
Growth – up to 300M events/month, custom pricing starting at $20/month, depending on the features needed.
Enterprise – 5M-1B+ events/month, custom pricing starting at $1,667/month.
Mixpanel vs Pendo: Userpilot is a better alternative.
Mixpanel offers a free plan with very advanced analytics functionality but no engagement layer or feedback features. Pendo offers these two and decent analytics but they're fairly basic and come with a high price tag.
All this considered, is there a better product that ticks all the boxes?
Drumbeat.
Enter Userpilot.
In short, Userpilot may not support such advanced analytics as Mixpanel but still offers enough to enable product managers to make data-driven decisions.
It also allows you to collect and analyze user feedback and drive product engagement with features that are more advanced than anything Pendo can offer. And that too, at a fraction of the price.
Userpilot analytics features include:
Real-time product usage data display
Feature tagging (tracks clicks, hovers, and text input)
Goal tracking
Custom events
Advanced user segmentation
Integrations with analytics tools
Userpilot segmentation
Userpilot offers advanced user segmentation features, which enable users to get more granular insights and trigger personalized onboarding experiences to guide user groups toward their goals.
With Userpilot, you can segment users based on:
User attributes, like their pricing plan
Company data
Tagged features they have engaged/not engaged with
Completed custom events
In-app experiences they have engaged with, for example, a checklist
User feedback – quantitative data, like NPS scores, and qualitative insights, like NPS responses
Userpilot goal tracking
Goal tracking allows you to track user conversions, just like funnel analysis.
Tracking them in Userpilot is straightforward. You set them up based on different user attributes or events.
The newly-overhauled Goals dashboard allows you then to analyze them. You can filter goals by user segment, company, or time period, and the dashboard displays information about:
Unique users
Last completed
Linked content
Userpilot custom event analysis
Custom events consist of distinct actions performed by users in the product which you can track as if they were one event.
What's the use of that?
Let's imagine your users need to complete a few actions to activate. Tracking each of them individually could be tedious and would only show a partial picture – partial activation. However, it wouldn't show you the bit that matters most – how many users have completed all of them.
You create Custom Events from the Features & Events dashboard code-free unless you want to create a custom event triggered by API.
Pros and cons of using Userpilot for product analytics
Userpilot pros include:
✅ An easy-to-use Chrome extension.
✅ Code-free feature tagging and heatmaps.
✅ Integrations with analytics tools and webhooks.
✅ A/B testing for in-app experiences you build.
✅ Detailed analytics for checklists and resource center modules.
✅ Feedback features, including NPS surveys and analytics.
How about the downsides?
❌ No mobile app support, just web apps.
❌ Too expensive for really small startups.
❌ Funnels and Paths are in the pipeline but not ready yet.
Userpilot pricing
Just like Pendo, Userpilot offers a 14-day trial and demo, but it doesn't offer a free plan like both other products.
However, its Traction plan is way more competitive than Pendo's lowest plans and includes features that Mixpanel doesn't have.
Traction – from $249/month
Growth – $499/month
Enterprise – $1,000/month
Conclusion
There's no clear winner in the Pendo vs Mixpanel duel. Mixpanel's analytics are more advanced than Pendo's but you need other tools to act on the insights. Pendo gives you tools to act on the data, but they are fairly limited.
Userpilot's analytics features, engagement layer, feedback functionality, and attractive pricing plans make it a strong alternative to both.
If you want to see Userpilot analytics in action, book the demo!