Best Product Growth Tools For Every Stage of Your User Journey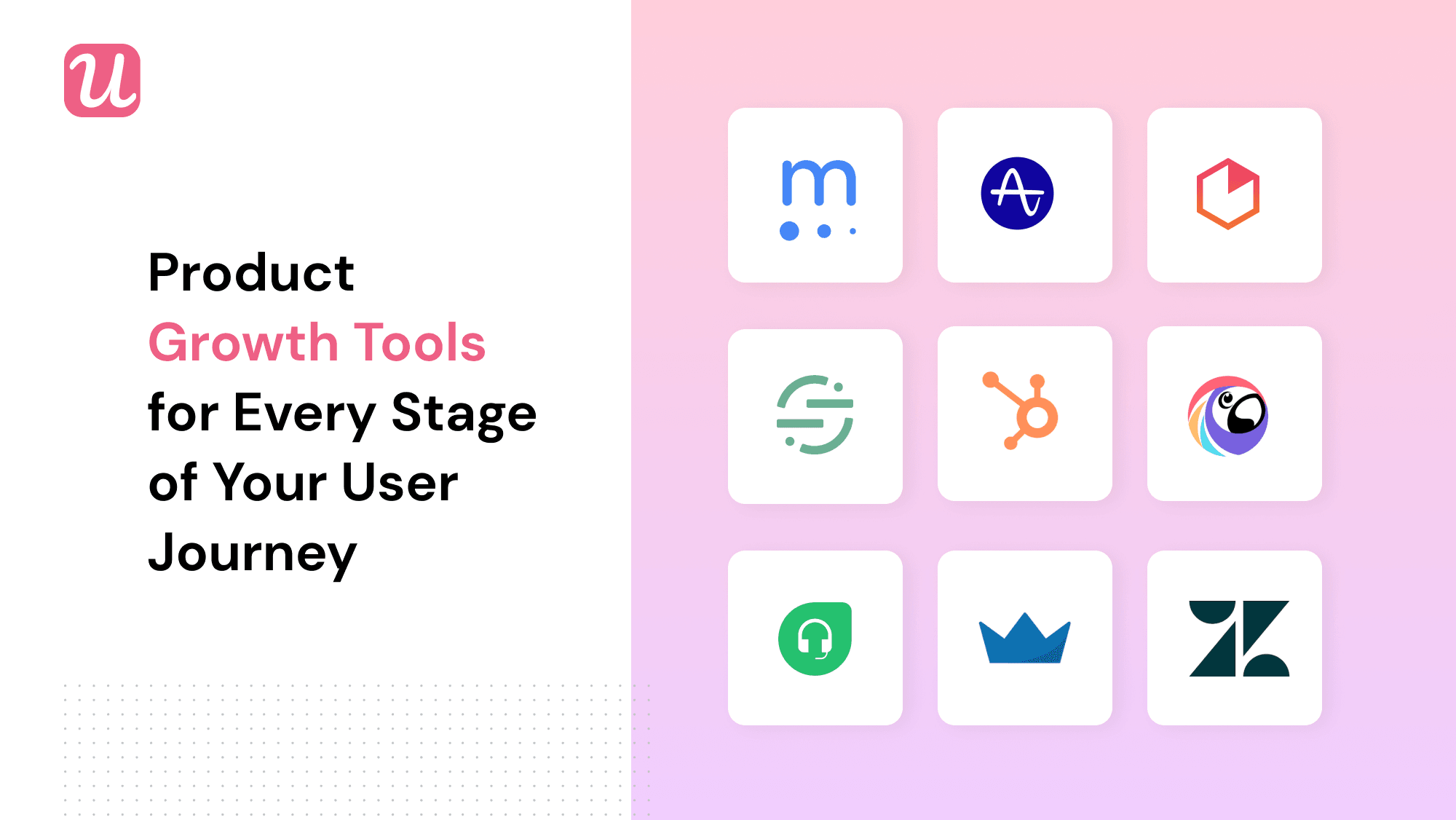 What are the best tools for user activation and feature adoption? Which tools do you guys use for user retention? What tools should I use to boost my feature engagement? We get these questions *a lot* in our Product Growth and Retention group (go check it out, BTW.!), so we thought – let's collect the most helpful tools for each stage of the marketing funnels and user journey. Product Growth requires improving your different 'Pirate Metrics' and that calls for several tools. There are so many out there, it took us a few good weeks to 'have a look at them' so we could compile this resource. But hopefully – now whenever you need a new tool for user activation, feature adoption or retention – you'll know where to start. But now – without much further ado – let's go have a look.
Since we know you are busy, you can jump directly to the tools that are relevant to the metric you're trying to improve:
How to choose the right Product Growth Tools for your goals?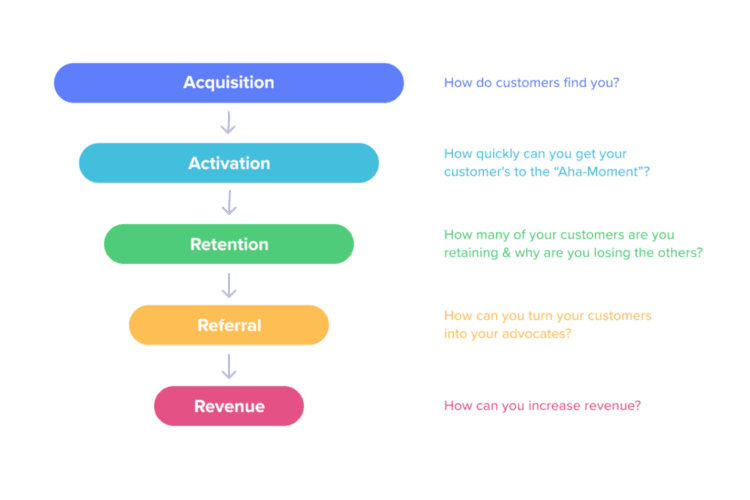 Before we dive into the specific product growth tools, let's make sure we really know how to choose the right one for your needs.
First of all: successful product growth depends on the so-called "pirate metrics".
Acquisition. Activation. Retention. Referral. Revenue. AARRR.
To achieve product growth, you need to optimize each of these metrics.
But to make actionable these metrics actionable, you need to understand the specific milestones the user needs to hit to in each of the stages to count as 'aquired', 'activated', 'retained' etc.
Basically, you need to break down your users' journeys into smaller steps – as many as you can identify and measure – and generate a detailed funnel or growth KPI dashboard.
Here's an example of what a simple dashboard might look like: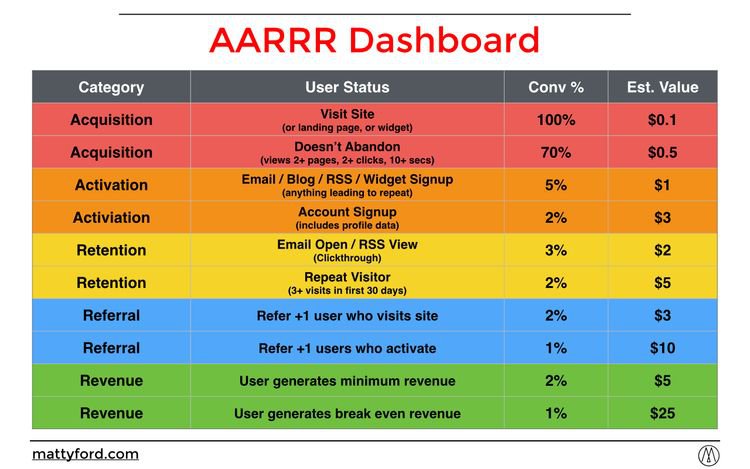 Source: mattyford.com
Once you understand the actions that users need to perform to hit each milestone along the journey, you can start thinking how you can push them towards those goals.
Once you've done that, you can start looking for software that will help you push more users towards those goals, analyze their progress, and optimize your systems.
And that's what I mean by product growth tools.
Now – a disclaimer – we're going to skip Product Acquisition tools here. I realized that I'd need to write a 300-page book to give this section justice.
That's because what acquisition tools should you use in your business – depends on the acquisition channels you've picked. And those depend on so many factors (your business model, industry, niche etc.) that it wouldn't be possible to cover them all in-depth in a short article. So – instead of glossing over all the SEO, email marketing, social media marketing, analytics, retargeting, PPC ads etc. tools – I will jump straight into the next stage: after your user has already signed up for your product. Unlike with the pre-signup marketing funnels, the post-signup user journey has some fixed elements that we have already described in our user adoption flywheel post: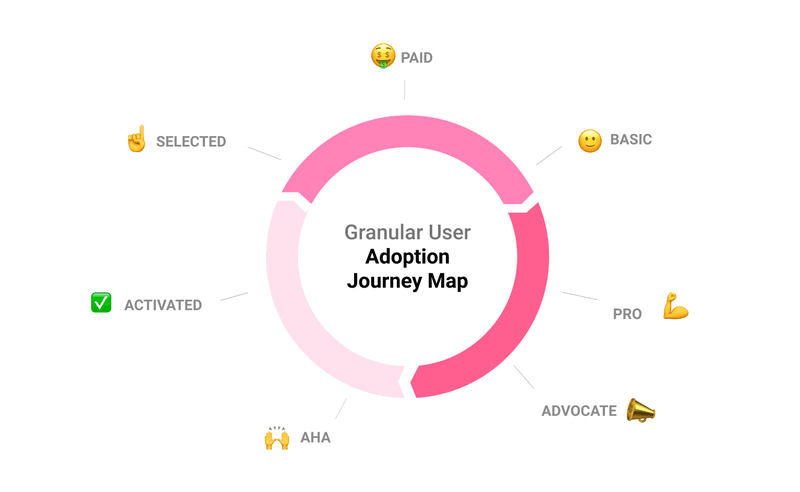 Product Growth Tools: Activation
Once you've acquired a new user, how do you get them to actually use your product?
This is exactly what user activation is about – getting your users to experience the value of your product. Since UI experiences that help your users get to the 'aha!' moment and become activated are one of our core features, we have written a lot about boosting user activation on our blog.
Activation is all about getting your users to experience the value that made them sign up for your product in the first place. It's about delivering the promise you made in the acquisition stage.
Here are the most common Jobs To Be Done in the activation stage and the tools that can help you with them:
1. New User Onboarding – Userpilot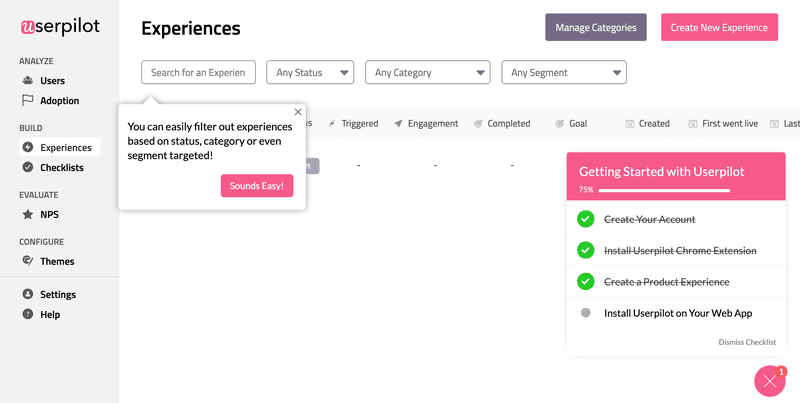 Source: userpilot.com
Your initial onboarding is critical. If it's difficult for a user to get the value out of your product or it takes too long, you'll lose them. So, Userpilot provides a whole host of tools for slashing Time To First Value (TTFV)
Interactive walkthroughs – A better alternative to the once-more-common Product Tours. People learn by doing, and an interactive walkthrough can really help users get to grips with how to use your product in a way that is proactive and tailored to their needs.
Custom Experiences – Userpilot enables you to set up event triggers, so that you can provide help where it looks like it's needed most. If a task goes uncompleted or a user's movements indicate that they're confused, help them out with in-app tooltips
Onboarding Checklists (like the one shown above) – Sometimes people need to know how near to success they are to give them the motivation to carry on. Not only do checklists help users understand what they have to do, but they also provide an element of motivational gamification
That's just a few of the onboarding features Userpilot provides. Get a free demo to find out what else we can do for your activation rate!
We've covered our own features versus our competitors in this previous blog, so take a look at that for more detail.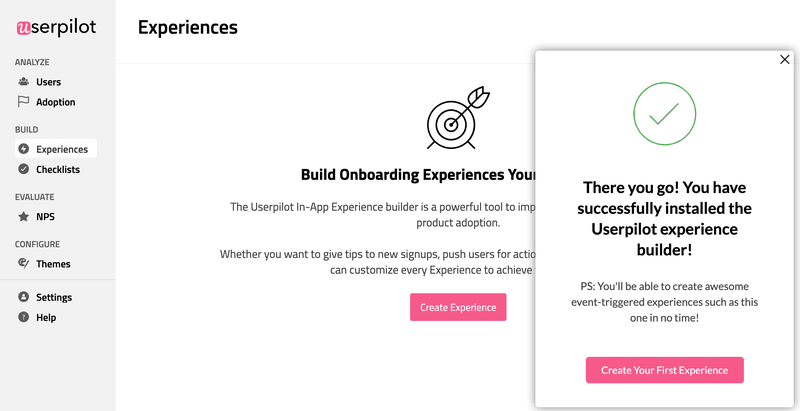 Source: userpilot.com
Self-Serve Support
There's only so much you can predict and pre-empt with your onboarding software, so it's important to select a suitable help center tool to underpin your activation efforts.
A Resource Center tools provides on-demand contextual support for your users and makes it easier for them to help themselves. Offer contextual self-guidance to right inside your app to reduce the number of support tickets.
Here are our top five recommendations:
Product Growth Tools: Retention
This is a topic we covered very recently on the Userpilot blog.
It's a long article though, so here is a TLDR; summary of what we had to say there:
Analyze Your Users' Behaviour
To keep your users, you need to first of all analyze their behaviour in order to see where they need more support, and which UX elements in your product simply need to be adjusted.
Here are a few popular choices of behaviour analytics apps:
Mixpanel
Mixpanel allows you to track real-time data. If your CAC is high, your user journey is complex, and you have the right people on your team to analyze and make sense of the wealth of data Mixpanel provides – it will be your best bet. However – there are a lot of criticisms
it's hard to implement – you need to define and pass all your events as it doesn't offer feature tagging
you need expert knowledge to analyze the data
it's designed for individual user tracking rather than account-based tracking.
Amplitude
Amplitude started as a web app analytics tool that offers a really good value for money -the free plan allows you to track up to 10 million actions, which is a lot.
On the other hand – it gets expensive fast – especially as many features are available only to premium customers.
Amplitude also heavy on development, as you need to pass the events to be tracked.
Heap is different.
Heap
Unlike the other analytics tools in this post, Heap keeps track of ALL user actions without you needing to pass custom events to it. That makes it much easier to set up, deploy and start getting results from.
Heap also provides full historical data you can refer to, and allows you to track accounts, not just individual users.
However – heap's free plan is quite limited and gets expensive quickly.
Iteratively
Iteratively adds a different value proposition – it actually integrates with all your data sources (including Amplitude, Mixpanel, and Google Analytics) to give you a 'single source of truth' and declutter your analytics.
Iteratively was designed to make sure that no valuable insights get lost in cross-department communication and to bring your whole company 'on the same page.'
So if you feel your product managers, data scientists and developers are not speaking the same language in your company due to 'data clutter' – Iteratively may be the best option for you.
Session recording tools
One other way to improve user experience with tools for replaying user sessions: Screen recordings can help you to fix individual bugs and build up user journey pictures.
Here's a bunch of different analytics tools offering session recording functionality:
Analyze User Sentiment
NPS Score Tools
The most effective way to use your users' behavioural data is to cross-reference it with your user sentiment. Simply put – see what the users that are most satisfied with your product do, and what the ones that are least satisfied – do or don't do. Then – build experiences inside your app that will allow you to nudge all users to develop positive habits.
Userpilot offers an NPS survey that that you can deploy in under one minute:

Then – you can follow it up with a microsurvey asking why your users think the way they think…
And you can easily cross-reference your scores with other user data by downloading them: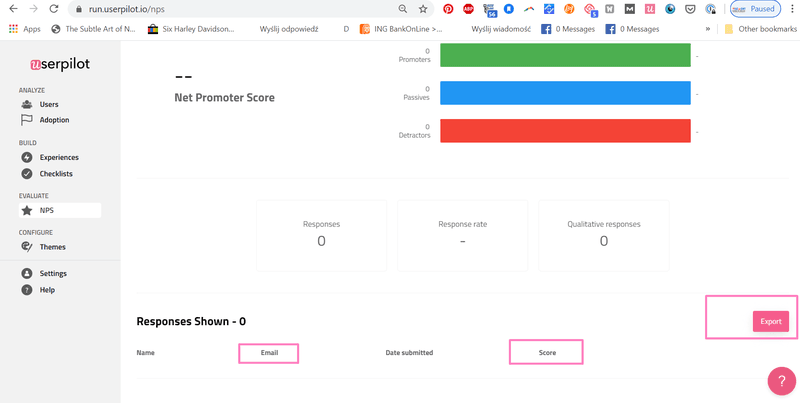 Get user feedback
Microsurvey tools
If you want to ask your users a qualitative question, the best way to do so will be with a microsurvey right inside your app.
Userpilot offers easy to set-up, 100% customizable microsurveys in a range of UI elements (modals, slideouts, banners etc.). You can set them up in minutes without a line of code.
You can use them to segment your new users better by finding out more about them in a welcome screen: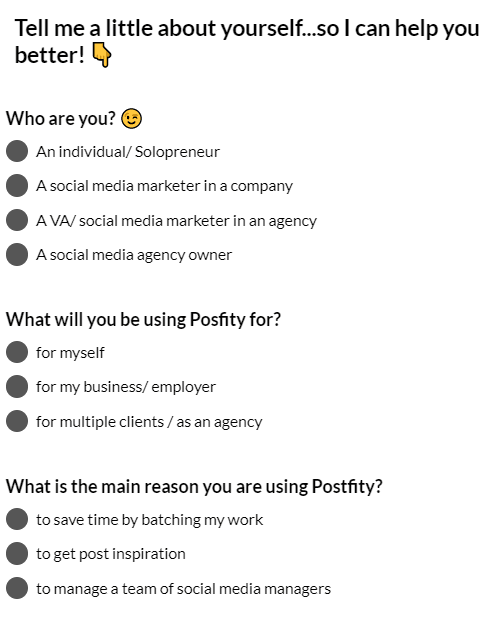 …or to find out why they are cancelling your subscription (and make a last-ditch effort to keep them) in a churn survey: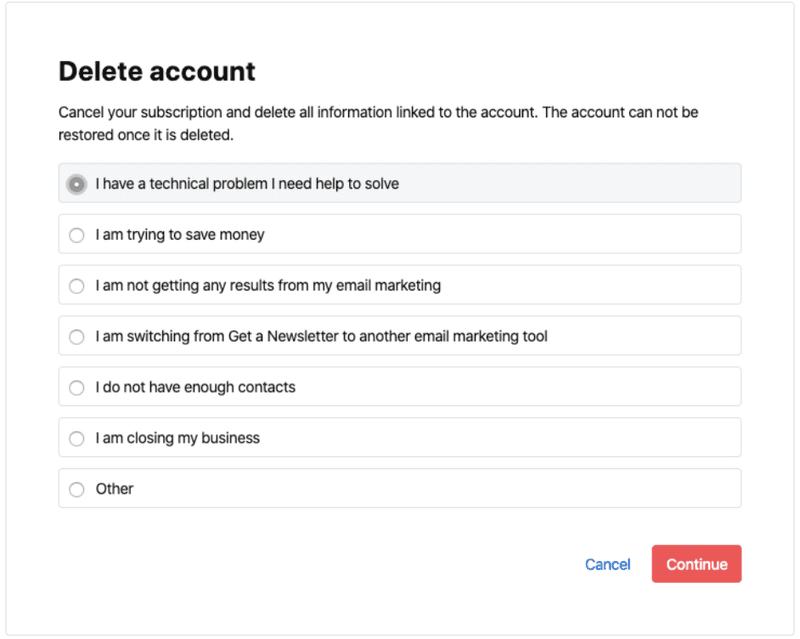 If you want to run a survey on your website instead – Typeform is good for turning surveys into an experience in their own right. You can also use it for embedding quizzes into your website!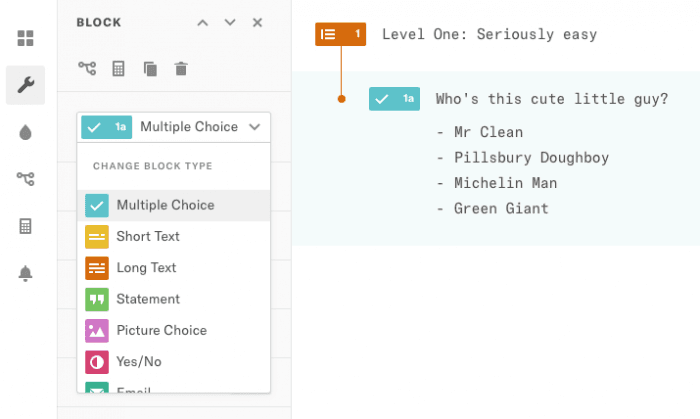 Source: typeform.com
If you want to know more about retention and product growth tools, check out the earlier blog.
Meanwhile: we'll crack straight on with the final two Rs – Referral and Revenue.
Product Growth Tools: Referral
Now, some people put these two the other way around – and there's an argument for doing that, certainly.
But if you're growth hacking, you need to be obsessed with all five of the pirate metrics, so the order we list them in isn't really the point here.
As we said earlier, the priority is the room for improvement – whichever metric it features under.
One of the defining features of SaaS is the ability to spread themselves. The product itself becomes a distribution channel, creating a Referral Loop.
Sean Ellis' greatest success at Dropbox came from creating just such a loop.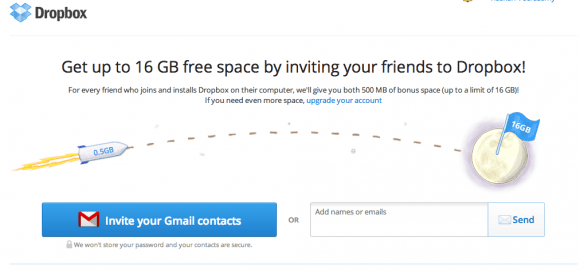 Source: dropbox.com
Famously, Dropbox offered users 16 GB of free storage in exchange for inviting friends to use the platform.
Similarly, pre-Microsoft Hotmail drove its webmail market share by including an invitation to sign up in the signature of every email sent.
When your product is its own best advert, growth depends on people using it. That's why so many SaaS companies offer free trials.
But if you want to help your referrals along, there are some great tools out there to give word of mouth a bit of a boost.
Referral Program Tools
EarlyParrot is a referral marketing platform that helps you to run and build referral campaigns and rewards among your early adopters.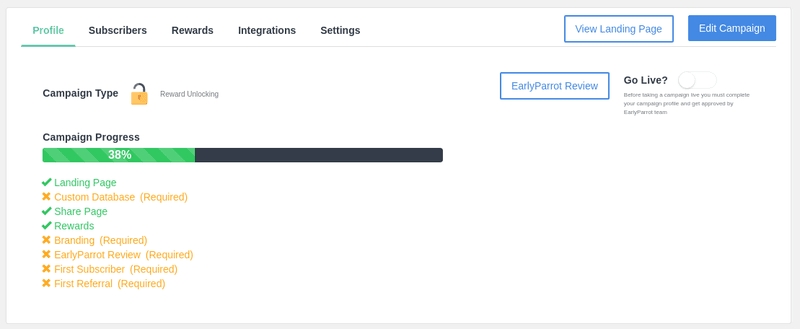 Source: earlyparrot.com
What's especially helpful is that EarlyParrot reviews all your campaigns before they launch, to make sure you don't shoot yourself in the foot when you're learning the ropes!
An alternative to EarlyParrot is ReferralRock. It's another comprehensive referral management platform that's easy to integrate, customize and automate.
Importantly, both these product growth tools are designed with SaaS in mind. A lot of the other referral tools out there are built for e-commerce, which has a slightly different set of needs.
Another great piece of product growth software on the Referrals front is FirstPromoter.
Source: firstpromoter.com
This is ideal for running affiliate referral schemes, as it enables you to track, monitor and pay your commercial partners – as well as building the reward campaigns for end users.
FirstPromoter also lets you build customized dashboards for your partners, so they too can keep track of their performance.
Review and Social Proof Tools
And don't forget the simple things when it comes to building word of mouth:
Make it easy for users to leave reviews: Trustpilot is not just a review site – it's also a suite of tools for businesses that helps you to get good reviews
Social proof tools like Proof or Fomo – as the name suggests – help you display other users' purchases on your website and instill a sense of scarcity and urgency in your users. On the other hand – tools like Boast allow you to collect video reviews and testimonials easily on your website.
Make it easy to share: ensure you include social media share buttons all over your website to help users and visitors get the word out!
Product Growth Tools: Revenue
In many businesses, "finance" is hived off to a separate department that doesn't have much to do with product – let alone marketing.
But if you're doing growth marketing, you need to pay attention to this part of the funnel yourself.
So, make sure you have a really clear, thorough KPI dashboard with Chartmogul. It's designed for subscription products like SaaS and helps you keep tabs on critical variables like Monthly Recurring Revenue, Customer Lifetime Value and more.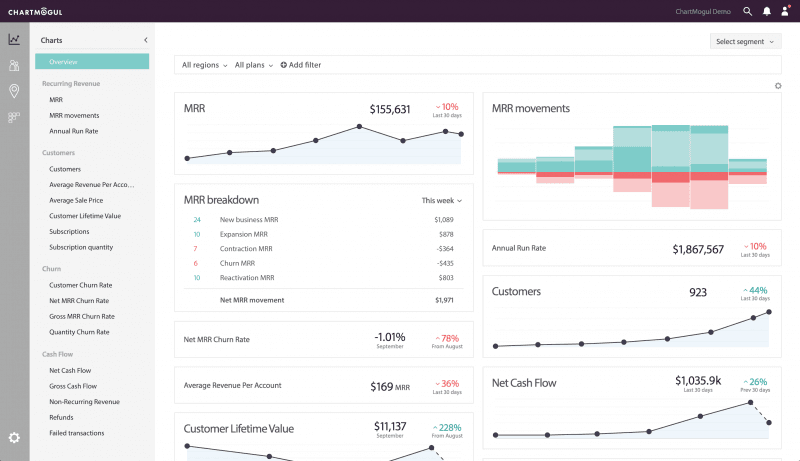 Source: chartmogul.com
Chartmogul is really useful for digging in to your financial data and extracting actionable insights from it.
Baremetrics is another set of tools which help you make the most of your financial stats. It does many of the same things as Chartmogul but has a funkier and less traditional look to its visualizations.
One great Baremetrics feature is the way that it helps you automate efforts to revive cancelled customers through personalized messaging.
Baremetrics also has tools for dealing with failed payments, but the market leader in this area is Profitwell. As well as all the metrics and insights you expect from a subscription management platform, Profitwell's Retain service can make a big difference to your bottom line by chasing and capturing failed payments.
At the other end of the Revenue scale, make sure it's as easy as possible for users to pay you! If you're not already signed up with Stripe or Square, get onboard now!
These payments tools give you a lot of options and are becoming more and more widely acknowledged as the industry standard for Card Not Present transactions.
We hope you found our product growth tools roundup useful.
Did we miss anything? Let us know in the comments below!
(and sign up for our newsletter to keep in touch ;))